THIS was inevitable.
There was a consciously camp charm to the 42s
With the recent huge influx of new restaurants in Manchester, there were always going to be casualties.
In the past twelve months we've seen Room, Lucha Libre, Aumbry, Taps, St Petersburg, Velvet Central, Eden and a good few boozers call it a day.
Now two more Manchester restaurants have switched off the lights, bolted the doors, gone offline.
Nothern Quarter's gluten-free tearoom, Tea 42, and sister venue MCR42 - opened only this summer in The Village - have shut down.
Fed up with the lack of gluten-free restaurants around the city, co-owners Will Hannah and Jason Abbot established Tea42 in November 2013, with aims to grow the 'poncey and glam' tearoom brand to more than twenty sites over two years.
The pair had also discussed plans for a third Manchester site, a Tea 42 express cafe, on Cross Street.
However, following a drop in punters, a modest reception to MCR42 and a growing list of creditors, the pair decided to call it a day.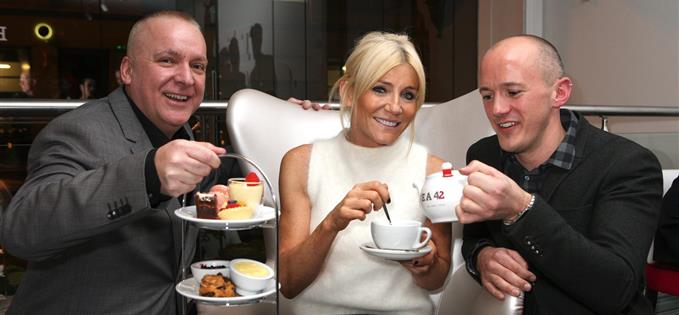 Jollier times: owners Will Hannah (left) and Jason Abbot with actress Michelle Collins
This is a shame, not least for the staff, or indeed for the folk who've pre-paid for vouchers (see below), but because, with their Stringfellow white leather, lipstick pink cut-outs and winking TV screens, there was a consciously camp charm to the 42s. The arrival of MCR42 in the summer, next door to the Molly House pub and Richmond Tea Rooms (who will surely be eyeing up the newly vacant site), promised a triumvirate of good choice for this corner of The Village, a confidence boost to an area brutalised by discount booze promos and hen parties.
It wasn't to be.
The closure of Tea 42 Restaurants Ltd follows a torrid period for Hannah and Abbot, whose Manchester-based aparthotel business, Blue Rainbow Apartments, fell into administration back in September 2014.
Owners contacted Confidential to confirm the closure.