IT'S estimated around 2.5m people in the UK are fighting cancer and one in three Brits will be diagnosed with cancer in their lifetime - a figure many of us will be all too aware of.
Still, while the fight against cancer is a universal battle, around 550,000 people in the UK – 22% of those living with cancer – are said to suffer with loneliness as a result of the ongoing treatment.
Like so many people affected by cancer they will be left feeling completely alone in a crowd.
To highlight the plight of cancer patients who have experienced loneliness in Greater Manchester, Macmillan Cancer Support is bringing an Isolation Box to Manchester Piccadilly Station on Tuesday 25 August (7am-7pm).
The experiential box, which allows people outside to see in but stops the person inside seeing out, aims to evoke the same feelings of loneliness and isolation many cancer patients experience after a diagnosis.
Two personal stories of cancer patients from Manchester will be heard inside the box – both talking poignantly about the effect loneliness had on them during their cancer journey.
The Isolation Box, which was launched earlier this year at London's Paddington Station, will be installed as part of the charity's #NotAlone campaign.
In an instant, members of the public are taken from the hustle and bustle of Manchester's busiest station and into an isolated box with just their own reflection and the voices of cancer patients. Like so many people affected by cancer they will be left feeling completely alone in a crowd.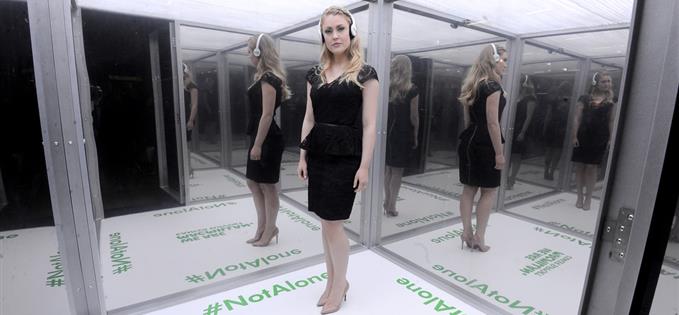 #NotAlone campaign
The research, conducted by Ipsos MORI in 2013, found that more than one in five (22%) of cancer patients in Greater Manchester experience loneliness following diagnosis. The results unveil the devastating reality that loneliness can have on people's lives.
Lonely cancer patients are:
- Three times more likely to drink more alcohol than they usually do (22% vs. 7%).
- Almost five times more likely to have not left the house for days (66% vs. 14%).
- Almost three times more likely to have problems sleeping (76% vs. 27%).
- Five times more likely to skip meals (38% vs. 7%).
- Almost eight times more likely to eat a poor diet (45% vs. 6%).
Julie Atkin-Ward, Senior Macmillan Development Manager for Greater Manchester said: "Loneliness is blighting the lives of thousands of cancer patients in Greater Manchester.
"It's hard enough for people being hit with the devastating news that they have cancer, without having to suffer the additional effects that being lonely brings. It's heartbreaking to think of people struggling to eat or leave the house because they have been abandoned and left to deal with cancer alone.
"This is a growing problem which is only set to get worse as the number of people diagnosed with cancer doubles from two to four million in the next 20 years."
The Isolation Box will be installed at Manchester Piccadilly Station from 7am–7pm on Tuesday 25 August, as part of a UK tour. To get involved, call 0300 1000 200 today. If you'd like support, information or just to chat, call Macmillan free on 0808 808 00 00 (Monday to Friday, 9am–8pm) or visit macmillan.org.uk.