AT THIS year's Commonwealth Games, 15-year-old Rebekah Tiler lifted a combined total of 209 kg - the approximate equivalent to two washing machines -  over her head.
There's a major part of me that just wants to be Angelina Jolie in every action film she's ever graced. Damn it, I want to be strong.
She came in at a credible fourth place and she's set to become 'Britain's Strongest Woman'. In turn she also rid pre-conceived notions that all young women should stick to 'girly' sports and make daisy chains, or something.
Comparatively, ten years her senior, I can't do one push up. I was the little girl frolicking with the daisy chains.
There's nothing wrong with overt girliness, of course, but sometime after we all watched Jessica Ennis jet down the Olympic track like a Lockheed SR-71 Blackbird aircraft, there's been a woman-wide embrace of physical strength.
Going to the gym has become less about what we're trying to lose and more about what we're trying to gain. In most cases the aim is lean muscle and a bum that defies gravity. It's a body confidence revolution.
Now, there's a major part of me that just wants to be Angelina Jolie in every action film she's ever made. Damn it, I want to be strong.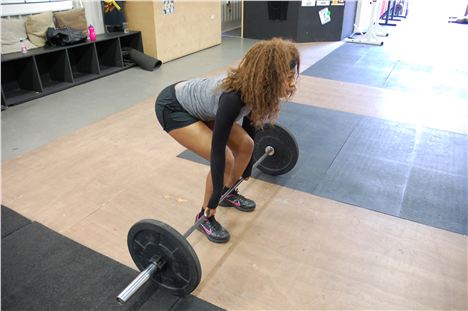 Strength is the aim
Crossfit Central Manchester is where strong men and women are cultivated and where I would soon be transformed.
I had my bum kicked in the Red Bank gym in January and came to the conclusion it was one of the toughest workouts on the fitness scene – a claim they would agree with.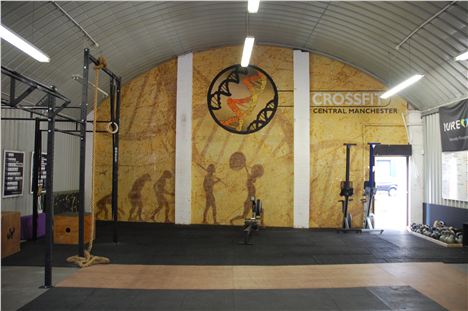 Crossfit Central Manchester
Crossfit is both a sport and a core strengthening programme originally designed for police academies, tactical operations teams, special military units, martial arts and professional athletes. And now me.
For one month, Crossfit Head Coach Daniel Bland, or Benji, would be aiming to develop my core strength three times a week.
I first entered the gym with a baggage load of fears and 'I can'ts'. "I can't lift that. I can't jump that far. I can't give up Prosecco on Thurday nights," I whinged.
Evidently a new job in media has made me soft.
"We want to see what you can do, then gradually improve on that," said a smiley Benji. "If your weakness is your upper-body, then at the end of one month we'll mark your progression."
We'd also work on my diet; a protein and avocado rich menu made for Bodybuilders and Kings.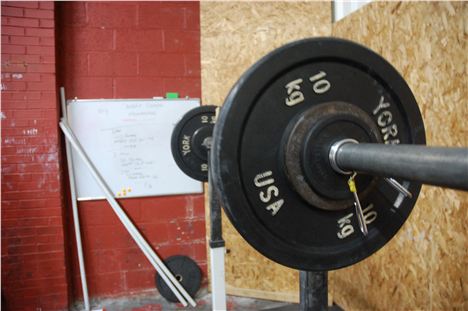 My nemesis, weightlifting
The fitness introduction would begin with squats.
The squat would be the basis for all my future weight lifting, it would also give me the legs I would dream of, apparently.
"All my friends who run are slim but they don't have the best bodies," said one Crossfit regular. She's petite and has abs as carved as a Native American totem pole. 
"When you lift weights, you get that good squatters booty," she continued.
I was sold.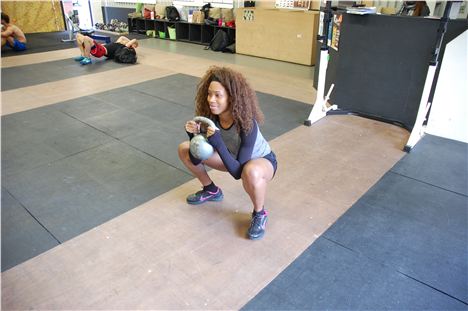 Perfecting the squat
Now, I'm familar with a squat but unfortunately my technique was all wrong. Instructing me to hold a 12KG kettlebell under my chest to provide stability, I was to find that squatting was not just a case of sitting down. All your muscles spring to attention and it kills.
From here, I would be reintroduced to the burpee. This exercise is a horrendous case of jumping to the ground and jumping back up again. Sounds simple, but imagine repeatedly falling on a cold hard kitchen floor and then made to jump up and be happy about it. Not nice.
Then on to weightlifting. My noodle arms would be put to the test and a suppresed fear of being crushed by the metal bar was soon realised. Yet, first squat-lifting 30kgs I found I was much, much stronger than I thought.
"You made that look easy," said Benji adding 20 more kilograms without me noticing. Before I knew it I had squat lifted 50kgs. Just ten kilograms short of my own body weight.
Progression.
We will move on to other weightlifting techniques in coming classes and the more challenging 'clean and jerk' move is yet to be mastered. Still, I'm ready and pumped.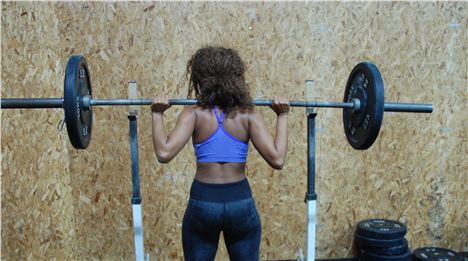 Body Transformation begins
Along with pull ups, 'wall balls' and fitness challenges, I'd also develop the 'double-unders'. It's become my new favourite regime as there's a skipping rope involved.
'I've got this,' I thought on first try. But I didn't have it immediately.
Skipping at Crossfit is moved from school playground fun to quick-fire boxer skipping at Lennox Lewis speed. I whipped myself with the plastic rope a couple of times. 
Still, Benji has high hopes I will become stronger and emerge as the 'double-under Queen'.
So far, we've found a winning recipe for getting me to work out harder. I suggested swearing at me works far better than any postive encouragement. 
So, with my once happy and polite trainer shouting "don't you f*cking stop!" while I'm face down in a pool of my own sweat, my abs and legs are toning up nicely 
I'm getting stronger each session and the 'I can't's' are quickly becoming 'I cans'.
Stay tuned for part two and the results. 
See starting weight, work outs and fitness test results below.
Follow @LOreal_B on Twitter.
Find Crossfit Central, Unit 9, Red Bank Court, Manchester M4 4DG
See Benji @ManchesterPT
Starting weight: 153 lbs/ 69.4 kilograms
Squat technique
Squats - 5 reps at 30kg
WOD 
5min AMRAP
7 Wall Balls
7 Burpees
Score: 3 rounds + 1 Wall Ball
Squat technique working to heavy weight
Squats 
1 rep max found at 50kg
Double under practice (managed to get 5 double unders split with singles)
WOD
5 Rounds for time:
100m run
5 burpees
5 double unders
Time: 15:18
Double unders (5 connected with singles but also 2 consecutive!!)
WOD
3 Rounds for time
250m Row
7 Power Cleans @ 25kg
12 Jumping Pull ups
Time: 12:50