THE OTHER week, a friend of mine waltzed out of work with a face as radiant as the midday summer sun and, as far as I knew, she wasn't up the duff.
"To create Angelina's Hollywood look the most important first step is to prep and prime the skin."
"I've rejigged my make-up routine," my friend said coyly.
She had mastered the model-off-duty dewy look with perfect precision. Her skin was at the happy medium between powdered donut matte and post spin-class sweaty and she was glowing. I wanted to glow too. Far from looking like Jennifer Lopez in her 'J LO glow' days, I needed some help with my radiance.
My friend's secrets remained locked up in the contents her make-up bag, but as I've recently discovered, some celebrities are keen to reveal their bargain radiance boosting products.
So don't dip your face in that tub of Vaseline, these four celebrities (and their make-up artists) have revealed their favourite radiance boosting products - all under £20.
CAROLINE FLACK: Manuka Doctor ApiRefine Radiance Serum (£17.99, Superdrug)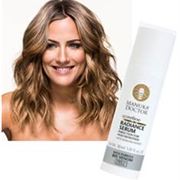 Caroline FlackSHE SAYS: "My handbag essential is the Manuka Doctor ApiRefine Radiance Serum – you can use it under or over your makeup and it helps make the skin glow".
THEY SAY: This is a finishing serum that works immediately to illuminate and boost skin's radiance for a more even complexion. This intensive serum uses Purified Bee Venom and Manuka Honey to help correct visible signs of ageing by brightening skin tone. Its unique formula combines Octapeptide, a complex protein that works to fight fine lines and wrinkles with Organic Cactus extract to provide vitamins and minerals which help hydrate, firm and protect skin from free radicals.
Smooth the silky illuminating serum onto your face with fingertips, massaging into the skin using soft sweeping movements.
LUCY WATSON: The Witch Blackhead Clearing Gel (£4.99, Superdrug)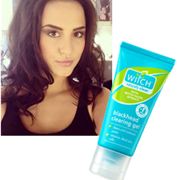 Lucy WatsonSHE SAYS: "My skin can get quite dry during winter so I make sure I exfoliate at least once per week, either with a scrub or an exfoliating gel like the Blackhead Clearing Gel from Witch Skincare."
THEY SAY: The gel is an oil-free, light-weight gel that gently exfoliates and harnesses the natural goodness of the signature witch hazel extract to clear and contract pores. Massaging the gel into the skin gently lifts dead skin cells right before your eyes, instantly boosting the skin's natural radiance.
ANGELINA JOLIE: Eau Thermale Avène Spring Water Spray (£6.50, Boots)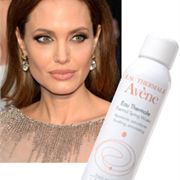 Angelina JolieMAKE-UP ARTIST SAYS: "To create Angelina's Hollywood look the most important first step is to prep and prime the skin. Follow by applying a light, moisturising foundation as the base. Then, to achieve a radiant sheen use a make-up sponge sprayed with Avène Thermal Spring Water to blend concealer into the skin where needed. To complete the fresh-faced look apply a cream blusher to the apples of the cheeks." – Bruce Grayson, celebrity make-up artist.
THEY SAY: The Thermal spray is a multi-tasking tool that can be used to cool and calm even the most sensitive complexions. With over twenty million Avène Thermal Water Sprays sold worldwide each year it's no wonder that it's fast becoming the celebrity and make-up artists' best friend.
HELENA CHRISTENSEN : Bio-Oil (£8.95, Boots)
SHE SAYS: "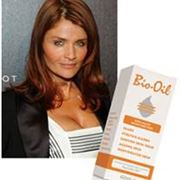 Helena ChristensenThe delicious scent, the silky feeling it leaves on your skin, the glow. I put it all over my body everyday and it leaves my skin so soft and lovely smelling. "
THEY SAY: The Bio-Oil formulation combines some of the most important skincare ingredients, these include vitamin A and E with Calendula, Lavender, Rosemary and Chamomile oils, plus unique to Bio-Oil, PurCellin Oil™, to ensure they are easily-absorbed deep into the skin where they can provide targeted treatment. PurCellin Oil™ dramatically lowers the viscosity (stickiness and density) of the formulation to create a 'dry' oil which is non-greasy.