ANCOATS' expanding indie food and booze community has a new neighbour, though we're struggling with exactly how to refer to Mital Morar's new enterprise on Great Ancoats Street.
It's more than your average corner shop, but it's definitely not a specialist delicatessen trying to educate customers for the included cost of a mark-up price. Let's call it an independent urban convenience store for the modern retail market, but that's a bit of a mouthful to describe a local shop that stocks pretty much everything you might need if you live or work nearby.
One corner has been given over to a space with bench seating, run by Ancoats Coffee Company
You're as likely to find Pot Noodles and baked beans in there as you are Alphonso mangoes (when in season), or hangover-busting pasties along with virtuous gluten-free rice cakes. They also sell newspapers, household cleaning products, toiletries and the ingredients to make a first class breakfast including freshly ground Ancoats Coffee.
They stock a range of interesting spirits, together with a selection of intriguing mixers, as well as craft beer with bottles and cans spanning the whole back wall shelves from floor to ceiling. While you might fancy sipping a more artisan tipple from local breweries such as Runaway Brewery or Tickety Brew, you can still pick up a four-pack of Stella.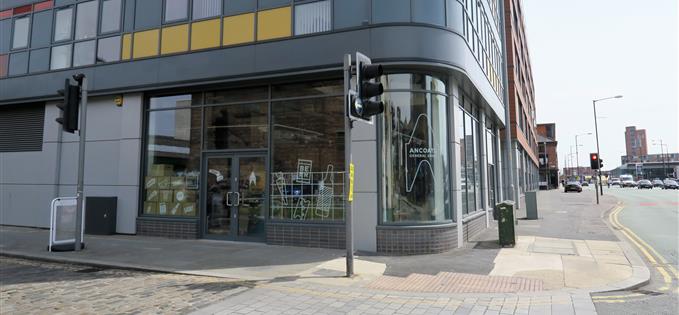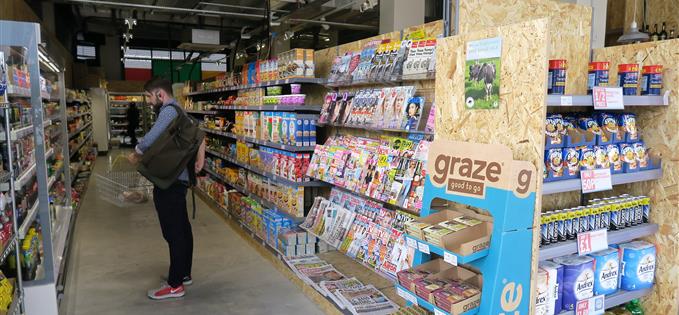 Ancoats General Store
Mital and his wife Mira are no strangers to city centre shopkeeping having previously owned retail outlets on Ellesmere Street in Castlefield and more recently, Superstore in the Northern Quarter (now Evelyn's cafe bar.) They're both second generation retailers, 'born and bred', who understand how to almost second guess what customers want; finding a middle ground between standard everyday products as well as more specialist items brought in to surprise and engage. They're also savvy enough to recognise that they need to be price-sensitive in the face of urban competition from Aldi and other 'Express' supermarket outlets nearby.
So why would punters opt to visit the Ancoats General Store rather than the big boys? As well as the scale of stock and the more approachable, personal service you can expect, this is an independent outlet putting effort in to support other local independents. They are aiming to make their store somewhere that customers would want to pop in every day. As well as products from local breweries and coffee roasters, shoppers can also find free range milk from Stephensons in Morecambe, fresh bread from Robinsons Bakery, fruit and vegetables via a supplier in Stockport, as well as plants and fresh flowers from Masako in Castlefield. They're up and running, but still evolving, so expect new stock to be filtering through from more local suppliers over the next few weeks.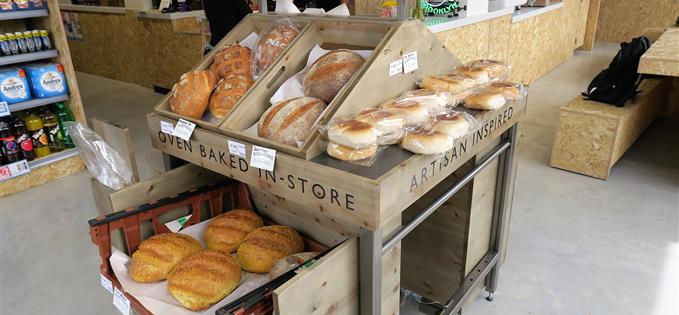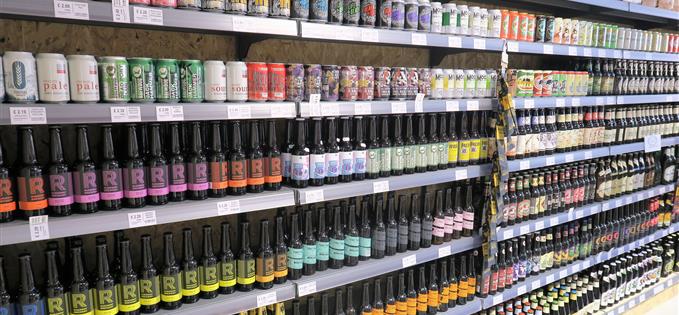 Fresh bread and craft beer
One corner has been given over to a space with bench seating, run by Ancoats Coffee Company, where customers can sit and work, meet or chat over a beverage of the alcoholic or caffeinated variety. They don't have a kitchen and won't be doing food as such, thanks mainly to lessons learned (they previously ran Banyan Tree but things developed in the wrong direction when their core retail business became secondary to the restaurant). They'll use it mainly to put on small events, for samplings, tastings, and meet the producer opportunities.
But in regard to the location, even Mital admits, "We know we are off the radar, it's the first time we've done something like this if I'm honest, and I'm a bit hesitant but we've hit the ground running and we always want to do something unique in retail."
As well as having retail in his blood, and having previously been voted one of the UK's Top Retailers, Mital studied graphic design at university which must come in handy for creating eye-catching displays as well as understanding marketing and using social media – which helps him communicate with customers even when he's not in the shop.
"We've approached things differently to try and give people somewhere unique to shop but, if you look a bit closer, it's all general stuff for everyone every day. Our approach will hopefully win people over."
You can expect a similar offering and vibe over at their newly acquired Salford General Store (formerly Nisa) opposite Salford Central.
So if you're in the area, go visit this really good retailer doing great things in this burgeoning independent-spirited corner of the city.
Ancoats General Store, 57 Great Ancoats Street, Manchester. M4 5AB (Opening Hours; Monday-Saturday 7am-11pm, Sunday 8am-10pm) @ancoatsgs