Who's Behind It? The newly formed Mission Mars, a food and booze equivalent of the Traveling Wilburys, a supergroup comprising the golden gang from the Trof Group (Trof, Gorilla, Deaf Institute, Albert Hall), headed up by Joel Wilkinson and Adelaide Winter, alongside Revolution bar founders Roy Ellis and Neil Macleod.
How about Peter Street eh? Wasn't long ago you'd be dodging flying Hooch bottles around Brannigans...
What Is It? Albert's Schloss is billed as a 'Bier Palace & Cook Haus' - a Bavarian/Bohemian/Alpine bar, restaurant and stage - think currywurst, onion soup and pretzels washed down with Czech beer and Schnapps, soundtracked by Hannes the Volkssänger and compèred by notorious Manchester drag collective Cha Cha Boudoir - who've bagged a Thursday night residency.
What Schloss Say: "A Schloss is a Bavarian palace, not a defensive fort, but built by the nobility to enjoy themselves - a manor house to relax and to party. Albert's Schloss is exactly that, a place to enjoy, engage, refresh, refuel, meet friends, be entertained - there's something of the city, the countryside and the mountains here..." - Neil Macleod, Revolution bar founder and Albert Schloss part owner.
"This has been on the cards ever since we launched Albert Hall two years ago. We've collected ideas for Schloss from loads of places: Cologne, New York, Munich, up the mountains and around après-ski bars. We'd come back from places like the Radegast beer hall in Brooklyn, draw-up a million designs then change them so many times nobody could remember what we were originally working towards," says Trof Group co-founder Adelaide Winter (as her and six others discuss shaving 2.3 inches from the bottom of each stool).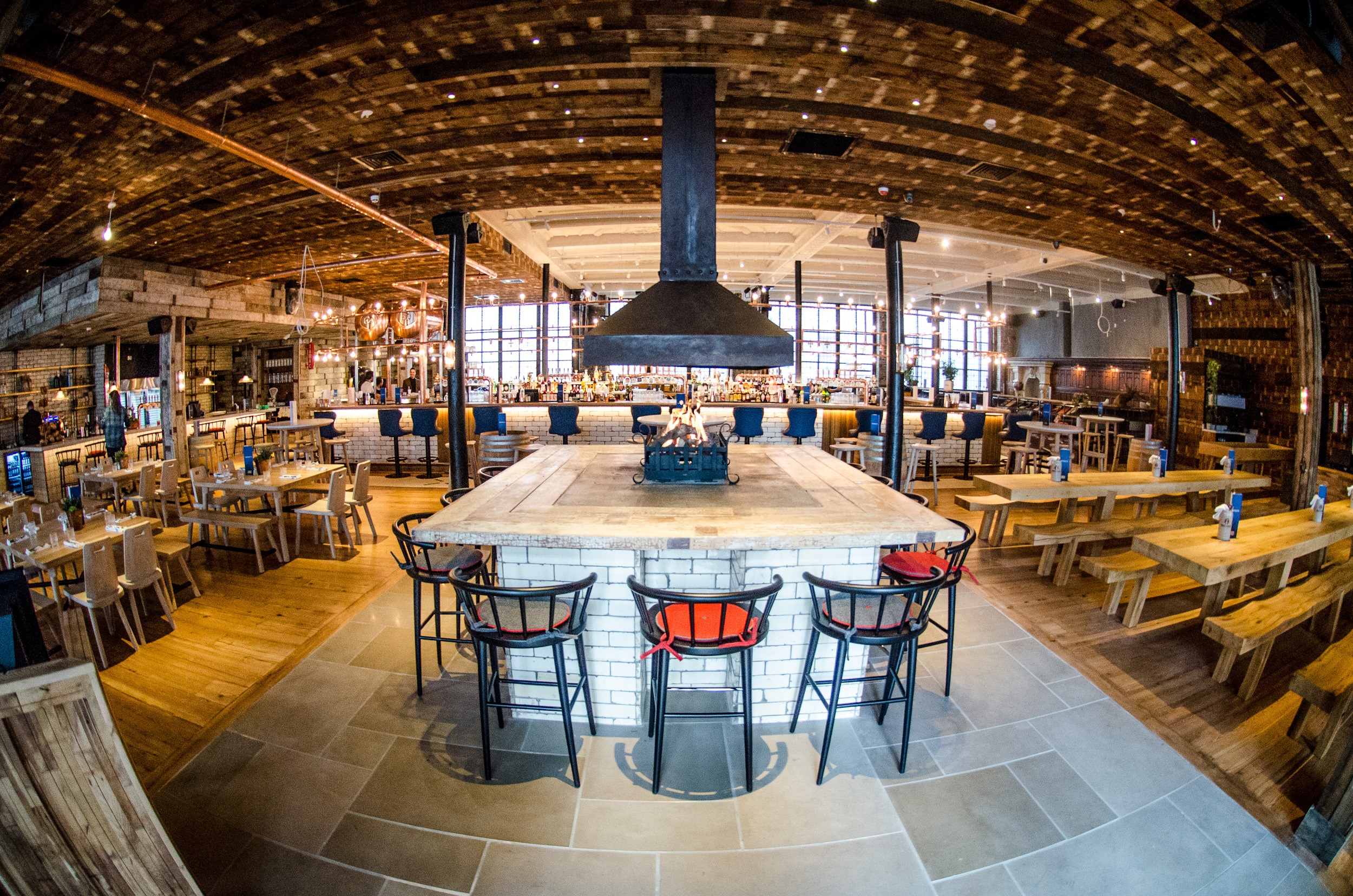 Albert's Schloss
What We Say: How about Peter Street eh? Wasn't long ago you'd be dodging flying Hooch bottles and a good-hiding knocking around the likes of Brannigans, Chicago Rock or Square's. Now look at her: Chinese investors pumping £300m into Great Northern (home to Almost Famous, All Star Lanes and a new Home Sweet Home); a new £2m super-Indian restaurant; a flash £1m Pan Asian gaff; a new craft beer bar for Taps and rumblings at the former Bar38, whilst Revs de Cuba continues to fill up faster than a 'Chuck-A-Turd-At-The-Tory' contest at a Corbyn rally.
Peter Street has quickly become the most exciting nightspot in all of Mancdom (yes, yes, Club Liv... but nothing's perfect), and much of its turnaround is down to this lot dropping a whopping £3.5m on the conversion of Manchester's Albert Memorial Hall into a 3000-capacity gig venue upstairs (opened in 2013) and the 600-capacity Schloss downstairs - which opens fully this weekend.
What Else? It's also gorgeous. Joel 'Steptoe' Wilkinson and Co have been tear-arsing up and down the land reclaiming floor boards from a Scottish whisky distillery, timber from a Nottingham lace factory, tiles from a mental asylum near Preston, doors from Oxford Road's demolished BBC building and planks from old Rusholm tram sheds to create something truly special in Schloss. A toasty, gleaming copper-brown Bavarian bolthole with girthy tables, rolling benches and roaring fires.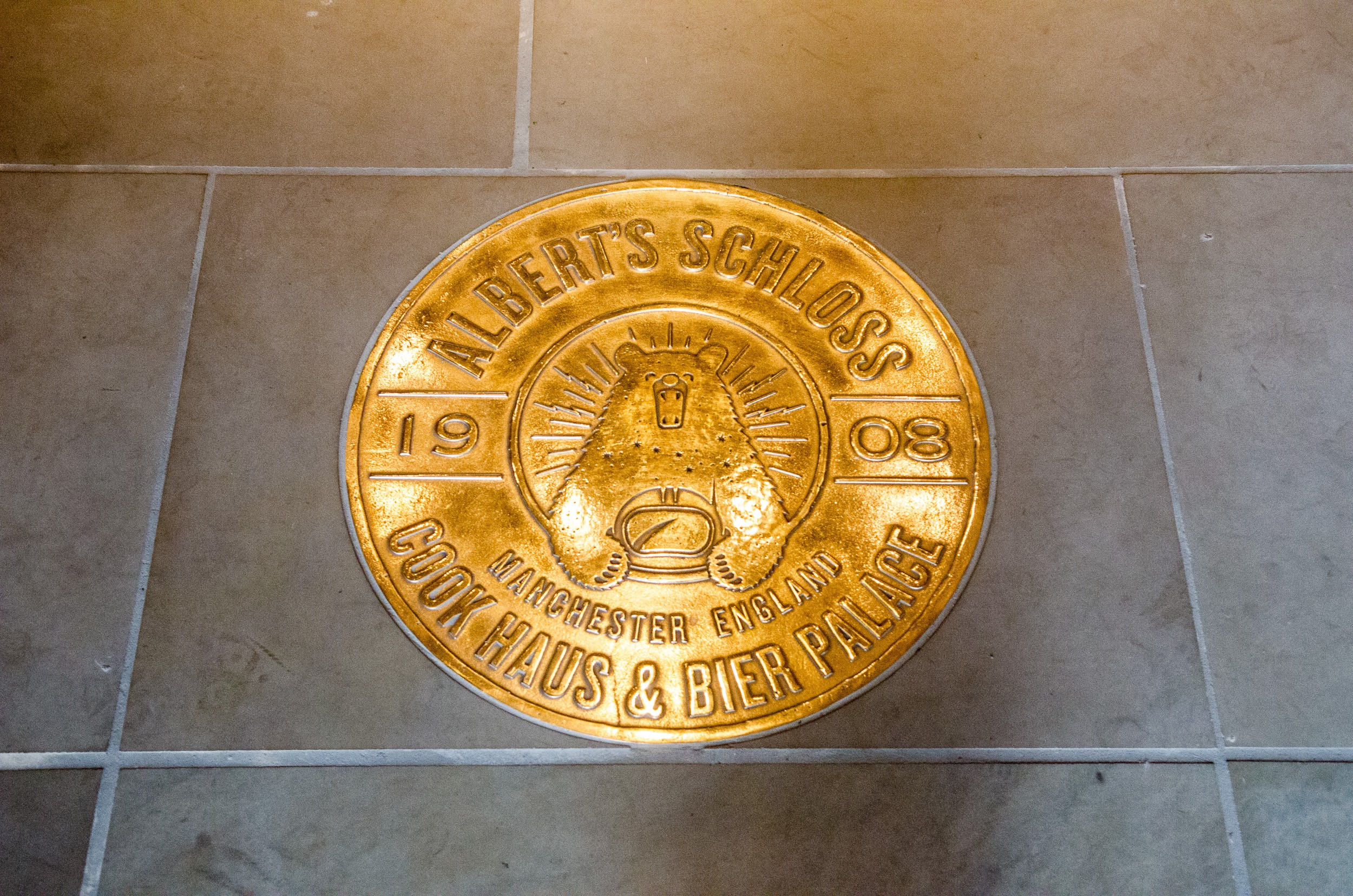 ...just a bear with a space helmet
Top Features: 1. Schloss' four Czech copper beer tanks hold up to 4000 pints and are one of only six such installations in the UK. The unpasteurised Pilsner Urquell beer - made with Moravian Barley, Saaz Hops and Plzen water - is delivered directly from the brewery in Plzen once a week.
2. The huge retractable street-facing windows are 'the same ones found in the Lamborghini showroom in LA', according to Steptoe.
3. The frustratingly addictive 'shufflepuck' table, which is kinda like curling, but replace the ice with tiny silicone balls (watch the vid below).
4. Schloss' stage will host myriad 'weird and wonderful' acts across the week including singers, dancers, other artsy-drama folk and, fingers crossed, some plonker on the accordion.
What To Order? Well, with the builders still knocking the place together we're yet to try any grub. Still, we did manage to pinch a menu during our lookabout and can tell you the Flammkuchen (stone baked German flatbread with Speck, Gruyère and pickled red onion) and the Schweinshaxe (crispy Bavarian pork knuckle with apple and horseradish), may sound like SS torture devices, but have us slobbering like Bavarian Rottalers.
...And Booze? How's 26 beers, 26 cocktails, 40 wines/bubbles and 31 varities of Schnapps... will that do? Oh, and would you believe it, there's even Schnapps shot sticks. You can take the boys outta Vodka Revs...
When To Go? It opens fully on Sunday 18 October from 11.30am til late, seven days a week.
Where Is It? 27 Peter Street, Manchester, M2 5QR
Find Out More: on Facebook, Twitter, or at albertschloss.co.uk
Show Me More...