BEARDED men are everywhere. Not necessarily a bad thing as I'm quite partial to a man with a beard, or even a moustache. Whether you call it an expression of rugged manliness or call it being a slave to fashion, either way beards are back. It's a mission in itself to find a man without one.
There are ways that a good barber can dress the facial hair in such a way it appears more masculine. 

Obviously not being able to grow a beard myself - womanly genes and all - I decided I needed a facial hair expert. Step in Nick McClure, who with a barbershop in the NQ and one in Didsbury must have seen more beards and 'taches than any of us.
So why are beards so popular? And why is it impossible to find a man without one?
"It's a backlash against the metrosexual look which is so prevalent at the moment" explains McClure. "Men trying to beautify themselves in line with women with sunbeds, teeth whitening and spray tans, beards are a move towards a more masculine appearance. A beard, after all, is the one thing a woman can't do."
"Women can have children but men can have beards, which is basically the same thing," says McClure with a grin.
So well done lads you've got one up on us ladies, we endure childbirth and you can sport a manly looking beard. But beards aren't meant to be a brash show of masculinity or the new expression of beating chests to show who's the Alpha Male, this time round it's a more gentlemanly movement.
"Men are no longer afraid to be men, but not in a Neanderthal or overtly laddish way. It's more of a move towards being a gentleman," continues McClure.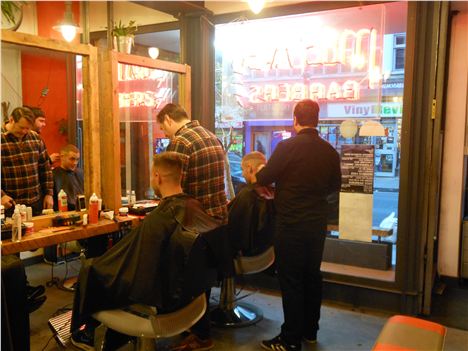 Beards and hair, it's all in a days work for Maclure's
With Movember over many of us could be forgiven for thinking that beards and moustaches and the whole hairy trend will disappear. Not the case, more and more bearded events have sprung up and with a steady stream of celebrities adopting facial hair the masses are sure to follow suit. Even Manchester City footballer Vincent Kompany has been sporting a sprout of facial hair in support of the Beards For Cancer charity.
At his salon in the NQ where bearded hipsters flow free and plentiful McClure has seen an increase in men choosing the traditional beard shaves. "It's iconic times reinvigorated. It goes hand in hand with that traditional gentleman style and has encouraged people to care more."
"We've seen a lot of male models who come in to get their beards cleaned into more of a shape. There are three prominent styles; long and straight with a flat edge, long with a rounded edge and long with a pointed taper."
"There are very few men coming in without moustaches and we've seen an increase in moustache products such as wax or combs so you can dress it up or twist it out."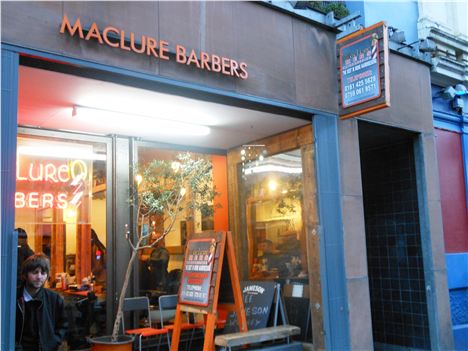 It's not Manchester without an Oasis lookalike lurking somewhere
Whilst there is a fair share of men proudly peacocking their full and healthy facial hair for all to see, there are many who claim they can't. I've spoken to many men who whine that they can't grow a beard, or that it grows patchy or that it grows ginger (the shock of it).
"Only a real man can go ginger," said McClure. For the record, he was clean-shaven at the time of interview so I couldn't investigate how much of a man, or a ginger, he really is. And for those males who are struggling with patchy straggling beards, some even in the Body Confidential office, then Maclure Barbers is your angel in disguise (the name Maclure the barber shop, is spelt differently from Nick McClure's name).
"There are ways that a good barber can dress the facial hair in such a way it appears more masculine. You can work to the strapline under the chin and give a more masculine jawline, which also slims a double chin. Or you can opt for cheek panels which enhance solidness and then thin into the sideburn area and run into the beard."
So with help on hand for those worried their beard might be a weedy straggler as opposed to a full healthy mane there has never been a better time to jump aboard the beard wagon.
"Once you've given birth to a beard and nurtured it through the difficult fuzzy stages it really is an entity unto itself," says McClure mentioning birth again. The man's obsessed. 
So go on lads, be a proper gent and get your beard on.
Maclure Barbers is at Unit 16 Smithfield Buildings on Hilton Street, Northern Quarter, Manchester. Mon-Wed 10am-6pm, Thursday 10am-7pm, Fri-Sat 10am-6pm.
Telephone: 0161 425 5628
Alternatively their Didsbury Salon is at 26 School Lane, Didsbury, Manchester. Mon-Fri 9am-7pm, Saturday 9am-5.30pm.
Telephone: 0161 448 7536
Find Nick on Twitter: @maclurebarbers