BY THE time you reach any milestone past the age of 21, we'd be inclined to suggest you do whatever you damn well please. You've earned your adult stripes, after all.
After 43 you should walk past the queues of nightclubs, shoulders back, chest out – tits and teeth
Passing through your thirties, hopefully you're now rid of adolescent angst, the muddled uncertainty and intoxicated chaos that dictated your twenties, but now you're careering right into a mid-life crisis.
Fingers crossed you'll emerge triumphant, albeit a little out of shape and out of breath. With that said, if you want to wear frayed bootcut jeans with snakeskin boots and grow a purple goatee then that's your own business. Of course, social conventions may advise against it... killjoys.
Sadly, as time ticks on socially wrought dos and don'ts are inflicted on the more mature members of society. And in one recent study they've had the decency to put them all in one handy list - just in case you were still wearing gold lamé shorts in your forties (you hear that Kylie? You too Jennifer Lopez).
Researchers from Retire Savvy (naturally) recently polled 2,000 Brits and found the majority believe discos should be avoided once you hit 44, and visiting infamous European night-club hotspots should be forbidden for those over 39.
It goes on to state that by the age of 40, folks should forget about going on holidays without their family or partner in tow, whilst at 41 it is considered 'inappropriate' to have an interest in reality TV.
Women should also ditch the mini-skirt once they turn 39, while men should stop wearing trainers at the age of 49 (er what about during exercise? You can't jog in wingtips, can you?)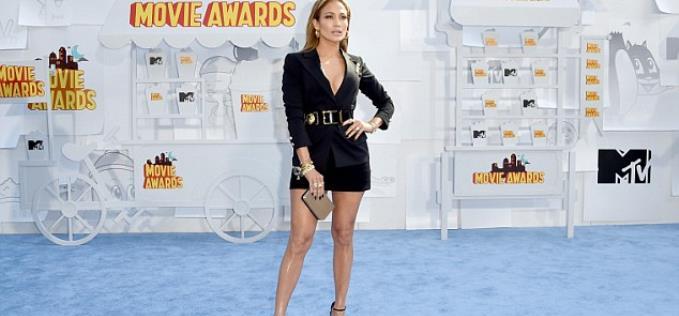 Jennifer Lopez is 46 years old and wears mini-skirts just fine
The Retire Savvy study shows that age 38 is a key milestone for 'growing up', as this is the point at which people should monitor their alcohol consumption when in public, take out their belly button piercing and forget about getting any more tattoos.
At age 36 it is no longer considered 'cool' to support a favourite boy band, and text talk should be avoided at all costs.
Long hair, skinny jeans, and leggings are also things which carry an upper age limit (you can see the full list below).
"As you grow older you just know what suits you. You develop a filter for trends that can pass and others that can't. Mini-skirts are only passable after 38 if you have the legs of a supermodel," says Georgina Hague, our official office mid-thirties correspondent. "Getting tattoos after 38 is fine as long as they're timeless. But overall when it comes to dressing you should make more informed choices and go for a more classic style."
Clothes and belly-button rings are one thing, but the study also implies that the over-50s should abide by a midnight curfew and those at 49 must consider logging out of Facebook for good. Should you really retire your dancing shoes by 52? Sounds unfair...
"Bollocks," says Confidential's Gordo, a proud 60-year-old, an ageing ungracefully advocate and frequent pissed table dancer. "After 43 you should walk past the queues of nightclubs, shoulders back, chest out – tits and teeth. Stride up to the bouncer and shake his hand."
What about men wearing trainers after 49 on a day-to-day basis?
"A man of a certain age will be wearing trainers because they're comfortable. And I couldn't give a toss what people think. Although my grandson told me I was too old to wear Adidas Stan Smiths, while two Romanians stopped me in the toilets to shake my hand because I'm 'DFC' – dead fucking cool," says Gordo.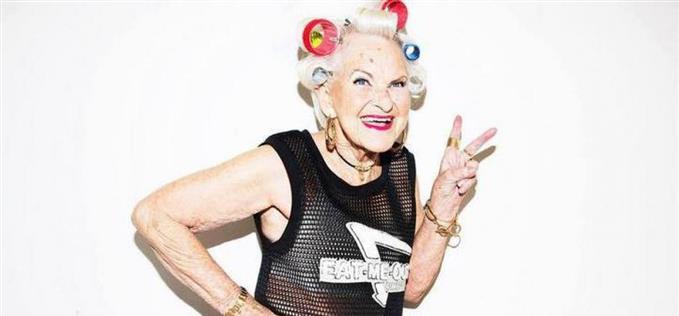 Baddie Winkle is proudly mutton dressed as lamb
Clearly we should take these platitudes lightly. If we look to 87-year-old Instagram-star 'Baddie Winkle' (pictured above) - whose wardrobe includes slogan-leotards, marijuana-leaf emblazoned hoodies and beanie hats - the mutton-dressed-as-lamb tag shouldn't necessarily be feared... but perhaps not overly embraced.
Point is, you don't have to wear A-line skirts, orthopaedic sandals, and retire to bed with a glass of milk if you don't bloody well want to.
Clare Mahood, from retiresavvy.co.uk said: "It seems the nation expects older generations to go quietly into later life even if they feel young at heart, but at Retiresavvy we have found there are a sizeable number of people who have no intention of doing so.
"In our community we often hear from people in their late 40s, 50s and even 60s who enjoy doing many of the things the nation thinks they shouldn't, from DJ'ing in Ibiza and going to festivals, though to taking part in extreme sports and making a name for themselves as a blogger. Age is nothing but a number.
"Researchers discovered six in ten Brits firmly believe adults should grow old gracefully, and there becomes a point in life when we have to accept we are too old for certain activities, fashions and hobbies."
When Piers Morgan wrote a scathing article telling Madonna she's "too old to cavort on stage like a hooker" it revealed a deep-rooted insecurity society has with age and ageing, particularly when it comes to women (what's the male equivalent of 'mutton dressed as lamb' anyway?). It seems preposterous to suggest that Madonna, a woman who has been championing sexual expression and ripped fishnet stockings for decades, should suddenly wear dress smocks in her latter years. Sure, we age, but that doesn't always mean we have to change our style, right?
Mahood added: "All too often, women are expected to fade into the background when they reach a certain age, but we've found that they're increasingly staying young and more likely to be enjoying themselves doing 'young' things and turning their backs on traditional ideas of older age than men.
"I'm in my forties and I look forward to my 'girls holidays' and I don't intend to give up my skinny jeans just yet."
With society generally living for longer shouldn't this naturally mean we get to stay younger as a result? Wear the skinny jeans, take selfies, live like an ageing rocker if you so wish. While tastes may mature we should resist believing we're 'too old' too soon.
AGE WE'RE TOO OLD TO:
Drive like a boy racer – 33

Take loads of selfies – 34

Having a favourite boy band – 36

Using text talk – 36

Get a tattoo – 38

Have a belly button piercing – 38

Get drunk in public – 38

Listening to Radio One – 39

Wear a mini skirt – 39

Go on a lads / girls holiday – 40

Visit Ibiza – 40

Watching reality television – 41

Use so many hair products – 41

Wearing a football shirt – 42

Wear leggings – 43

Buy the latest gadgets and gizmos – 43

Go to a nightclub – 44

Go to a festival – 45

Have long hair – 46

Wearing a bikini on holiday – 46

Go to Twitter – 47

Wear skinny jeans – 47

Have a Facebook profile – 49

Wear trainers – 49

Stay out past midnight – 52
Follow @LOreal_B on Twitter
Powered by Wakelet