OK, that isn't her real name but Bonbon's Sharon Drysdale suits her moniker to a tee. Clad in a vintage dress printed with cars, backcombed hair displaying rebellious streaks of red and green, she could well be the brilliantly eccentric protagonist of her favourite novel Chocolat.
Tempering chocolate can be a laborious process and needs a lot of practise
Her Northern Quarter abode is no less characterful, black walls highlighting Day of the Dead skulls and upcycled paper lanterns. Haphazard books spanning Willy Wonka to Chocolate Couture line one wall, whilst another boasts shelf upon shelf of indulgent confections: flavoured truffles, honeycomb brownies, salted caramel sauce...
Begun as a pop-up venture in late 2012, Bonbon's popularity (surely inevitable when chocolate's involved) saw the little boutique become a permanent fixture; handily located across the road from its parent Teacup. Managed by Drysdale, the cafe-cum-shop draws people from as far as Edinburgh with its delectable hot drinks (no dairy or additives, just pure melted chocolate with little else) and luxuriant handmade truffles.
Scotland's capital is a long way but - then again - people have been crossing counties, countries and even continents in the name of chocolate for centuries. First cultivated in Mesoamerica almost 2000 years BC, it's now found incarnated worldwide, with an estimated worth of almost £40 billion.
It may be great to eat but what's it like to work with? Drysdale reveals all...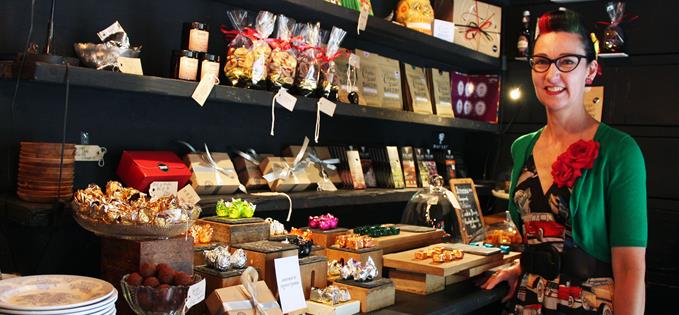 Bonbon Chocolatier Sharon Drysdale
Hi Sharon, so we're guessing you're a chocaholic...what else drew you to the chocolate trade?
SH: "I've always been crafty - previously I taught art and design - and I find chocolate a lovely medium to work with. I came to be involved with Bonbon through helping out at local markets, then got offered my position when the original chocolatier left."
What skills and qualifications are most relevant?
SH: "Patience! Tempering chocolate can be a laborious process and needs a lot of practise. Also, knowing what ingredients work well together: some of my current combinations, for instance, include stilton & caramel and orange & geranium. I get a lot of inspiration when I'm travelling, and also from customers, but a lot is instinctive. Whilst I did a short course at the Artisan School of food, it's a constant learning curve."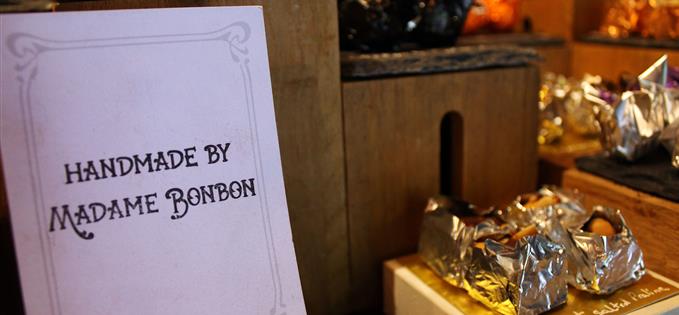 There are up to fifteen flavour combinations for sale at any one time
Can you describe a day in the life of a chocolatier?
SD: "I divide my time between making products and running Bonbon, which for me is a good balance; I'm on my own in the kitchen so it's nice to be able to interact with customers on shop days. When making truffles, I work below Proper Tea (another of Teacup's family), sometimes nipping out to buy ingredients: we get a lot from Unicorn in Chorlton and our chocolate is Valhrona, which is manufactured in the wine-making district of Hermitage in France.
Your truffles are the stuff of chocolate legend. How are they made?
SD: "(Laughs). It basically involves a lot of melting, cooling and waiting: my ganaches have to be left overnight to set. I use couverture chocolate - premium chocolate, with a relatively high percentage of cocoa butter - for the best result, and have to work in a temperate environment. Too hot or cold and it's bad for the chocolate, not ideal with our fickle weather."
And what is the career progression like?
SD: "It depends. In the rare case you become relatively famous, like Paul A. Young (whose Harvey Nichols chocolate afternoon tea Confidential attended last year), there's endless opportunity for collaborative projects. More attainably, you can set up your own business or shop: I imagine in London you'd have a lot of competitors but here in Manchester there aren't many independent chocolatiers and outlets like the Makers Markets make it easier to spread the word. Either way, it's a fantastic job: I can't think of any discernible cons."
Profession: Chocolatier
PRO: Making people happy
CON: Hmm...
Starting salary: £16K plus
Hours: Flexible
Qualifications: Whilst it's mainly learn on the job, a short course or apprenticeship can be helpful
Bonbon Chocolate Boutique, 9 John Street, M4 1EQ
...alternatively, why not become a Circus Acrobat or a Posh Pawnbroker?