IT'S the hottest day of the summer and Mike Marcus is desperately spraying his equipment. The IPA he is aiming to can at his arches brew site is just too lively at this temperature. It all needs to cool. Chuck in sorting at short notice delivery of the sour beers his Chorlton Brewing Company is famous (or notorious) for and you recognise the life of an artisan brewer is no cakewalk. Still, at the end of a seventeen hour stint you can always sit back and sample the product.
Carbon Smith began life in an Edinburgh tenement bedroom
Which is what we do, squatting on empty kegs on rough old North Western Street to discuss whatever happened to the Piccadilly Beer Mile, which should be celebrating its first anniversary around now but seems to have rather lost the plot – along with its website.
It was always meant to be a loose collaboration, an urban craft ale trail linking all the indie brewers who had set up in the badlands beyond Piccadilly Station. After dark a bit dodgy and 'red light', but the hoppy occupation of lock-up railway arches offered a kind of regeneration.
The pioneers were Track, Alphabet, Chorlton, Squawk and beer merchants Cave Direct. The plan was they'd all open weekends to greet their public with a drop of beer that couldn't be fresher. From early on, though, it was hard to get 'a full set' open. License restrictions didn't help and sorting a crawl through social media can be a chore.
Mike, who admits his beers are niche with their reputation bigger in London (he trained at Kernel), says he might sit in all Saturday for little return. "Craft beer is all about novelty," he says. "Research has shown that a customer will buy and drink my latest beer just the once and then come back for the next release."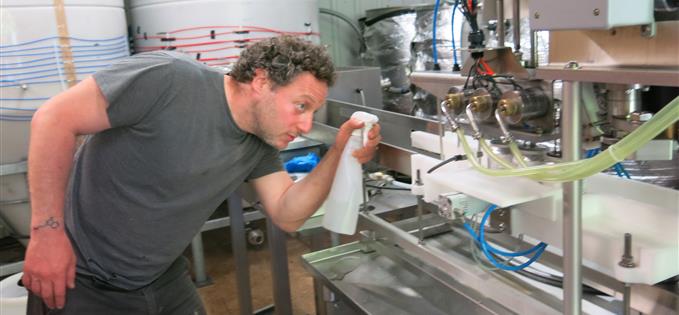 Mike Marcus cools it off
I'd happily repeat the pleasure of his outstanding Amarillo Sour (5.4%ABV), a dry-hopped juicy pale ale based on the sour beer traditions or Prussia and Saxony and the tropical Citra Brett Ale (4.5%ABV), made using different strains of Brettanomyces wild yeast dug out of old, dusty German beer bottles. Well, we told you it was niche. Both are available from top bottle shops such as Beermoth in the Northern Quarter and The Epicurean in West Didsbury. Note, though, unlike Vocation or Beavertown, the subtle, grey cans don't yell 'buy me'.
What of the rest of the beer mile? Track, on Sheffield Street and closest to Piccadilly Station, and SQUAWK, the furthest away in deepest Ardwick, regularly link up for tap events. Look out for Track Santiam IPA and Squawk's 'Marmite beer' (not literally) Sorachi Ace IPA, both around 6%ABV and packing a hoppy punch.
Alphabet sensibly concentrate their events licenses on regular summer opening. Their Tap Yard is open every Saturday, 2pm to 9pm, with a DJ set or bands and quality street food from the likes of Nasi Lemak. Brewer Tom Evans has an eclectic remit – check out the Space Invader Pink Grapefruit and Tarragon Saison or, suitably summery, Skinny Dipper Belgian Double IPA (but beware the 7.1%ABV).
Latecomers Cloudwater, a ten minute walk north, always remained aloof from the PBM, but their regular Saturday tour/tastings, at a variety of prices, are remarkably popular, while back on the Mile proper along North Western Street and Temperance Street (sic) the microbrewery colonisation continues apace.
Cloudwater tap
Beer Nouveau are leading the way. From being England's smallest and probably most environmentally friendly commercial brewery up in Prestwich, it has taken over the former Privateer Brewery on Temperance Street and knocked through into the premises of the now departed Cave Direct. Owner/brewer Steve has set up a proper counter and has applied for a full premises license. That might be granted by the time of the next Beer Nouveau Brewery Tap on Saturday, August 6 (12pm-9pm), where a unique beer will take a bow. Crowd Sauce is a Twitter-sourced ale whose ingredients – malts, strength, hop types for bittering, flavour and aroma – were all voted for in an online 'referendum'. The final social media punter push? Make it as hoppy as possible.
BEER OF THE MONTH
Hickey the Rake (Wylam Brewery) - 18th century rakes were epic drinkers, none more so than William Hickey, who ended up in Raj India, eventual destination of the original sturdy English IPAs. In contrast this frisky 'Limonata Pale Ale' is light (4.2%ABV) on the palate. North-east brewers Wylam describe this keg beer as 'emulating almost toxic levels of citrus zing. A nuclear sherbet dib-dab of lemon, lime and tropical pineapple.' It's one of the brews emanating from their amazing £1.8m new home, the Grade-II listed art deco Palace of Arts building in Newcastle's Exhibition Park. A trip to its brewery tap is a far remove from the Piccadilly Beer Mile.
Steve's not a Manc but he has brewed many beers in homage to the city's heritage. I'm looking forward to the latest, a light refreshing 4.9% pale ale with predominant floral hops called Sister to Nun. It salutes heroes and heroines in the struggle for gay rights and was inspired by a Historic England project, which highlighted Temperance Hall in Hulme. In 1880 it became infamous as the site of a cross-dressing ball where attendees gave the password 'sister' to the 'nun' watching the door. 47 people were arrested, dressed 'in most fantastic fashion', including 22 'in ladies' wear'. All of those arrested were charged the following day with 'having solicited and incited each other to commit an unnameable offence.'
My visit to Temperance Street was more sedate, enjoying from the cask Steve's biscuity single-hop session pale ale Challenger (4.2%), just pipped as my beer of the month by Hickey The Rake (see above).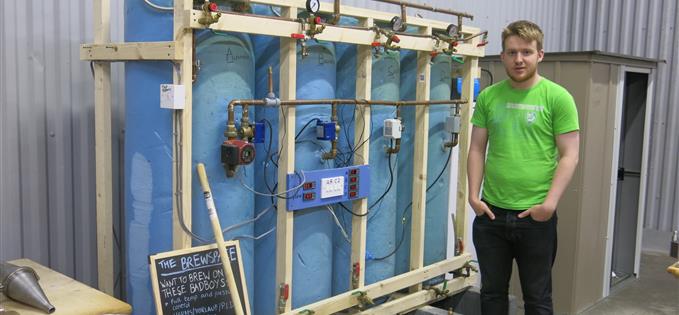 Ollie's simple kit
New kit on the block is at 80 North Western Street, where another upsizing brewery is Carbon Smith, which began life in an Edinburgh tenement bedroom. Bedfordian Ollie Smith is looking for investment via crowd funding (see website for details). It's early days but the plan is to construct several small scale stainless steel kits on which the public can brew professional quality beer with the help of a trained brewer.
Ollie's own beers are often named after carbon variants or just puns – an IPA called Carbon-12 (the most stable isotope of carbon), Carbon Copy Pale Ale or Carbon Footprint Stout.
I tasted the Graphene Porter, which sang of its abundance of caramel and chocolate malts at an approachable 4.9%ABV. Ollie tells me, in a triumph of product placement, Manchester's legendary Graphene Institute have just bought 300 bottles for an upcoming party.
Ollie plans to open a six tap bar (with a billiards table) initially on Saturdays. Expect brewery taps too from another neighbour, the Manchester Brewing Company and the Vinyl Valley Brewery, brainchild of Alex Parkinson (once of Bolton's DUB), due in October.
So a strong sense of community and self-help has grown out of the Mile and and an informal weekend visit the other side of the tracks will still yield some exceptional drinking. Cheers.
Alphabet Brewing Co, 99 N Western Street, M12 6JL // Beer Nouveau, 75 Temperance Street, M12 6HU // Carbon Smith, 80 N Western Street, M12 6DY // Chorlton Brewing Co, 69 N Western St, M12 6DX // Track Brewing Co, 5 Sheffield St, M1 2ND // Manchester Brewing Co, 66 N Western Street, M12 6JL //SQUAWK Brewing Co, 75 Tonge Street, M12 6LY
...update on IndyManBeerCon
Some tickets remain for the IndyManBeerCon (Oct 6-9) celebration of the contemporary, progressive beer scene within Manchester's most spectacular beer-drinking venue - but only for the opening Thursday and closing Sunday. Available HERE.
Organisers have confirmed the full room sponsor list throughout the festival: Food Village – Wild Beer; Room One – Beavertown; Room Two – Cloudwater; Room Three – Northern Monk; The Green Room – Fourpure; The Pineapple Room – Siren; Turkish Baths – Redchurch.
Powered by Wakelet