APART from being remembered as the year that dispatched a disproportionate number of celebrities, 2016 was also the year that saw the death of the traditional three course meal. Starters and main courses have largely been replaced by big plates and small plates, everywhere from fine dining restaurants, to fancy hotels and casual dining venues. Restaurants have now mostly ditched the plate in favour of the bowl, or to be more specific, the coupe, which is a wider, shallower bowl perfect for sharing or providing the best vessel for Instagram food shots.
Lunch and dinner service has largely become obsolete in favour of the all-day dining concept, as restaurants fiercely compete to catch diners at any time of day, rather than dictating meal times. 2016 was the year of the bao bun, chopped up fish in various global guises and smashed avocadoes, but what other dining trends are we likely to see sur la table this year?
---
Less Meat
Vegan diets have more than tripled in popularity over the last ten years. Although not everyone is prepared to wholly commit to total veganism, more people are open to the idea of an animal free meal and chefs are having to use their imaginations to keep things interesting. Rather than replicating the meat element of a dish with substitutes like Quorn or Tofurkey, or token mushroom dishes, we expect to see an abundance of dishes inspired by the likes of Ottolenghi; hearty grain and roast vegetable salad bowls with tahini based dressings and the like. Expect more interesting varieties of heritage vegetables like purple carrots and orange beetroot as well as Asian roots, herbs and spices to impart extra layers of flavour. The tail end of last year even saw the opening of two wholly vegan restaurants in Greater Manchester; Allotment in Stockport and V-Rev in the Northern Quarter – expect more of the same this year.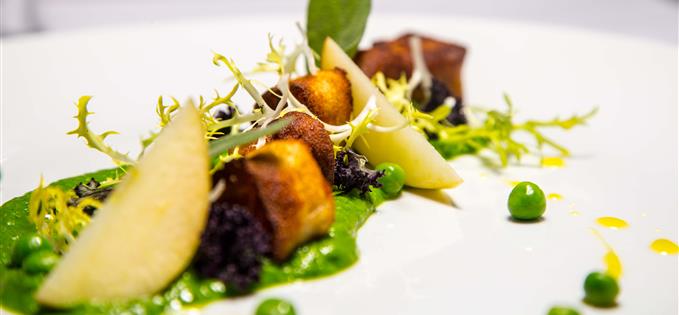 Allotment
---
Gut Feeling
More adventurous chefs are experimenting with fermentation. Simply put, this is the process in which microorganisms such as yeast and bacteria break down a substance into a simpler substance. The fermentation process has been used for millennia to create beer, wine, bread, kimchi, yogurt and other foods and has actually been proven to benefit gut health and digestion. In 2017, we expect to see chefs doing a lot more of their own pickling and fermentation. Brice Moore already makes his own fermented Japanese radish and kimchi at his new gourmet street food stall, Fusion Lab in the Arndale food market. Chef Samuel Buckley sent our writer Neil Sowerby home from his Stockport restaurant Where The Light Gets In, clutching kilner jars of kimchi and sauerkraut. Before they opened, Buckley showed us his collection of homemade vinegars and kombuchas (fermented sweetened tea based drinks). We're expecting this sort of thing to be more mainstream in 2017.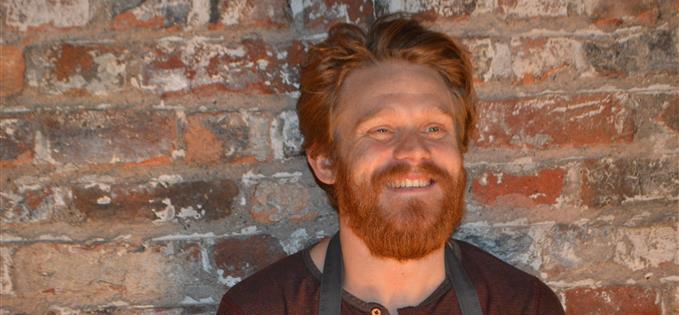 Chef Samuel Buckley is big on fermentation
---
Restaurant Crawl
Insects found in restaurants are usually a reason to call in environmental health, but kitchens are now starting to look to them as a sustainable source of protein. What high fashion does first eventually filters down to the high street, and so it is with food fashion. Leading chefs such as Rene Redzepi have been adding insects such as ants to dishes for years. We even tried them in a cocktail at Epernay recently, "we infuse the ants into cocoa liqueur" general manager Lewis Cooke told us, "the formic acid adds an unusual acidity like you'd use lime or lemon juice. There aren't any insects floating in the drink or anything, it just imparts an interesting background flavour." Apparently insects have double the protein of beef and contain around 20 percent more calcium than milk. They are low in fat, high in protein, and have 13 essential amino acids without all the added preservatives and chemicals typically found in most meats and vegetables. Manchester's first restaurant with insects on the menu is the Northern Quarter's Favelas, a South American bar and cantina which serves Cajan spiced crickets as a snack to go with drinks. Expect more insects to creep onto restaurant menus in 2017.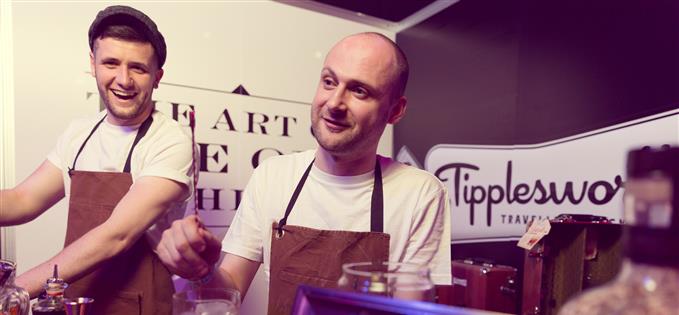 Lewis Cooke (left) of Epernay is already using insects in cocktail recipes
---
Food with a Social Conscience
As the media continues to report on people starving in some parts of the world, while others continue to throw perfectly good food away, inhabitants of the earth are becoming more concerned with food waste. There are a number of local charitable initiatives which have been introduced to combat this and we expect more restaurants to get on board with the idea in 2017.
FoodCycle, for example, is a national charity that combines volunteers, surplus food and spare kitchen spaces to create tasty, nutritious meals for people at risk of food poverty.
The Real Junk Food Project intercepts food that would otherwise go to waste from supermarkets and restaurants, and turns it into healthy, nutritious meals on a pay-as-you-feel donation basis. Ex-Aumbry and Fat Duck chef Mary-Ellen McTague cooks for many of their pop-up events and they've just reached their crowdfunding target to set up Manchester's first waste food pay-as-you-feel cafe and restaurant which will open this year.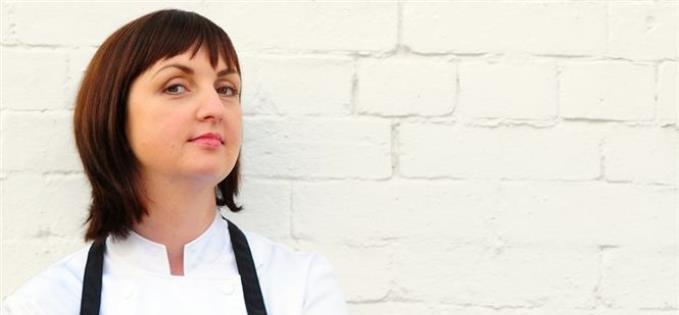 Chef Mary-Ellen McTague has teamed up with The Real Junk Food Project
---
Salt of the Earth
Thanks to 2016, we all have Himalayan Salt coming out of our ears. Many meat-led restaurants have been including special dry-aging chambers with salt encrusted walls into their architectural plans. These pink-tinged salt crystals are similar to regular table salt but, although there have no proven scientific nutritional benefits, it does seem to impart a more rounded umami quality into food, especially meat. We're expecting this trend to develop in restaurants as chefs start to explore how gourmet salt from other parts of the world can add an interesting edge to ingredients. Think smoked salt from Anglesey's Halen Môn, volcanic red Alaea salt from Hawaii, Persian blue salt and Japanese 'fire' salt.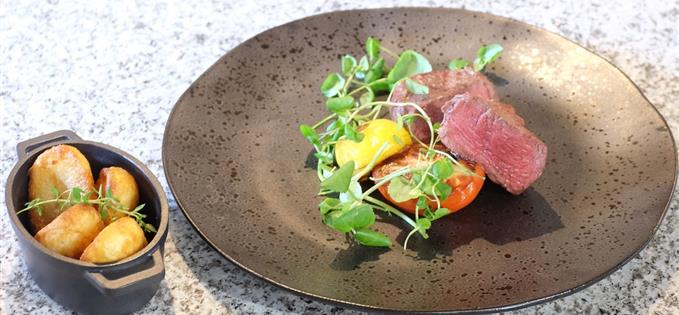 Grafene's Himilayan salt-aged beef fillet
---
Sugar Sugar
Reports from Public Health England suggest that many children are consuming half their daily sugar allowance at breakfast time. With the government cracking down on added sugar, and with us all getting wise to the fact that it's as difficult to give up as heroin, both manufacturers and restaurants are looking for interesting alternatives to the sweet stuff. Health and fitness Instagrammers are all over sweet alternative suggestions, so we expect many dishes, desserts and cakes to be sprinkled with things like agave syrup, coconut sugar, date syrup, molasses, palm sugar and brown rice syrup in 2017.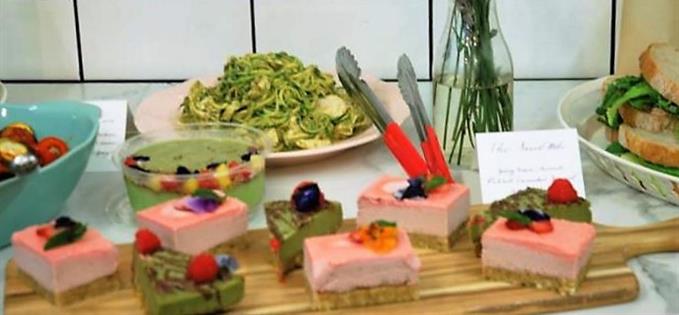 Healthy desserts at Simone's in Arndale Markets
---
Next Generation Breads
There's been no better time to declare yourself gluten free. Alternatives to wheat are being offered as standard in many restaurants, but many bakers and pastry chefs are taking it further. They have got the bread bug and are looking to the past to create next generation breads using ancient and heirloom grains such as sorghum, millet, farro and spelt. Compared to modern varieties of wheat, ancient grains and heirloom wheat berries are typically lower in gluten and higher in protein, as well as higher in micronutrients like minerals and antioxidants. They also add an interesting taste and texture to breads and we're expecting to see more of them on the menus of those establishments that bake from scratch.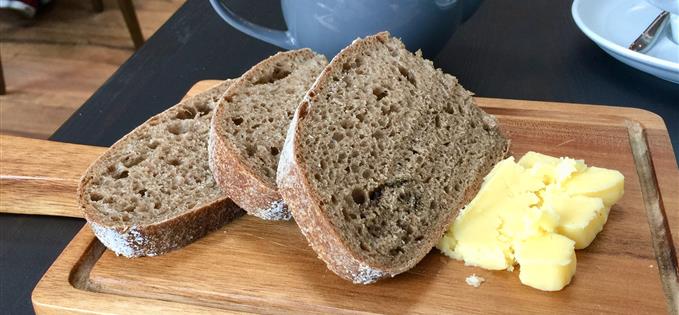 Hispi's bread sour light rye with 'Lincoln Poacher' butter

---
Flame Grilled
Over the past few years, thanks to the popularity of open kitchens, we've seen a rise in fancy restaurant ovens and grills. Some of these, like the Josper or Inka Grills are serious pieces of kit that do indoor barbequing which imparts meat, poultry, fish and vegetables with a charcoal grill effect difficult to replicate at home. We expect this trend not only to continue, but to evolve in the spirit of restaurant one upmanship. Expect more theatrical open-flame cooking in the form of South African braai, wood burning stoves and indoor charcoal grills.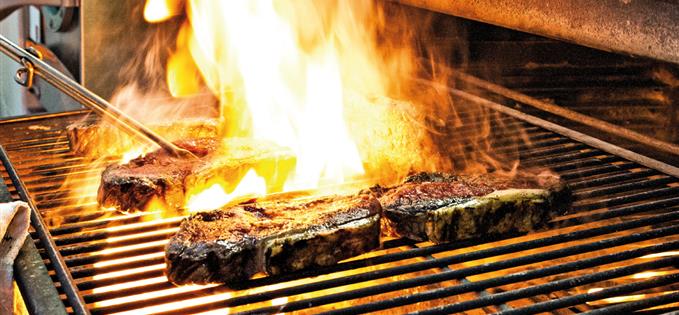 Steaks on the Josper
Like this? How about Where To Eat & What To Expect In 2017
Powered by Wakelet