"I JUST have to ask myself, what would Beyoncé do? Better yet, what would Ru Paul do?" giggles Jsky ahead of his eponymous fashion night at The Living Room, Deansgate. He's nervous, he tells me, and seeking motivation from the aforementioned goddesses of all things fierce. Jsky's celebrity pals are coming to his second fashion party – some are reality stars, some infamous celebrity personalities – all who attract vulture-like paparazzi. And, for the man best-known for his daring outfits (gigantic afro, dream-catcher earrings and kimonos are all part of his style repertoire), figuring out what to wear is proving stressful.
It's like I'm knee deep in blue ticks on Twitter
So what would Ru do? Throw a brilliantly glam and wonderfully eccentric evening with all the high-octane glitz he could muster, it would seem. Manchester fashionista Jsky can certainly work a room – and that's even with a 10-inch heel platform wearing, glittery bearded, cabaret performer also in-situ (more on that later).
Jsky's 'End Of Summer Soiree' was a night perfectly fitting for the man who frequents the tabloid pages and reality TV shows including Channel 4's First Dates and X Factor: there was a lot of sass, sexy, showbiz schmoozing and also, what looked like a Jsky branded car.
The front row was an eclectic medley from Jsky's well-cultivated little black book: Ex on the Beach stars arrived in full glamour mode, Britain's Got Talent semi-finalist and drag artist Danny Beard (in full glittery beard splendour – "I've been treated to free drinks, what's not to love?" said Beard), Manchester-made recording artist Misha B and curiously, the Lord Mayor of Manchester. Oh, and us.
"It's like I'm knee deep in blue ticks on Twitter," laughed our affable host.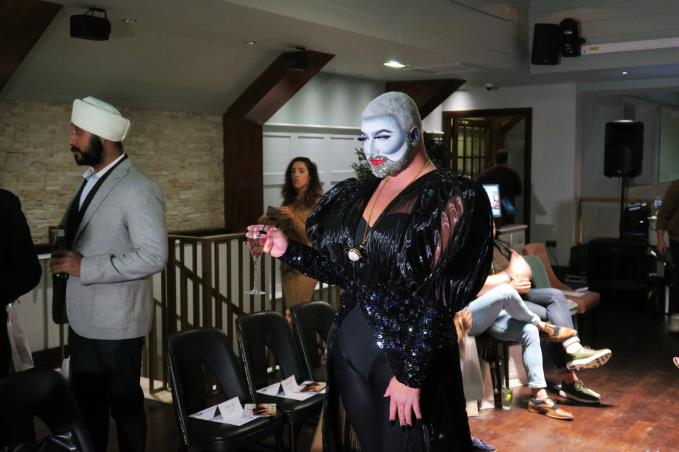 Danny Beard
While a lot of eyes were fixed on the celebrity guests, the fashion talent on the roster was impressive. Rene K, a Yorkshire-made brand, featured heavily on red carpets in the last few years was the opening collection on the catwalk. The brand showed off floor length elegant gowns and figure-skimming two pieces. Some of the VIP guests came dressed in Rene K too. Ex On The Beach's Charlotte Dawson wore a bold red number, encouraging tabloids to write riveting headlines such as 'Leggy EOTB star Charlotte Dawson puts on an eye-popping display in a plunging dress during a wild night with co-stars'.
Newly launched, Niche Clothing, also made big impressions on the catwalk, with one model/dancer dropping down into the splits after waving a bat a la Beyoncé.
So a lot going on, then. Jsky of course couldn't resist performing for his guests. The recently revamped Living Room boomed with bass-heavy dance music while prosecco was poured on an endless rotation and occasionally flung onto the catwalk.
WATCH:
So What Really Happened At Jsky's Fashion Night? from Loreal Blackett on Vimeo.