FC UNITED will be holding a test event at Broadhurst Park on Saturday 16 May, when the FC United first team will play a match against an Invitational XI.
This is a vital day for the club and they need a good turnout
All Greater Manchester supporters are asked to come along and support FC United because this is a vital day for the club and they need a good turnout.
The test event is a vital part of the club's progress, ticking all the legal boxes to enable Broadhurst Park reach its full potential and open as a public venue. Gates will open at 1pm allowing people to have a look at the brand spanking new ground and test the facilities - such as the bar and refreshment outlets.
The Invitational XI, managed by Dave Brown, is expected to contain a number of familiar FC faces including Rob Nugent, Simon Carden, Carlos Roca, Steve Spencer, Lee Neville, Richard Battersby, Dave Swarbrick, Martin Parker, Matty Tierney, Nick Culkin, Rhodri Giggs and possibly a few other surprises on the day.The match, which will be 30 minutes each way, will see FC's Darren Lyons manage a side comprising of first team players.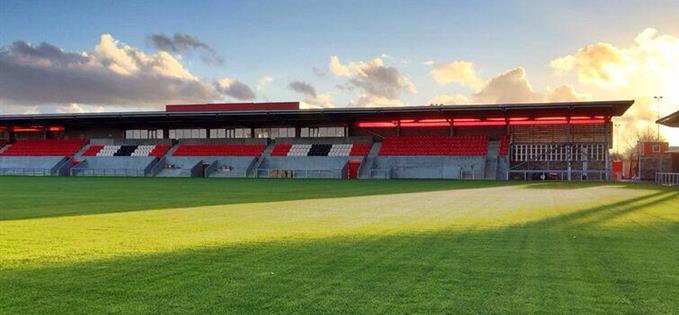 Broadhurst Park


The event will run as if it were a live match, testing the turnstiles and safety systems. This is a vital day for the club and they need a good turnout. They hope to draw in a crowd of 3,000 to test the facility and to secure the largest capacity possible for the much anticipated match with Benfica on 29 May. Tickets for the upcoming Benfica match - Pound for the Ground - will be available to purchase.
Ultimately the club hope for a 4,500 capacity, although when the final terrace is completed this will rise considerably.

Gates open Saturday 16 May from 1pm - Kick off at 3pm. The entrance cost will be just £3 for adults and £1 for concessions and under 18s.
Broadhurst Park, 310 Lightbowne Road, Moston, Manchester, M40 0FJ. Of course the club want to see as many faces inside the ground as possible, but if you cant make it down you can tune in to their live broadcast from the day on FCUM Radio here. You can follow Kelly Degnen on twitter here.