NOT since my first steps has walking been so tricky. 
High heels have a way of turning the most graceful and gazelle-like of females into buckling bow-legged Bambis (*ahem* Naomi Campbell). 
"Teach me and the Body Confidential readers how to walk the way models walk, in the highest of all my high and ill-advised heels."
If we're honest even some of our favourite stilettos shoes should come with a warning.
Come midnight, they make many of us walk as though we've regressed into our former Neanderthal selves. Nothing irks me more than spotting a woman defeated, heels dangling from her hand and walking barefoot over the cobbles, trying to dodge broken glass and puddles of urine. 
We must, as a species, do better.
I'm determined to make sure dancing in stilletoes is far more pleasurable this party season. And while I'm at it, this year I will not fall down. 
Going, going, gone
I approached senior model booker, Lauren Mellor, from Manchester's leading modelling agency, Boss Model Management, with a pretty simple mission: "Teach me and the Body Confidential readers how to walk the way models walk, in the highest of all my high and ill-advised heels."
Mellor, without any hesitation, said: "You need Billy."
Much like Madonna, Billy's so good he needs no last name.
A former dancer and actor, Billy modelled back in height of the 80s and ventured into a long career of fashion show directing, including the likes of Milan and London Fashion Week, and has been responsible for the catwalk careers of Boss Model Management's models for some time now.
I was in good hands.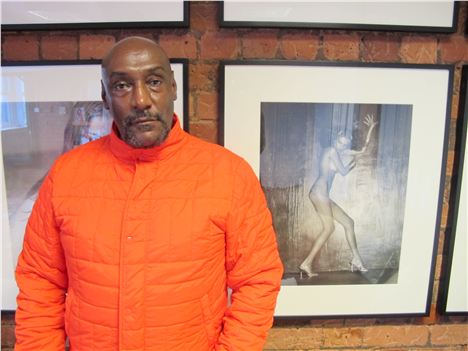 Boss Model Management's Secret Weapon
"First of all, if your shoes hurt you have to ask why you are wearing them?" said Billy as we met at the Boss office. 
Admitting that I was a slave to fashion we proceeded with enthusiasm. Billy first congratulated me on being able to put on my stratospheric five-inch platform heels without the need of a chair.
Me 1, Ridiculous heels: 0.
Confessing that he's "pretty theatrical" he talked me through the typical training process.
"The heel should feel like an extension of your leg. It should feel a part of you," he said.
As I teetered unsteadily on my platform, the shoe felt more like a prosthesis than an 'extension of me' but Billy assured me that it would soon feel natural.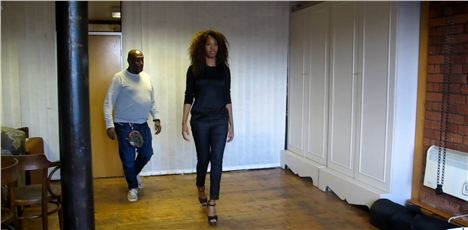 Walking in the way model's walk
First seeing how I walked (not too shabby), Billy realigned my posture and then tugged the hair at the top of my head.
"You feel that? Whenever you feel like you want to slouch, remember me pulling your hair."
I doubt I'll ever forget.
"Now, let's imagine you're walking through a leafy park...".
Watch the tutorial with Billy at Boss Model Management here:
Billy's approach to teaching me how to walk isn't too dissimilar to a child learning to walk for the first time. He shared with me a video of a 16-year-old model he once trained blossoming into a professional, walking all angel-like to solemn soul music.
"The model's mother couldn't hold back the tears," said Billy.
The whole experience was an eye-opener, I've never met anyone with such passion for walking.
If you had any doubts on the seriousness of the modelling industry, I was introduced to a Boss model with a broken metatarsal who was determined to get back on the runway.
I hadn't seen that much dedication to a job since Manteo Mitchell ran a 400m sprint at the Olympics with a broken leg.
Far from being a pro, with Billy's help I was sure that the simple act of going from A to B in my party shoes would no longer feel like I'm about to walk over the entire alphabet. 
Billy's Top Tips:
1. Don't run before you can walk: If you can't stand on you tip-toes wearing your heels you shouldn't be wearing any higher.
2. Buy your shoes well in advance of an event.
3. Start in your house – 15 minutes in the morning, 15 minutes at night.
4. Practice on different surfaces.
5. Do day to day housework in your heels.
6. Watch your posture – suck that stomach in.
7. Fake confidence: the more confident you are the less likely to      stumble.
8. If in doubt wear shoes with ankle support.
9. Practice on the kerb. Try walk in a straight line.
10. Beware of alcohol intake... we'll try
Billy provides catwalk masterclasses for Boss Model Management here in Manchester. 
Follow @Loreal_B on Twitter