FOLLOWING an unreasonable amount of beer one night in the Briton's Protection, it was agreed by all that national food critic and author, Tom Parker Bowles, must join the swelling rank of writers here at Confidential. In this piece, we ask Tom up for a review and get lost along the way...
---
It all happened so fast. One moment, I was sipping sparkling water in This & That, the very picture of sober, sensible professionalism. The next, I was downing the last dregs of my negroni (rather, dribbling it drunkenly down my front) and staggering to catch the last train back to London. Done well, Manchester always has that sort of effect.
My body is now suffused with a warm Northern glow, and my belly merrily filled with a magnificent sausage roll
Anyway, This & That. Rice and three. Something we Londoners know cock-all about. Curry, a great, glorious and generous plateful of the stuff, served up with a wide smile, for no more than five quid. What's more, the quality was grand. Properly fluffy rice, subtly spiced chana masala and keema, singing of cloves, chilli, cardamom and cumin, bleating with a mellow mutton tang. Plus kahari lamb, robustly flavoured and properly cooked. Nothing swish or fancy (the only nod to interior design, a yellow and black Hacienda hazard stripe on one concrete pillar) but a cut above the usual curry house slop, for a third of the price. In London, we'd call this sort of lunch the impossible dream. In Manchester, though, it's old news.
Rather more modern, our next port of call is Evelyn's, all discreetly blonde wood, exposed ventilation ducts, bare brick walls and winsomely hanging plants. Ah, now I feel more at home. This is a little slice of East London in the Northern Quarter of Manchester. The menu takes in the usual edible trends from across the globe, and there are even sprigs of mint in the water. Get you. But the Korean fried chicken is cracking good, the meat succulent, the crust crisp with a fine nudge of heat. Plus poke, that perplexingly popular Hawaiian melange. Here, though, you can see why it adorns comedy beards from here to Hoxton. The tuna is spanking fresh, lavished with sesame seeds and tumbled in a slick of good mayonnaise. The only slight let down is the ceviche. Only because the fish has spent too long in the citrus marinade, destroying any delicate nuance of piscine flavour. Still, Evelyn's is a fresh-faced, clean living (ish), straight up class act. I slurp through a decent bottle of white, with my esteemed editor, and skip onto Tariff and Dale.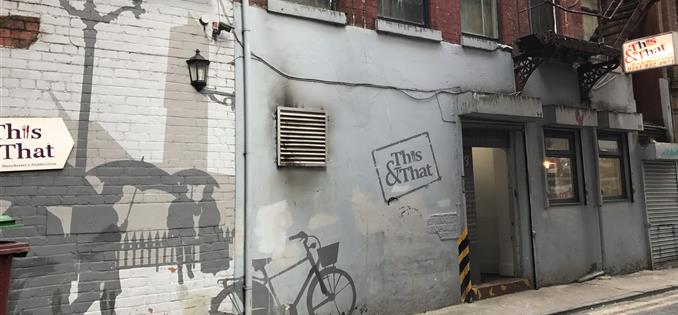 Parker Bowles: This & That offers the 'impossible dream' of three curries for a fiver
Here we sit in a converted lift shaft (I shit you not), in a former garment factory, while sipping lovingly made cocktails. The sort made by bar men, rather than mixologists. Ok, so this is a place with a 'Philosophy', but the cocktails (nine classics) are done so well that I'll forgive them this heinous sin. A serious Old Fashioned, with just the right balance of bitter, sour and sweet. Then some form of martini, which is suitably dry and icy cold. My body is now suffused with a warm Northern glow, and my belly merrily filled with a magnificent sausage roll; all crumbly, flaky pastry and filling made from a pig who lived the good life. Another studded with black pudding is every bit as grand. Proper bar grub.
READ: Tom Parker Bowles - The Best London Restaurants You've Never Heard Of
At this point Gordo arrives, waving the legendary (and apparently limitless) Man Con credit card, and that glow moves across into a gentle blur. Now our Gordo is, as you well know, a shy and retiring type. He doesn't get out much. And I really do wish he'd have more of an opinion on everything. Still, he rises to the occasion and leads his merry bunch of sweet innocents onto Pen and Pencil, yet another Northern quarter bar. I wish I could recall its expensive décor and ironic cocktails, but all my notes say, in an illegible scrawl, is 'Nikkadropperglory and good beer.' We drink beer. I think. Hey ho, a good time was had by all. Allegedly.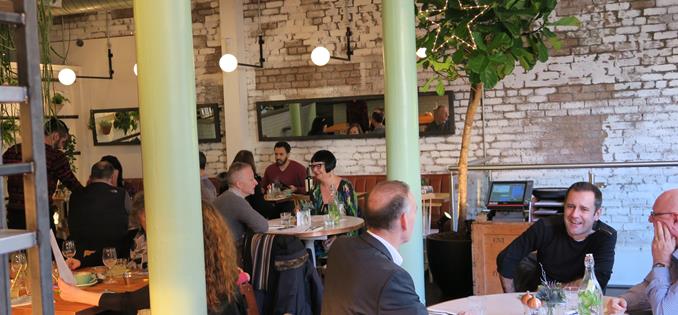 Evelyn's: the Korean fried chicken is cracking good
It's dark now, and all this Northern good cheer and succour has gone straight to my head. So we descend into Crazy Pedro's, the sort of subterranean place I adore. Wait, was it underground? It says here no. But it sure felt like it. Memory, eh? Apparently the pizzas are tip top. Seriously proper. And the vibe here, sweet enough to slurp. Endless tequilas, mezcals and frozen cocktails. Plus it's open until 4am. Gordo, can we stay here forever, I ask. No, you nob, you've got to get that last train back to London. Oh yes. And we still have one more place to try.
By now we're pickled as walnuts, but happy, rather than raucous. Now we positively skip to The Refuge by Volta at The Principal Hotel (pictured top). This place is reet posh. I think I see a footballer. But as it's not Rooney, I've have no idea who. Is this what it's like in Alderley Edge? The place even has bouncers. They part like Red Sea waves as Gordo swans in, his minions trailing in his cologne scented wake. It's one hell of a room. Damned good negroni too. I only know it was a negroni because I wake up the next morning, with most of it painting the front of my shirt scarlet. Anyway, I'm just in the middle of telling the editor the Meaning Of Life, when God, sorry Gordo, kicks me up the ass and tells me to get to the train station. I fly out into the chill Manchester air and race towards Piccadilly. Well, stumble, but you know what I mean. I've been well and truly Man Con-ed, in this ever magnificent city. 'Next time,' says the editor, a trifle raggedly the next day, 'we'll do it properly.' Jesus H Christ. If that's a warm up, I dread to think what a real large night out entails. Still, my liver may moan but my spirits soar. Any excuse to come back.
Powered by Wakelet