SHE may own a string of boutiques in London, but denim guru Donna Ida won't settle until she's got the whole of the UK wearing correctly fitting jeans.
Hailing from Australia, Donna Ida Thornton decided to start her own jeans business after experiencing poor service buying jeans in department stores. The first Donna Ida boutique opened in Chelsea in October 2006, stocking other quality denim brands as well as her own. 
"The pop up will stock an edit of my favourite brands plus a selection of my own range, IDA – a collection of high-waisted jeans which celebrates an iconic silhouette."
Cheshire Oaks, the UK's largest designer outlet, has this month launched 'The Art of Denim' – a celebration of denim across the entire designer outlet village. Donna Ida's brand 'IDA' features and is open until October 20. The pop-up is the first time North West shoppers get to experience the Donna Ida philosophy first hand.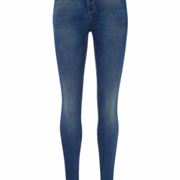 Ida Ivy Skinny JeansDonna Ida Thornton said: "I'm so excited to be popping up in McArthurGlen Cheshire Oaks Luxury Quarter in October; it's an ideal place for a DONNA IDA boutique. Denim is a staple piece in the modern wardrobe; working in any season and taking you effortlessly from day to night so everyone should have a 'go-to' pair of jeans in their wardrobe. The pop up will stock an edit of my favourite brands plus a selection of my own range, IDA – a collection of high-waisted jeans which celebrates an iconic silhouette."
Other highlights of The Art of Denum include a 'share zone' which will screen live feeds of street-style shots uploaded by shoppers on Instagram using the #ArtOfDenim, an exclusive free denim tote bag  which shoppers will be able to customise with their own personal designs, and a bespoke monogramming and embroidery service.
Throughout the campaign, McArthurGlen Cheshire Oaks will offer shoppers further savings on renowned denim labels, including Guess, Calvin Klein Jeans, Diesel, and Levi's, who are celebrating their 150 year brand anniversary this year. Brands including All Saints, Armani, Joseph and Ted Baker will also be participating in exclusive promotions, enabling shoppers to style their complete denim look. Last year, McArthurGlen Designer Outlet centres sold more than five million items of denim-wear – that's nearly 600 for every hour of the year.
Donna Ida Thornton's 5 denim styling tips 
Pear Shape
Accentuate your small waist and gorgeous wider hips by highlighting your greatest assets and even out your proportions. Opt for high-waisted denim styles which will cinch you in and draw the eye towards your middle. You can also try a bootcut or wide leg style, which will skim over your hips, balancing out your body proportions with the kick at the bottom of the leg.
Curvy Shape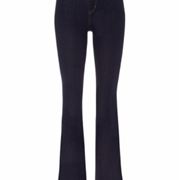 Ida Martha Flare JeansIf you're curvy like Scarlett Johannsen or Christina Hendricks, try to stick to styles that flatter your natural shape rather than detract from it with plenty of structure and a little bit of give. Stick to a heavy weighted denim with a minimal amount of stretch; a lighter weight with too much give will not provide the structure that you need.
Apple Shape
Apple shaped girls will have the legs to carry off slim jeans, but might need to disguise their more problematic areas. Try a stretchy straight leg style, with a mid or low rise waist. Your bottom may be a little flat, so give it shape with a pair of jeans with plenty of back pocket detail.
Boyish Shape
Ida Ivy Skinny Jeans - CordedBoyish shapes tend to have slim silhouettes and can usually wear most styles of jean. You can get away with detailing such as zips and hardware; adding detail to the seat, like back pockets, is particularly good for you as it will add shape to your bottom.
Petite or Long Legged 
Petite figures generally have beautiful proportions, just in a smaller package! High rise styles will elongate your legs and cinch-in your waist to show off your perfect proportions. If you're long-legged, stick to mid and low rise styles, in a longer length.