TEN years ago Manchester Street Food mostly meant a 'klang' burger (named after the sound a frozen patty makes as it hits the plancher) on the way to Old Trafford or Maine Road. Nowadays, innovative vendors offer all manner of global delights at an abundance of local markets, events, pop-ups and festivals.
We've decided to steer clear of the more well-known burger, sausage and burrito merchants (however organic and lovingly hand-crafted they may be), so that we may champion our region's lesser-known and seldom seen street foodsters, and, more importantly, tell you where to find them (hint: you're best just heading to Levy)
So, in no particular order...
BLUE CARIBOU POUTINE
What? cheese, chips and gravy... ace.
Where? Levenshulme Market and pop-ups
For those not familiar with this classic Canadian take on cheesy chips and gravy, it consists of skin on fries and squeaky Quebec-style cheese curds lovingly smothered in a herby veal or beef gravy. Blue Caribou is run by Graham Gartside-Bernier and Vincent Bernier; one from Bolton and the other Montreal, who serve La Classic Poutine and a few variations on the theme. Try La Coréenne with kimchi, Japanese mayo, Sriracha and dried seaweed, or La Tourtiére with the addition of spiced pork, pickled red cabbage and smashed pastry. You'll find them at Levenshulme market every Saturday as well as pop up events, festivals, and even weddings (just don't spill any gravy down that dress.)
Twitter: @BCPoutine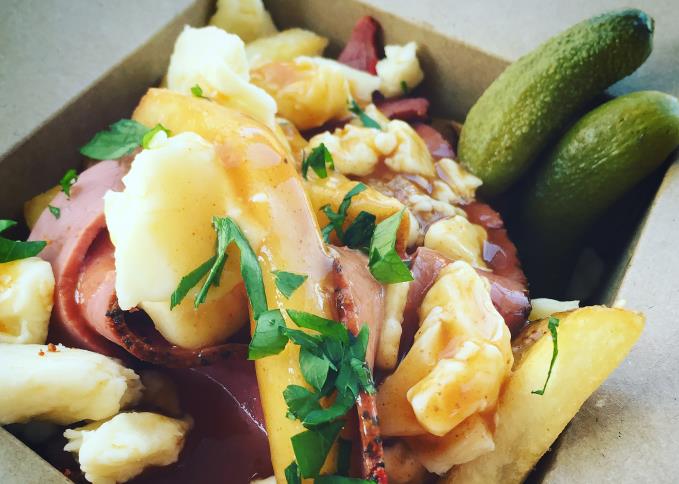 ---
WALLACE AND SONS
What? Bao, gyoza and so on
Where? Makers Market, Grub and Levy Market
Nope, not the offspring of a Masterchef judge producing things with a buttery biscuit base, but a street food vendor who sells a handmade Pan Asian menu including dishes such as bao, gyoza, homemade kimchi and other Eastern inspired delights. John Wallace started Wallace and Sons 18 months ago after working as a Chef for 12 years throughout Ireland and the U.K. - most recently as sous Chef at Mr Coopers in Manchester. They trade regularly in the North West for Makers Markets at Eccles, Lowry Outlet and West Didsbury. You can also find them at Grub and Levenshulme Market as well as further afield for Peddlers in Sheffield, Urban Food Fest in London and stints at Trinity Kitchens in Leeds.
Twitter: @WallaceandSons
---
OH MY GLAZE
What? Cajun Americana
Where? Lowry Outlet and Makers Market
Scott Graham is the brains behind this food truck, inspired by American food with a Cajun influence. OMG began life as a part-time pop-up stall on Hulme High Street, before purchasing a trailer in October 2015. They can be found trading regularly with The Makers Markets in Spinningfields and the Lowry Outlet at weekends. They are currently enjoying a weekday residency at the development on the corner of New Bailey Street and Stanley Street in the city centre. OMG is open from 7.30am for breakfast. Lunch offers include the Cajun chicken burger with bacon, avocado and home-made slaw, while their sweet potato fries with Cajun mayonnaise and coriander have had many a local soap star tweeting their delight. OMG prides itself on making all glazes and marinades from scratch, and claim you haven't lived until you've tried their sticky chicken wings.
Twitter: @OhMyGlaze
---
HOLY CRAB
What? Seafood snacks
Where? Kosmonaut
This is the plaice, sorry, the place to come for all your sustainable seafood snacks. Fishy food traders Lou and Hannah have been crabbing around at market stalls, breweries and festivals for the past nine months. They started Holy Crab last year on a mission to bring great seafood, especially crab and oysters to the North West and make it approachable and fun for everyone. They've taken tons of oyster virginities so far and plan to get round the rest of Manchester by 2017.
They have now set up in the basement of Northern Quarter drinking den Kosmonaut where they will be serving things like oysters with Asian dressing, salmon sliders, crab balls and fritters, Bloody Mary mussels and Crunchy Herb salad Thursday-Sunday until 9pm.
Twitter: @HolyCrab_UK
---
STOMPING GROUND
What? Turkish Street Food
Where? Urmston Artisan Market, Knutsford, Stockport, oh all over
Co-owner Claire has combined her love of food with inspiration from living in Turkey. Her and Ryan are known for their distinctive Turkish/English fusion Street Food, which they sell from their converted food van, an ex Royal Mail LDV called Percy. They source ingredients from local producers, farms, small holdings and artisans in order to offer great tasting, ethical and unique 'community driven' food.
Their fresh and healthy dishes include 'spiced honey and black sesame chicken', 'slow cooked lamb with dark chocolate, molasses and mint', 'griddled halloumi and Turkish pesto (ezme), with carrot and cumin falafel and a piquant iskender sauce', or 'red pepper roll ups with avocado cream, roasted carrot and toasted cashews'.
They have regular spots at Urmston Artisan Market, Knutsford, Northern Quarter, Wilmslow, Foodie Friday at Stockport market (last Friday of the month), West Didsbury and regular Street Food evenings at Norfolk Arms in Marple. Their next Street Food Event will be at the Red Willow Bar in Macclesfield on 18th September.
Twitter: @SGsCateringUK
---
SAVAGE CABBAGE
What? Punchy leaves and salt beef
Where? Levy Market, Grub
This newest Street Food vendor (with extra ManCon points for originality) began life in April 2016. Irish/German Brendan Reidenbach and Chorltonian chef Ian Jones have decided to celebrate the humble cabbage and elevate it to new culinary heights.
They cure their own salt beef brisket (using a closely-guarded Irish recipe) and spend over six months fermenting their own sauerkraut. They also pickle radishes, ferment onions (they taste better than they sound) and conjure up 'wicked-tasting' coleslaws.
The resident sandwich on the menu is 'The Total BS' which contains beef and sauerkraut. Also on offer are two halloumi options, infused with either orange or pineapple, each paired with its own matching slaw.
Catch them at the Runaway Brewery for GRUBMCR on 17th September or at Levenshulme market on 22nd October.
Twitter: @savcabfood
---
KNUCKLE BUTTY
What? Cow butties
Where? Makers Market, Bolton Market
With a name like Knuckle Butty, you could be forgiven for thinking it comes in a box around the ears, but it's a whole lot more pleasant than that. Take things like 24-hour shredded beef brisket, Blacksticks blue cheese, Colman's mustard and rocket in brioche. Lordy lord.
Their twitter biog reads 'Giving you our cow know how! Spider steaks - Shredded brisket - Bone marrow burgers - knuckle steaks & much much more!' Sounds delicious, but we're not sure what cut of meat you're likely to get off an arachnid.
Their sister operation, Green Goddess, meanwhile, serves 'beautiful street food from Vietnam, Thailand, Malaysia, Indonesia, Korea, Sri Lanka, Burma, Cambodia and Japan'.
Twitter: @ST3AK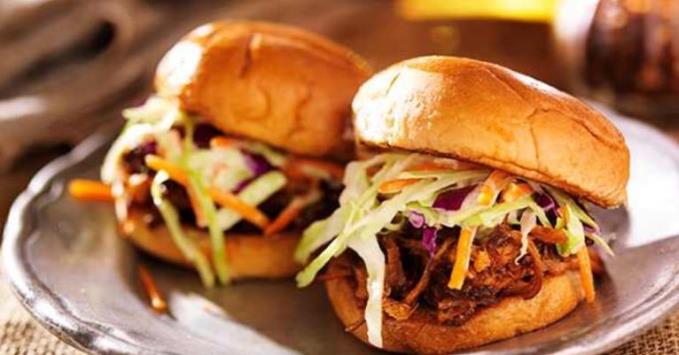 ---
THE OTTO-MEN
What? Contemporary Ottoman and Med cuisine
Where? Levy Market, Grub, Makers Market
Passionate bunch of people those Ottomans – maybe that's why they've got a type of bed named after them. This lot however are passionate about contemporary Turkish and Mediterranean cuisine, such as plaki gigantes with foul medames (much better than they sound), sigara borek and falafel/hummus/olives/tzatziki, naturally.
In between running a catering company, deli and studying, James and Nick find the time to pop-up at local events such as Levy Market, Grub and Makers Market, as well as sporadic takeovers of local kitchens such as a recent pop-up in Proof, Chorlton.
Twitter: @The_Ottomen