WHEN IT comes to skincare I tend to keep it simple: Mother Hubbard and her empty cupboard, simple.
I use a little lemon juice to lighten blemishes, the steam from the kettle to open pores and seasalt in the bath to stay exfoliated. As someone who has beat acne by merely leaving my face alone, I swear by a minimalist approach to good skin.
I encouraged my therapist to go as deep into my pores as a Chilean miner; I wanted all the muck gone.
Still, I'll never argue with good results from more complicated skincare techniques. Widely tested skincare products coupled with good science will usually win me over - plus it's always interesting to test modern dermatology against my passed-down homespun remedies.
Beyond MediSpa is an advanced medical and aesthetic centre which specialises in offering patients the latest treatments for both the face and body.
The spa's treatment offering sits neatly between a beauty parlour and a plastic surgery with botox, liposcuplture, nose reshaping and much more on offer from a team of nurses, doctors and aesthetic practitioners.
They've just opened a new spa within Harvey Nichols, Manchester and were keen to have me try one of their popular treatments, the HydraFacial.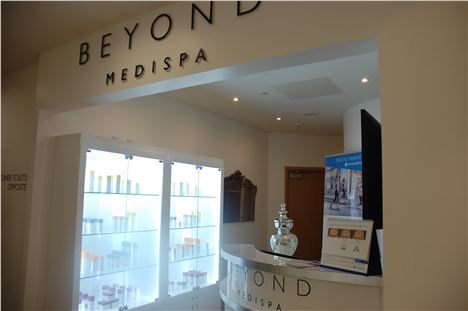 Medispa
I was mostly sold after I heard Beyonce, Kate Winslet, Gwyneth Paltrow, Eva Mendes and Paris Hilton were all fans of the HydraFacial. It's been hailed as 'revolutionary' in some beauty circles and is said to tackle hyper-pigmentation, acne and anti-ageing without being invasive. Even more enticing, the HydraFacial is designed to provide 'instantly visible results' after every treatment you're recommened to try a course of six at £120 a time (£600 for a full course, that's a little less enticing).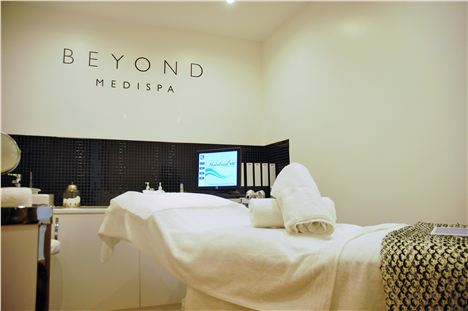 HydraFacial at Beyond MediSpa
Yet expense aside, the HydraFacial's results are said to be worth the hit to your bank balance.
The key to the treatment's success is that it uses powerful jets of cooling water combined with botanical extracts to remove dead skin cells. The vacuum-based tip is loaded with a cocktail of serums, which increases the hydration of your skin whilst a hyaluronic (a naturally-occurring lubricant agent found in the human body) works at removing your skins impurities.
My therapist confirmed that in one session she'll be able to unclog my blocked poors and leave my complexion looking brighter. Turns out, I had quite a few problem areas that needed specialist attention. In short, I had a lot of blackheads. Yikes.
"Your everyday facial scrubs only really take off the first layer of skin," said Katie my therapist. "The HydraFacial allows us to penetrate the skin further and extract whatever is clogging your pores. You get to see how much we remove from your skin afterwards."
The procedure lasts around one hour and is quite intensive. There's four stages: cleansing and exfoliation with a 'deplaning tool', a glycolic acid peel, an extraction, Red Light therapy followed by a serum application.
During the extraction stage my therapist used quite a bit of elbow grease and pressure is applied to your skin to remove any stubborn spots. It feels as if a tiny vacumn is snogging your face rather intensely. While the sensation was not pleasant it did not hurt. I encouraged my therapist to go as deep into my pores as a Chilean miner; I wanted all the muck gone.
While it's gross to see your blackheads swimming around in a pool of your own face filth, it's quite satisfying to know that they're no longer festering underneath your skin.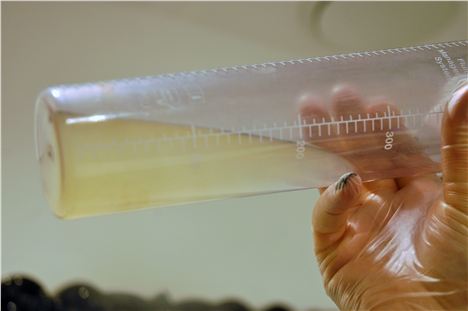 Post extraction aftermath.
The facial ends with Red LED Light therapy which, after the intensive extraction, helps cool my skin down and promote anti-ageing further. The LED light helps promote collagen in the skin to give it a more plumped up appearance. Interestingly, for acne sufferers, the therapist would use a Blue LED light, which encourages healing with problem skin.
Lastly, my skin is moisturised with a serum which I left on overnight. Although my skin was a little red, I could immediately see a vast improvement. My skin looks virtually poreless, a number of blackheads have disappeared and my skintone is even and radiant.
Now, while I'll always champion simple methods, I do think for problem skin the HydraFacial is worth a try. There's a lot of confidence to be gained by having clearer, brighter skin - that alone is worth the money.
Feeling a surge of confidence, the next morning, I went foundation free.
See below: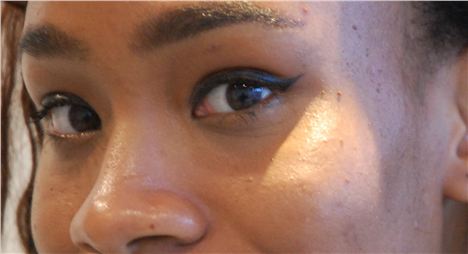 Close-up of L'Oréal's skin post facial. No foundation. Blackhead free around the nose.
Hydrafacial s available at Beyond MediSpa, Harvey Nichols.
Follow @LOreal_B on Twitter