AFTER dragging (almost literally) Gordo to try out the Hot Yoga classes at The Yoga Lounge, we somehow came to the decision to do their 10 Day Challenge – Hot Yoga everyday for yes, ten days. 
Not so much a problem for me, being one of those people who has dipped in and out of yoga and Pilates for years, but seeing as Gordo has taken to calling me "a witch" and saying I'm going to kill him, we could have a problem...
Day 1
Two days after sedation for an operation I showed up, all guns blazing and Gordo was nowhere to be seen. Some excuse about losing keys/wallet. The Yoga Rooms is up two flights of stairs, so you're nicely warmed up for the class before you've even signed in.  Precious things in a locker, shoes in the rack, grab a mat for £1 and we're off.
Sue took today's class, with a few beginners, who as usually happens in a gym had to put hands up to be recognised so she could keep an eye on them. Although it was me who needed an eye on me – obviously still woozy and with sedative in my bloodstream I had to sit down half way through. Practitioners (as you're called) are encouraged to take things gently, rest and drink water when necessary, and it all made for a nice, wholesome and relaxing class.
Day 2
Determined to see through this challenge, despite wanting to stay under the duvet because of the rain, I headed off for round two.  And Gordo showed! Sunday's are with Eleanor, who teaches a little differently to Sue, but not so much for there to be any physical difference to the class. Today we were celebrating the Solstice, which made me think Eleanor's manner reminded me of kundalini, laid back, softly softly and with a chant at the end.
It was one of those 'close' weather days, and boy could you tell in the class. Today seemed super-hot compared to yesterday, but maybe that's because we were focussing on lots of hip and pelvis work – not my strong points, so I was working harder. You only realise going to these classes regularly, how many different exercises there are for different parts of the body, and how much you can learn and strengthen. Bring on tomorrow...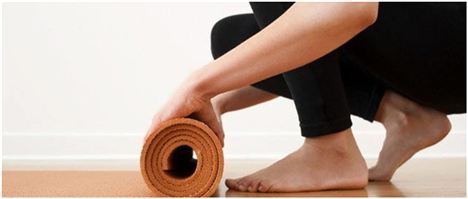 Day 3
Full day at work and not a single ache, thankfully, other than my usual fractured spine versus bad posture at work neck/back pain.  But that's standard. 
Good job Nisha had suggested a taster session on the Pilates Reformer machines then. It looks like a Victorian torture chamber, but the Wigan Warriors use it so it's good enough for me. Doing simple exercises on the assisted machines makes you realise how the stronger side of your body compensates – it's all about balance and evening out your strength. And it didn't feel too bad.
Neither did the Garuda Pilates class we did to follow, in the hot room obviously. Quite different – more repetition and balance focussing on your core than the twisting and holding postures in yoga.  Strangely enough my neck/back pain seemed to have gone by the end of the session. I felt all floaty and light. Highly recommended.
Day 4
Again felt light as a feather this morning for work, nice and rested. This daily yoga seems to be having a good effect on my general karma, as they say. I'll be transcendental after six more.
Today's class was with Sue, who is a smiley happy yoga machine. She never stops.  Hot Flow, usually done for 75 minutes, thankfully today only for an hour.  This was a tough one – obviously there is no stopping you resting, drinking water (or even leaving the room in some cases) or doing simple moves suitable for your practice level – but probably one for the more experienced yogis, to get the full benefit by doing the whole class. Start easy, work yourself into the moves and breathe through it are the rules, so maybe I'll stick with an easier class. Post-class/pre-bed feeling – strangely energised despite being sat down for 50 per cent of the session.
Day 5
Hot and sunny day in Manchester, which is highly unusual and great, but not so great when the sun has been streaming in the windows of the yoga studio making it even warmer than usual.  The heat in the room is created by hot plates on the ceiling, but the heat created by the sun is quite different. It made everything feel quite stifling, which is unusual however much you sweat.
Another flow class today, with Jane. Maybe it's because I've been every day but it felt decidedly easier than yesterday despite the heat – less sitting down in child's pose for me (the one where you curl into a ball on your knees for some respite) and more strength in my hips in warrior poses (the ones that are variations on a lunge). Result!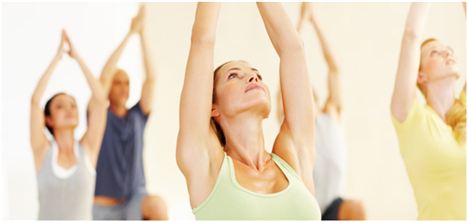 Day 6
Responsibilities tonight mean I had to go to the lunchtime class. And what a mistake that was, for me at least. Some people love it, getting a break from work and having the opportunity to relax for an hour. Seeing as I work on the opposite side of town and had the busiest day of the week, I made a bad choice.
I can't even remember the nature of today's class, just that I personally was much too tense and not focussed enough to do the work I had in other classes in the last few days. Some people can do lunchtime sessions, some can't – it's all about finding what suits you, as is everything with yoga, your own breathing, your own relaxation, your own flow. Focussing on just about everything I couldn't do today.
Day 7
Friday night – everyone going out, having dinner, hitting the pub after work, and I'm scuttled off to yoga again. But Friday evenings is yoga by candlelight, even more relaxing than usual, the purple room felt cosier and more comfortable in the dim glow.
A week into the Ten Day Challenge, and my body is definitely feeling the benefits of stretching and balancing every day. Being stuck in an office job means you don't move, exercise or work your body much at all for hours, and getting to do an hour regularly seems to be paying off. Some of the other girls at the class agreed.  There's a growing gaggle of women wandering about the Hilton end of Deansgate with red faces and yoga mats nowadays...
Day 8
Saturday – one of the days of rest. Although having to go to yoga and not break my Ten Day Challenge was quite welcome today as it meant not helping my other half gloss the skirting boards.  Despite the struggle to leave my bed (at 11am) it was well worth it.
Some tension has built in my back again, so booking in to the Pilates Reformer session tomorrow is necessary. But as yesterday, the yoga moves are easier, my balance is better, my legs feel stronger and my general energy and mood has been up for days.  I can't believe the challenge is nearly over.
Day 9
I was very much looking forward to today – another class with Eleanor and the Pilates Reformer session. Another solid but gentle class with Eleanor, but my was I sweating. I'm still unsure as to what affects the amount you sweat in these classes - food, drink, smoking? It's not the amount you work, as other days have been more physical/less sweat days.  Anyway, enough yuck and more fitness talk.
Second half of today's session was in the wonderful Pilates Reformer studio again. Given my neck/back pain has increased again in the last couple of days (as it does where a spinal injury is concerned, no bearing on the yoga) it was a welcome half hour. This is really a great thing, yet again eradicating the strain put on my body by a stronger side overcompensating and me having been sat at a desk all week. Floaty light after class again. I'm booking in for more, definitely.
Day 10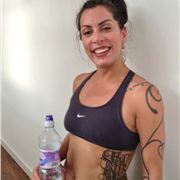 Miz DeshannonD-Day – IT'S THE END! And what an end – more Garuda Flow with Nisha, the perfect combination of continuous flowing moves and Pilates. Quite hot this evening, it's been a sunny day in Manchester again and the room has that stifling heat rather than the usual, plus it was full too.  Half of Manchester is getting into this hot fitness thing it'd appear. After all my ramblings about the various classes and the lovely environment, having relaxed into them there's not a lot else to say, other than this was a much needed end to a hard day at work.
Conclusion
One day I overheard a guy say to his girlfriend "it's all very westernised here isn't it...?" How he came to this conclusion I don't know (apart from the fact that any yoga in a city centre building is actually making it westernised) as The Yoga Lounge is so zen in comparison to other 'gym' facilities with its purple walls, a huge Om symbol, various relevant deities in alcoves, use of the correct names for moves (all ending in "asana") and (minimal) talk-through of the purpose and belief in where yoga comes from, ending each class with "namaste". 
But by no means is this a group of women who are trying to convert Manchester, it's all about health and wellbeing and, as in any training, gaining a proper understanding of the nature of what you're participating in. 
The nice and relaxed, encouraging environment at The Yoga Lounge makes you feel utterly comfortable, whatever you can physically do, so even if you fall over and only manage a handful of moves, no one really minds.  Regular yoga is well worth getting involved in whatever level of fitness you have, and with knowledgeable professional people is a must – I had a totally enjoyable ten days. 
Follow Miz DeShannon on Twitter @DeShannon