ERM BJORK… Eidur Gudjohnson… Sigur Ros… catastrophic banking failure (but then, we've all had that).
Apart from that I could not tell you one more thing related to Iceland. Ice perhaps, but then everyone knows that Greenland has more ice than Iceland and that Iceland has more green than Greenland. It's one of those regurgitated crap facts that Geography teachers with clumpy brown plastic shoes and a spare pair of pants in their suitcase like to spout.
I've never had the urge to kick an older woman on crutches up the arse and out the door before, but one that bogarts the rest of the food then suggests that you have the one remaining sandwich which contains piccalilli (f**king piccalilli?), almost definitely deserves it.
So for me, as for most, walking into an Icelandic-inspired coffee house is like walking into an Azerbaijani-inspired restaurant. They could give you a pukka pie and say it's authentic. There's no point of reference .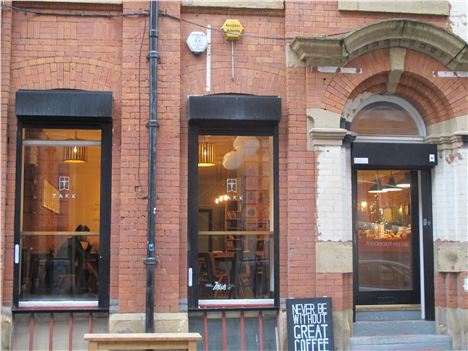 Takk
The map of Iceland on the wall was most certainly Icelandic. The Godzilla lamp, although marvellous, less so.
"Didn't know Godzilla was Icelandic?" I enquire with the barista - that's what they're called now – or at least that's what I'm calling myself every morning between 7.45am and 7.48am.
"Yeah, everyone thinks he's Japanese, but he's not," came the chirpy bluff.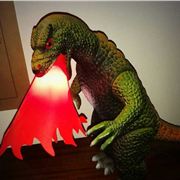 Godzilla: Icelandic?I ask what is so Icelandic about the place. Turns out, not a whole lot. "The owner visited a few coffee houses in Reyjavik and just loved the vibe, it's relaxed, cosy. Somewhere to lose a few hours," the barista tells me.
Still, if the owner has tried to emulate that vibe, coffee houses in Reyjavik must look a whole lot like a good number of cafés and bars over here.
To give it credit, the place looks great, well designed, it's clear to see the owner cares. Clear because as I type this, the owner (Philip I believe) is precariously perched on a stool hanging what look like Yeti bollocks from the window (see above). They turn out to be big fluffy white Christmas baubles.
But it's not dissimilar to neighbouring haunts. It could almost be a sister venue. Throw in a few punters and a bit of grog (of which there's none here) and you'd be forgiven for thinking you were in Whiskey Jar or Kosmonaut next door.
If exposed brick, hanging low lighting, black radiators, dark wooden flooring, chalk boards, mismatched furniture, quirky wall art, hip fonts and gay underground saunas are your thing, then Tariff Street is right up your… well, street.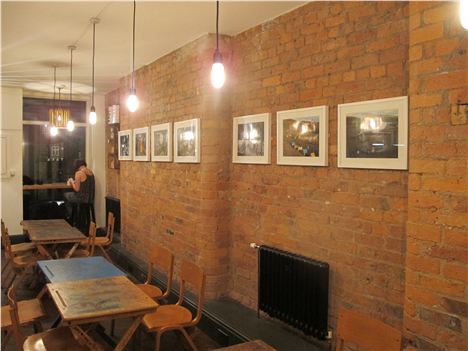 Interior
It's much more serene at this easterly end of Northern Quarter, a spot to escape the buses, the hairshops, the ankles. Take stock. Judging by all the studious types typing away in here, each with at least two Macs (one spare), I'm not the only one who thinks so.
Granted, soaking your contact lenses in the juice of a Bhut Jolokia would be more pleasant than having to look at Hilton House, but this end of the Quarter has a certain NY meat packing quality to it, before the aggressive gentrification and Carrie McBeal types took over: corrugated shutters, tall bricky spaces, cobbled alleys and external rusty fire stairs, perfect for chasing bad guys.
Takk's heavily graffitied wooden school desks are a great touch, similar again to Kosmonaut. How they've managed to source all these cast-offs with no phallic illustrations etched into the wood is a near miracle. No effing and jeffing either. These kids must have been saints. Oh no wait...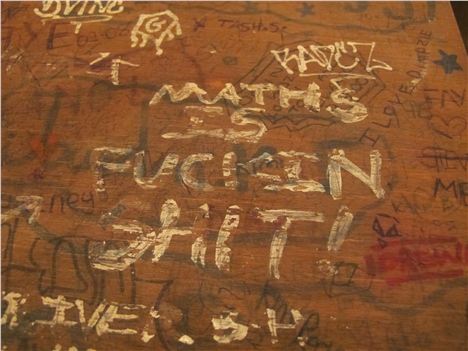 Yeah up your Pythagoras
On the back wall rests an ample bookcase that could barely look more Scandinavian, the TAKK Bookcase £94. Except the 'A' would be an "Ä". More Nordic and enticing that way. The shelves welcome all, the National Geographic, Alfred Wainwright, even Roy Keane. The only man to ever look angry perched next to a Good Pub Guide and a tiny Dalmatian.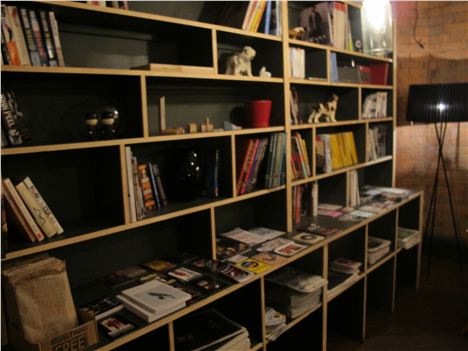 TAKK Bookcase
The less scribbly desks
So what of the scran? It started badly. A truly awful woman (who was annoyingly nice) had cleared the place of sarnies (£4) and soup (an extra £2) just before I got there.
I've never had the urge to kick an older woman on crutches up the arse and out the door before, but one that bogarts the rest of the food then suggests that you have the one remaining sandwich containing piccalilli (f**king piccalilli?), almost definitely deserves it.
Don't try to order food after 3pm. Because that lady has probably snaffled it. If you do manage the hearty and handsome 'posh' sandwiches look something like this...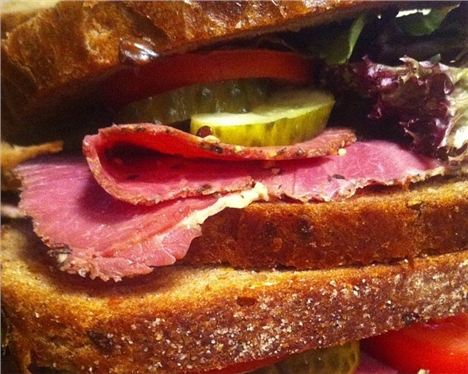 A Takk 'posh' sandwich, if you can get one
I settled for coffee and cake.
The latte is excellent (£2.60), the cake wasn't (this was unlucky, every cake since has been delicious). The chocolate and orange tiger loaf cake practically exploded in a cloud of dust when touched with a fork.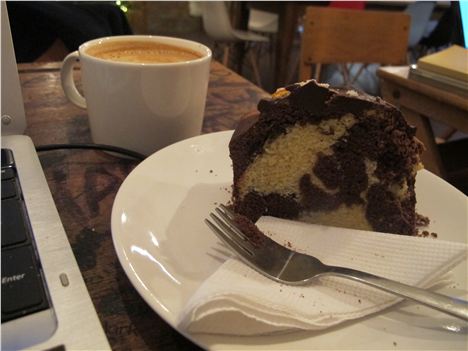 Coffee and a pumice stone
Takk pulled it back with brekkie
If you're going to run out of food by 3pm then the cake needs to be up to scratch. With places like Teacup and Sugar Junction close by, sub-par cake just won't fly.
But no establishment should not be judged solely on one bad slab of cake. Everyone has a misfire now and then. Yesterday I wrote 'right' instead of 'write'. Unacceptable yes, but it happens. And receiving the sad news of no food and a bad slab, associates that have been regulars, nay disciples of Takk since its opening earlier this year hoiked me back the following morning for breakfast.
And what d'ya know, the breakfast was near perfect, very fortifying after I was nearly killed by the Takk sandwich board throwing itself at me in the blustery street. ATAKKed you might say.
The porridge with honey and cinnamon sugar (£3.50) was gratefully received, and dare I say it, Christmassy. Once again the coffee was flawless and the accompanying espresso brownie (brownie you sigh, well sod off, £2) was deliciously rich with an optimum level of squidge. So good I forgot all about that bad slab. What bad slab?
Takk had pulled it back. But if it's luncheon you're after, get there well before 3pm - you know, when normal folk have lunch - and if you see a lady on crutches, kick her. It's a dog eat dog, woman eat my sandwich world.
Takk, 6 Tariff Street, Northern Quarter, M1 2FF. Mon-Fri 8.30am-5pm. Sat 10am-6pm. Sun closed.
Follow @takkmcr
ALL SCORED CONFIDENTIAL REVIEWS ARE IMPARTIAL AND PAID FOR BY THE MAGAZINE.
Rating: 15/20 (remember venues are rated against the best examples of their type - see yellow box below)
Food: 3/5. First cake crap. Breakfast great.
Drink: 4/5. Coffee brill. No perfect score without booze.
Service: 4/5. Happy
Ambience: 4/5. Hip
PLEASE NOTE: Venues are rated against the best examples of their kind: fine dining against the best fine dining, cafes against the best cafes. Following on from this the scores represent: 1-5 saw your leg off and eat it, 6-9 get a DVD, 10-11 if you must, 12-13 if you're passing,14-15 worth a trip,16-17 very good, 17-18 exceptional, 19 pure quality, 20 perfect. More than 20, we get carried away