T'IS the season to socialise, mingle, be merry. So, while you're at it you may as well look your best this Christmas.
In the oversaturated sea of sequins and lacey textures swamping the high street currently, here are the best picks to take you from dinner to dance floor and then some (embarrassing karaoke attempt optional). Key trends include nineties revival, modern disco and high street glamour, with styles to suit all ages and shapes.
Take your pick of this Top 10:
1.  LAVISH ALICE | Cream Fur Trimmed Shift Dress | £48.00
Want a Victoria Beckham wardrobe on a mere mortal's budget? Lavish Alice is here to answer all of your prayers. This fur trimmed white affair is identical to one of Victoria's latest creations and encapsulates the textured trend, all whilst maintaining the class and sophistication of VB herself. Accessorising this look provides endless possibilities; whether a pop of winter burgundy or classic minimalist black, keep things simple to successfully nail the look.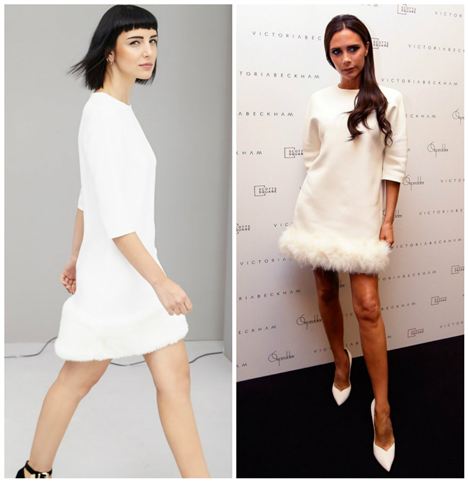 Lavish Alice's great copy of Victoria Beckham's fur trimmed dress
2.  MARKS AND SPENCERS | Floral Jacquard Skater Dress | £45.00
Balancing between cute and demure, this jacquard dress ticks all the boxes if flashing flesh isn't your bag. The high neckline provides elegance, whilst the short hem keeps the look youthful, fun and perfect for an evening meal followed by drinks. Reliable as always, skater dresses create a waist on even the most slender of bodies, with this one in particular fitting slim frames perfectly to divert attention away from the chest and toward legs. On the style front, big heels are a definite must with this one to give the illusion of legs for days.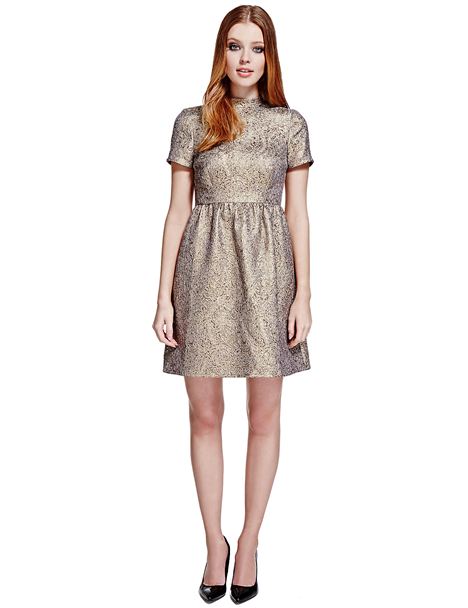 Marks And Spencer floral jacquard
3.  ARK | Hearts & Bows Velvet Cutout Dress | £26.99
Ark gets it just right when it comes to providing edge with the cutout detailing on this dress. Cutouts provide a way to cheat exposing flesh whilst keeping hidden those bits you might not be as confident showing off -  ideal if your summer detox has now become a distant memory. The emerald green hue provides just enough colour to counter balance an overdone gothic look, whilst the figure hugging velvet is soft to the touch to provide comfort and shape.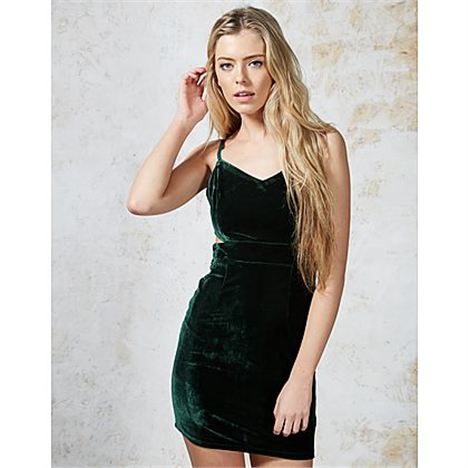 Stay seasonal in green velvet
4. HOUSE OF FRASER | Uttam Boutique Brocade Floral Dress | £42.00
Brocade is everywhere this season and House of Fraser is no exception. Taking on the season's winter floral trend, this Uttam dress offers a mature take on Christmas party wear. With a fail-safe cinched in waist band and elongated shape to perfectly flatter an hourglass figure, nobody need know if you overdo it on mince pies this year. Compliment the look with simplistic gold accessories and low-heeled shoes to keep is classy.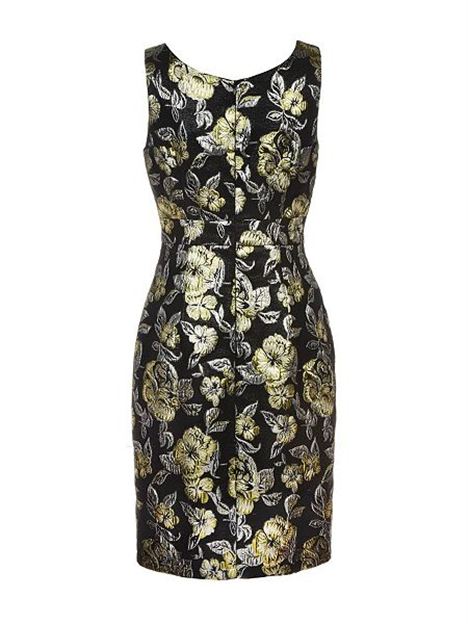 Brocade is everywhere this season
5. MISSGUIDED | Chloete Crepe Fur Trim Swing Dress | £29.99
Feeling brave? Channel your inner Cher from Clueless (bad driving not compulsory) in this chic and seventies style swing dress. Taking simple shapes to standout chic, Missguided have embraced the nineties revival with full force. Whilst faux fur is always a permanent fixture on the A/W catwalks, it's refreshing to see the texture working its way into other garments than coats. When styling this dress be wary not to over-vamp this look and keep make up to a minimal -  unless you're aiming to resemble a Romie and Michele walk on character.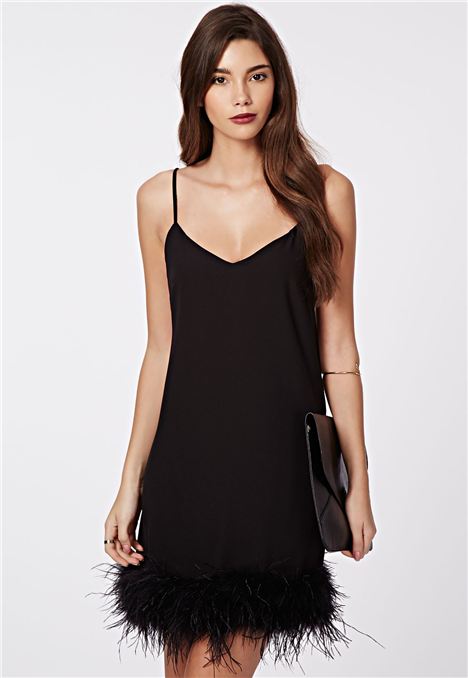 Think Cher from Clueless
6. TOPSHOP | Black Embellished Ribbed Neck Bodycon Dress | £36.00
Bodycon takes a sophisticated twist in this latest Topshop offering. Not for the body shy, the dress carefully skims around curves to highlight a sultry silhouette. The embellishment detailing on the neck takes the role of jewellery, making necklaces one less thing to worry about when getting ready. For additional accompaniment, team a statement bangle and clutch to create an understated evening look.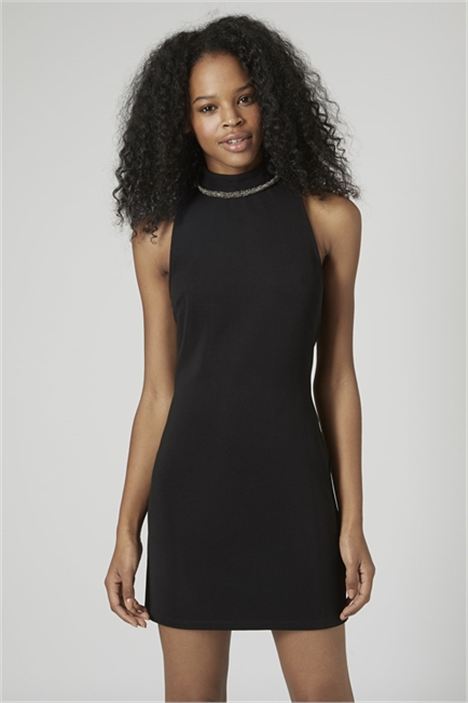 Topshop
7. LIPSY | Motel Sequin Brussel Dress | £49.00
Sequins have steadily become a veteran style option for winter nights out with their ease of wear and versatility. Motel takes a new approach to the trend with this sixties inspired mini-dress. The break-up of the sequin texture with black keeps things interesting enough without becoming too brazen.  This look particularly wins by giving apt opportunity to show off your legs and the dress is simple enough to style your own way. Great choice for a girl's night out.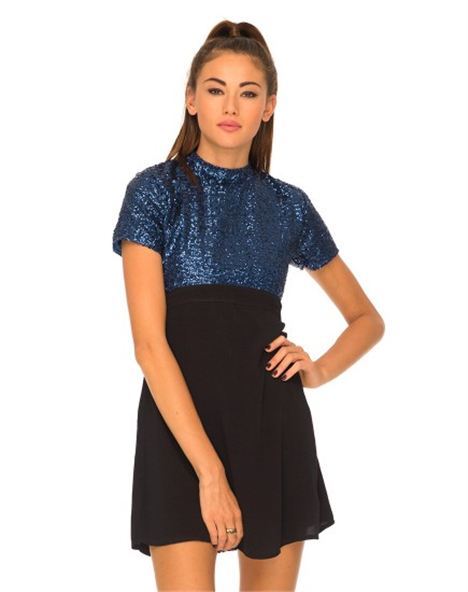 8.  AX PARIS | Satin Look Bodycon Dress | £25.00
Fed up of the LBD? Try a little red dress for size at AX Paris. With a satin look fabric, this dress encompasses the spirit of party season effortlessly. The shape clings to curves to enhance all of your best assets (you know the ones), perfectly flattering hour glass figures. Accessorise withyour favourite heels and minimal jewellery for a sultry evening look. Whether single night out or date night drinks, this dress will see you through from Christmas to New Year.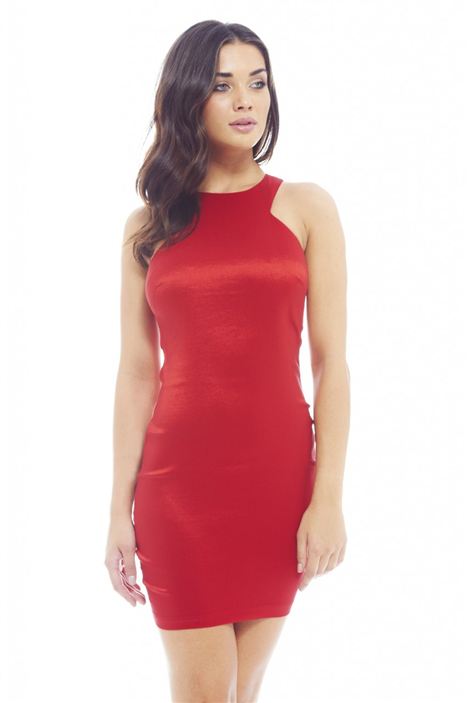 Satin Look
9. BANK | Pink Soda Tinsel Dress  | £32.00
Thought tinsel was just for the Christmas tree? Think again. Take note from Christmas's newest style icon (your tree) and channel the spirit of Christmas wherever you go. Definitely one for the daring, if you can pull this one off you'll earn major fashion kudos.  When styling this piece be hesitant of clashing textures, keeping to one colour is advisable and accessories to a minimum, although heels are a must. Sticking to black prevents this look from becoming overbearing and the slight shimmer keeps in theme with the party vibe.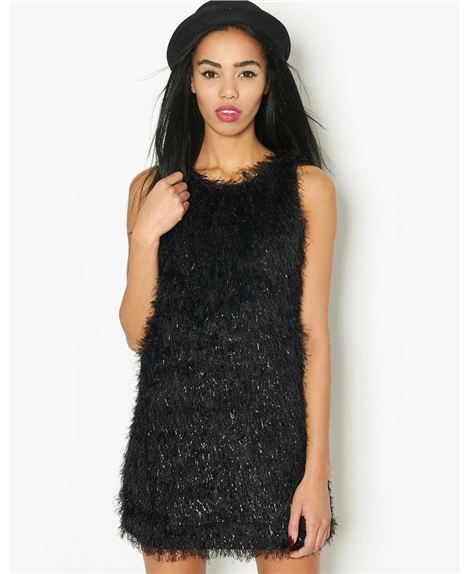 Pink Soda Tinsel Dress
10. SELFRIDGES | Warehouse Black Embroidered Shift Dress | £45.00
Suited to a more unassuming character, this piece ties modesty with feminine charm. The intricate embroidery around the neckline keep the dress interesting, whilst the floaty and light material will be more forgiving of fuller figures. The simplicity of the dress enables flexibility with accessories. Introduce a pop of colour to make a statement, we say royal blue or pillar box red are the best colours of choice on the handbag front.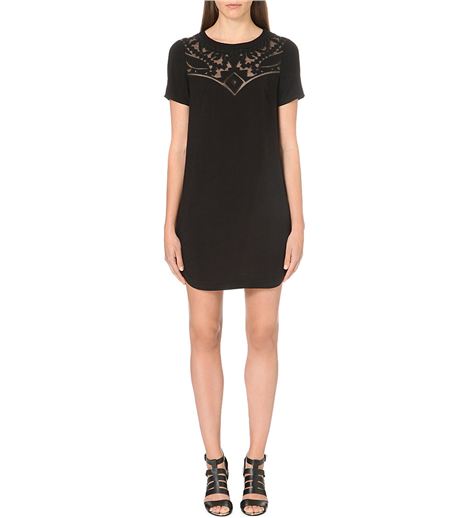 Selfridges
Follow @leacoppock on Twitter