IT'S OFFICIAL.
This is a coup for Manchester. O'Hare's tricky, innovative and often ludicrous food has been causing quite a rumpus
Michelin-starred chef Michael O'Hare, who bagged one of those elusive little buggers in September for his equally genius and preposterous Leeds restaurant, Man Behind The Curtain, is on his way to Manchester.
The rumour mill has been in overdrive ever since the Great British Menu chef was spotted leaving the former Stock restaurant on Norfolk Street in October with unlikely property guru and former United star Gary Neville, whose hospitality arm GG Hospitality acquired the structure in February.
GG Hospitality – a company founded in 2013 by Neville alongside former United teammate Ryan Giggs - also run Hotel Football at Old Trafford and Café Football in East London.
Those rumours intensified last week when O'Hare was spotted watching Valencia FC at the Ciudad Deportiva, where Neville has recently taken over as Head Coach.
Now comes the official line that O'Hare has today been appointed Creative Director of GG Hospitality, replacing two Michelin-starred chef Michael Wignall (who succeeds Michael Caines at Gidleigh Park this month).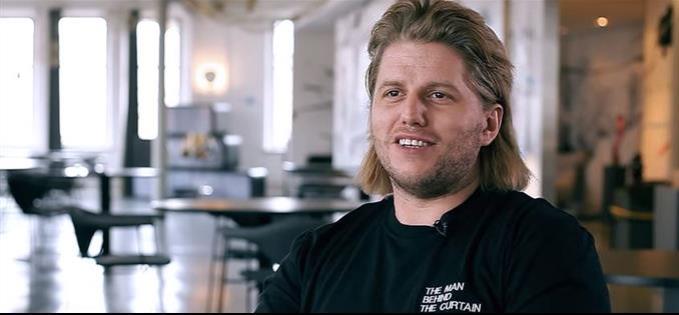 Chef Michael O'Hare
"The moment Gary and I started to discuss the project, I knew I wanted to be involved," said O'Hare. "His passion and enthusiasm immediately drew me in and the vision both him and Ryan have for enhancing the GG Hospitality offering, felt like a natural fit for me.
Gary Neville, Director of GG Hospitality, said: "I met Michael in October last year and instantly knew that he was the man for us. I've dined at 'The Man Behind the Curtain' and can honestly say that I've never experienced anything like it."
O'Hare will maintain his stewardship of the Man Behind The Curtain in Leeds (good job too... they've a twelve month waiting list), and take over the reins at Cafe Football in both London and Manchester, the upcoming Stock hotel and restaurant and a potential venue within the St Michael's complex - Giggs and Neville's proposed £200m regeneration of Bootle Street Police Station. Busy lads those two.
This is a coup for Manchester. O'Hare's tricky, innovative and often ludicrous food has caused quite a rumpus of late, not least after his triumphant turn on the BBC's Great British Menu where he plated-up connective pork-tissue and called it 'My Mother is Single and Looking for a Well-Dressed Man'. He bagged a perfect score too. His arrival can only bolster the city's soaring culinary stock.
Don't do it... don't you dare bloody say it... 'maybe now we'll get that Mich...' NO.