WHEN the temperature soars, the last thing many of us want to do is shut ourselves away in a boxy, claustrophobia-inducing changing room whose temperature is something akin to the surface of Mercury.
Even in the depths of winter, my husband refuses to enter the changing rooms in Debenhams because, he claims, it smells of "sweat, self-defeat and the futility of existence."
At this price, I doubted there'd be enough available fabric to cover my left buttock.
Is it any wonder that many of us just grab what we need in our size and head straight for the till, particularly when the purchase is something as perfunctory as a pair of black trousers for work?
After all, we still have our statutory rights. But my goodness, we need to keep the receipts when we trust in the infallibility of a size 14 and give the sweaty cubicles a swerve.
Sometimes the words size 14 might as well be written in Cyrillic script for all the relation they bear to an actual size 14. By 'an actual size 14', I mean the pair of trousers that best fit and also happen to have a size 14 label sticking out the back. (Or if you are more groomed than I am, you have the label tucked in.)
In the name of serious investigative journalism, I set off on a trouser hunt to sort out the stingy sizing from the folds of flapping fabric. All size 14 of course.
Asda – George £6 black wide leg trousers
                Wrinkly VAt this price, I doubted there'd be enough available fabric to cover my left buttock. However, whilst there were no generous tardis-style proportions, the sizing was more generous than I expected - no camel toe and only a slight muffin-top. There was a strange V-shape of wrinkles where the fabric pulled slightly in the knicker area. This isn't necessarily the place you want to draw everyone's eye to.
You could probably get away with it in the office but in the unforgiving glare of the changing room lights, it wasn't ideal. The trousers were fine over the thighs but didn't give a very smooth silhouette as the fabric rumples at the side and clings to all your lumps and bumps – fine if you don't have any but if you are trying on a size 14 that seems unlikely.
Best worn with a suit jacket to disguise imperfections down the side.
Marks and Spencers – M&S Collection £29.50 slim bootleg trousers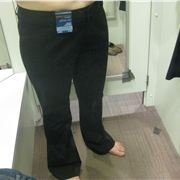 Baggy TousersThe place to go if your feelings of self-worth are all tied up in what dress size you wear. I could have squeezed into a size 12 here. They were very comfortable to wear with no stretching, gaping or pulling of any sort. They didn't quite measure up on the flattering slim bootleg front though. Their capacious sizing meant I could have been wearing MC Hammer's trousers.
These are great for the office if you're being schmoozed over a long corporate lunch. Not only would there be no zipper strain after four courses, but you could probably hide a couple of extra bread rolls down the front. Just right if you have to drag yourself into work when you're feeling bloated and hormonal as they are roomy and reminiscent of wearing some admittedly quite business-like pyjamas.
Best worn with braces to keep them up.
Monsoon – Baya £45 black straight leg linen trousers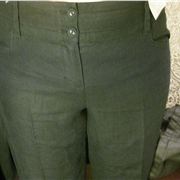 £45 - The Price of PerfectionA good fit overall. This pair were comfortable and roomy but there was no danger of them dropping to my ankles at any minute. They had quite a high waist which mitigates that doughy rollover at the top and they looked pretty flattering as they fitted smoothly without unsightly Michelin man tyres of flesh rippling away under the fabric.
For a pair of straight leg trousers, I would have expected something narrower but these were billowing wide legs. I liked them but it was misleading to say the least. Apparently (according to a few Mumsnet posts) Monsoon are kind to women who are chunky of thigh so that might explain it, but it makes it difficult to know how the trousers will fit which is kind of the point of these descriptions and the sizing.
Best worn with a cropped top or something tucked in to show off how sculpted and controlled your midriff appears. A great optical illusion.
New Look - £12.99 black bootcut trousers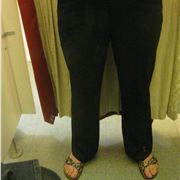 Pannier PantsI felt very old when I entered this shop as I seemed to be the only person there who wasn't spending my pocket money. I suspect the black 'work trousers' for which I was hunting were more often bought as a pair of school trousers. If something is intended to be worn by a fourteen year old, it does make you worry that the sizing might be a little meagre. Particularly at the bargain price of £12.99.
I was surprised by how much fabric there actually was. The fit around the waist was perhaps a little snug but, if anything, there was too much material around the hips. It draped from the waistband, widening my silhouette and giving the appearance of carrying a couple of saddlebags. Not flattering but eminently suitable for pilfering the contents of the stationary cupboard. Never mind a few staples, you could put a couple of reams of A4 paper in each pocket and no one would notice. It also puts the balance of the bootcut out of kilter, making the trousers seem more like a pair of tapered peg-legs.
Best worn with a long cardigan to rein in any flapping polyester around the thighs.
Next – Workwear £20 black bootcut trousers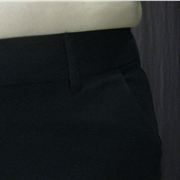 Next Trousers: Not FlatteringConsidering that at £20, this isn't quite a bargain basement pair of trousers, I felt they had skimped on the fabric somewhat. According to their online and catalogue size charts, Next are more generous on the hips than other shops I visited by half an inch. I think their tape measure must be broken.
Again, the waist was a tiny bit snug causing a frightening bulge but the pockets were the main problem on these trousers. They gaped awkwardly making the fit look poor when it was fine from the thighs down.
Best worn with a handbag, so you don't have to put any more strain on the pockets than necessary.
Sainsbury's – TU £20 black wide leg trousers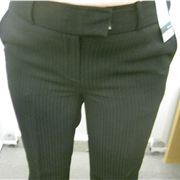 Not A Good LookThe most expensive of the supermarket offerings, I also felt confident they'd be the best. Mumsnet was abuzz with recommendations from the larger limbed lady so I was surprised by the strangeness of the fit. The waist was comfortable and didn't dig in at all although the fastening gaped slightly.
However, contrary to my expectations, these trousers were obviously made for people who go straight down from the waist. Curves are a definite no-no. The fabric creates a delightful star shape on the crotch as the material is pulled in every direction and the pockets gape badly. Then, quite bizarrely, the material becomes quite generous over the thigh which is a little strange after being so mean over the hips and bottom. The trousers also flap around a bit at the back under the bottom - almost like your bottom should be lower down or saggier. No doubt that will come.
With Sainsbury's teamed up with Gok Wan and all his prancing around with middle aged women, perhaps the saggy bottom cut of trouser is just a way of going after the target market. Let's face it, young, toned, fashionable types tend not to buy their clothes from a supermarket in between bananas and pork chops.
Best worn when your bottom has moved south.
Tesco – Florence & Fred £14 black bootcut trousers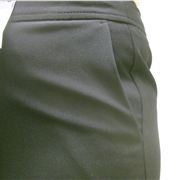 Gaping Pockets = Podgy ProfileThe smallest pair of trousers I tried on. They were a tight fit and although they didn't actually embed themselves in my flesh, they certainly dug in. There was a definite muffin top and a bit of pull on the pockets meant they gaped.
Although they were neither unsightly nor indecent, these trousers were not very comfortable for a full day at the office. The material was stretched over the bottom, not to breaking point, but the overall effect is to make you look podgier than you would in a pair of trousers that were a better fit.
Best worn with some suck-it-all-in bodysculpting pants. Or just get a size 16.
Topshop - £22 black cigarette trousers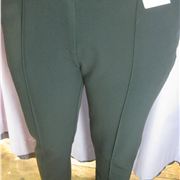 About as Flattering as JodhpursAaah, Topshop. How I used to love your clothes. Sadly, I am now too old to even enter. I'm surprised there wasn't a doorman to keep me out.
The search for a responsible adult pair of black trousers, as similar to the others I'd tried on as possible for consistency's sake, almost ground to a halt in Topshop.
For a start, finding a size 14 in this place, full of skinny, fashionable young things, was like finding an atom in a haystack, never mind a needle. At first I could only find a pair of black silky jogging bottoms and a pair of leatherette leggings in my size. While this would have caused hilarity in the office, I continued scouring the railings and finally located a pair of black cigarette pants in my size which had been hiding themselves away on the wrong hanger.
After the trouble I'd had so far, I doubted I'd be able to get these babies past my kneecaps. According to Topshop's own measurement chart, their trousers are two inches smaller on the hips than the next purveyor of scrimped on garments and an inch smaller on the waist.
Despite my forebodings, the fit was ok. It's not the most flattering cut on me but the trousers skimmed over my bottom and hips without any groaning at the seams. Not even a little whimper. My only problem was the sartorial dilemma the trousers left me with. I could pull them up, revealing a slight camel toe or pull them down a bit which meant the waist was a bit too tight. Decisions, decisions.
Best worn with high heels to lengthen the legs and a pink Mohican to draw the eye away from the emerging camel toe.
Wallis - £33 black wide leg trousers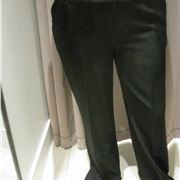 Wide Leg WondersAs this shop seems to be frequented by women of a certain age, an age even I haven't reached, I thought the fit in Wallis might allow for a certain middle-aged spread. It turned out they were the best fit I found. The cut was generous, but not so generous I could remove them without unfastening them, unlike at another establishment favoured by the more mature client.
The fit was also in proportion. There were no strange swathes of surplus fabric ballooning out from unexpected places, neither did the material strain around my legs like sausage skins bursting forth with a bit of Cumberland.
Best worn with anything you like.
---
Final Thoughts...
If this quest has shown me anything, it is that there is no escaping the changing room. You could wear a size 12 in one shop and need a size 16 somewhere else.
Women's clothing sizes were standardised in 1982 with BS3666. However, this British Standard in not a standard at all because, as there is no legal obligation to adhere to its measurements, it is universally ignored. I don't think the catchy name of BS3666 really took off either.
I can understand why clothing companies haven't signed up to this standardisation. Being persuaded to part with your hard-earned cash on new outfits is all about pleasure, about being made to feel good. For many women, this feel-good factor would vanish pretty quickly if their dress size rocketed.
For example, those lovely size 14 trousers in Wallis would be a size 18 according to the British Standard. Shops keep stocking the same sizes but the goalposts are constantly changing to allow for expanding girth.
Since the 1950s, women's average hip and chest measurements have increased by about four inches but it's the waist measurement that has changed the most in the last half-century. As we lead more sedentary lifestyles and eat more processed, fatty foods, women's average waist measurements have increased by seven inches. Our body shape is changing but this isn't a change for the better. Widening waistlines mean we are more at risk from type 2 diabetes and coronary heart disease.
Yet with the vanity sizing practised by our high street stores, the clothes we wear don't always alert us to the fact that we, as a nation, are piling on the pounds.
Is it time to give ourselves a wake-up call and implement the British Standard?