SHOCK news from Manchester's culinary scene now as Simon Rogan, the multi-Michelin starred chef behind the revival of The French at The Midland, announces his departure from the hotel three years into a five year deal.
Reid is going to be a superstar, trust me, and a Manchester-born one at that."
Confidential understands that Rogan - who took up the role in 2013 - will leave his post as Chef Patron at the end of this month, whilst current head chef, Adam Reid - who recently made the finals of the BBC's Great British Menu – will remain in his post, heading-up the newly named Adam Reid at the French from November.
Robert Taylor, head chef of The French's sister restaurant in The Midland, Mr Cooper's House and Garden, is also expected to remain.
"This is a huge opportunity for me to showcase my own cooking style which has been developing over the past decade," said Reid, "I want to make Manchester proud and ensure that The French will continue to evolve and impress its local and national customers."
Rogan, meanwhile, said it was time to concentrate efforts elsewhere.
"Our work with the Midland has been a great opportunity and we've built something very special with the French and Mr Cooper's.
"It's now time to concentrate our efforts on developing and growing our businesses in Cartmel with L'Enclume and Rogan & Co, as well as ensuring that Fera at Claridge's continues to be operated to our high standards."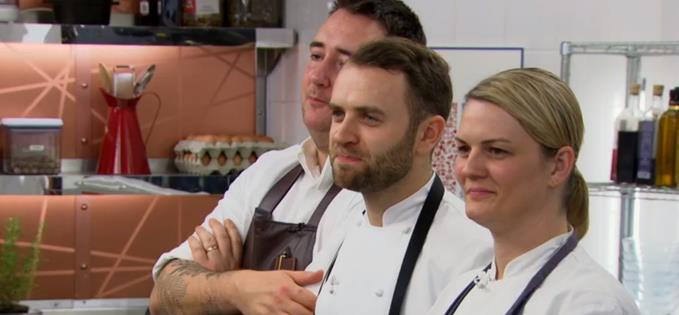 Head chef Adam Reid will take up the mantle at The Midland
The news of Rogan's departure follows the latest Michelin-based misery for The Midland, after The French – which last held a star in 1974 - fail to regain for a third year running.
Confidential's Mark 'Gordo' Garner reckons it's a sound move.
"Having recently eaten six dishes that he himself has invented over at The French, I've realised that young Reid is far better cooking his own dishes than cooking Rogan's.
"It's about time he was given his own gaff, room to breathe and to develop his own style. This guy is going to be a superstar, trust me, and a Manchester-born one at that."
And Rogan isn't the only one on his way out…
It has also been announced that The Midland general manager, Mike Magrane, will leave the hotel after almost fifteen years in charge to take up a role as Operations Director of GLH Hotels in London.
"It's been a pleasure to have worked with Simon. With his inventive style we have produced something truly wonderful here and we're now looking forward to embracing the next chapter in the growth of the restaurants," sais Magrane.
"Adam is an incredibly strong Head Chef who has developed further under Simon's guidance and it's now time for him to stand on his own and take his place at the forefront of The French's continuing journey. It is also a terrific opportunity for Robert, who has only recently joined us, to present his own culinary style in Mr Cooper's."
Adam Reid will take charge of The French at The Midland Hotel from November.
Powered by Wakelet