WHEN IT comes to beauty it's safe to say a one size fits all rule doesn't apply.
"Foundation is the biggest facial real estate you have"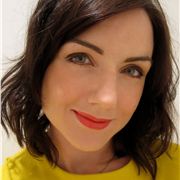 Sali Hughes, beauty expertThis is why it's more impressive when experts have the ability to take once glance at an exposed face and instantly produce products which work wonders (a talent I could only wish to possess).
Cue Sali Hughes, The Guardian's beauty columnist, at the Selfridges Perfecting Beauty event.


The host of the evening, Sali lead a series of talks on four key areas of beauty, taking questions from the floor and giving advice based on her many years of experience in the industry. It's safe to say I left the talk having learnt something about applying make-up.
Hughes broke her masterclass into four key sections: lips, foundation and brushes, skin and eyes and brows.
When the Q & A started, I admit I felt a little out of my depth. Beauty bloggers reeled off daily routine product essentials as I would my weekly shopping list, but Sali was not fazed by the knowledge of her audience.
For every beauty issue, Hughes was ready and waiting to suggest some products of her own to combat the spectrum of teen spots to middle aged wrinkles.
"Foundation is the biggest facial real estate you have," Sali informed us earnestly, words to be taken seriously by the committed beauty blogger crowd.
Soaking up all the advice like a post primer make-up sponge, there was too much to merely gloss over, which is why I have condensed the key tips and tricks taught by Hughes to share. Feeling like a pro beauty expert as I go (makes a change).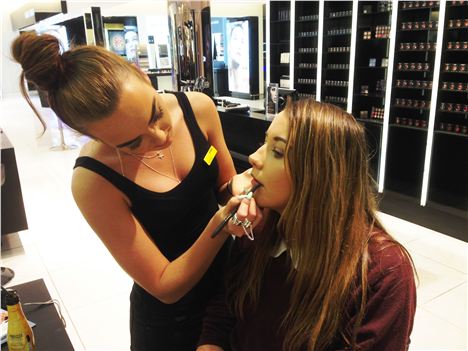 Leanne learns tricks of the beauty trade
---
Spots/ Blemishes

Contrary to popular belief, foundation isn't the answer to hiding spots. If you rely solely on a foundation you're never going to achieve the results wanted for smooth, clear skin. Hughes advised to invest in a solid Primer, which would become a fail-safe whenever facing the day with breakouts of spots.
Scars
The key to hiding scars is to find a high coverage foundation. Sali recommended Estee Lauder's Double Wear range (£29.50) as a premium product specifically for scars and blemishes. She also recommended trying a moisturising mask for additional help.
Powders
Some people shy away from powders but Sali Hughes swears by them, which can only be a good thing. The trick with powder is to only use it on certain areas (think nose, forehead and chin) to leave a natural dewy glow on the cheeks. If you do love an all-over powder, it's still acceptable, but translates better for photography to give an overall matte finish.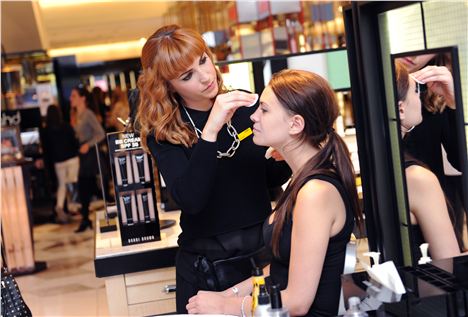 Get the base right
Lines



Line coverage is one issue where foundation is your best friend, a good foundation can fill in the lines, revealing a smooth and airbrushed like finish. Bobbi Brown and Charlotte Tilbury were tipped to be the best for line coverage. Look for specifically light reflecting ranges for best results.
Brushes


For applying a base look for a dual synthetic and natural hair brush to give balance to application. Use a smaller brush to lay product on the more awkward areas like your nose and swap to a larger one for blush.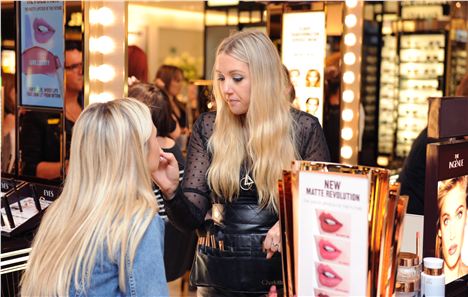 Make-up artists know that brushes are essential to great make-up
Foundation consultation at M.A.C
After a toss-up of manicure versus hair styling, I eventually settled on a make-up consultation by personal favourite MAC. I was a little wary of getting a makeover having just returned from holiday and not being my usual shade of magnolia, but my MAC artist assured me my shade 25 matte foundation wouldn't let me down once the remains of a tan had faded.
The end result was a little more make up than I would wear on a normal day but ideal for date night or drinks in town (if you're lucky enough for either occasion to arise) and I was left happy enough to purchase previously mentioned shade of MAC despite not attending with intent to buy.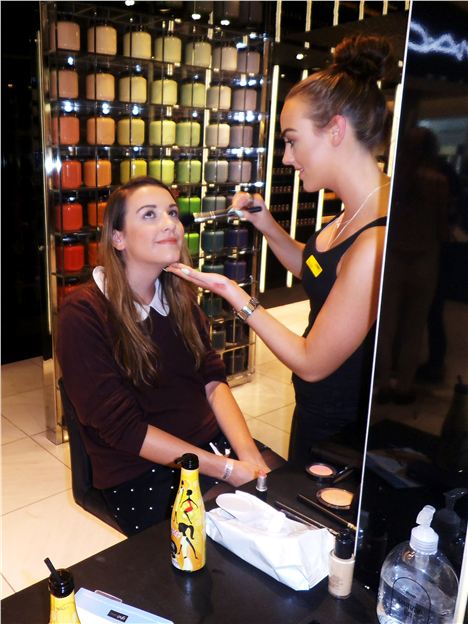 A new foundation for Leanne
Had I chosen to splurge a little, Selfridges offered a pick and mix wall, where any shopper spending over £75 could choose three items. After parting with more money than planned, it was home time but beauty lovers who missed the memo needn't feel left out, with another Perfecting Beauty event at Selfridges Trafford Centre on 25 September.
Sali fans also have the opportunity to snap up a copy of her latest literary offering Pretty Honest: the straight talking beauty companion from the Trafford store, plus have it signed by the guru herself. Who knows, after a read or two you too could be on your way to perfecting beauty.
Perfecting Beauty event continues at Selfridges Trafford Centre on Thursday 25 September. Tickets to the event cost £10 per person and are redeemable against any purchase from the Beauty Hall during the evening.
For more information see salihughesbeauty.com.
Follow @leacoppock on Twitter