THIS isn't my opinion, it's the result of the National Pub and Bar Awards. Judges had the enviable task of visiting boozers nationwide and whittling them down to a shortlist of 94 pubs across England, Wales, Scotland and Northern Ireland, by marking them on a range of criteria including service, product range, design and even entertainment schedules.
'A warm welcome' is a pub website cliché usually foiled by the reality of a gormless teenager rushing past you on the threshold
In its regional heat, The Church Inn, Mobberley, beat off competition from local rivals The White Mare, Cumbria, Manchester's Marble Arch, The Assheton Arms in Lancashire, and Ma Egerton's Stage Door in Liverpool. The Cheshire pub took home the top prize, which was presented by none other than CEO of culinary criticism, Jay Rayner, during the Grand Final at London's BAFTA theatre in May.
Group owners, The Cheshire Cat Pub company, founded in 2008 by Tim Bird and Mary McLaughlin, also own The Cholmondeley Arms (which boasts more than 300 gins), The Bull's Head in Mobberley, The Three Greyhounds Inn in Allostock, the Fitzherbert Arms in Swynnerton (which serves over 30 Ports by the bottle) and the Red Lion in er, Weymouth, Dorset (which offers more than 80 rums). The group have won numerous awards for restoring pubs of great heritage and character. Their latest is The Roebuck, also in Mobberley, which re-opened in April after three years of closure.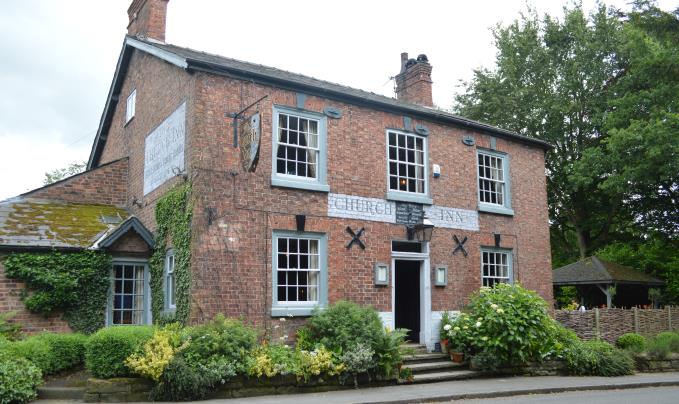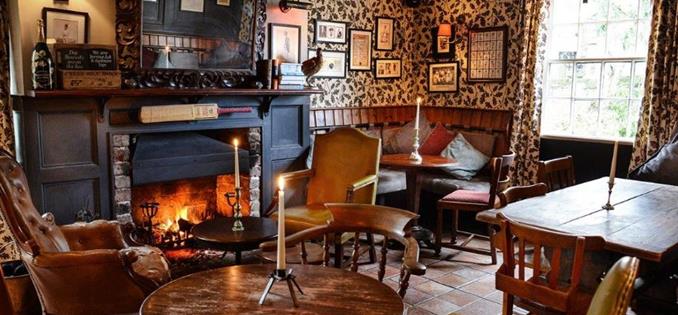 It's wine that The Church Inn specialise in, and I'm keen to revisit several times to review, perhaps as part of the so-called 'Wobbly Mobberley' - a 22-mile moderate bike ride between Knutsford and Wilmslow, that takes in eight local pubs, including The Church. There are some excellent local house ales including Mallory's Mobberley Best by Dunham Massey Brewery, in honour of the village's best known lost mountaineering son, George, who is also remembered with a stained-glass window in the church opposite.
There has been an inn on the site since the seventeenth century, but The Church Inn has been recently restored, getting prettier on each drive-by with the addition of an outside terrace, clever planting and Instagrammable log piles. Many restored pubs look like they've won a bid on a job lot of antiques on Ebay, but here teal walls, well-trodden rattan floors, Victorian stone tiles, Punch posters, trinket-lined cabinets and even stuffed birds somehow manage not to look too contrived. The atmosphere is more like a posh eccentric's cosy home rather than a public bar. One wall is lined with hundreds of empty wine bottles, each one of which I suspect has a tale to tell.
'A warm welcome' is a pub website cliché usually foiled by the reality of a gormless teenager rushing past you on the threshold whilst avoiding eye-contact. This one was the 'yes we were expecting you', less-than-30-seconds-from-door-to-table welcome we all hope for and staff were switched-on and friendly, scanning the room the whole time we were there.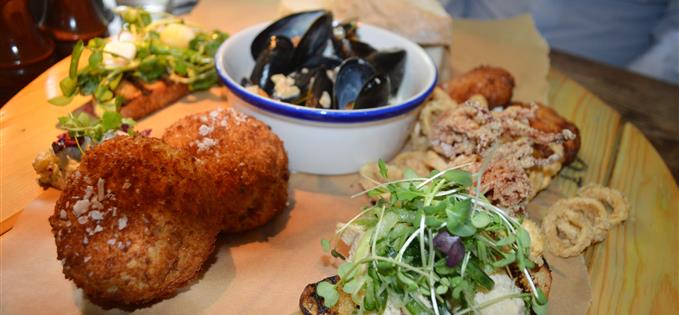 The Church Summer Seafood Trawler Board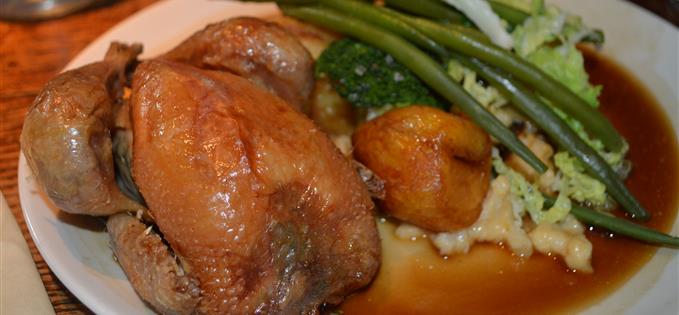 Whole Chicken
Each menu opens with a list of seasonal best (currently spanning asparagus to watercress) and is refreshed four or five times per year. We thought an assessment of kitchen skills could be attained via The Church Summer Seafood Trawler Board. At £24.95, it's been designed for two to four people to share, and this is an accurate portion suggestion, even for greedy guzzlers like us. None of the predictables (smoked salmon, prawn cocktail, mackerel) were to be found. It arrived on a huge circular wooden board with a bowl of creamy plump mussels with wild garlic in the centre. A pile of light crispy squid – tentacles and all, got demolished as soon as I'd taken a photo, followed by breaded monkfish, good salmon fishcakes and chargrilled bread – one slice topped with asparagus and runny quail eggs (credit to the person who peeled those tricky buggers), the other with quenelles of salt cod pate.
No need to choose between leg or breast of roast chicken, they bring the whole thing (£14.50) – all be it a baby one with gravy, roast potatoes and plenty of vegetables. Prime roast rib of Rose County Farm beef came rare as requested (£14.50) with the same. To be fair, the roast potatoes were as good as you'd expect from anywhere that's not my mum's house and their Yorkshire pudding was no better or worse than you'll find in most places.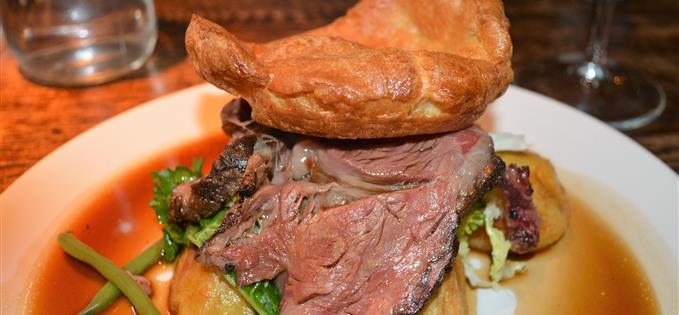 Prime Roast Rib of Rose County Farm Beef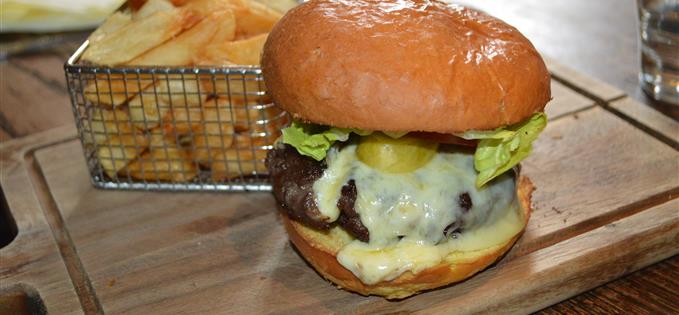 Steak and marrow burger with mature cheddar
Steak and Marrow Burger with Mature Cheddar (£12.95) was as pleasantly rare as they could get past current food hygiene regulations and chips from Massey Farm were delicious – well the ones I snaffled when no-one was looking were.
A perfectly rectangular slice of Cumbrian pork belly (crispy on top, tender within) with glazed pork cheek, pea, black pudding, pancetta and grilled apple (£18) confirmed that the kitchen team really can cook. Desserts (all £5.50), which we were too full for, showed a bit of ganache with panache; frozen parfaits, Italian meringue, buttermilk ice cream, lemon curd with coriander and the like.
Cumbrian Pork Belly
So what finally convinced me that The Church Inn were indeed worthy winners of awards and accolades? (Best Pub in the UK isn't just the only title they hold.) Obviously it was a combination of location, decor, atmosphere, range of booze, accommodating attitude towards children and dogs, seasonal menu, local beer and excellent service etc. We'll just have to return to see if they have a darts board, a set of dominoes and a decent line in pork scratchings.
The Church Inn, Church Lane, Mobberley, Knutsford, Cheshire, WA16 7RD. Tel: 01565 873178
Rating: 16/20
Food: 8/10 (seafood platter 8, roast chicken 8, Roast Beef 7, steak and marrow burger 8, pork belly 8)
Ambience: 4/5
Service: 4/5
PLEASE NOTE: All scored reviews are unannounced, impartial, paid for by Confidential and completely independent of any commercial relationship. Venues are rated against the best examples of their type: 1-5 saw your leg off and eat it, 6-10 stay in with Netflix, 11-12 if you're passing, 13-14 good, 15-16 very good, 17-18 excellent, 19-20 pure quality.