Caffeine hubs. Meetspaces. Nutrition platforms.
If you are going to attract hot new start-ups then you need a few more artisanal coffee shops and cereal cafes to feed the digital natives
I'm just toggling though some new concepts for catering venues. Come up with the right idea and I could be a foodsphere millionaire.
You may have heard that much of Oxford Road is being jazzed up and rebranded as the 'Corridor'. The idea is that with so many innovative, super-modern companies lining Europe's busiest bus route, the dusty old thing had to be given a bit of a spit and polish to attract even more tech-types down there. Originally they were planning to call it the Digital Ginnel, but that didn't translate easily enough into Mandarin, so Corridor it is.
Why is this important to a food review? Well one thing this whizzy brain-lane is missing is a decent place to get a bite to eat (Red Chilli aside - Ed.). I'm specifically thinking of the universities/hospitals section where there is a woeful lack of decent food options. If you are going to attract hot new start-ups then you need a few more artisanal coffee shops and cereal cafes to feed the digital natives.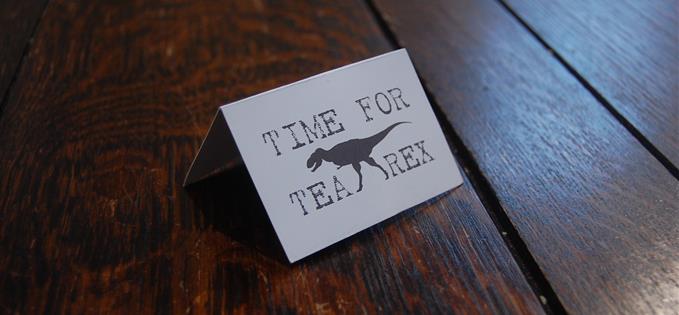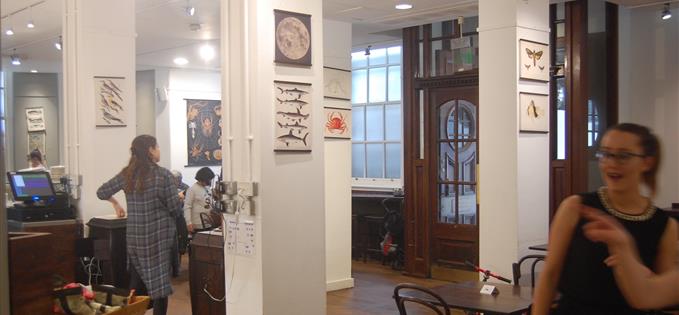 Look... a fish
The worst offender is the University itself, which suckles its students on garage-quality sandwiches or chips and beans. I once went to a student canteen in a Swedish university. It was wonderful, serving piles of freshly made salads, several different types of breads, cheeses, fish and homemade soups. In comparison the university precinct-that-was is a wasteland for decent grub to power those busy cerebella.
Still, it looks like there is a bright spot on campus. The University-owned Manchester Museum closed its old Café Muse, and has since relet the premises to Northern Quarter favourite Teacup. So students and techpreneurs have Teacup mark II, or to give it its full title, Teacup: Café at the Museum, to look to for sustenance.
The new-old interior certainly looks very handsome. Dark woods and greys replace the plywood tables and pleather seating of Café Muse. The tables are much less crowded together (a boon for buggy pushers) and the walls are decorated with vintage scientific illustrations for a 'drawing room of a Victorian gentleman scientist' feel (and lady scientist too I should hope). The outside is still draped in scaffolding but should look very presentable when finished.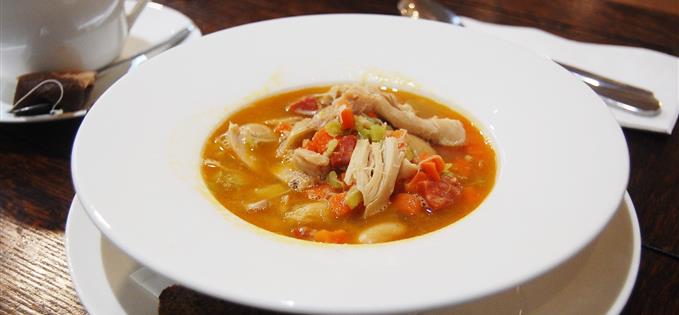 Chicken and chorizo stew
The menu is one of those where everything instantly appeals. We ended up trying the Balearic (£7, main image) from the breakfast menu - sourdough toast topped with crushed tomatoes and chorizo scrambled egg. Overall this was a satisfying dish, the sourdough bread had plenty of bite and a pleasingly bouncy texture to offset the eggs, which soaked up the smoked paprika flavour of the chorizo nicely.
We also gave the stew of the day (£6) a whirl, which was chicken and chorizo (again). The chicken was very flavoursome, floating in a delicious broth, though this time I was not as keen on the chorizo element – it seemed like it has been added at the last minute and hadn't had chance to permeate the stew.
Both of these dishes were a little on the small side for the price.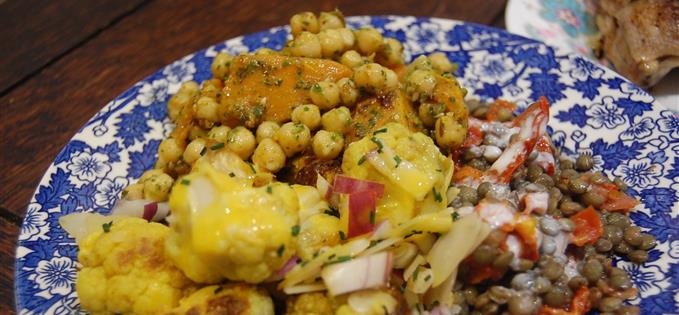 The three salads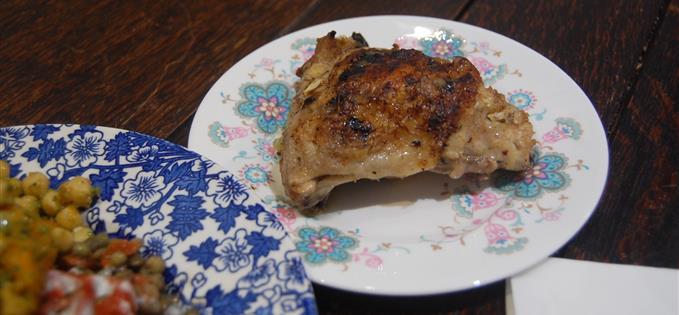 The chick on the side
The star was the three salads for £4 (from a selection) – I had the puy lentil, sun-blushed tomato and blue cheese dressing, the roast Moroccan spice harlequin squash and chickpea, plus the saffron-roasted cauliflower, red onion, sultana and almond. I also chose to give my salad a 'protein boost' with some roast chicken (£3).
When it arrived the salad looked lovely, although, slightly oddly, the chicken came on a small plate beside it, like a lonely, meaty moon. Maybe get some bigger plates? The squash was marvellous, really beautifully spiced, while the blue cheese dressing on the puy lentil salad meant I didn't feel like I was being too ridiculously healthy. My only complaint was that some of the larger cauliflower chunks were a bit too crunchy - the smaller ones were perfectly tender. The roast chicken was excellent, but unnecessary- the salad was filling enough. All in all, I felt satisfied but light, how I imagine all those serene clean-eating bloggers with their shiny hair feel. Time to fix that with some cake.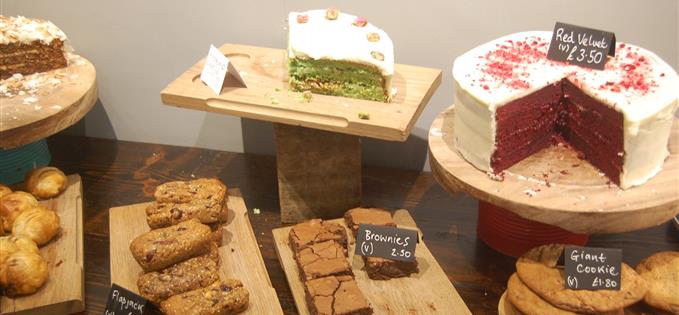 The Teacup cake counter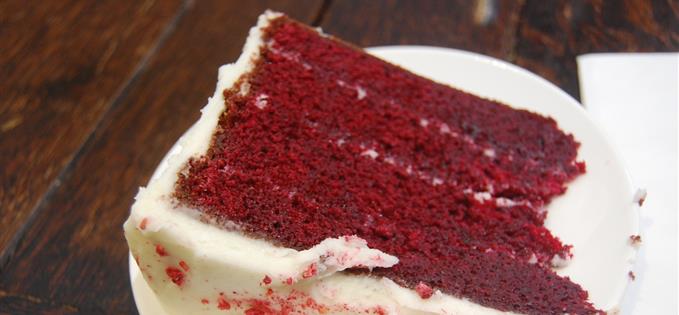 Red velvet cake
Ah, the cakes, what a museum café is meant to be all about. The vibrant green pistachio cake (£3.50) had a fabulous flavour, lightly scented with roses. It was, however, slightly dry. Red velvet is a bit of a controversial cake around these parts (kitsch treat or overdyed waste of time?) – but if you like that sort of thing then Teacup does a creditable version (£3.50), just again slightly on the dry side. The scone too, though very pleasing to look at and with generous dollops of cream and jam, was so light it crumbled away to nothing. The menu has a wonderful selection of teas, but builders' is the best with cake, in my opinion (too much of a flavour clash otherwise).
So, it's not a cheap place to refuel, and though the cakes weren't quite as good as I was hoping, the salad was a quality dish at a really reasonable price. Teacup do a student discount of 10 per cent, so all those students out there contemplating yet another plate of chips and beans, just think you could spend the same on a delicious, neuro-enhancing (and infinitely more instagrammable) salad in rather nicer surroundings. And that goes for the tech types too.
However, there's definitely still room on the Digital Ginnel for a few more food-spheres.
Teacup, Manchester Museum, Oxford Rd, Manchester M13 9RN
Rating: 13.5/20
Food: 6/10 (Baleriac eggs 6, Stew 7, Salad 8, Cakes 5)
Atmosphere: 4/5 bustling yet studious. Gets very busy at the weekend.
Service: 3.5/5 Very attentive.
PLEASE NOTE: All scored reviews are unannounced, impartial, paid for by Confidential and completely independent of any commerical relationship. Venues are rated against the best examples of their type: 1-5 saw your leg off and eat it, 6-10 stay in with Netflix, 11-13 passable, 14-16 very good, 17-18 excellent, 19-20 pure quality.
Powered by Wakelet