SO farewell then, Mario Balotelli, off back to Milan. Few football fans are shedding even crocodile tears over your departure. It has been a long time since the headline writers got to dust off 'Super Mario!' Maybe, just maybe, I've found another one in Altrincham. No, the Robins don't go in for expensive foreign mercenaries. My Mario was playing super sub in the latest addition to the town's effervescent dining scene – Sugo. The headline for which should yell 'The Pasta Masters!'
All this was born out of a frustration they consistently felt with the Anglicised nature of Italian restaurants in the UK
This Puglian-inspired pasta kitchen is obviously, from the moment you walk in, the real deal. The scents of herb-laden cooking pervade the cosy 30-cover space. It is a very open kitchen. Sugo means sauce and the atmosphere is definitely saucy (though not in the way that Tottie's lap dancing joint around the corner is, I imagine).
At Sugo there's a con brio, a con amore, a buon appetito... and, helping out on this night, a Mario. The blackboards that tell you to expect your orecchiette al dente and credit the home-made sott'olio to Nonna (grandma) don't warn you that a Papa straight from central casting is in the house. Plating a succession of exquisitely authentic Southern Italian dishes at the pass, as it happens.
Mario was standing in for his son, co-owner Alex De Martiis, our server Anthony explained to us. Alex cooked up the idea for Sugo with Jonny Marcolgiese while the pair were churning out sourdough pizza at Honest Crust across the road in Alty Market House. Alex's brother Michael is also on board in this uncompromising return to family roots in the Puglia region – you know, the one with the dinky white conical houses called trulli.
Trulli, madly, deeply, the boys import their pastas and oils from Puglia – even the earthenware crockery they serve it out of. All this was born out of a frustration they consistently felt with the Anglicised nature of Italian restaurants in the UK. They have remedied it here big time. You just have to hurdle the roadworks barriers that bedevil Shaw's Road to get there and you could be in downtown Bari.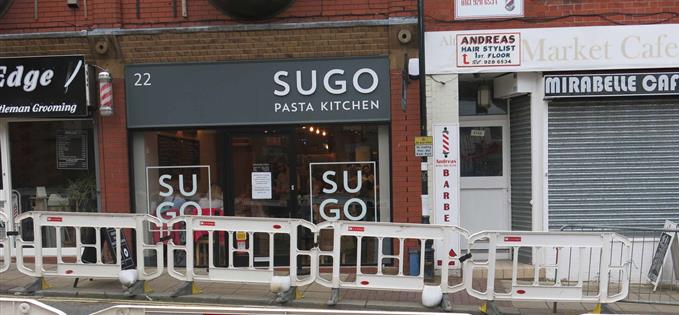 Just as there's no paper menu, there's also no booking, so while awaiting a table we were told to get a beer in the Market House, so near yet so far. That was another hurdle. Even early Tuesday evening it was heaving. Victim of its own popularity. So we were forced to go subterranean in the penumbral Mort Subite beer house on Greenwood. Altrincham boasts as many Belgian beer outlets as it does wood-fired pizza ovens.
Sugo doesn't do pizzas. It doesn't do a lot of choices. Even the wine list is limited to six different bottles, all from Southern Italy, all sourced from Reserve of Didsbury, all neck-twistingly chalked up – expect regular rotation. I'd be happy if they kept our Baglio Gibellina U Passimiento (£25) on all the time. It is a blend of fresh Frapatto and dried Nero d'Avola grapes grown at high altitude in Sicily. Warm, smooth, with concentrated berry fruit and a slash of acidity, it coped well with our shared starter of bread and caponata, a sweet and sour dish that can play havoc with many a wine match. A Blackjack beer would have been good, too. As with Reserve, there's a loyalty to the Market House's drinks providers as part of the extended family.
The caponata, the Mezziogiorne's vastly superior alternative to ratatouille was a hugely savoury melange of aubergine, celery, onion, capers, roasted peppers, onion and basil. Alternatively, with our Trove sourdough we could have chosen grilled artichokes sott'olio (under oil) with herbs, either appetiser £8 for one, £15 for two to share.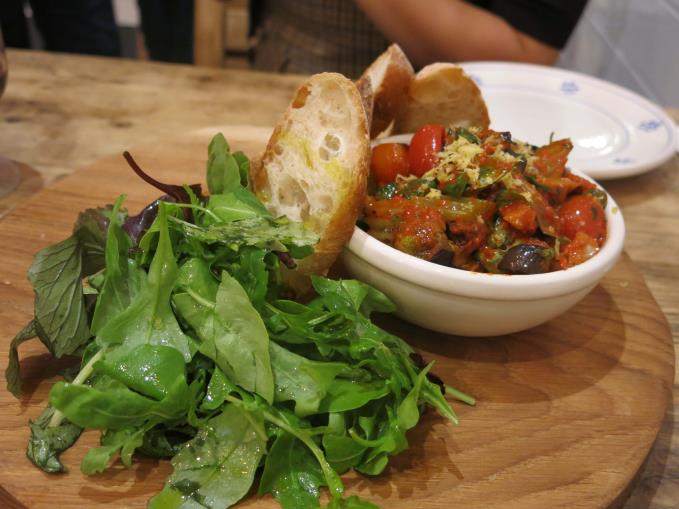 Caponata and sourdough
For mains there was a pick of six, soon reduced to five, when we were told the clams had run out and they couldn't fulfil my daughter's order of spaghetti vongole. She stayed fishy with Paccheri con pesce spada e melanzana (£14), which was let down for her by the size of the pasta tubes, al dente heading towards hard-to chew while not really accommodating the sauce. Which was happily delicious in itself, garlic, chilli, parsley, mint and san marzano tomatoes a blazing ensemble of flavourings for cubed aubergine and swordfish.
Next time, I told her, you might be safer with the Bambini menu (pasta with tomato sauce or butter and parmesan for £6, perfect for kids, who I'm sure would be fawned upon here). She wasn't impressed.
I went down the long slow stewing avenue for my main, pairing the ear-shaped pasta variety called orecchiette with a ragu alla Napoletana and – pasta overload – some twisty trofie. The ragu was among the best Italian sauces I've ever eaten, a dense tangle of beef shin, pork shoulder and spicy Tuscan sausage (£13).
At the rustic cantina table we shared with a couple of jolly ladies I slurped this large dish contentedly to a soundtrack of the Raconteurs and solo Jarvis Cocker, so glad nobody was brandishing an epically phallic pepper grinder or offering a soapy limoncello on the house.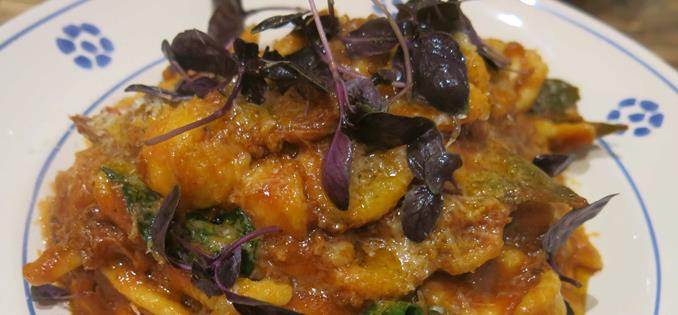 Orecchiette con ragu
The quality of Sugo's Puglia raw materials is matched by the sourcing nearer home – they have even persuaded Manchester Veg People to grow staple Puglia greens cime di rapa for them.
The place is also a chill cabinet tiramisu and semifreddo free zone come pud time. We shared a glorious selection of Ginger's Comfort Emporium sorbets, created by gelato maestro Clare Kelsey, who hasn't, as far as I'm aware, an ounce of Italian blood in her veins.
Alex's dad, Super Mario, is Italian, as is Jonny's mum, so they are both half-Italian – but with a passion for the old country's culinary tradition that now makes Sugo as essential a foodie destination in Altrincham as the Market revolution across the road. Beyond con brio then. Altyssimo!
You can follow Neil Sowerby on Twitter @AntonEgoManc
Sugo, 22 Shaw's Road, Altrincham, WA14 1QU. 0161 929 7706.
Rating: 16/20
Food: 8/10 (caponata 9, pacheri pesce spada 7, orecchiette con ragu 10, sorbets 8)
Service: 4/5
Ambience: 4/5
PLEASE NOTE: Remember venues are rated against the best examples of their type. All scored reviews are unannounced, impartial, paid for by Confidential and completely independent of any commerical relationship. Venues are rated against the best examples of their kind: fine dining against the best fine dining, cafes against the best cafes. Following on from this the scores represent: 1-5 saw your leg off and eat it, 6-9 get a DVD, 10-11 if you must, 12-13 if you're passing, 14-15 worth a trip,16-17 very good, 17-18 exceptional, 19 pure quality, 20 perfect. More than 20, we get carried away.