MY ASSERTION that cabbage could save your life was met with derision by my editor on the way over to Seoul Kimchi. But that's no problem; proof of its many health benefits can easily be Googled. Barrels of fermented cabbage were packed on long sea voyages in order to prevent scurvy, it's also full of fibre and has been proved to contain cancer preventative properties.
Seoul Kimchi has regularly had queues spilling out the door since it opened in 2010
This versatile brassica features in worldwide cuisines including choucroute in France, coleslaw in the US and UK, as well as the German sauerkraut and hundreds of Eastern European variations. However, no culture has embraced the humble cabbage quite as much as the Koreans have. It's the principle ingredient in their national dish, kimchi; a traditional fermented superfood made from napa or Chinese cabbage, chilli, fish sauce and other chopped vegetables. During the Vietnam War, the South Korean president insisted that this foodstuff was vitally important to the morale of his troops. Yi So-yeon, the first Korean astronaut, took some with her into space and the annual kimchi festival held in Seoul has been registered as an UNESCO 'Intangible Cultural Heritage of Humanity'.
Back in Manchester, chef/owner Byunghee Kwon's handmade kimchi, made using her traditional family recipe, might be one of the reasons that Seoul Kimchi has regularly had queues spilling out the door since it opened in 2010. The spicy pickled delicacy is now pretty much mainstream; you'll find kimchi stuffed in burgers, salads and sandwiches in many a progressive restaurant, but by all accounts, the one here is the nearest thing to genuine Seoul food.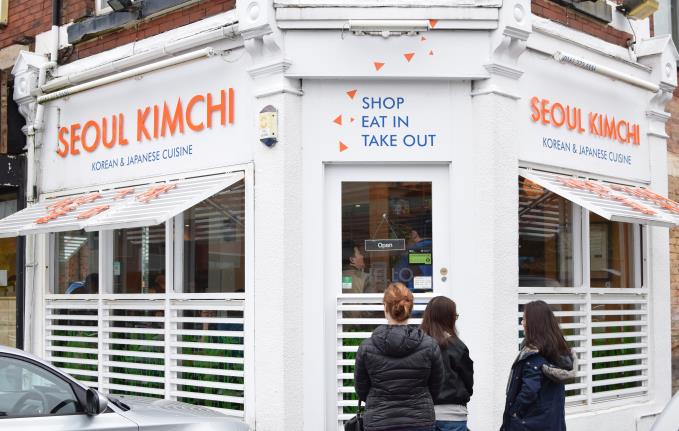 Queues regularly form outside this tiny Korean diner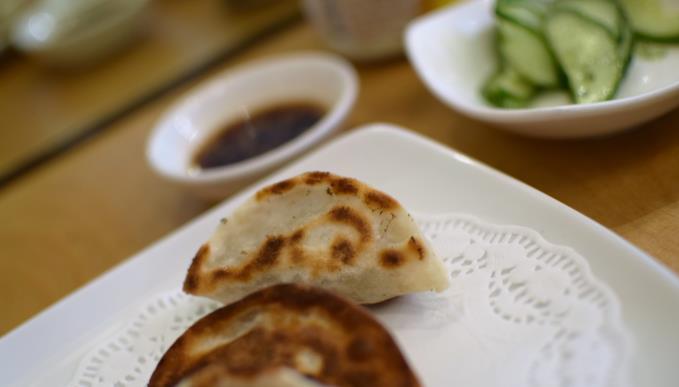 Handmade gyoza
The little corner cafe and shop serves a range of Korean and Japanese dishes to eat in or take out. This visit was mainly about the Korean side of the menu, which we had to admit, neither of us profess to know much about. So we braced ourselves, mistakenly assuming it would be challenging, mysterious and possibly likely to expose us as gastronomic wimps.
The drinks fridge was like a blind test, full of brightly coloured imported cans and cartons covered in native script and pictures of oriental fruit and beans. I grabbed one randomly. I'm still none the wiser, but it was delicious, like drinking gummy bear juice. I was even ambushed by chewy sweet bits at the bottom which, after the initial surprise, I enjoyed.
Dishes arrive when they're ready, but first each diner is presented with a number of side dishes. Along with the famous kimchi came lightly pickled cucumber slices and some tiny whole dried fish which, like beef jerky with knobs on, were utterly moreish.
Jeon Kimchi (£6.90) was a savoury pancake heavily scattered with spring onions and the special stuff, like a power-packed roti. Four handmade Pork Gyoza (£4.50), still hot from the griddle, provided a challenge as we raced to chew them before they fell off our chopsticks into the sesame soy dipping sauce. Like the kimchi, they're made onsite with pride and skill.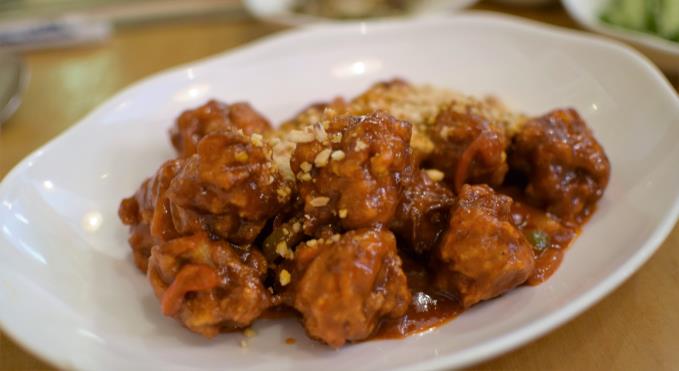 Korean sweet and spicy chicken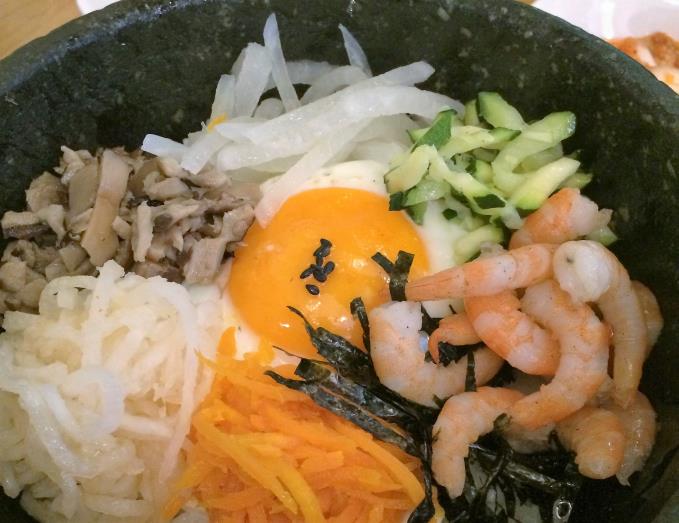 Bibimbap - a one bowl belter
Next, from 'Korean Favourites', squid and pork bulgogi (£9.50). This seemed initially like a straightforward stir-fry served on a cast iron hot-plate, but it grew on me as my taste buds became accustomed to the trademark spices and addictive dried chilli vibes. Long marination rendered both the pork and squid soft and deeply flavoured.
Research suggested that Korean sweet and spicy chicken (£9.50/£12.50) was not to be missed and we agree. Just be aware that this dish of deep-fried chicken thighs coated in a crispy batter and sticky dark red glaze, topped with crushed peanuts, is likely to end up in a chopstick fight over the last piece.
Arguably, a Korean meal is not complete without Bibimbap, a dish unwittingly sung about by many a scatting vocal jazz artist, which actually translates as 'mixed rice'. Essentially, it's a bowlful of rice topped with half a dozen carefully placed constituents and a fried egg. We chose a prawn version (£8.50) which came with chopped sautéed mushrooms, sesame-infused daikon, shredded courgette, shards of seaweed and another precisely chopped and seasoned vegetable, possibly carrot or sweet potato. This complete meal manages to remain healthy despite its dual merit as comfort food and I could eat it every day for weeks before tiring of it.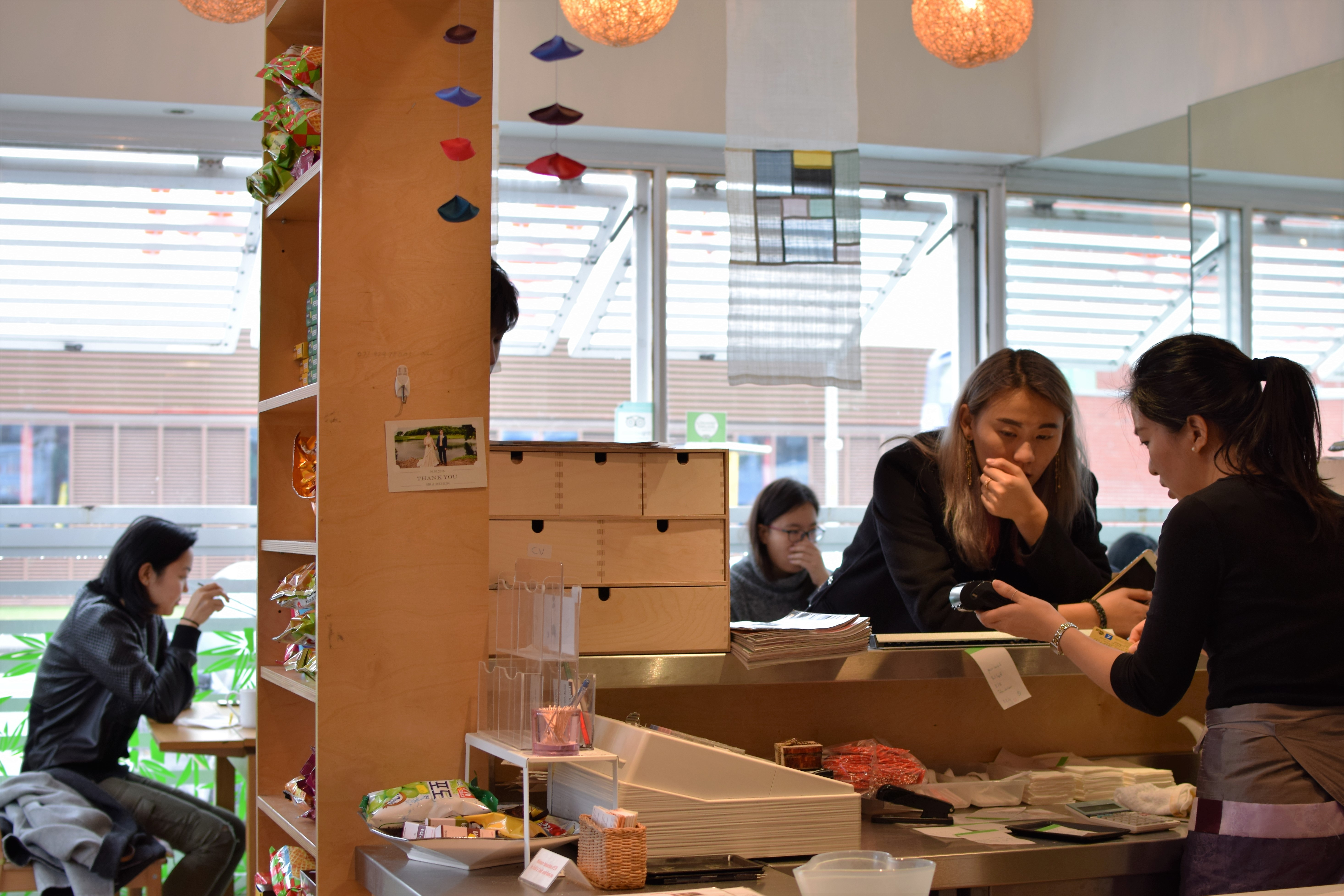 Seoul Kimchi only has space for 20 odd covers
Homemade ice creams are worth the queue alone
Thanks to tip-offs from regular visitors, we didn't miss out on the homemade plum ice cream (£2.80) which turned out to be one of the highlights of the meal followed closely by the green tea flavour (£3). The deep creamy tannins of the latter counter-balanced the floral, almost sherberty essence of the fruity one. I would happily join the queue outside every day just for that plum ice cream.
Seoul Kimchi is a little place that many people have passed dozens of times. Next time you find yourself in the area, make it a destination. And if the cabbage doesn't save your life, at least you can be comforted by the presence of Manchester Royal Infirmary across the road.
Seoul Kimchi, 275 Upper Brook Street, M13 0HR. Tel: 0161 273 5556
Rating: 14/20
Food: 8/10 (Gyoza 7, Jeon kimchi pancake 6, Bulgogi 8, Korean chicken 8, Bibimbap 8, ice cream 9)
Service: 3/5
Ambience: 3/5
PLEASE NOTE: All scored reviews are unannounced, impartial, paid for by Confidential and completely independent of any commercial relationship. Venues are rated against the best examples of their type: 1-5: saw your leg off and eat it, 6-9: Netflix and chill, 10-11: only if you're passing, 12-13: good, 14-15: very good, 16-17: excellent, 18-19: pure class, 20: cooked by God's own personal chef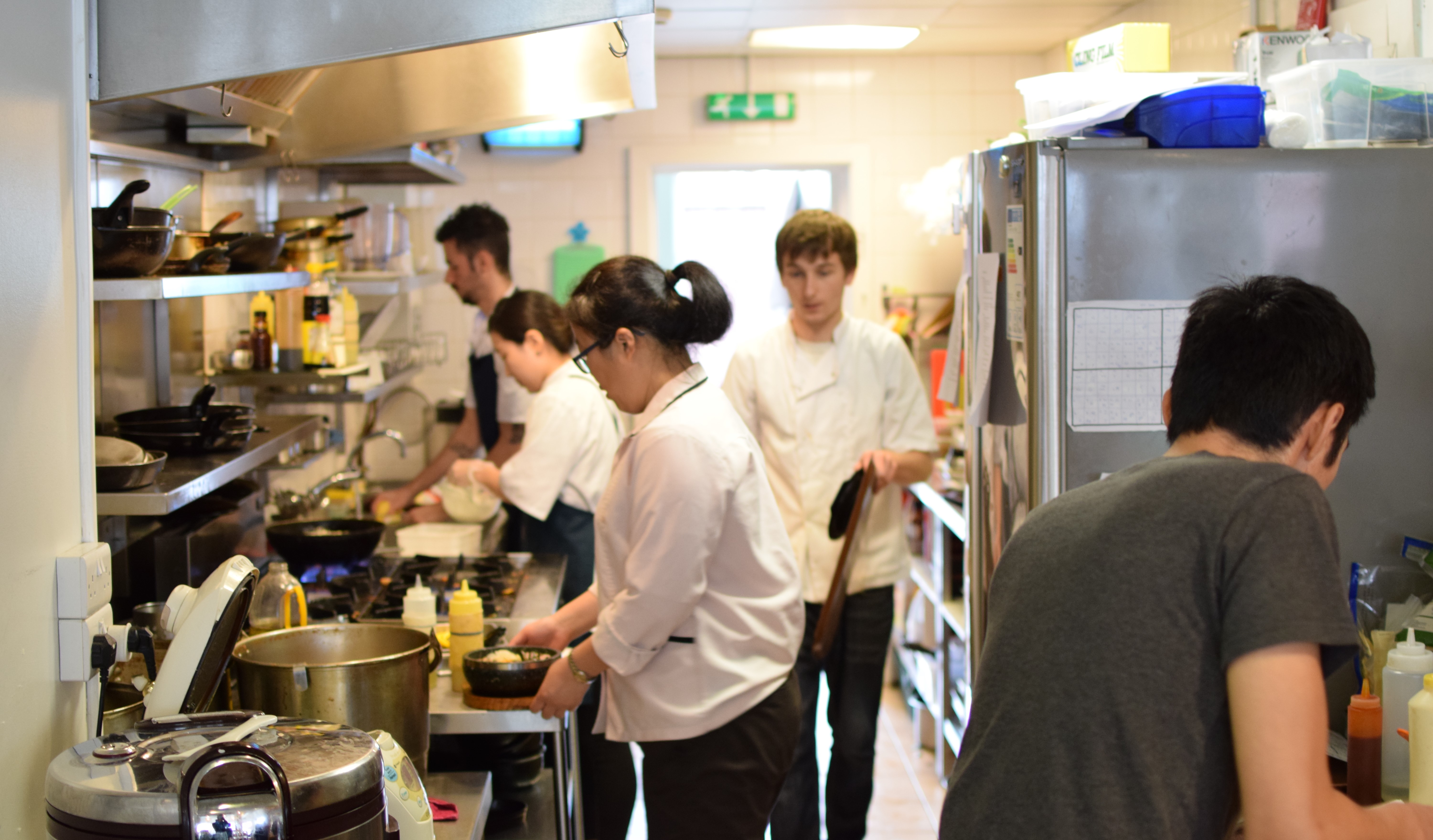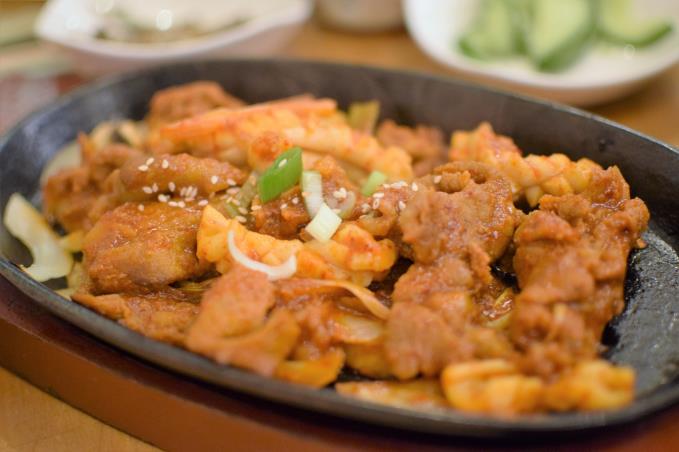 Squid and pork bulgogi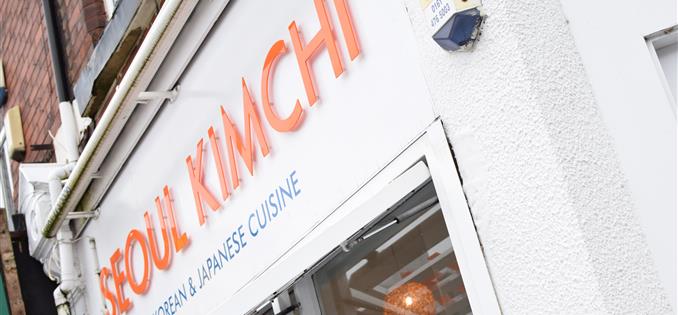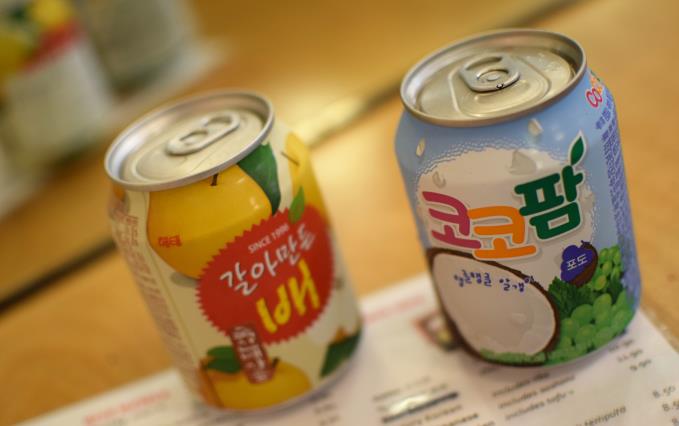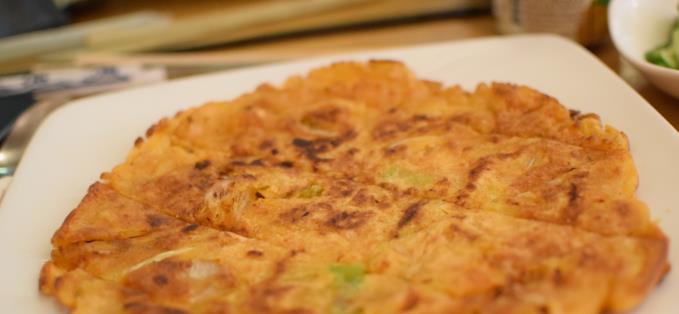 Jeon Kimchi pancake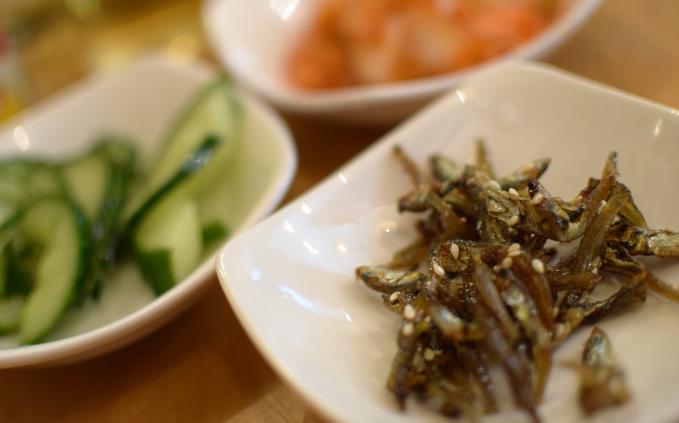 Whole dried fishes kick things off with kimchi and lightly pickled cucumber
Powered by Wakelet