HERE at Rabbit in the Moon, you get what you're given. This includes the gin and tonic ('bastardised gin', strawberry tonic, wasabi absinthe), the music (hip hop so loud your ears bleed), the wine (you're knackered if you don't like your wines at the floral/honeyed end of the spectrum), and the food (you're fucked if you're a veggie... well, to be fair, if you're a veggie you're generally messed up anyway).
The music is simply intolerable. Something called Hip Hop was urging Gordo to "slap up his bitch"
Michael O'Hare, chef patron of The Man Behind The Curtain (which is, for those who don't know, a restaurant in Leeds which last year gained a Michelin star) is also the man behind The Rabbit, brought in by the owners GG Hospitality - the hospitality company from 'Class of '92' stars, Gary Neville and Ryan Giggs, who in turn have been marauding around Manchester spending an Asian billionaire's interest with abandon. O'Hare won a Michelin star (far too quickly in Gordo's mind) within a year which resulted in over-excited PR types having little wees and running to BBC's Masterchef team, who are desperate for chefs that can cook, talk and look good.
O'Hare wins on two counts.
Apparently he gets irritated at being called 'Chef' outside the kitchen. Gordo can think of another four letter word beginning with 'C' he can use instead.
It also appears C*** O'Hare has been heard of down in That There London. At a lunch given by Gordo to celebrate the retirement of the chef, three-Michelin-starred Pierre Koffman, at The Berkeley Hotel, Gordo met up with an old journo pal, Dave, who, unlike Gordo, is a proper old lag food writer with gigs at Tatler, The Independent and Time on his score sheet.
"By the way," says Dave, "have you come across this guy from Leeds? I was interviewing Eneko Atxa (another three-Michelin-star chef) and this O'Hare feller was there. I asked for an interview, thinking about Time. He said 'No', turned his back and walked away."
Rude c***.
But then, we shall forgive young O'Hare if he delivers here in Manchester.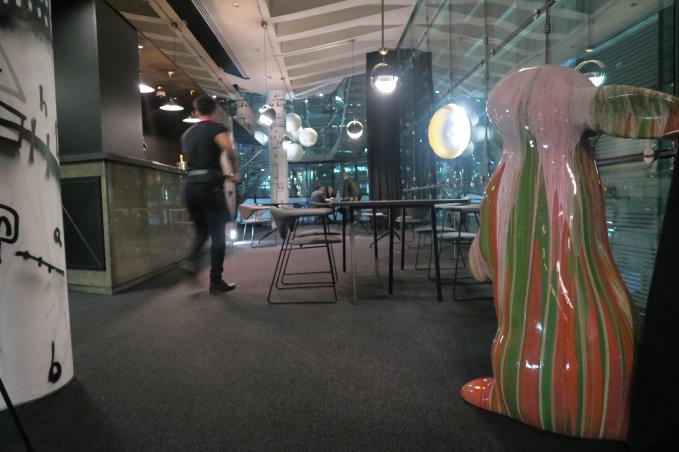 Rabbit, Rabbit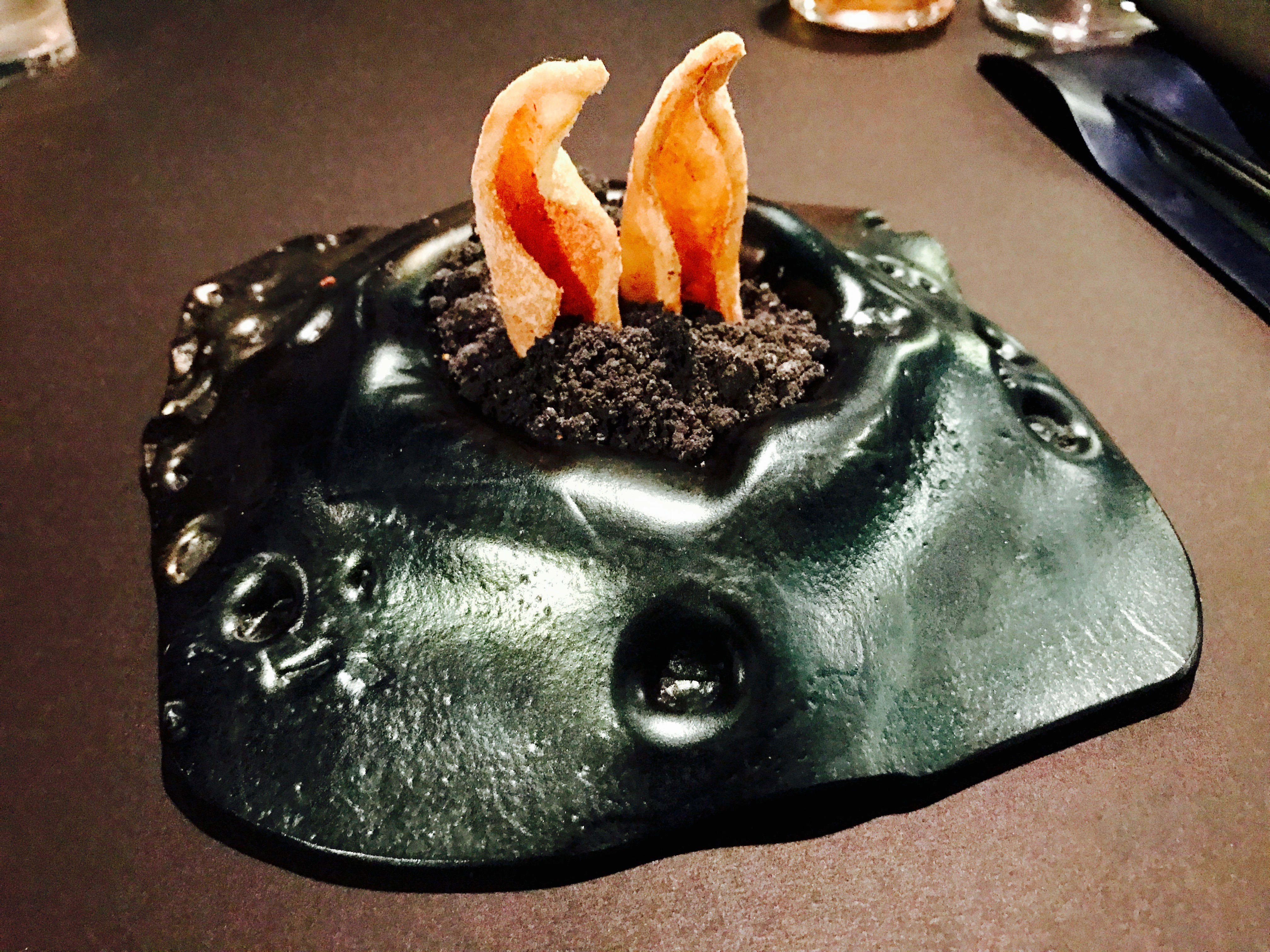 Cracking crispy rabbit ears
The Rabbit in the… oh fuck it... The Bunny's head chef is Luke Cockerill, and suddenly, following a series of Trumpian tweets from O'Hare (he ain't no Gary Usher, bruv), the marketing folk are making sure you know Luke is in charge. Previously head chef at O'Hare's restaurant in Leeds, Cockerill was on the tools the day Gordo visited. He is a young man, early-twenties, and very good looking, spookily reminding Gordo of the aforementioned Basque God Chef, Eneko.
Gordo was looking forward to seeing how this new 'relaxed, space age Asian restaurant' fared - particularly after Gordo learnt that the closest O'Hare and Cockerill have been to Asia was Manchester's Chinatown.
It sits on the top two floors of Urbis - the six storey building on Exchange Square which hides the football museum - where there have been three restaurant failures so far. The reasons have never been that of quality, it's just a really difficult spot. Even before Sir Richard Leese, aka Napoleon from Animal Farm, single-handedly destroyed the city centre for the car-owning demographic, it was a pain in the arse to get to. Now, it's near impossible unless you like to arrive at high-end dinners on the bus or tram. Oh, and it's great if you fancy a good scrap on the way home.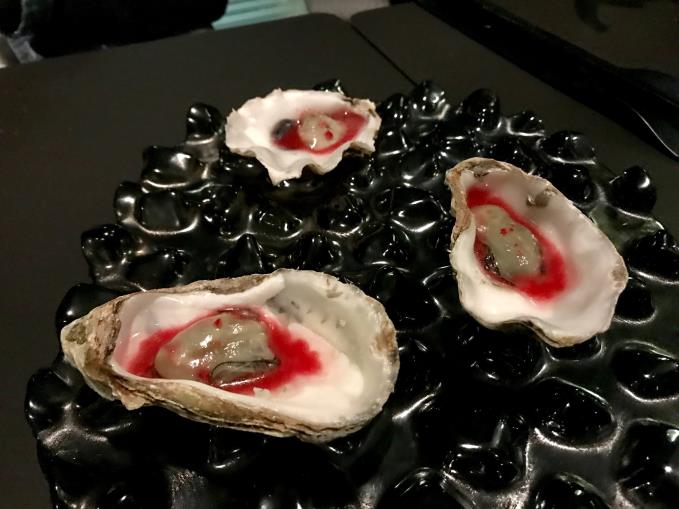 Kumamoto oyster with sake - small, plump and lippy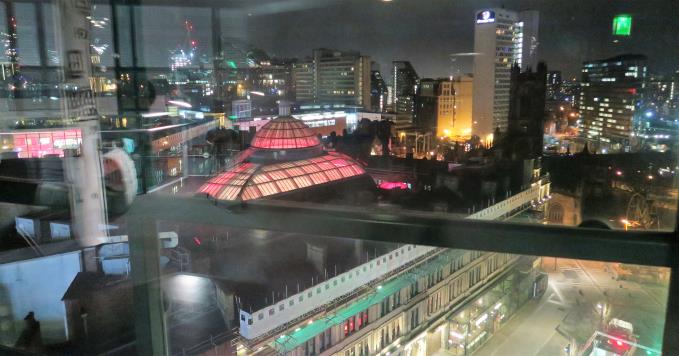 The view from the stairs, not the restaurant
Being 'on the roof' leads most of us to think of great views. But, oh no. The trendy architects who built Urbis thought it would be really cool to ensure that all upper windows have frosted glass. It then got a Grade II-listed status slapped on it, so cannot be changed.
Gordo kids you not.
The view is only evident on the stairs, so the restaurant could as easily be in a basement somewhere in Hulme. It's never felt cosy, that's for sure. If you've never been to the footy museum (there is no truth, by the way, to the ugly rumours that the museum are throwing in a shrine to Giggs and Neville as a sweetener), you're in for an intelligence test finding the right door. One of Gordo's pals took ten minutes to find it, having had the piss taken out of him by the kids clutching skateboards outside, who sent him off towards Victoria Station.
Once you've figured it out you're greeted by a fabulous Manc urchin who beams "'Iya", slaps your arse and ushers you into a lift and on up to the sixth floor. Gordo feels a little better. The lift doors open and Gordo is met by an old trusted friend and walked into the bar. The actual bar has been caged in by what looks suspiciously like bullet-proof glass. It's like being in that gang-proof Bargain Booze on the Curry Mile. Blimey.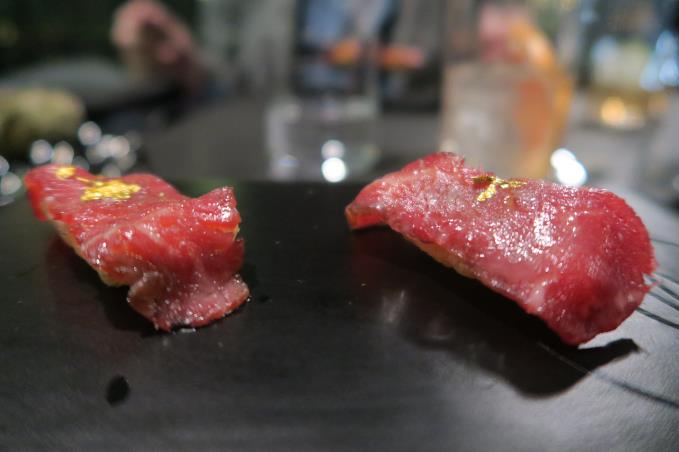 Wagyu nigiri - loved this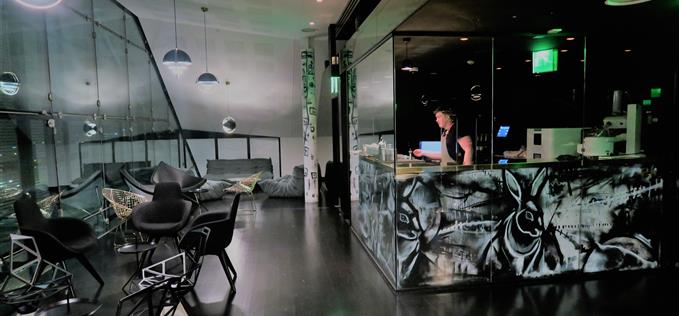 The bartender trapped behind bullet-proof glass
"Can I have a Martin Miller's gin and tonic please," asks Gordo of his pal.
"No," says General Manager, Liam. "Here's what you can have," pointing to the 'bastardised gin' with strawberry tonic and wasabi absinthe (£12) on the short cocktail menu. Gordo's heart sank. He ordered one just to give it a thrashing.
It was brilliant.
As a 'cocktail' gin and tonic, it wasn't really a cocktail. It owed a lot more to the Spanish love of long (or, indeed, fat) gin and tonics, which they're turning into an art form. The team here have worked this one well. The strawberry notes, subtly delivered across the airwaves as you get your nose near, were just fab. If the Ebola virus ever goes airborne and smells like this, the human race is finished.
Ruth Allan chose a Genmaicha, 'milk', sparkling, lychee baba. Nope, Gordo neither. Ruth wasn't enamoured. The editor ordered something that was non-alcoholic and looked like pond water from Heaton Moor Golf Course.
The music is simply intolerable. Something called Hip Hop was urging Gordo to "slap up his bitch". On reflection he felt pretty sure Kate 'The Peach' Leach wouldn't appreciate a good slapping, to be honest.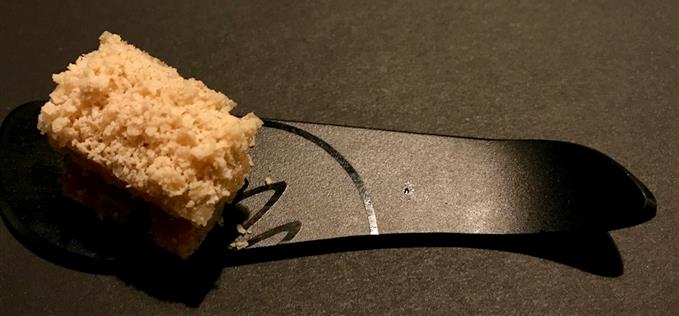 Toro melt - nicely textured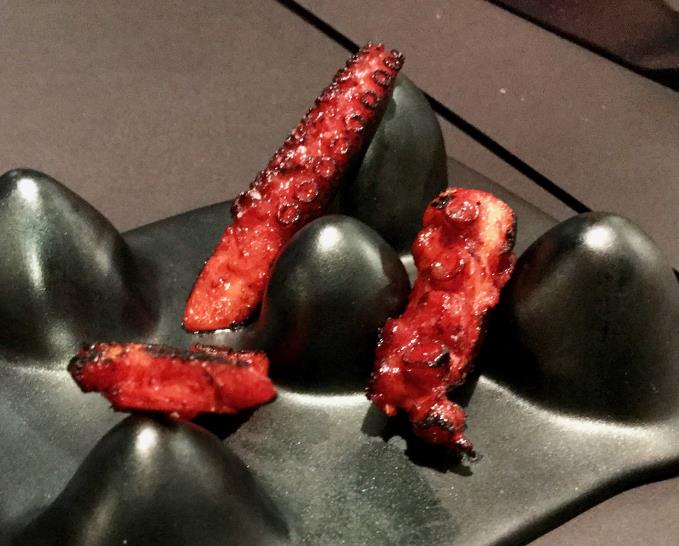 Char siu octopus - nicely sticky with attitude
The room is very much the same as before, but darker, more blacks and greys. On a rainy Manchester early-evening in spring, expect to hear the screams of people launching themselves off the roof.
We didn't get a menu, it just started arriving. We sat down at 8.20pm, by 9.30pm we'd arrived at the puddings. Let's get through the courses:
Crispy rabbit ears: actually posh prawn crackers, but very good ones, beautifully seasoned with flavours that lingered on the palate - 9/10.
Kumamoto oyster, sake: interesting Japanese variety, grown in Colchester, apparently. Small, plump and lippy, worked well with dressing. El Gato Negro, with their perfect 10/10 oyster, have some competition - 9.5/10.
Wagyu nigiri: loved this, from the flavours to the dipping sauce and texture with crunch, great - 8/10.
Toro melt: lost on me a bit, not sure why. Again, nicely textured - 6.5/10.
Char siu octopus: slightly too sweet, good octopus, timed well, nicely sticky with attitude - 8.5/10.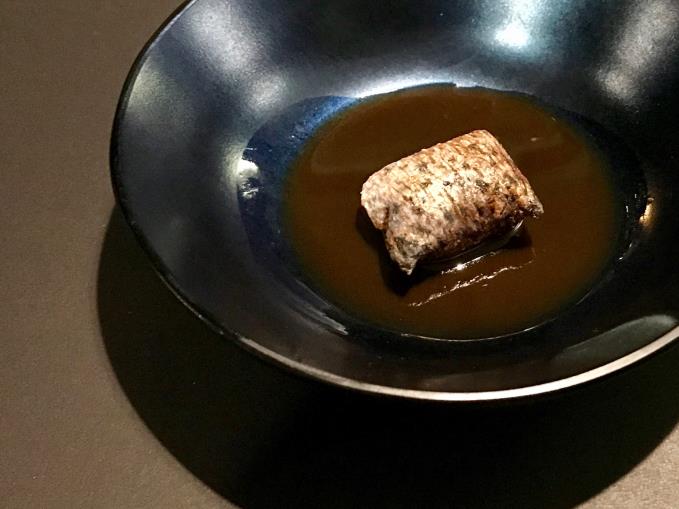 Salmon skin Inari - clever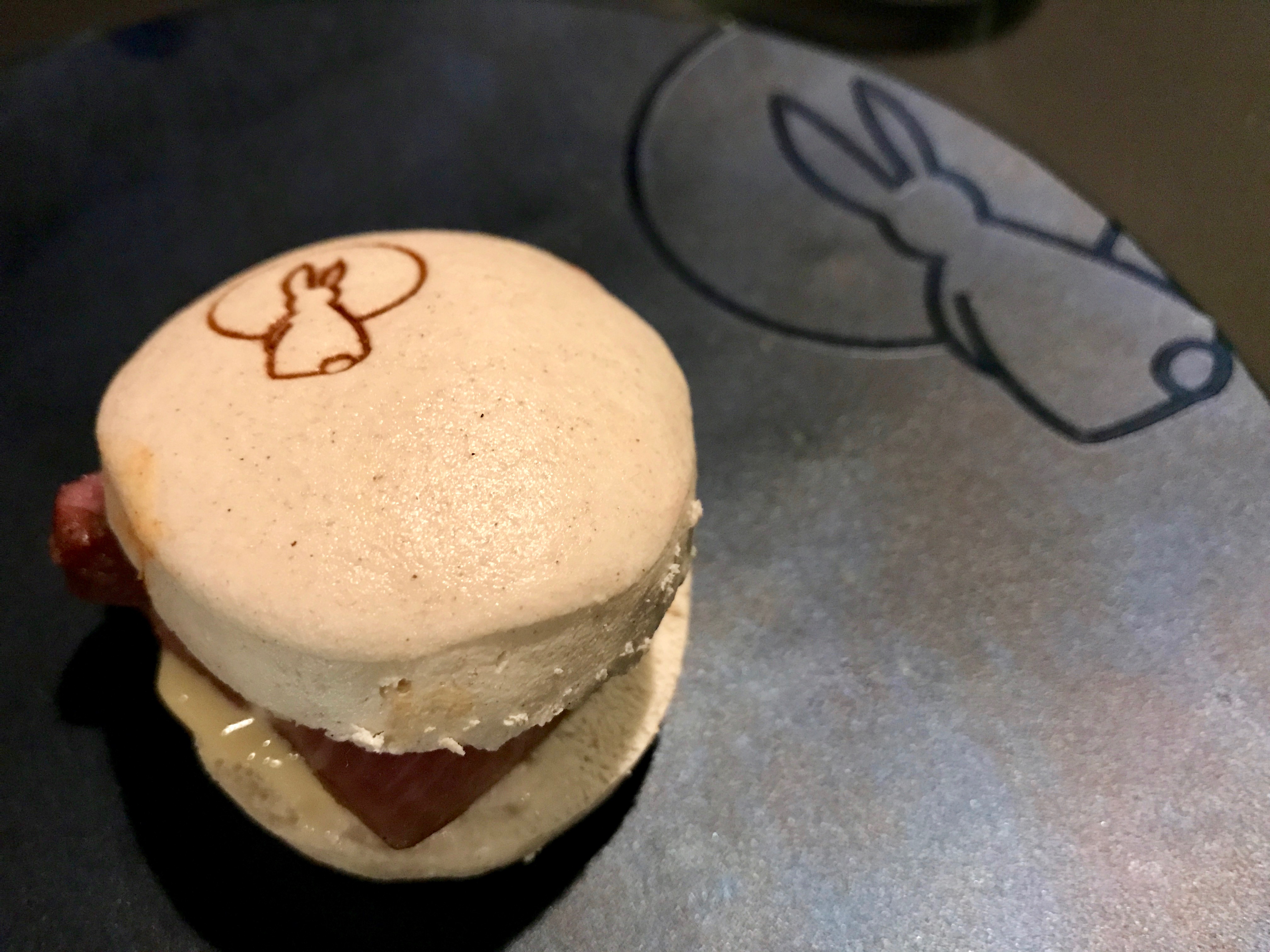 Chinese bacon butty - too dense
Salmon skin Inari: nearly there… 9.5/10
Chinese bacon butty: the best in Manchester, in Gordo's opinion, is the Wagamama belly pork bao bun. Next is Iberica, by a whisker. This feller? Bun too dense, pork too chewy, saucing a bit wimpish - 6.5/10.
Razor clam udon: astonishing, contender for dish of the year 2017 - 10/10.
Crispy red Thai curry: this should be served on its own, as the crispy noodles need to be piping hot. Gordo ate the above razor clam udon first and spent five minutes crying before he turned to this dish. The noodles and the way they were dealt with was outstanding, but they'd gone cold. The red Thai curry sauce was abused by Gordo drawing his fingers through the sauce and licking them. The score is 7/10, but would have been 10/10 if the noodles were hot.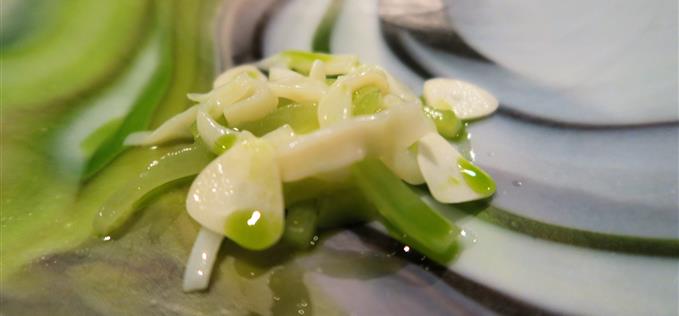 Razor clam udon: astonishing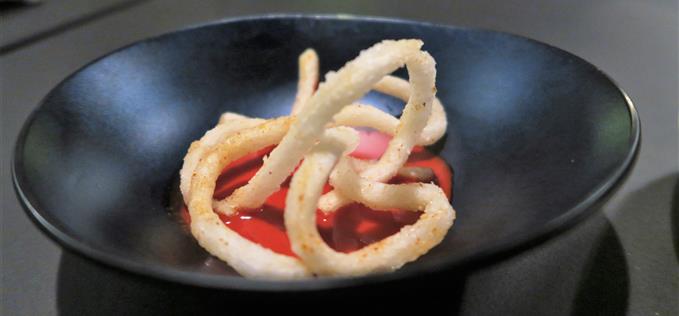 Crispy red Thai curry - noodles need to be hot
Pain au unagi: basically a croissant with eel mousse inside and a couple of sardines peeping out. Technically as good as it gets, the mousse wasn't to Gordo's taste - 8/10.
Kimchi duck broth: Fucking horrific. The devil's work. Like drinking the contents of the roasting tin used to cook the Christmas goose without removing the fat - 1/10. (Ruth and the editor loved it.)
Duck nigiri: starting to suffer from overload - 7/10.
Duck liver satay: this suffered from ignoring the Asian rule of texture balance and not being deveined properly, it's aggravating getting the stringy bits out of your teeth - 5/10.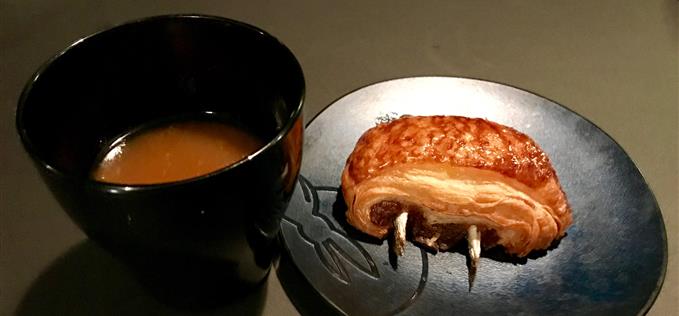 Duck broth and pain au unagi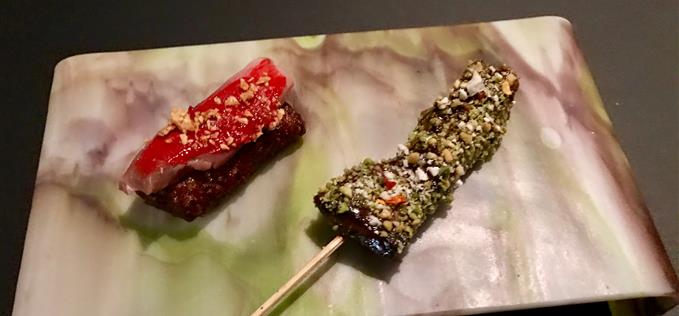 Duck nigiri and duck liver satay - overload
Electric lime leaf: charming and a great palate cleanser - 9/10.
Plum stone: Get right in. Opium - 10/10.
Plum sake mocha: Totally overshadowed by the previous two - 7/10.
Lychee Bon Bon: See above - 7/10.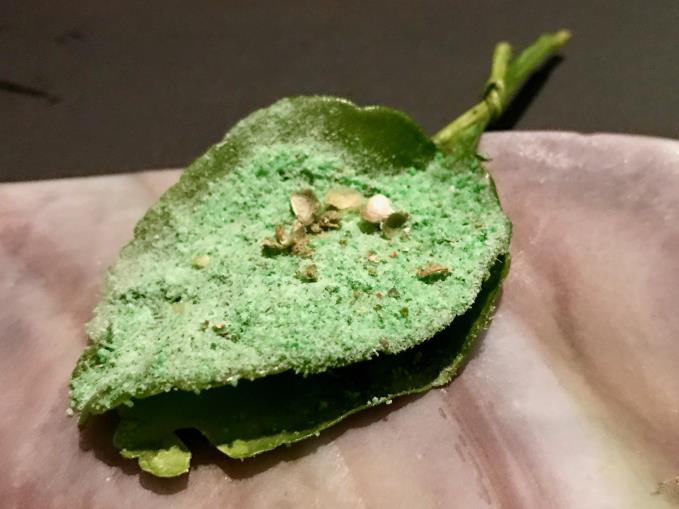 Electric lime leaf - charming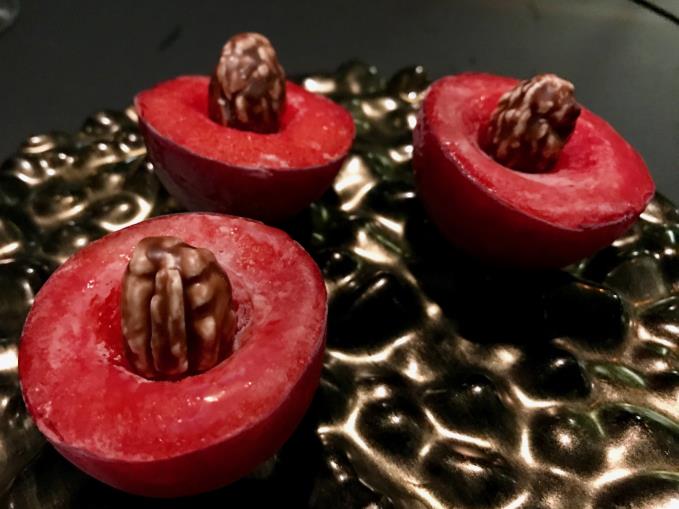 Filled plum stones on frozen plum halves - remarkable
The wine list is limited but brilliantly chosen. Mostly. The pick is a non-vintage Krug at £160. It can stand its ground with everything that is going on here. For mugs there is Krug Vintage 2003 at £375, for proper mugs, non-vintage Krug Rosé at £395, and for champion mugs, Krug Clos du Mesnil, 2000, £880.
Take Gordo's advice, he's tasted the lot. Never go above Krug NV.
Now, back to reality. There are eighteen really great white wines, all of which will drink well and (nearly) match the food - for this is food that is very difficult to match with wine.
They range from £34 to £89. Gordo chose Pinot Gris, Grand Cru Steinert: floral, slightly over-ripe pineapple with a slash of lemon acidity. Enjoyed it. Like Gordo, give the New World wines on the list a swerve for Old World Europeans. Under £40, grab the Riesling. Now that's value for money folks.
To be honest, you really should stick to a good green tea or a bottle of Johnny Walker black label with cold water if you want to go completely native.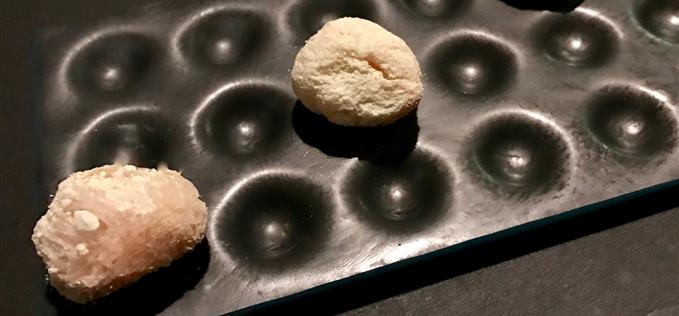 Lychee Bon Bon - overshadowed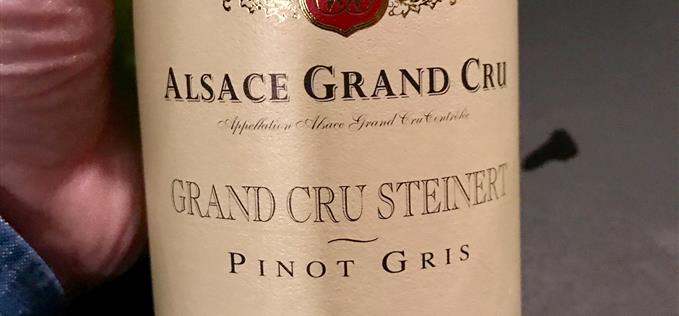 Pinot Gris
The service here is spot on; it's more of a ballet than a dinner service, the kitchen and front of house taking it in turns to perform. Luke and his team do deliver, but too quickly. At £75 a pop, a dinner for two with a good bottle of wine and drinks are going to land you with a bill over £250. At that price point, us punters need to feel as though we ain't being bullied. Gordo had bought a bottle of the aforementioned Krug for the puddings, but felt he was being rushed; especially when the bill was delivered without request. Very poor form.
Did it blow Gordo's skirts up? No. Will it in the future? Probably. Did he enjoy it? Very much so. Gordo's advice to the team: walk for a bit and don't get too cocky. To his readers: go, it's good fun, as it happens.
Oh, and Chef O'Hare. It's nice to be nice.
A work in progress.
Rating: 16/20
Food: 7.5/10
Service: 5/5
Ambience: 3.5/5
PLEASE NOTE: All scored reviews are unannounced, impartial, paid for by Confidential and completely independent of any commercial relationship. Venues are rated against the best examples of their type: 1-5: saw your leg off and eat it, 6-9: Netflix and chill, 10-11: only if you're passing, 12-13: good, 14-15: very good, 16-17: excellent, 18-19: pure class, 20: cooked by God's own personal chef
Powered by Wakelet
Food

as mad as a fish speared through a croissant

Service

spot on

Ambience

music is simply intolerable