THE PARKERS ARMS has a reputation for great food to uphold, yet the drive from Clitheroe past Easington Fell is almost good enough to sate the appetite on its own. Crammed with sheep and pheasants, ancient forests and mansions, this is the part of England that inspired chef Nigel Haworth to create his game-changing menu at Northcote Manor in the 1990s - and it continues to inspire chefs today.
Even though Madi has yet to win a star, the comparison seems fair enough
Parkers Arms' co-owner, Stosie Madi, is one such example. The half-French, half-Lebanese chef runs the pub with front of house lady, Kathy Smith, with Kathy's brother, bow-tied 'AJ', behind the bar. Madi was raised in The Gambia, running hotel restaurants with her entrepreneur Dad. Now in her prime, she took over in 2007 and has won nearly every award since – a Michelin star outstanding. In fact, I've heard nothing but praise for the place from the likes of NRB boss, Thom Hetherington, and other foodie friends.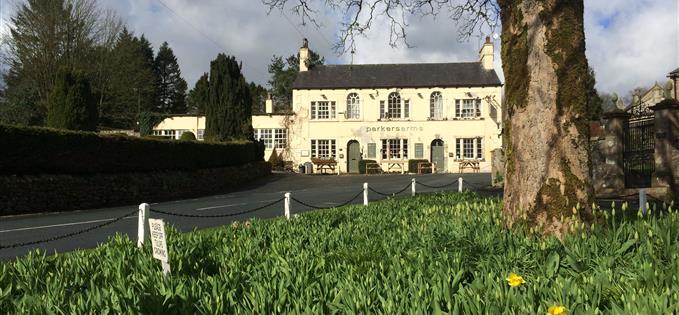 Parkers Arms, Newton-In-Bowland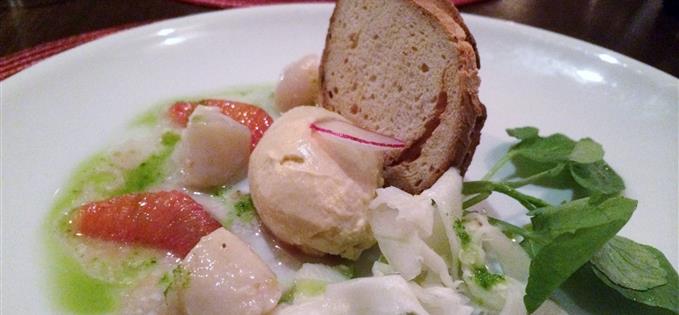 Manx Scallops (£8)
Manx queenie scallops (£8) are the perfect place to cast off. The tiny molluscs find their feet in Madi's arrangement between slivers of blood orange, wafer-thin fennel and a sweet, scallop parfait. The fishiness comes to the fore as a sail of sourdough brings to mind the sea.
Another fine example is the gurnard (£14.50) served on an onion and cumin pilaf, with the most more-ish, lemony sauces I've ever tasted. This is middle-eastern cooking, French style. Or vice versa. I want to say it brings to mind lemon curd in its lemony concentration but I'd hate to put you off a stellar mouthful.
Local venison loin is presented on fresh leaves with pickled damsons and a damson dressing (£8). In the right hands, like and like (blood-red, zingy fruit plus just-seared wafers of bloody venison) can work a treat - particularly as a starter. A comparable dish is L'Enclume's raw venison with coal oil, which, in turn, has morphed into ox tartare at The French. Even though Madi has yet to win a star, the comparison seems fair enough.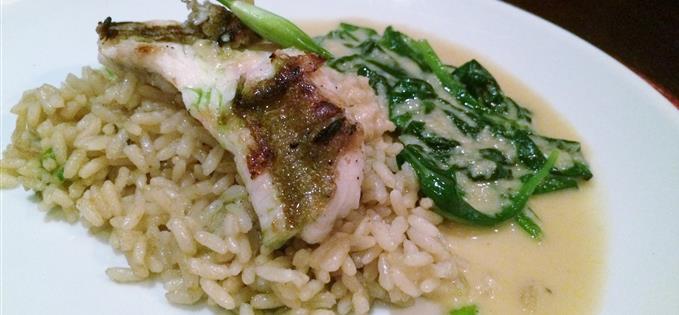 Gurnard (£14.50)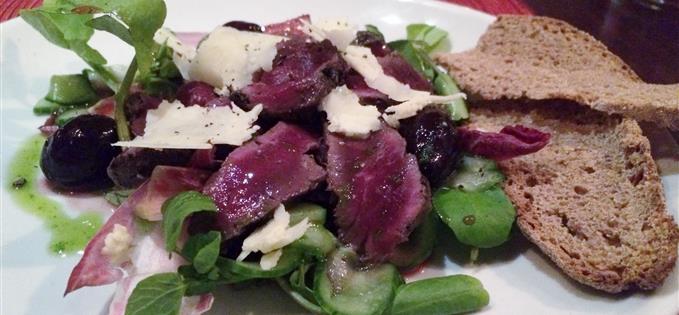 Venison (£8)
Two Parkers dishes have gone so far as to inspire experiments in the kitchen at home. Scorched purple sprouting broccoli with juicy, char-grilled slices of pink fir potatoes (potatoes aren't usually my bag, but I can't stop thinking about these tubers) and wild garlic mayonnaise (£6.50) is unctuously brilliant, while smoked beets, salty cucumbers, za'atar and char-grilled homemade curd cheese (£7.50) sees this ricotta-style fromage turn barbeque star.
Dessert pulls off old tricks with aplomb. There's that country pub favourite, lemon posset, paired with rhubarb (£6.50). I had similar at the Michelin-starred Pipe and Glass and this one's better. The salted caramel Valrhona cheesecake (£6.50) is a big smash. A giant, gourmet Snickers ending to a proper blow out. We have to abandon plans for cheese.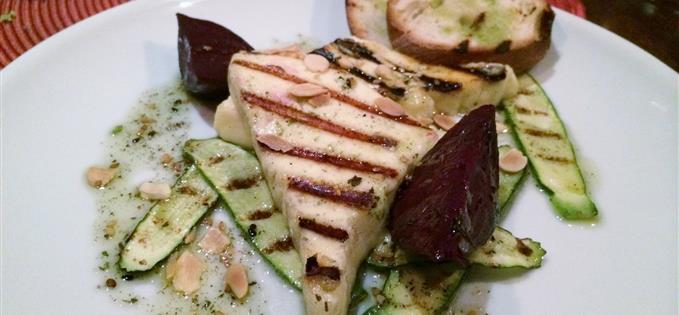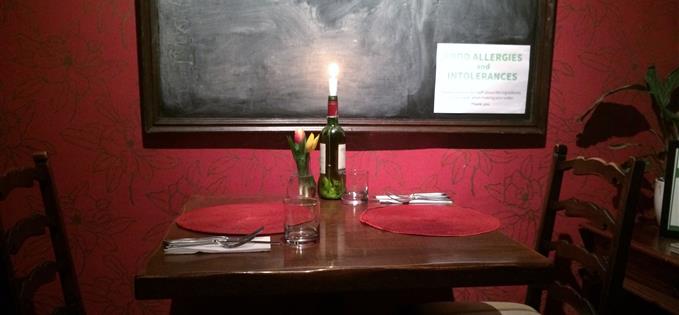 Parkers Arms: table for two
Of course, nothing's perfect. Clunky snacks from the pre-starter menu include black pudding sausage rolls which, like Beyonce's Single Ladies at the disco, seem to have lost their punch by being played out too many times. Over-greasy, under-seasoned potato skins come with an underwhelming tomato ketchup. Chefs have to pull something mega special out of the bag to make ketchup worth the effort. A showcase main of hogget koftas (£16.50) with homemade falafels is another miss for me - not bold enough by half. But these moments are rare, with Madi proving time and again that she's as adept at handling vegetables as she is the meat of the land.
Comparable meals include the aforementioned Pipe and Glass and Chester's Sticky Walnut. They're doing something casual, modern and mostly British, like the Parkers, yet still feel new. Drinks wise, the Parker's keeps it simple. Beers on draught include Bowland Gold and a choice from Lancaster brewery. A bottle of house favourite Chilean Tabali Cabernet Sauvignon (£32) is a smash on the wine front. The list isn't overly long – in fact everything from the red cushions and candle light to the flaky paint (they're mid-paint job, it turns out) exudes the kind of confidence you only get from going a few rounds in the ring.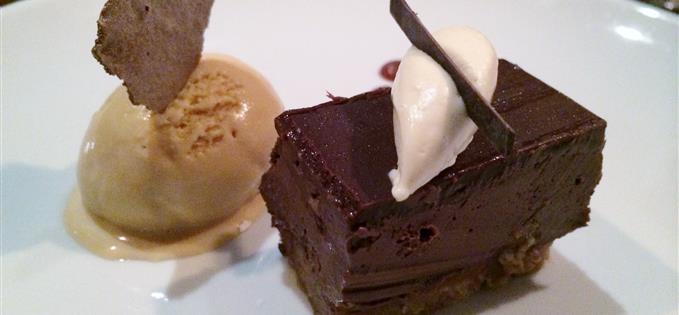 This is the kind of place you'll want to stay the night - which is a sticking point. The Parkers only has two B&B bedrooms and they're fully booked until September 2015. Alternatives include new opening, The Old School House (from £50 per night) in Newton-in-Bowland and where we stayed, Clerk Laithe Lodge, a converted barn with a view that's just a short walk up the hill, from £95 per room.
Parkers Arms, Newton-in-Bowland, Nr Clitheroe, Lancashire, BB7 3DY. Tel: 01200 446236.
All scored reviews are unannounced, impartial, paid for by Confidential and completely independent of any commerical relationship.
Good for: a destination pub in the real sense of the word.
Avoid: if dieting. Chef has a reputation as 'a feeder'.
Rating: 17/20
Food: 9/10 (Scallops 10, Fish 9, Venision 9, Broccoli 10, Cheese 9, Hoggart Kofta 6, Lemon Posset 8, Cheesecake 9)
Service: 4/5
Ambience: 4/5
PLEASE NOTE: Venues are rated against the best examples of their kind: fine dining against the best fine dining, cafes against the best cafes. Following on from this the scores represent: 1-5 saw your leg off and eat it, 6-9 get a DVD, 10-11 if you must, 12-13 if you're passing, 14-15 worth a trip, 16-17 very good, 18 exceptional, 19 pure quality, 20 perfect. More than 20, we get carried away