*****
IN ITS second collaboration with Dublin-based ANU productions, HOME presents an original view of the effect of the 1996 IRA bombing of Manchester, which saw 1,500kg of Semtex explode on Corporation Street, just outside Marks and Spencer.
If you're going with friends I'd recommend splitting up before you enter and comparing notes at the end
ANU are well known for challenging productions, immersive promenade theatre which brings the audience close enough to touch the actors. The audience, although present to observe a well-known story with iconic images and characters, don't really know what to expect and the process and locations bring a feeling of dislocation and dependency to the proceedings. Clearly appropriate in this case.
A wordless stage-based opening scene in front of a flashing white van ramps the tension until the expected explosion brings descending glass shards and slow motion panic and dread. It's a skilfully directed and superbly performed high tension fifteen minutes, cleverly constructed to begin the story (the part that everyone knows) and create the mood. The audience leaves the auditorium in trepidation.
The promenade element sees the audience split into smaller groups and moved around the building, emerging an hour later realising that, as in the real world, their experiences differ. My group met an on-duty nurse, exhausted by the day's experience and dreading the further pressures her Irish accent would attract; a young man with a hangover working in Kendal's stock room; a woman trying to calm herself while waiting, possibly for days, for her keys to be returned to her. The emotional connection between audience and performer was stark.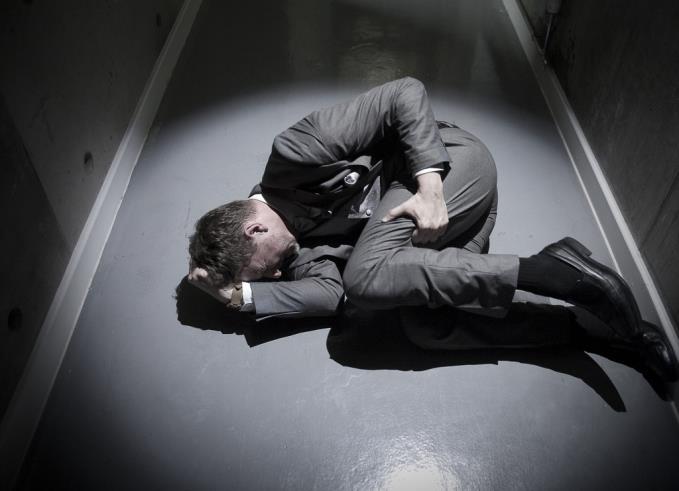 We also briefly meet a young Irish man who appeared to carry some responsibility for events, and a woman whose replaying of the horrors underpinned an emotional collapse given physical expression by performance artist Amanda Coogan.
If you're going with friends I'd recommend splitting up before you enter and comparing notes at the end.
This theatre style doesn't suit everyone, and audiences might expect this story to be presented through more of a documentary style. But documentary and journalism is done elsewhere, including Jonathan Schofield's excellent article here. This story focuses on the immediate emotional impact on ordinary Mancunians who'd left home expecting a perfectly ordinary day.
I'm not always a fan of immersive or promenade performances, often wishing I could just be given a seat, a beverage and clear visibility. Occasionally I become so immersed I feel as though I should join in the action and alter the outcome. Probably not, though it's very tempting. Though the techniques largely work here, in part because the core material is so strong.
On Corporation Street is based on a hundred testimonies from those involved and collected by Manchester's Mighty Heart Theatre. The testimonies were performed by the cast, word for word, copy in hand, in Manchester Town Hall at the end of May in front of a small audience. It was a powerful collection of reminiscences given further status through public performance. This production distils those stories and reactions to their essentials, preserving recognisable elements of the original wording and enhancing these through sensitive and imaginative performance to give a heightened sense of reality and considerable time for reflection. All the more impressive considering the short performance time of just 75 minutes.
On Corporation Street runs at HOME until Saturday 25 June. Most days have two performance at 18:00, 19:30. An extra performance at 21:00 hours has been added to some dates.
Powered by Wakelet