FORGET street food let's talk sincere food.
This was the richest, creamiest, coffee-est, cocao-est, over the top, yet natural and refreshing tiramisu I've had on the planet.
The Sincere Food Movement© - it's my copyright, so hands off. You can have it when it becomes so commonplace it loses its meaning and you start tripping over Sincere Food Movement operators everywhere, up sidestreets, in empty car parks, in abandoned offices, in the Trafford Centre, in your navel, in your children's navels.
And when that happens we can comfort ourselves the best Sincere Food Movement operators will survive, the rest shall be rendered unto dust.
My latest addition to the roll call of local Sincere Food Movement operators is Lupo on Chapel Street. This is in that part of Salford so embraced by Manchester city centre the two are indistinguishable.
Lupo sits in a curious half moon-shaped building next to a faded chapel and over the road from a dark viaduct. It is decorated externally with tilework on the run from the original Manchester Arndale with a print of Brutalist concrete facade from the nearby Riverside offices stuck under a window. There is a small yellow bench which is appealing in the same way a labrador sat outside a pub, panting in the sun, a bowl of water close by is appealing. In this case there's no water, just a traffic cone. Woof. Beep-beep.
That exterior really shouldn't work but it does.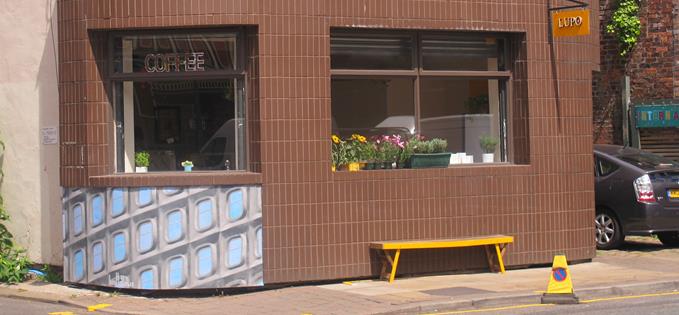 Is the cone part of the bench and sunflowers Lupo theme?
Inside is an elegant little space filled with light and flowers, good food and magnificent coffee. Oh and the best tiramisu I've tasted.
The cafe opens from 8am-5pm Monday to Friday and 9am-5pm on Saturday. On Sunday it's closed. There is no licence. But for once that isn't a problem since the coffee is so good. The owner Nico, from Rome, has been a coffee consultant in London in his time, and carries an Al Capone violin case of coffee gadgets to prove it.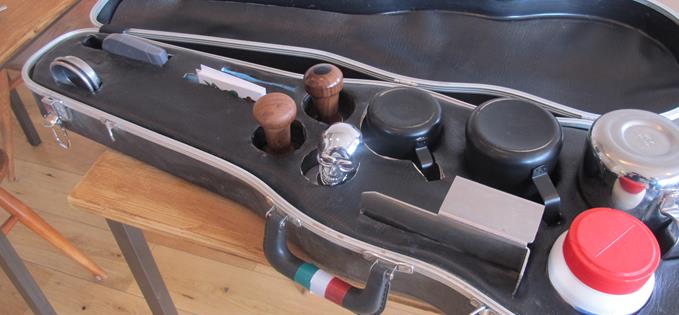 Nico multi-tasks, he's barista, greeter, food server, while his chef/cook Ornella runs the kitchen like a supermodel in oven gloves.
As this is a tight operation in terms of staffing Nico can't hang around preparing coffee. A cappucino arrives in moments, in an eighth of the time it takes most recent indie coffee operators in Manchester. Nico does it through rack of the eye and instinct with a snap of the wrist and casual flair. Nor does he make it so strong it savages the back of the throat and makes the veins at your temple pulse.
"It's good to take another coffee and then another coffee - nobody needs those Starbucks' buckets. I come from Rome and we like to taste all the flavours," says Nico in an accent so Italian he might be auditioning for a part.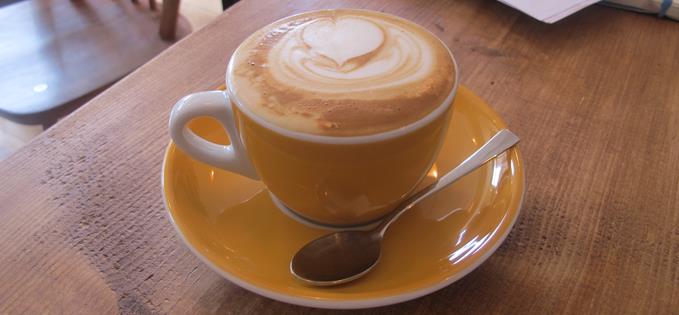 Cappuccino
Another point of difference is he uses a coffee blend for milky-coffees, cappuccinos (£2.40) and lattes, and a single estate for espresso (£2).
He explains something about cocktails and coffee, how you'd use a blended whisky if you're going to chuck in a Coca Cola, but how the purity of a single cask malt should be enjoyed on its own. And so it goes for his stunning espresso from a Haitian Arabica bean his friend roasts back in Italia. You can buy this from Lupo to take home. I have one brewing as I write. The smell is making me think clearer. If you love coffee rush down there and sip it yourself.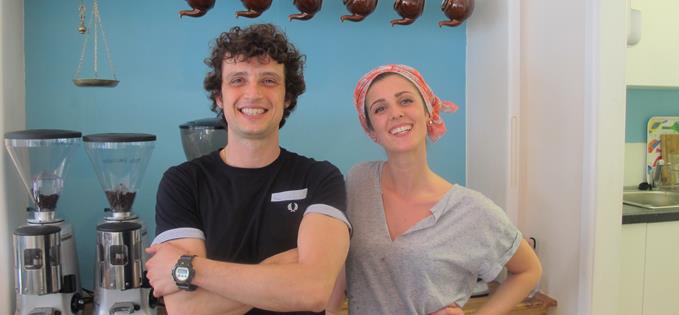 Nico and Ornella about to get showered by tea
You have to keep your hand on top of Ornella's lasagna to stop it floating away. It comes in classic green durum wheat pasta sheets stratified geologically with all an almost sweet herb-rich ragu and a mix of both beef and pork. There was a flourish of Parmesan and some leaves. £7 all in. Easily enough for a lunch. I had a go at a cold pasta dish (£4) as well, chickpeas, sweet corn, yellow courgette, peppers, tuna, mozzarella, dill, bay and a mayonnaise suffused with avocado which enhanced the food - unusual that for attention-seeking and usually vile mayonnaise.
Then there was the £3.50 tiramasu. Three and a half quid.
Ornella had outdone herself here. This was the richest, creamiest, coffee-est, cocao-est, over the top, yet natural and refreshing tiramisu I've had on the planet. With a base saturated in Marsala wine I always think tiramisu is the closest there is to a proper English sherry trifle but lacking the exuberance of the latter. Not this one. Ornella's was ornate.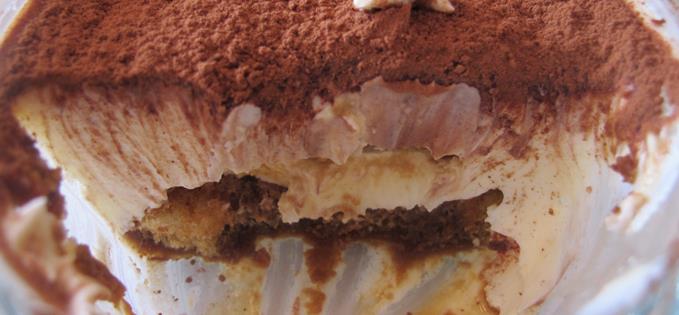 Potholing into tiramisu
I adore food finds like Lupo - incidentially the place is named after the wolf that raised Romulus and Remus, Nico's Roman you see. A dull place dulls the palate. This place adds zest and lifts the spirits. It's another for the inaugural Sincere Food Movement© of Manchester...and Salford.
PS I liked the place so much I went back for breakfast and heartily approve of this take on the classic English. Two eggs on the specialist and yielding pane de altamura, then smoked salmon over an avocado sauce, the salmon sweetened and spiced by gentle chilli honey from Crossmoor Farm in the Fylde. Salad, asparagus, fried yellow courgettes and even oranges to make it seem extra healthy. Very filling. £7. Another reason to visit.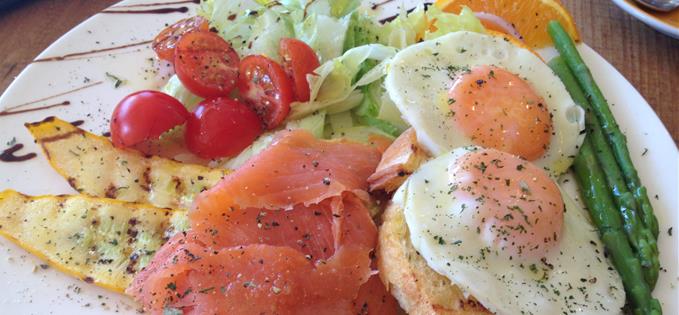 You can follow Jonathan Schofield on Twitter @JonathSchofield or connect via Google+
Lupo, 142 Chapel Street, Salford, M3 6AF.
Rating: 15.5/20 (remember venues are rated against the best examples of their type - see yellow box below)
Food: 8/10 (cold pasta 7, lasagna 8, tirmisu 9, breakfast 8)
Service: 4.5/5
Ambience: 3/5
PLEASE NOTE: Venues are rated against the best examples of their kind: fine dining against the best fine dining, cafes against the best cafes. Following on from this the scores represent: 1-5 saw your leg off and eat it, 6-9 get a DVD, 10-11 if you must, 12-13 if you're passing,14-15 worth a trip,16-17 very good, 17-18 exceptional, 19 pure quality, 20 perfect. More than 20, we get carried away.