Gordo gets blown away fifteen times by Chef Rogan in The Lakes
THE GOOD Food Guide launched in 1951 and really got into its stride in the eighties and nineties when edited by the legendary Drew Smith, one of Gordo's pals. He broke Marco Pierre-White and Raymond Blanc, amongst many others, and taught Gordo how to judge restaurants; one of the few blots on Drew's copy book.
This was one of two dishes on the day which were so standout it managed to stop Shagger and Gordo from telling each other lies
He rarely had a main course when 'doing the business', rather he would order four or five starters and a couple of puddings. He used to tell Gordo that it was easy to do a main course, the kitchen's abilities were best demonstrated in the salads and small plates.
In which case, Drew would approve of L'Enclume; with meals multiple courses long and 'mains' hardly standing out from the rest in size. The current editorial staff at the GFG certainly do approve; they awarded the place the grand title last year: 'Best Restaurant in the UK'.
Gordo first visited L'Enclume around six years ago and wasn't that impressed; it was heavy on molecular cooking, a style in which few chefs have excelled and most have failed miserably.
So, Gordo was asked by the editor to visit again and give it a rescoring; would Gordo's mind be changed?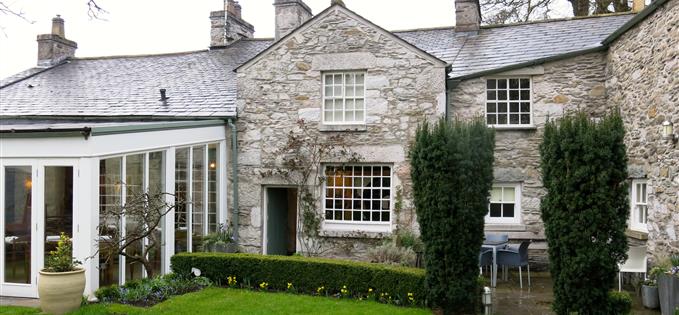 L'Enclume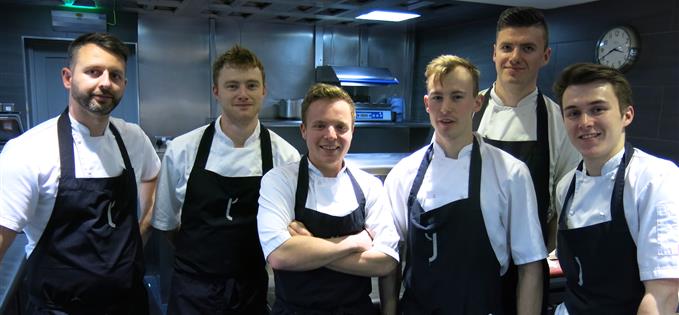 The team
A visit to the 'baby' restaurant, Rogan & Co., in the same village of Cartmel a few weeks ago bowled The Fat One over. A salad actually scored 10/10, virtually unheard of in Gordo's time. So, it was an unusually happy soul driving the 90 minutes up the M6 one gloomy March day.
The restaurant is squatting in the old smithy, thus the name L'Enclume, French for anvil. It's very Rogan; all white painted walls and what looks to be IKEA furniture at first glance. Like the baby restaurant, this is Viking chic. The table offered to Gordo and his pal, Shagger Sharrock, was seemingly squashed up against a wall. Still, it was the last one available, not bad for a Wednesday lunchtime in the middle of nowhere.
Gordo was about to be unimpressed; until he realized that the chairs were very comfortable indeed, with lovely leather cradling his ample arse and a table that had been cut to fit against the wall - a one-off piece of substantial polished wood which bulged on the opposite side of the wall to give big space. Gordo relaxed.
The guys were funny, polite, needle-sharp with knowledge to match. Front of House here is absolutely at the top of its game. A fine bottle of wine was cracked and battle commenced.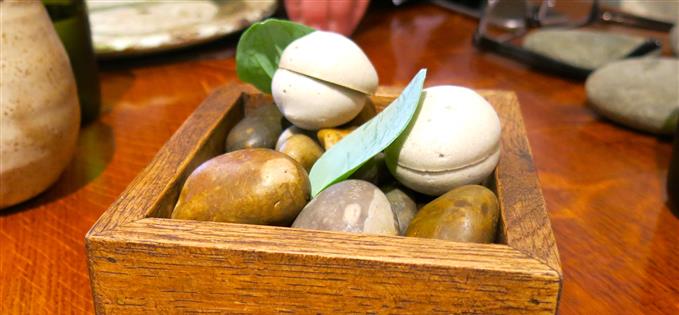 Oysters... sort of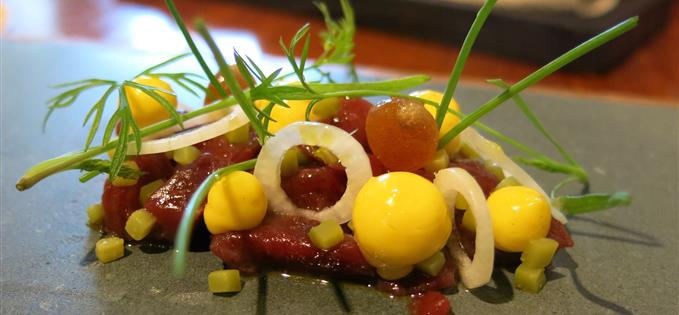 Deer tartare
Three little bits and pieces arrived. Duck egg green savoury macaroons, described as 'oyster-like', with a single leaf adorning tore into Gordo with big flavours of the sea. The single leaf tasted like an oyster too. A leaf. Chosen because it tasted like an oyster. Remarkable.
Gordo started to remember all the Simon Rogan meals he had swooned through recently: The French, Mr. Cooper's, Rogan & Co. and Fera in Claridges. Each one with a thread running through them; highly unusual vegetable adornments not only there for decoration. All added something to the experience of each particular dish and all apparently grown on Rogan's own farm around the corner, on the roof of a hotel or foraged locally.
There were fifteen courses altogether (£45 set lunch menu, full menu £120), and whilst we carry a picture of each (below), for a change Gordo isn't going to bang-on through each one. Let's concentrate on a very special three.
Firstly, the roe deer tartare with, if Gordo isn't mistaken, coal oil. This took what is on the menu at Fera and The French and lifted them a notch; the emulsions, the tiny tickles of leaves and cubes of vegetables and fruit made this a perfect dish. Billed as a house special; this was very special indeed.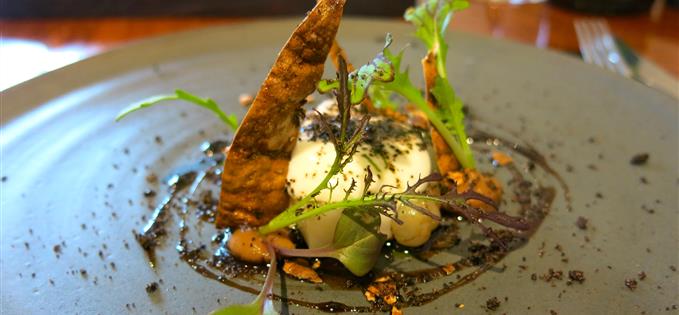 Artichoke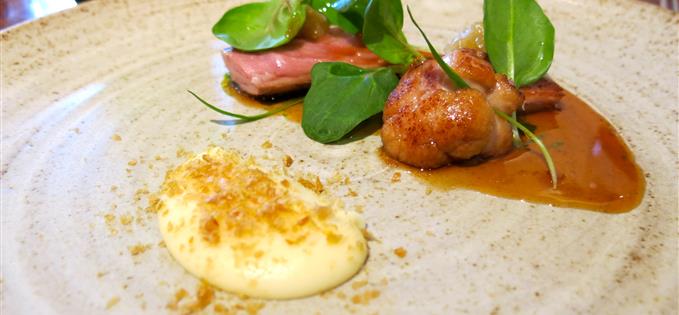 Lamb
The Jerusalem artichoke dish was a triumph of balanced flavour, texture and silken cream; most importantly, it majored triumphantly as a dish that was deeply, reassuringly one-dimensional. That dimension being the artichoke part. Whilst it looked a bit over-fussed, it wasn't. This was one of two dishes on the day which were so standout it managed to stop Shagger and Gordo from telling each other lies for at least ten minutes.
The lamb came three ways: fillet, breast and sweetbreads, presented with a gravy (or if you're that way inclined, jus) that was teamwork of the highest order. A magical puree to act as a frame and more greenery that sang and made another perfect dish.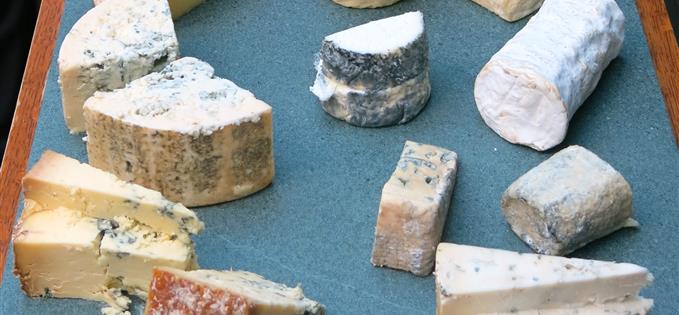 Cheese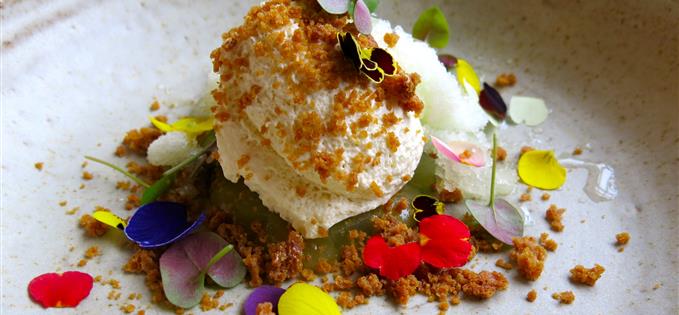 Yoghurt pud
The cheese is all British and at peak of ripeness with the best biscuits you could ever hope for. A solid choice.
A chocolate dish had a plant adornment that looked suspiciously like the plant. Have a look, you, like Gordo, will figure this out. When chewed, it actually fizzed in the mouth. It was a moment of great clarity during a meal that will stay with The Fat One for life.
Finally, the last pudding. It was, well, erm… yoghurty. Spicily fruity, tart, sweet, crunchy… heaven. It was the best pud Gordo had encountered in the past five years. It made Shagger purr and looked finer than a Matisse. It was so beautiful that 'perfect' doesn't do it justice. It was Bardot walking past Senequier in St. Tropez with flowers in her hair; 11/10 (we've talked about this - Ed).
Follow @GordoManchester
L'Enclume, Cavendish St, Cartmel, Grange-over-Sands, LA11 6PZ. 015395 36362.
All scored reviews are unannounced, impartial, paid for by Confidential and completely independent of any commerical relationship.
Go to: gawp at near-perfection; drink great wine; ask for a hand in marriage (but not Shaggers).
Rating 19/20
Food: 9.5/10 (macaroons 9, dumplings 7.5, chicken skin 10, smoked eel 8, soil 9, deer 10, langoustine 10, artichoke 10, sole 7.5, lamb 10, cheese 10, pudding 10, yoghurt 11)
Ambience: 4.5/5
Service: 5/5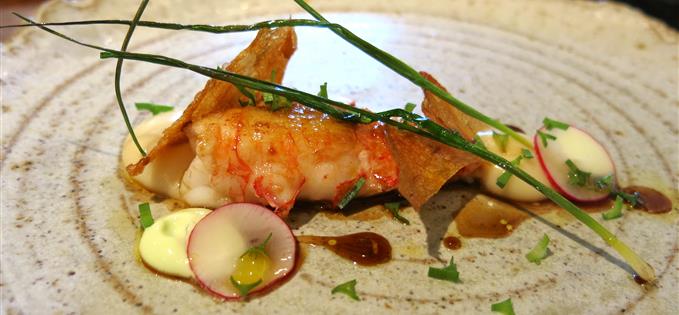 Langoustine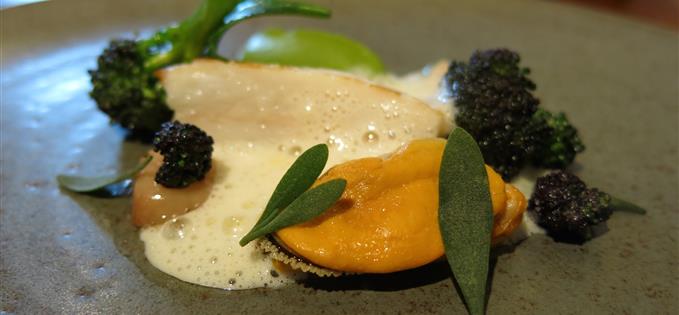 Sole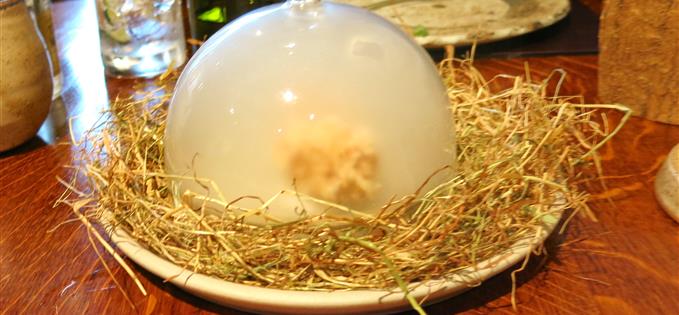 Smoked eel 1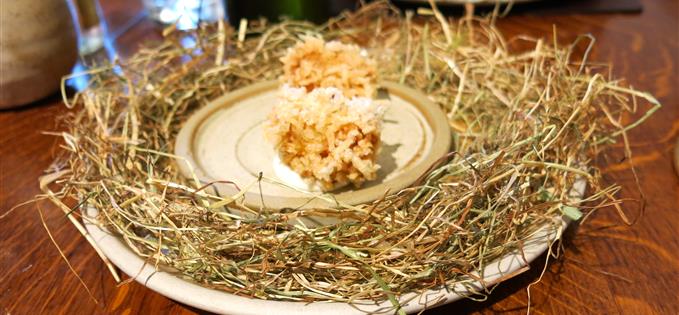 Smoked eel 2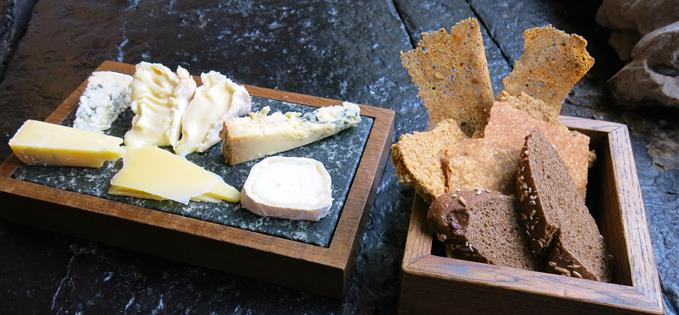 More cheese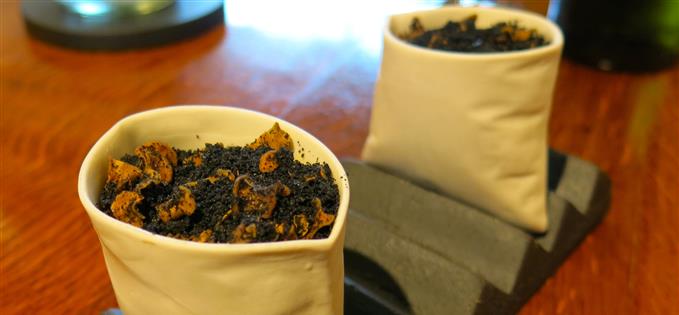 Cheesey truffle soil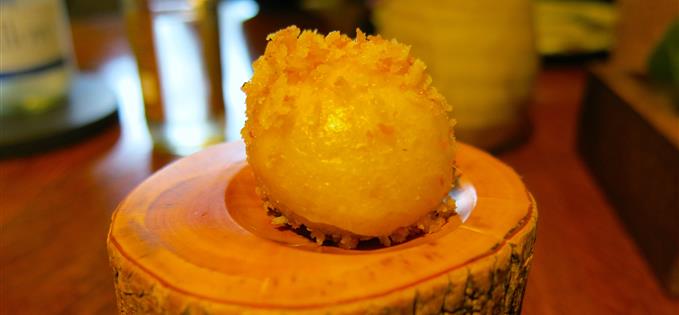 Beef dumpling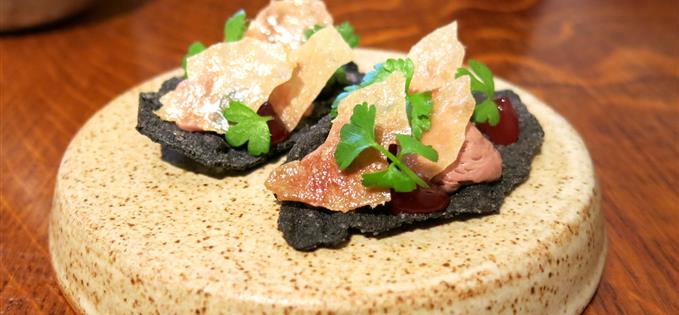 Chicken skins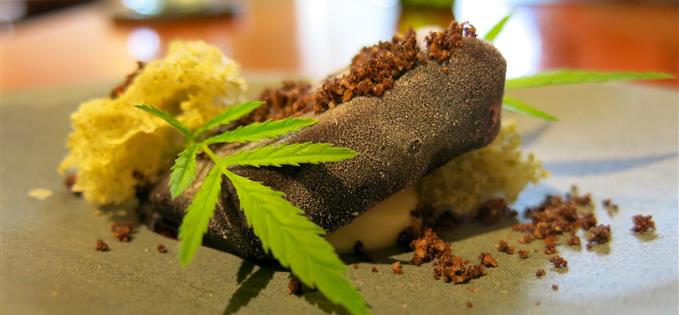 Pud