WE are surrounded by the Spanish.
I skipped along to La Viña thinking it'd be rubbish. And it really wasn't.
In the last eighteen months we've had the tapas-plus restaurants arrive: Iberica, La Bandera, Lunya and El Gato Negro. These are all about a super-charged version of those lovable small plates that please so many large palates.
Meanwhile the pre-existing Spanish restaurants fall into two categories, the indies and the chains. On the one side is El Rincon, Evuna, San Juan and on the other La Tasca and La Viña.
Confidential decided to try out the latter to assess whether the chains could cope with the recent onslaught of indie individuality.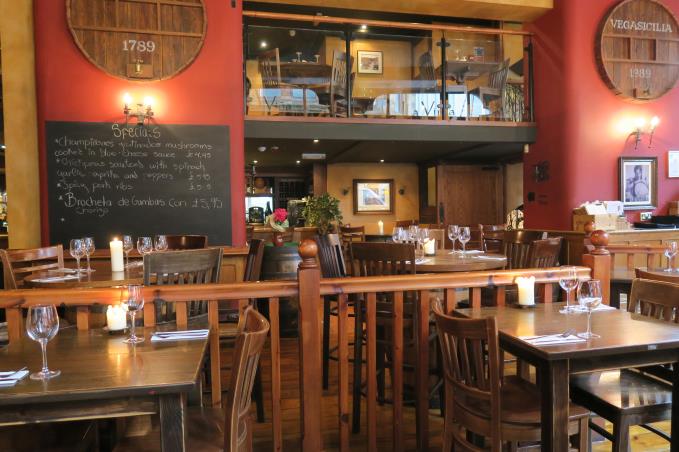 Pleasant interior and great service
The answer is of course they can weather the Spanish food storm.
Most people don't really think about the restaurants they visit unlike our readers. There is little conscious decision-making taking place. Brands become popular because they sidestep the need to make a decision. Jamie Oliver's utterly banal restaurant at the top of King Street remains popular not because of the quality of the food but because there's an omnipresent podgy faux-Cockney riding around on scooter somewhere in Italy and being filmed.
Thus La Viña and La Tasca will do ok until their anonymous directors in some distant office decide they're bored with 'the concept' and latch onto the next 'big thing'.
One of the worst chains of the last decade was Pesto with its crappy 'Italian tapas'.
Once after a negative review the directors asked me to come in so they could explain their miniscule portion of prawns and its ridiculous price. I went along, intrigued over what they might say, and started to drift off as they went through the ways and means of sourcing food and why there were only seven prawns in a small lubricious bowl for £42 - or some such. They forgot to mention service or food quality just the financing, because Pesto was a chain and I'm pretty sure those qualities came a distant third in their economy-of-scale brains. Pesto is now Byron Burgers and another pointless exercise in food economics.
Anyway I skipped along to La Viña thinking it'd be rubbish.
And it really wasn't.
It was actually pretty good with very fine service thrown in. The best dish was the Pescado Rebozado for £4.85. This was delicious battered haddock in the lightest tempura-esque coat with garlic sauce, aka, alioli. It was so good my son, who was dining with me, demanded a second portion and I couldn't blame him. Apparently the batter comes from the 'special San Miguel recipe'. This is one of those dish descriptions that puts you off rather than engages the imagination. San Miguel is the most yawn-inducing beer in the world, but hey, we're back with brand recognition.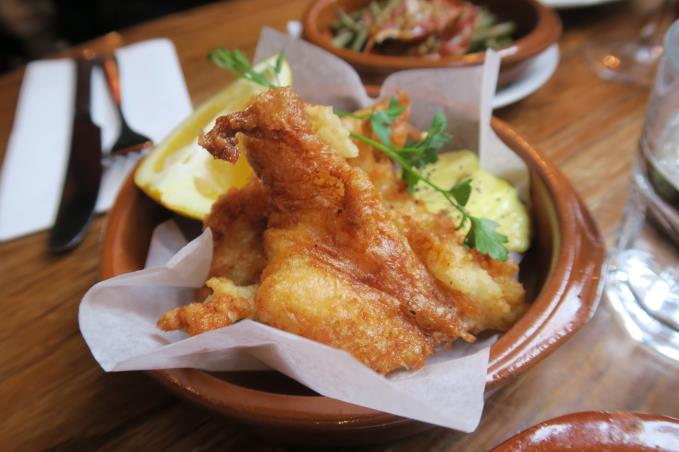 Lovely fish dish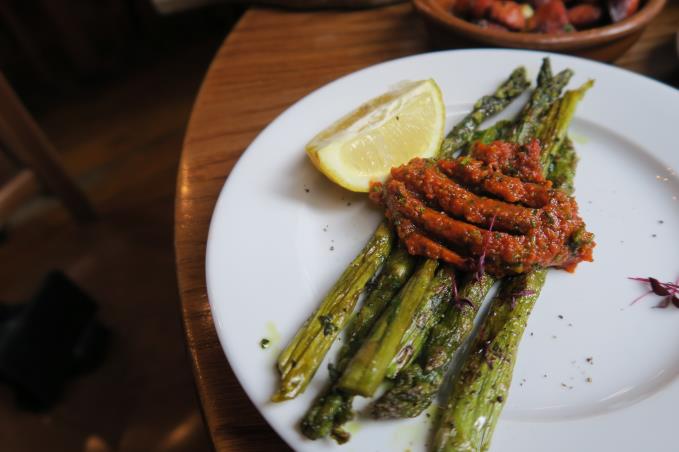 Asparagus yawns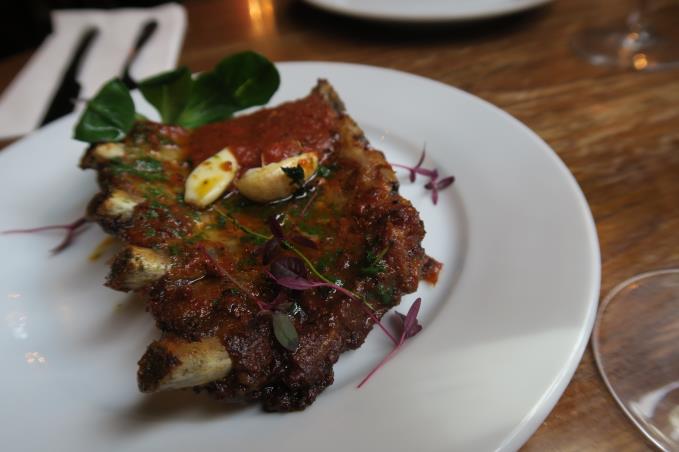 Ribs for extra pleasure
There were two fails. The beans and ham dish was just awful with overcooked beans and shrivelled flesh. The asparagus dish was a fail because it was dreary rather than obnoxious.
Yet the ribs were spicy and a little bit of very very good with great lumps of garlic. The meatballs were, well, meatballs and nothing better but still fine. The chorizo sausages were spicily enticing, the pork cheeks delightful. The mushrooms were a joy. Even the bread and oil was ok. Nothing was over £6.
La Viña was strangely quiet though. But then it was an early week lunch. City centre workers who like their nosh tend to steer clear of chains and seek out the new kids on the block or places with more individuality. On weekend nights and lunches the place is packed because it's on Deansgate and people have seen other La Viñas in other towns and cities.
Thing is, La Viña is not a bad choice for the unthinking foodie despite its predictable menu, because it seems to do the simple dishes well. And the service we had was superb.
City centres need to tick all the food and drink boxes, the mainstream and the exceptional, they have to appeal to all customers. La Viña has its place along with La Bandera and El Gato Negro round the corner and Lunya and Iberica down the road, because on this visit, it proved its worth. Not that I'll be going back much because I prefer individuality. I'm a food snob after all. There'd be no point being a critic otherwise, would there?
La Viña, 105-107 Deansgate, Manchester M3 2BQ. 0161 835 3144
Rating 13/20
Food: 6 (fish 9, pork 7, beans and ham3, mushrooms 7, asparagus 5, meatballs 6, ribs 7)
Ambience: 3
Service: 4
PLEASE NOTE: All scored reviews are unannounced, impartial, paid for by Confidential and completely independent of any commerical relationship. Venues are rated against the best examples of their type: 1-5 saw your leg off and eat it, 6-10 stay in with Netflix, 11-13 if you're passing, 14-16 good, 17-18 excellent, 19-20 pure quality.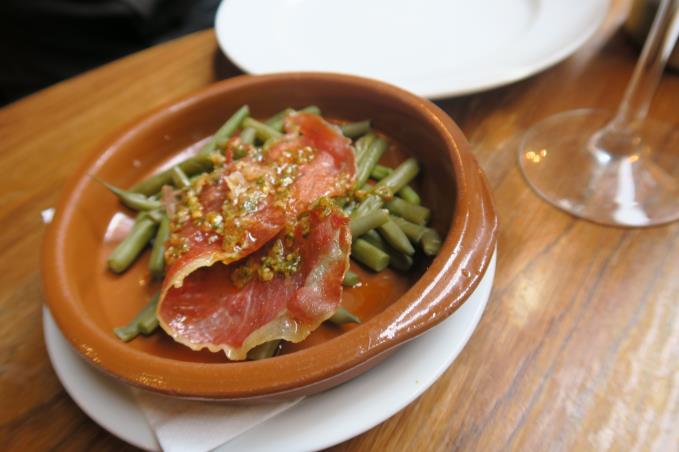 Terrible waste of time - full of bad beans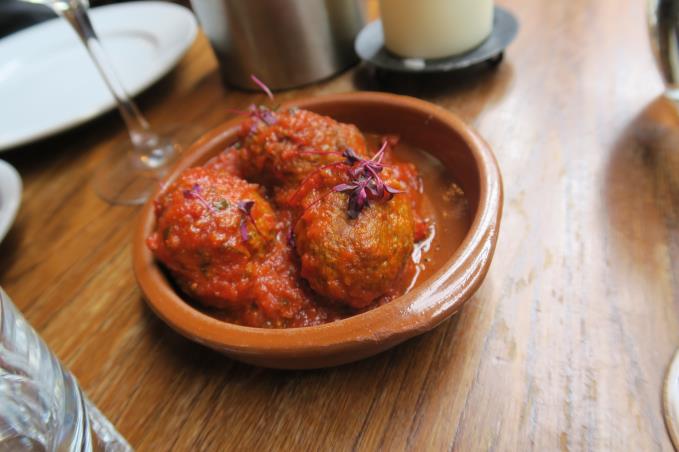 Nice balls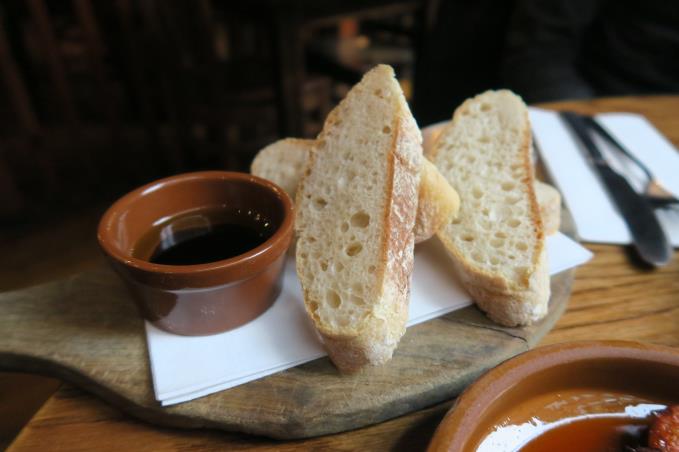 Bread and oil ok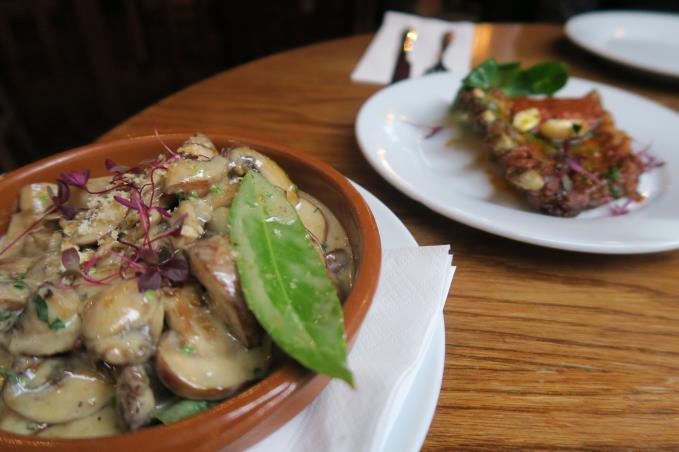 Joyous funghi