THIS story begins, as most great stories should; with a bar, resolve and a welly full of ale.
Operators pay designers stupid money to replicate this soul; the red-leathered, slippery-floored diner-dive feel of the place.
Like Phileas Fogg vs The Reform Club; like the sailors who drank away the fluid remains of Lord Horatio Nelson; like Ernest 'Papa' Hemingway, who, sat at a bar with a drinking buddy, was bet $10 he couldn't write a six word story. He wrote:
'For sale: Baby shoes. Never worn.'
So it was that Chris Devlin and Sam Dunwoodie of Koffee Pot - Northern Quarter's dependable 'ole greasy spoon for as long as anyone cares to remember (it has been Devlin's since 2006) - found themselves heads down, hands in pockets, kicking pebbles down Oldham Street; soon to be turfed out of their long-standing indie stronghold on Stevenson Square by some 'orrible landlord who wanted to turn their caf' into a hostel or laundromat or something equally insipid and kak.
The old pals dropped into The Castle boozer for a jar or two to lift the spirits. A few hours later the pair emerge, dejected and nearing deadline day in late-2014; they stumble past 84 Oldham Street, the abandoned former Ryan's Vintage a few doors down.
'What about in there?' asks Sam.
Four months later and they're moving in.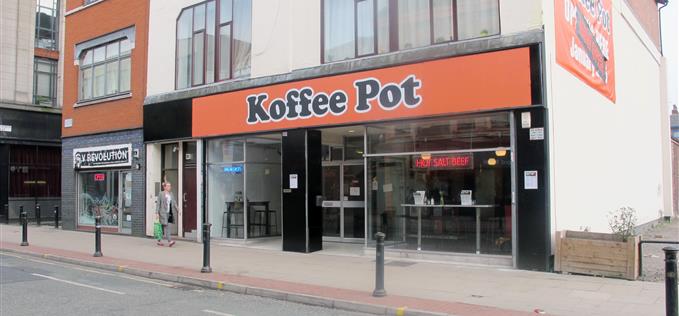 Koffee Pot, Oldham Street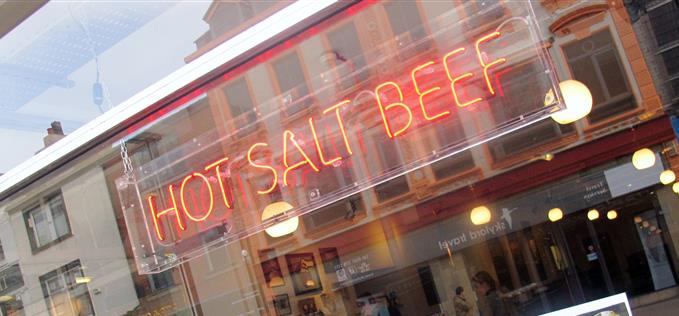 Hot. Salt. Beef.
Good job too, it's difficult to picture a Northern Quarter, Manchester even, without Koffee Pot. Elbow have penned lyrics about it, Rio Ferdinand used to pop in for a cuppa, as has Liam Gallagher, who likely whipped his mug at the back of some 'gobshite's napper'.
The question has always been whether KP would travel. Ok, it's only two minutes around the corner from the original spot, just past the Addiction Dependency centre and the so-called 'Zombie' car park (heavy gentrification is yet to take hold at the upper-end of the Oldham Street drag), but the place had history, man; it had soul, man, it had no toilets; man. Man!
Operators pay designers stupid money to replicate this soul; the red-leathered, slippery-floored diner-dive feel of the place. Often to no avail; being more likely to throw a complication of neons, silver piping and caged-lightbulbs at a stack of exposed bricks, hope the shit sticks and run like buggery with the cheque.
In which case, Koffee Pot 2.0 has much to live up to. Unfortunately, it's not quite there yet. The new version - at least twice the size of the original - feels long, still and empty by comparison, even when three quarters full.
Perhaps this is unfair. They've been open less than a month, they need to settle, bed-in, finish off; the red booths are back in; as is the nifty Hammo graffiti, hotch-potch wall-art, HP sauce and barely recognisable songs (is that Betty Boo? Can't be?), but walking down the centre of the new place there's a lingering sense that you're about to be flattened beneath the belly of Airbus A380. There's a ruddy great runway running straight down the middle (the waitress later told us they're to fill the void with more seats, good, hurry up).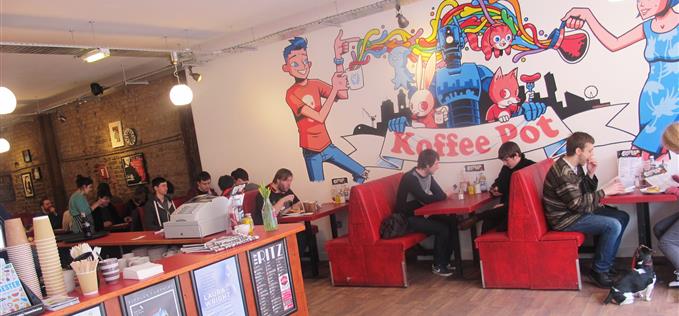 Hammo graffiti and patrons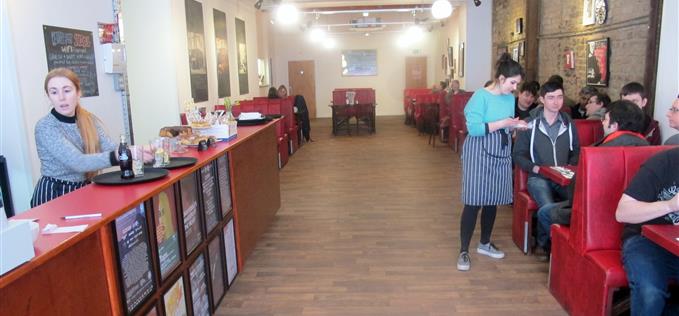 The runway
The charm of the bang and clatter, the trip over toes and scramble for a seat may have gone (for now), but luckily, the food remains as comforting as Alpaca fleece-lined slippers; all bangers, potato cakes, barms, posh butties and kippers. Manx kippers. Cheap too, cuppas from £1.50, 'things on toast' for £3, all food under £7, aside from the 'Floppers Breakfast' which for £12 could floor a walrus. A fat one.
From the specials board we chose a chorizo and sweet potato hash with poached egg, chilli, onion and coriander (£6, main image); and what a handsome thing it was. Chunks of quality chorizo and (slightly undercooked) sweet potato beneath a near-perfectly poached egg, the golden gloop spilling out over the dish with but a tickle of the knife. Ace. Those colours too. Never mind the specials board, get it on the menu proper.
The famed haggis (£6), a Koffee Pot staple and former Confidential 'dish of the month' sadly didn't fare as well. The potato cakes: fine; fried eggs: better; spinach: spinach; but the haggis felt overcooked, dry, too salty and a little sad. We left half.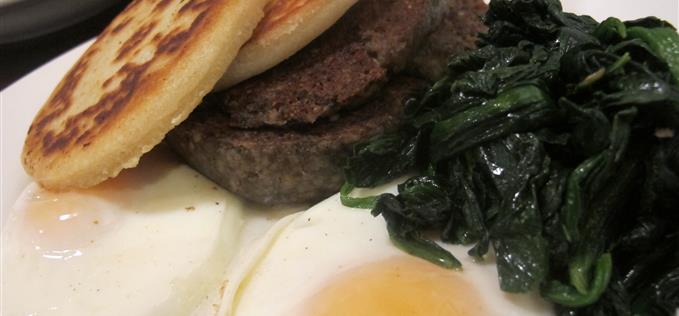 Sad haggis with potato cakes, eggs and spinach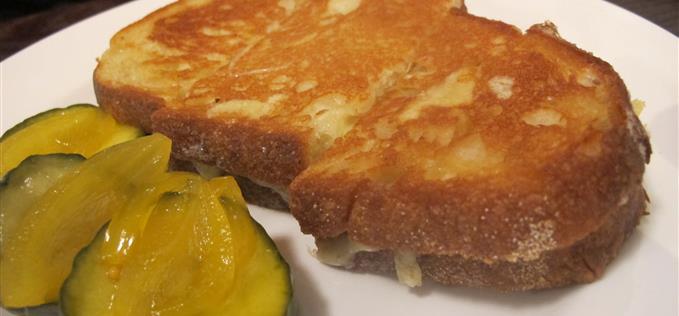 Grilled cheese
Spirits were lifted by a beautifully simple grilled cheese sandwich on sourdough with chunky home-made pickles (£5). As any Yank worth their 50g of salt a day will tell you, an All-American 'grilled cheese' would spank our lily-livered cheese toastie in a playground dust-up. It'd sit on it, call it's Mum names and pull its pants over its head. Robust buttered bread on the outside and inside, lightly pressed and fried on the griddle to achieve a hint of char and crisp on the outside, with a soft, oozing, gloopy cheddar centre. All day long. Beef dripping chips (£2), popular with Heston and Hawksmoor, were suitably brown and meaty.
The food endures, but then, Koffee Pot has never been just about the food; it's the stories, the songs, a whisper of Northern Quarter old before Accountants started moving in, and, dare I say, a sense of community (yak). The challenge for Chris and Sam then is to bring back that Koffee Pot-brand buzz back, the steamed-up windows and the crapulent morning-after babble, the dropping of eggy forks and soggy teabags on mucky formica; the soul, the soul.
Follow @David8Blake on twitter.
All scored reviews are unannounced, impartial, paid for by Confidential and completely independent of any commerical relationship.
Koffee Pot, 84-86 Oldham Street, Northern Quarter, M4 1LF
Rating: 13.5/20
Food: 7/10 (chorizo and sweet potato hash 8, haggis 5, grilled cheese sandwich 7, beef dripping chips 7)
Service: 4/5. Chipper
Ambience: 2.5/5. Placid
David recommends: For a Sunday morning pit-stop and regroup
Give a miss: The Dr. Browns Black Cherry drink - it's banned in the UK, apparently.
PLEASE NOTE: Venues are rated against the best examples of their kind: fine dining against the best fine dining, cafes against the best cafes. Following on from this the scores represent: 1-5 saw your leg off and eat it, 6-9 get a DVD, 10-11 if you must, 12-13 if you're passing, 14-15 worth a trip, 16-17 very good, 18 exceptional, 19 pure quality, 20 perfect. More than 20, we get carried away