GINO get your face out of my food.
It's sickeningly self-reverential even for an age of sickening self-reverence
On New Year's Day there was a Radio Times review of Gino D'Acampo's TV show Italian Escape. The writer Jane Rackham put this: 'The series brought sunshine to our wintry nights, but more cooking and fewer selfies would have been better'.
All the selfies Gino's ever taken have been plastered around his new restaurant from Individual Restaurants (IR) in the Corn Exchange. It's sickeningly self-reverential even for an age of sickening self-reverence. I couldn't stop laughing. It's absurd. The name of the restaurant is Gino D'Acampo - My Restaurant. This tells you all you need to know.
One whole wall to the left as you enter has neon lights reading: 'My life, friends and family. Gino x'. Below this is a photographic shrine to D'Acampo including one with his top off in black and white. Jeez Gino, I'm eating you know. Under the shrine are Gino's collected cookery books. True acolytes of the Gino cult can purchase these.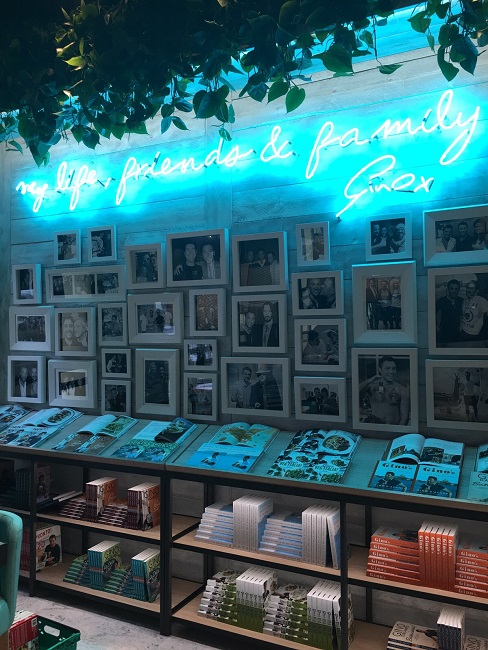 The first of three walls dedicated to St Gino
It gets worse. The corridor to the toilets features an eyeache of snaps showing D'Acampo meeting loads of celebrities most of whom will be forgotten the day after tomorrow. The direction signs are labelled 'My Loos'. Eh? One of the women in our group said the sign outside the ladies read 'My Girls'. Weird or just creepy?
Neither - again just hysterically funny.
My partner said, "I reckon they should put Gino's face on all the plates." Of course they should. We had other ideas. Maybe IR should take that topless picture of Gino and make a mould for the salt and pepper cellars so we can grip his hard worked musculature and spin his chiselled head thus releasing the salt and pepper out of his posterior.
Still, I feel some sympathy for the man.
I expect IR have paid a fortune to have the restaurant endorsed by him and they want to 'sweat the asset' as people who've read business management textbooks say. Gino has probably had little input in the exploitation of his image. But if I'd been him I would have put my foot down and said 'Basta! This makes me look utterly vain. You've made a popinjay of me. I look like a proper cult'.
It's all a shame as D'Acampo on his TV shows comes across as affable, witty and charming.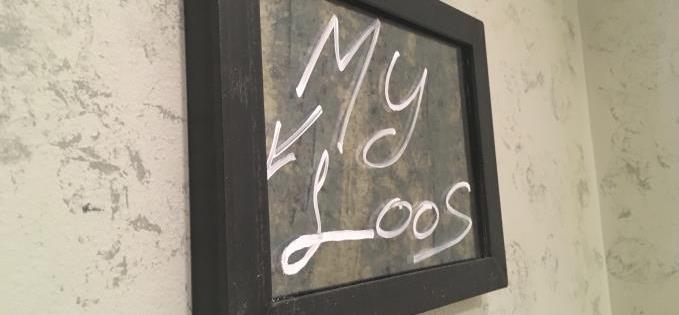 Gino - really?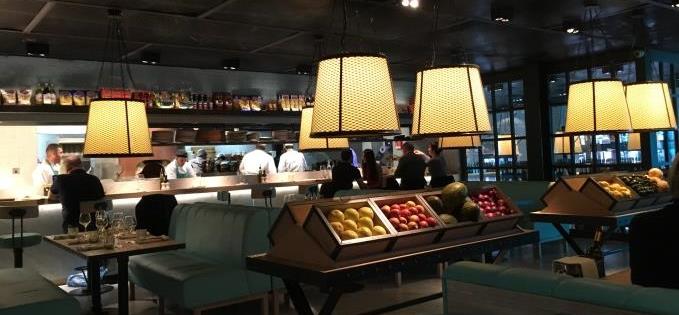 Gino's interior
There'd be some excuse for the excessive Gino promotion if the food was really special but it isn't. As one of our group said, if you blindfolded me and dropped me in any run-of-the-mill Italian restaurant it'd be hard to tell the difference.
The only really standout dish was the lamb cutlets with fennel salad and honey sauce (£18) which was original, well-flavoured and well-timed. The fennel, that strongest of herbs with its anise kick, was perhaps doled out in an over generous portion, but this dish was strong and had flair. The medium rare cutlets were excellent. The chicken in Marsala (£10), coated in tomato and tanged with Marsala wine was ugly and clumsy - "I could have done this," said my guest, which is something you don't necessarily want said in a restaurant except by the chef.
Two linguine dishes, crab with chili and lemon zest (£10.50) and seafood linguine (£11.50) were ok, fine, decent, slightly heavier than they should have been. The antipasti sharing platter (£21) was boosted by the balsamic onions but lacked the verve of say the Salvi's platter round the corner in the Corn Exchange. The cheese portions could have been more generous, the hams need looking at - are they the best quality available at the price?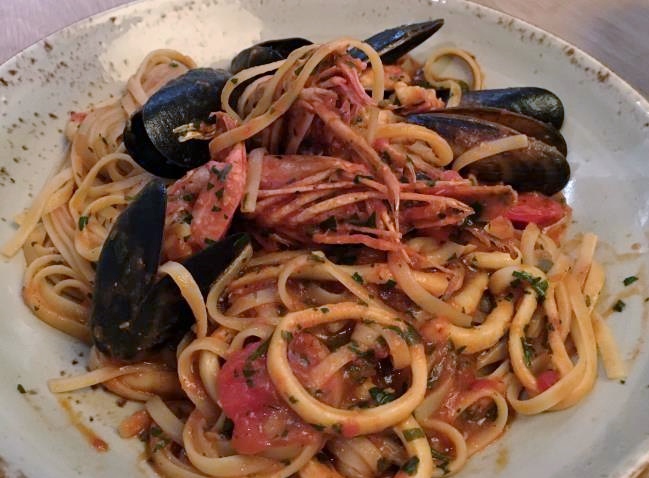 Seafood linguine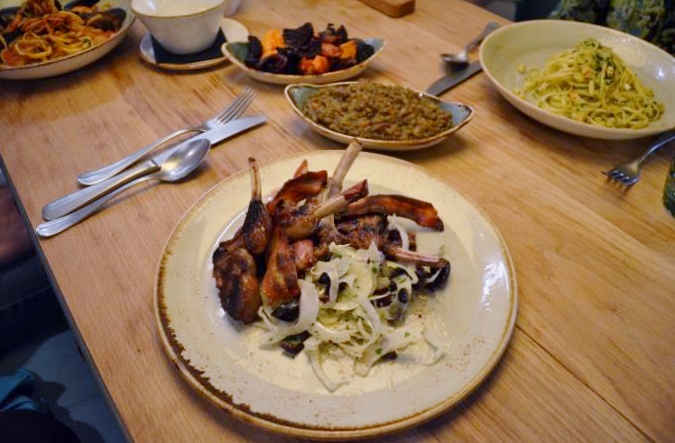 Lamb cutlets
Two sides performed well, especially the excellent slow cooked lentil dish at £3. Meanwhile desserts of Caprese tart (£5) and polenta cake (£5) were respectively dull and very good. Hubris and Gino collide with the dish description for the almond and chocolate Caprese which reads 'the best chocolate cake ever'. No it isn't.
The drinks selection is fine with lower priced reds and whites, nothing over £35. We had a light Gavi di Gavi at £28. There's a nod to the artisan beer available from Italy these days. The service was very good - well done on the training - despite the deep booths which meant staff had to lean over customers. The design of the place is pleasant enough but formulaic, airy with sky blue walls - the same shade as the light blue of Napoli football club, the team of D'Acampo's home town.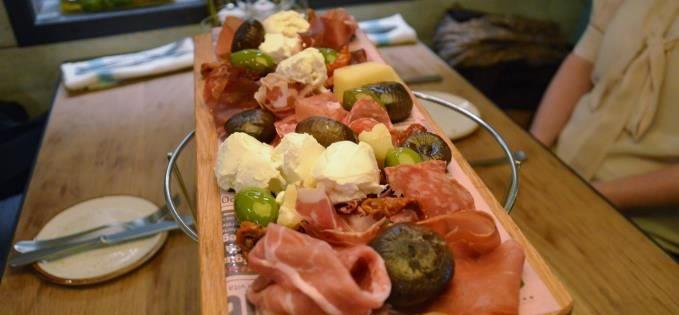 Antipasti platter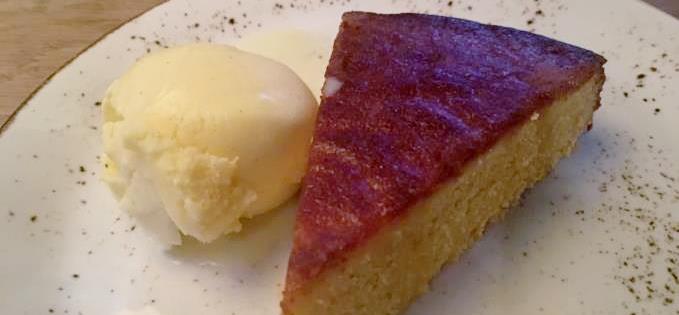 Polenta cake
Where I worry about Signore D'Acampo is in his belief (stated here in this Confidential interview with L'Oreal Blackett) that the only Italian restaurant worth anything in this city is Piccolino. Certainly the Piccolino near the Town Hall is better than Gino D'Acampo - My Restaurant, the antipasti platter proves that in ten seconds flat. The room is better too.
But Gino should get out more in Manchester. Every single one of the San Carlo groups' Italian restaurants are better than My Restaurant. He says in our interview: "The food is simple. You need the right ingredients, cook it well and put it on the plate. This is what people don't understand about Italian food. People over-complicate Italian food." In that case the various aforementioned Salvi's outlets are out of sight in terms of simple direct Italian food. So is Dom's Tavola Calda. Meanwhile youthful protagonists at The Pizza Factory at Shudehill, and even little Lupo in Salford, deserve a priority visit far before My Restaurant. Carluccio's Spinningfields is better too.
From an IR point of view I don't understand why they've ditched Zinc's Modern European and World menu. Zinc used to occupy this unit and in the reinvented foodie Corn Exchange it would have gained customers from simply being different. The combo of steaks and seafood would have filled a gap.
Gino's place is only exceptional for its unnerving cultishness. Apart from his fanclub I'm not sure that's enough for anyone else. D'Acampo's been badly advised here.
Gino D'Acampo - My Restaurant, Corn Exchange, Manchester M4 3TR. 0161 827 4200
Rating: 13/20
Food: 6/10 (antipasti 6, chicken 5, seafood linguine 6, special linguine 6, lamb cutlets 7.5, slow cooked lentils 7, roast veg 7, Caprese tart 6, polenta cake 7)
Service: 4/5
Ambience: 3/5
PLEASE NOTE: All scored reviews are unannounced, impartial, paid for by Confidential and completely independent of any commerical relationship. Venues are rated against the best examples of their type: 1-5 saw your leg off and eat it, 6-9 stay in with Netflix, 10-11 if you must, 12-13 if you're passing, 14-15 worth a trip, 16-17 very good, 17-18 excellent, 19 pure quality, 20 perfect, 20+ slap us.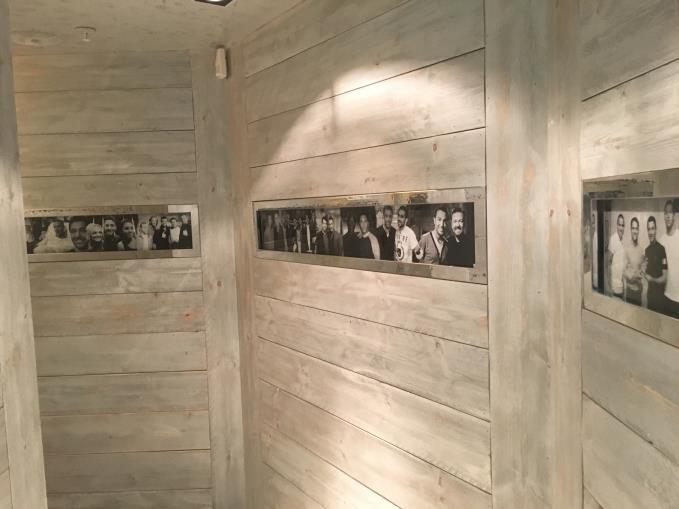 Another Gino wall of love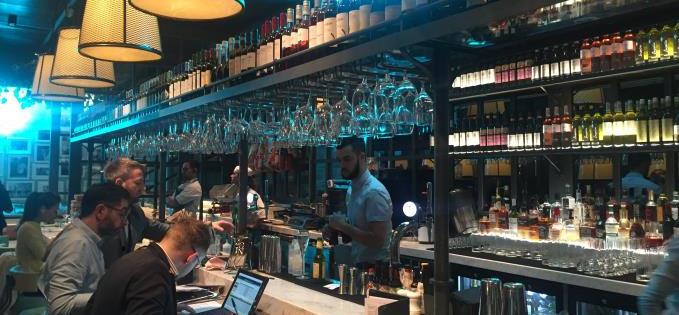 View down the bar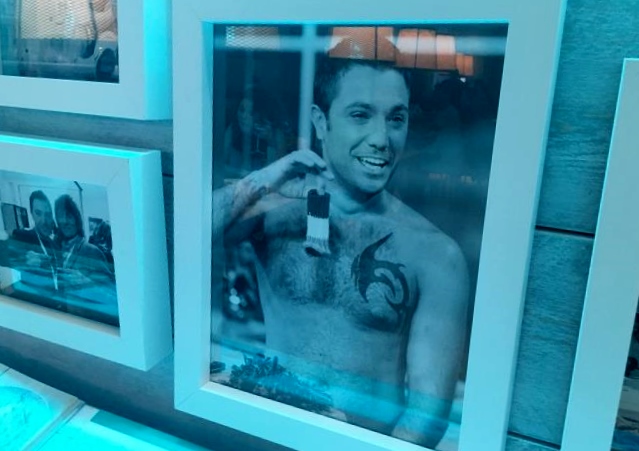 You might never guess but this is Gino's restaurant
Powered by Wakelet