*****
WHEN Henrik Ibsen's play Ghosts was first staged in 1882, it provoked shock and anger. This new version by David Watson is playfully respectful, whilst adding something fresh amongst the twists and turns.
It may not leave the audience as open mouthed as the original, but it certainly provides food for thought and is a stunning adaptation.
Supported by the Norwegian Embassy and produced and staged at HOME, it provides comfort for anyone who is sick of being dubbed a 'remoaner' since Brexit - a perfect example of the magic that can develop when you marry British and European theatre.
Niamh Cusack's Helen Alving sits in her Ikea adorned home, living in a chaotic illusion. Johannes Schutz's set is expansive and juts out into the stalls, giving HOME an immersive feel, and it works beautifully; you cannot take your eyes off the play.
Haunted by the sins of her late husband, Helen focuses her love and devotion on her son Osvald in an attempt to free herself from the ghosts of her past. But, when he arrives home with some shocking news of his own, her life comes full circle. Her son needs more than rose-tinted memories, he needs to hear the truth to set him free.
Polly Findlay's direction allows the cast time to breathe, and this takes the audience a while to get completely involved. But, once the play takes its grip, it won't let go. Findlay elicits excellent performances across the board.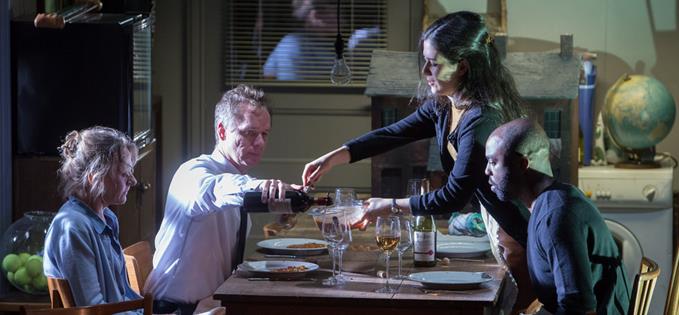 Cusack is stifling as the mother who knows best but is suffocating her son with her fabrications. Ken Nwosu's Osvald is child-like and optimistic one minute and breathy and frightened the next; his is a perfectly nuanced turn. Jamie Ballard's Pastor Manders is earnest and determined to good, naively a believer yet filled with hope.
William Travis and Norah Lopez Holden bring humour as the Engstrands, offering the key to some of the secrets and lies within the house, and they do bring some light relief - pouring water on the revelations, followed by petrol, as the past rips the foundations from beneath this family home. Emma Laxton's sound design works like the sound effects in a great movie, it wrong-foots you and keeps you in suspense.
I have been waiting for HOME to produce something worthy of their roots from the wonderful, and sadly missed, Library Theatre. And Ghosts is that production. It envelops the audience and leaves a lasting impact; carried by a terrific cast, expert direction and a detailed set - which like David Watson's adaptation - takes your breath away.
Ghosts is at HOME until 3 December
Powered by Wakelet