PIZZA. The original junk food. It takes me back to being a kid, we'd all climb into my Dad's car and bomb it down the A556 to Pizza Hut in Chester for a weekend treat.
Service is charming but chaotic, there's little sense of order so bring your lasso
Those days seem so far away that pizza, dare I say, has become retro. The recent deluge of 'dirty food' forced pizza into a back seat, rarely getting a look in on menus unless lathered in some sort of pulled meat or 'filth'. Pizza lost its cool, hipsters wouldn't be seen dead eating it. Then, as is often the case, we turned to the street foodsters for deliverance. The likes of Honest Crust and Rudy's Pizzas, popping up in places like Altrincham and Guerrilla Eats, began knocking the socks of the sloppy nonsense and brought quality, wood-fired pizza back into the limelight. Soon enough bars and restaurants were scrambling for wood-fired pizza ovens scared the next 'thing' might pass them by.
Leading the doughy charge in the suburbs is Nipuna, owner of Double Zero, which opened on Chorlton's Barlow Moor Road earlier this year without much of a fuss and is now chock-full most evenings from the minute it opens the doors at 5pm. It operates the same sort of system Almost Famous did back in the day, where instead of booking you hand in your name and number, nip next door for a beer and get a "Honey, dinner's ready" call once a table becomes available.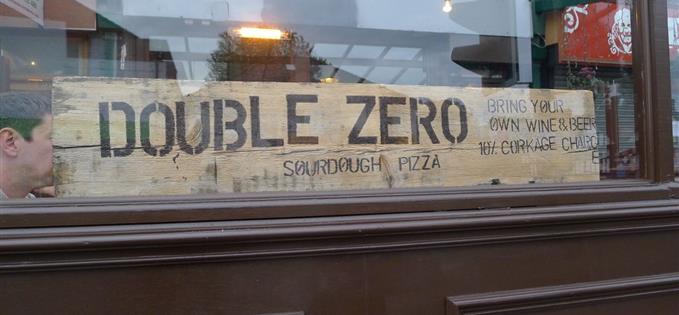 Double Zero (credit: David Crone)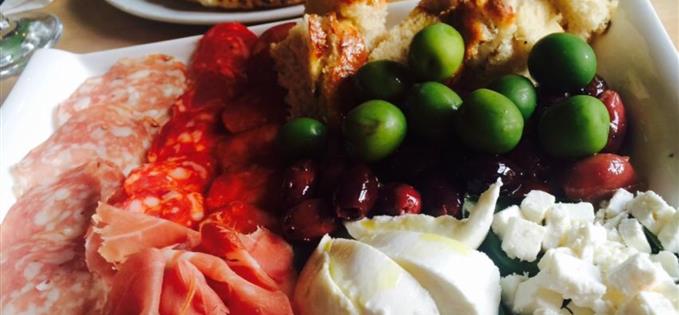 Antipasti
The decor is uncomplicated and to the point. Unsanded benches and tables are dressed with pots of fresh basil, walls adorned with the odd poster. Sacks of Italian flour are piled high next to the door with the only bit of branding being a small wooden plaque which sits in the window and reads "Double Zero". It's barely noticeable from the outside and better for it. Service is charming but chaotic, there's little sense of order so bring your lasso.
Starters are Italian faves such as olives, homemade breads, mozzarella di Bufala Campana and antipasti. We chose the antipasti board for two (£8) which came with a selection of cold meats, olives, cheese, balsamic onions and focaccia. A quality start, and any place that serves me Nocellara olives is my best friend forever. We also couldn't resist ordering the garlic bread with mozzarella and Parmesan (£5). This is arguably the best garlic bread I've had in Manchester and came indulgently dripping in garlic oil and cheese. We polished the lot off.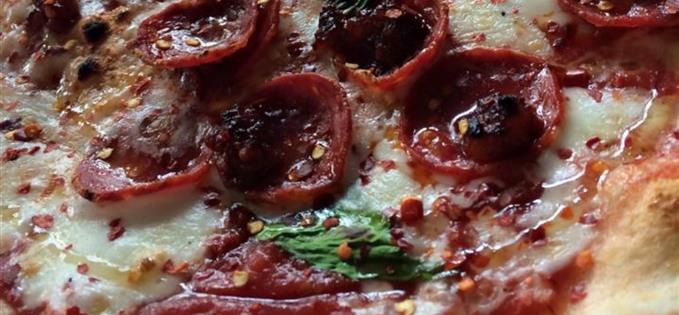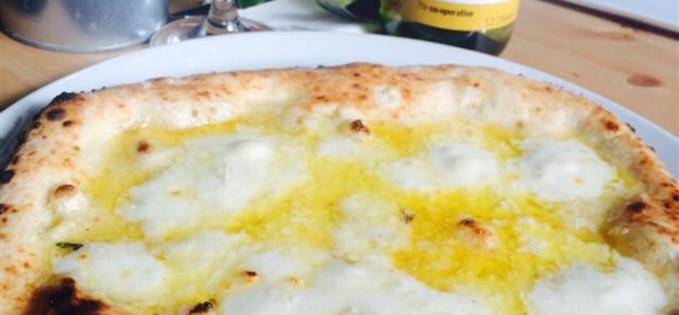 Double Zero pizza
As there were a few of us we decided on a selection of pizzas. We ordered the Biana Neve (£11), Siciliana (£12), Vulcano (£12), Tropical (£10) and the Formaggio (£12). There's really not much you can say about pizza, but when someone gets it right, you just know. Stetched by hand and blasted for 60-90 seconds in the wood-fired oven, the Caputo flour of Naples made the base consistency crisp yet doughy while San Marzano tomatoes added a wonderful freshness to the palate. Highlights include the woody truffle oil flavour on the Biana Neve, and the nduja (fiery Italian sausage) on the Siciliana. If you're more of a simple Hawaiian fan, the caramelised pineapple on the Tropical will be right up your street. One slip-up, the Formaggio fell prey to the moisture in the mozzarella and was a touch soupy in the middle - an indication that the oven had perhaps slipped below 400C.
Perhaps one of the best selling points here (and a boost to the nearby Co-op and Carrington's sale targets) is the BYOB (Bring Your Own Booze) option. That's right. Not only do you get the pleasure of posh pizza but you can bladdered on the cheap (there's a 10% corkage charge).
Arrive earlier than you're planning to eat as there will probably be a wait, but trust me when I say it will be well worth it.
Follow @LottieMoore on twitter
All scored reviews are unannounced, impartial, paid for by Confidential and completely independent of any commerical relationship.
Double Zero, 368 Barlow Moor Rd, Manchester M21 8AZ. 0161 943 8980.
Rating 15/20
Food - 8/10 (Antipasti 7, Garlic bread 9, Biana Neve 8, Siciliana 8, Vulcano 7, Tropical 7, Formaggio 6)
Service - 3/5 Polite but chaotic
Ambience - 4/5
PLEASE NOTE: Venues are rated against the best examples of their kind: fine dining against the best fine dining, cafes against the best cafes. Following on from this the scores represent: 1-5 saw your leg off and eat it, 6-9 get a DVD, 10-11 if you must, 12-13 if you're passing,14-15 worth a trip,16-17 very good, 17-18 exceptional, 19 pure quality, 20 perfect. More than 20, we get carried away.