NOT SO long ago there was an easy way to set up a distinctive restaurant. Find yourself a defunct bank and hey presto you had the high ceilings, wood panelling and marble floors. Guide book shorthand sometimes judges restaurants on three attributes – food, service and ambience. Restaurateurs know that getting the food and service right takes a great deal of hard work but that the ambience may be in place the moment they sign the lease.
Goodness knows what the Victorians would have made of the crispy aubergine
The Palace Hotel site has taunted hoteliers and restaurateurs for decades. The Palace was so large and so neglected that it could make even the deepest pockets flinch, but recently it has emerged from the ninteenth century to lay claim to a £20 million refurbishment.
In 1858 a group of friends set up a mutual insurance company called the Refuge Assurance company (this was back in the day when Insurance companies were the good guys… helping widows and orphans rather than callously hiking our motor premiums). The Refuge fulfilled a need and grew at an astonishing speed, in 1894 it had a million policy holders and by 1908 that had risen to 1.5 million. In keeping with the times they built a properly impressive headquarters building with a clock tower; a glass dome over the entrance; and yard after yard of Majolica tiling.
The Victorians took architectural bling very seriously and would approve of the new Principal Hotel which stays large and sassy. There's a Winter Garden; an enormous bar; a restaurant; and still to come is a subterranean ballroom. The problem facing the Principal folk was how to give the restaurant cred and still stay maverick, and they solved it by bringing in Luke Cowdrey and Justin Crawford (aka DJ duo The Unabombers) on the coattails of their success with Volta.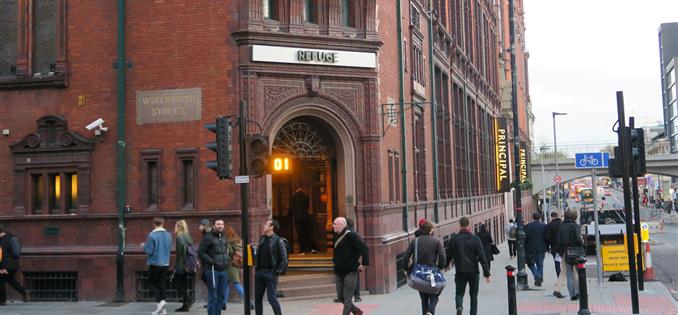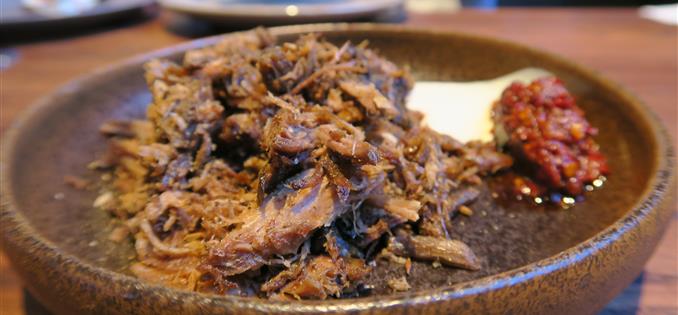 Lamb shawarma, harissa, and yogurt
The dining room is magnificent with soaring ceilings and bright tiles. The service is friendly without being pushy. The lunch menu runs from 11.30 to 4 o'clock. The standard of cooking is high but (there's always a but) the food offer is somewhat muddled.
There are a dozen 'Voltini' – small plates, or tapas if you will. Plus nine 'larger plates'. Dishes from around the world come via the Middle East, Spain, India and England. The little dishes cost between £4.50 and £9.50 while the big ones are £10.50 to £26. It is hard to get a handle on things. Ordering for a table for four is tricky, do you treat the Voltini as starters? (They are not quite large enough to share.) Is a black daal the perfect complement to fire-roasted Padron peppers? If one of the dishes on offer is your favourite you have every reason to choose it and be smug, but otherwise some may feel that the menu lacks direction. Even the most eclectic meals need some kind of theme.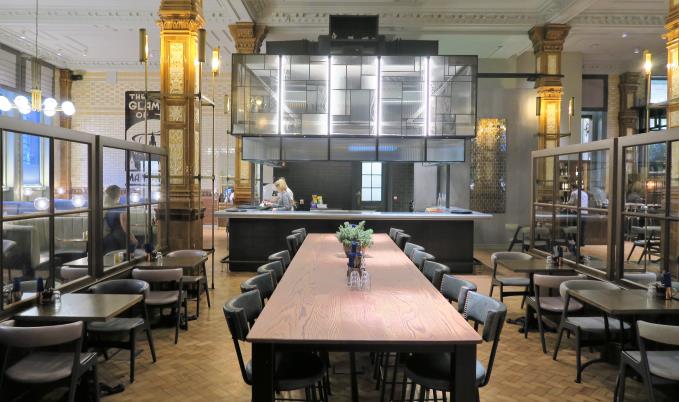 Gloucester old spot pork belly is dressed with cumin and chimichurri
The cooking is sound – the crispy lamb shawarma, harissa, and yogurt suffers from the meat being a little over-cooked and therefore dry. The baby squid, ink and lime benefits from the sharpness of the lime juice. Crispy aubergines with molasses and feta is a brilliant vegetarian option. The salt cod croquettes with parsley aioli disappoint. They present as potatoey fishcakes – not at all like those magnificent gooey croquettas you get in Spain. The Gloucester old spot pork belly is dressed with cumin and chimichurri. Nicely cooked meat with a grand texture. One of the stars of the show is the slow cooked ox cheek, egg and Sriracha (main image). The black daal is rich and buttery with a welcome tweak of spice. It arrives in a bowl, no bread, no rice, no easy way to eat it. Great taste.
The larger plates show off the kitchen. A belly stuffed whole sea bass, preserved lemon, pine nuts, coriander is a small thing boasting strident flavours. Or there's another contender for star dish – lamb chops, fatoush, yogurt, harissa flatbread. It's hard to beat a lamb chop cooked pink.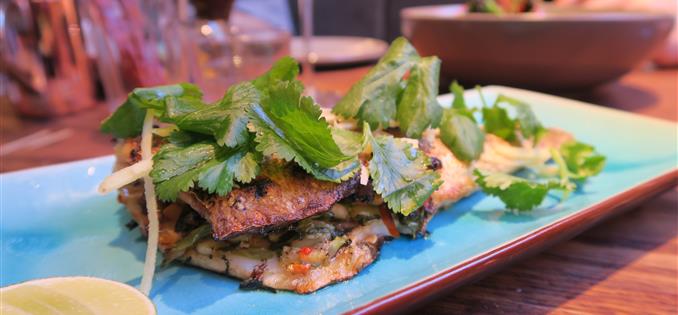 Belly stuffed whole sea bass, preserved lemon, pine nuts, coriander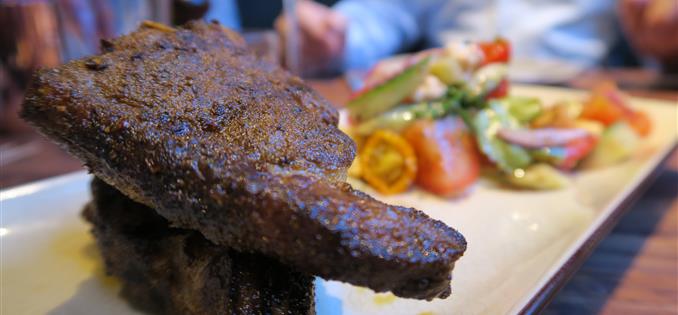 Lamb chops, fatoush, yogurt, harissa flatbread
There's a succinct wine list - with some accessible wines at £18 a bottle. Commendably there are also six taps dedicated to craft beers from Manchester.
Puds range from a decent pear and hazelnut tarte tatin to the Volta ice cream sandwich which rather misses the point – two giant cookies flank a lump of vanilla ice cream. A sandwich is something you should be able to bite into.
Refuge by Volta is only a fledgling, the staff are charming and the prices are not scary. Goodness knows what the Victorians would have made of the crispy aubergine.
Refuge by Volta at The Principal, Oxford Street, Manchester M60 7HA. Tel: 0161-233 5151. Open all week, noon-3pm, 5-10.30pm (11pm Sat, 10pm Sun).
Rating: 15/20
Food: 7/10 (lamb shawarma 6.5; squid 7; crisp aubergines 8; salt cod croquettes 4.5; pork belly 8; ox cheek 8; black daal 8: sea bass 7; lamb chops 9.5; Ice cream sandwich 5; Tatin 9)
Service: 4/5
Ambience: 4/5
PLEASE NOTE: All scored reviews are unannounced, impartial, paid for by Confidential and completely independent of any commercial relationship. Venues are rated against the best examples of their type: 1-5: saw your leg off and eat it, 6-9: Netflix and chill, 10-11: only if you're passing, 12-13: good, 14-15: very good, 16-17: excellent, 18-19: pure class, 20: cooked by God's own personal chef
Food critic Charles Campion has written for the likes of The Times, the Independent and the London Evening Standard, penned multiple cookbooks and been a regular face on BBC cooking show, Masterchef. He joined the Confidential ranks in February 2015.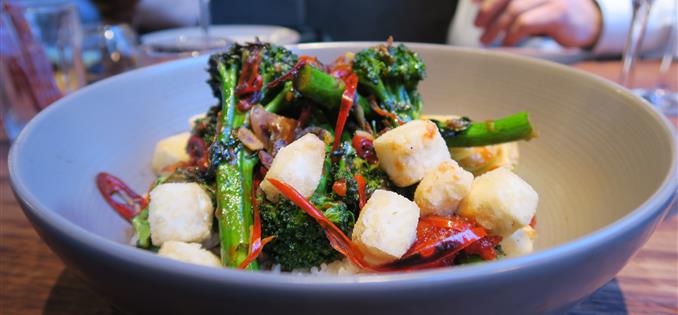 Blackened broccoli, salt and pepper tofu, sticky rice, ketjap manis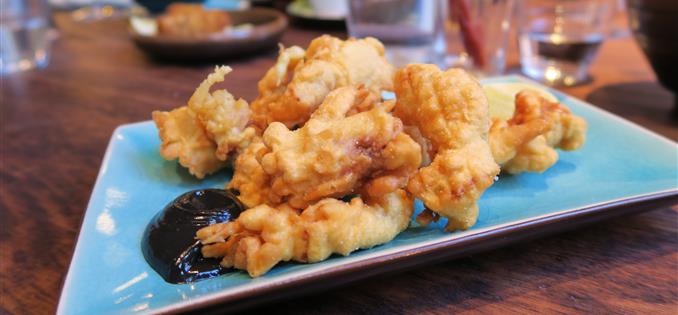 Baby squid, ink and lime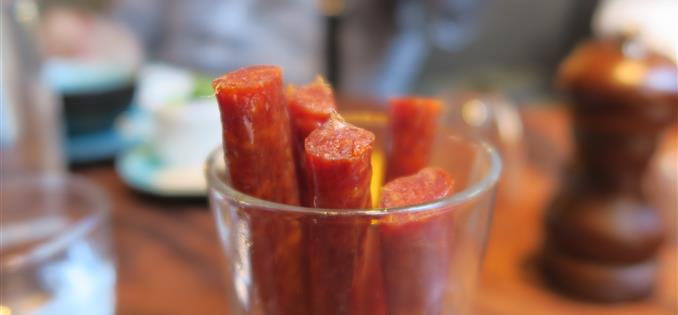 Complimentary Peperami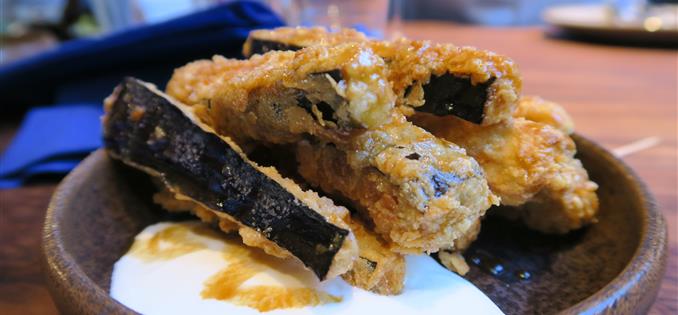 Crispy aubergines, molasses, feta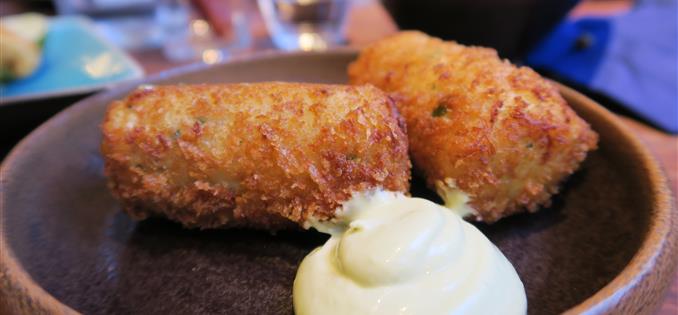 Salt cod croquettes, parsley aioli
Black daal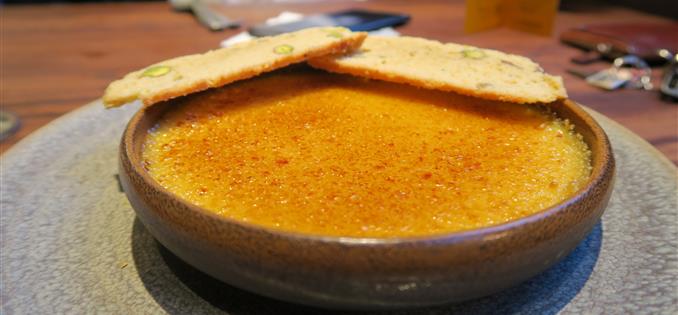 White chocolate and cardamom brulee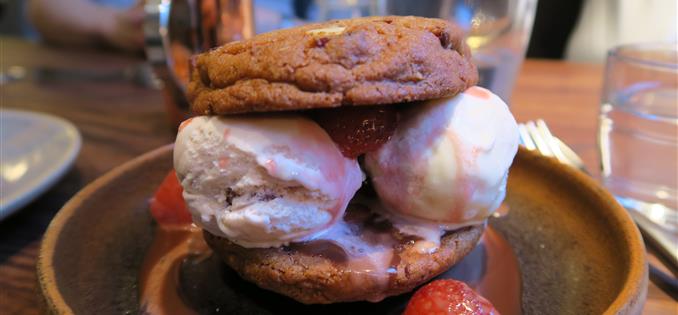 Volta ice cream sandwich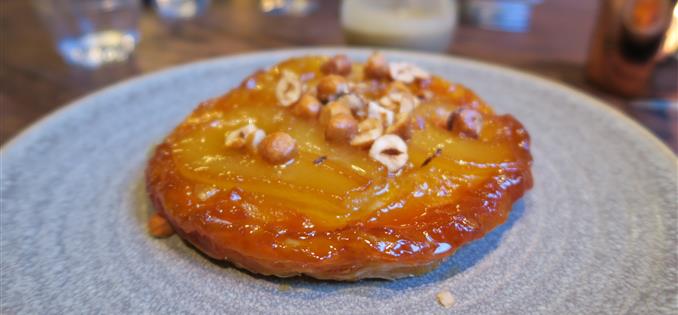 Pear and hazelnut tarte tatin
Powered by Wakelet