BEEF Long. Oh please sing me a song of your tender beef long.
Red's True Barbecue is now open and occupying the site of the hapless Livebait in Albert Square. This is the Leeds-based company's second restaurant, twice as big as the original with 160 covers. It's a guaranteed winner in Manchester.
The flesh flakes like a dream. There's lush fat in there too which adds a raw grace. The whole thing is a thing of beauty in a dark world.
The food theme is southern states USA. This means gooey and sloppy but because Red's are such a clever bunch and do it so well you don't mind.
The place is a revelation to me.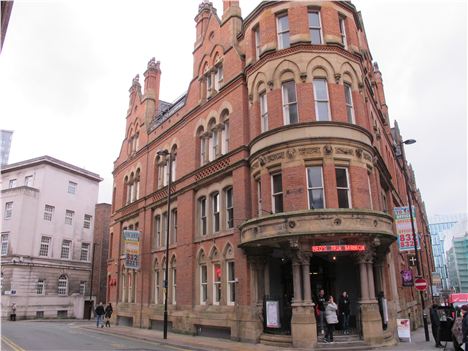 The old Livebait gets meat
I can be very fond of burgers (as shown in my recent review of Almost Famous here), but much of that hush puppy and grit cornmeal crap from down Dixie leaves me nauseated, sweating and unnaturally full.
No doubt this is down to the UK providing a pale imitation of the epic scale of what fatties in Mississipi, Louisiana and Arkansas (the three most obese states in the USA - click here) grip in their pearly-whites.
But even in America I've tried this style of grub and found it wanting, akin to eating huge logs of trans fats covered in batter and served on lard. To be fair I've eaten this in cities such as Washington and Philadelphia not in the heartlands of the Deep South.
Red's is starting to put me right about the delights and variety of southern USA food beyond the burger. I'm becoming a convert. Clearly this is not nosh for those on a diet, vegetarians or super-models who like to nibble between swigs of Ciroc, but it can be bloody bang-on. And juicy. And table-lickingly good - this is the messiest food style created.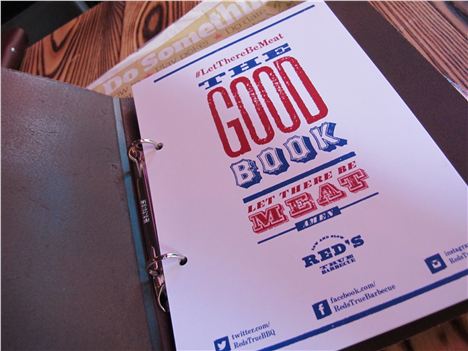 The menu with the message
So let's sing that song for the glorious beef long.
It costs £15.95 for two people or £10.95 for a single rib. Get the £15.95 one because you won't want to stop eating it. The dish arrives as a pair of ribs and is thick and perfectly barbecued after being dry rubbed, marinated and then smoked for up to eight hours over hickory and 'fruit woods'.
The flesh flakes like a dream and is covered in a rich sticky barbecue sauce that enhances without shouting the meat down. There's lush fat in there too which adds a raw grace.
The whole thing is a thing of beauty in a dark world. Ok the meat is essentially an offcut but so what, the care and attention makes this pauper a prince.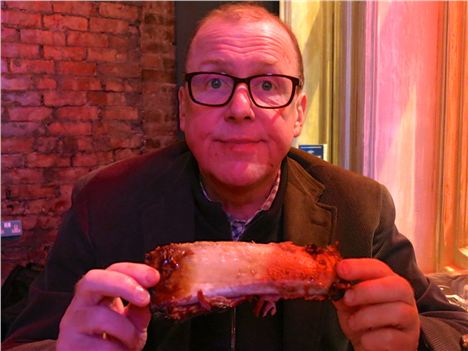 Gordo cleans a bone
This level of preparation comes at a cost, the fit-out and kitchen kit, the huge industrial smokers, spicers and what not cost well over £1m. The trips to the southern USA by the owners to get it right must have cost a fair packet as well. But the results are notable. Red's provides, for instance, the only palatable jerky I have ever eaten, the only one that doesn't feel harder than a navvies boot caked with mud and caught in a snap frost. The same can be said for the crackling.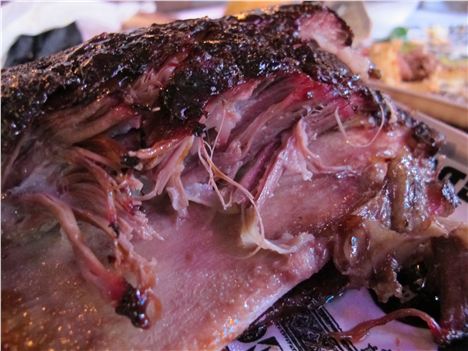 Meaty beef long
The rugged, chunky, spicy Texan smoked sausages are more swooners with sweet dill pickle spears (£9.95, but really one portion at that price is enough for two).
The £10.95 half-chicken with a sharp glaze is almost as good as the beef long, moist all the way through and never dusty with cotton-wool texture. It's halal so suitable for most faiths.
Red's it seems have invented Tex-Mecca.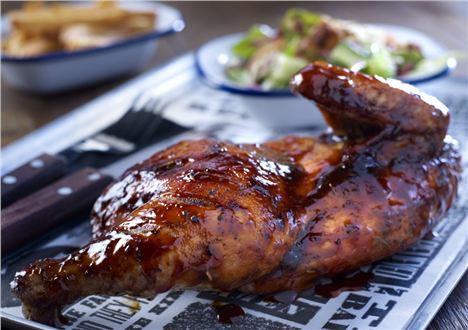 An absolute love
I could go on. The sweet potato fries are fine, the pit beans excellent, smoked for 12 hours, sweet but bolstered with 'burnt ends' in other words, pulled pork, onions and spices. All these sides come in at £2.95 and are titled 'divine sides'.
There are 'humble' ones too including giant onion rings, skin-on fries, slaw and grits (the horror, the horror) for £1.95. When you grab a main dish you get as part of the price a choice of one divine or two humbles.
But what about the burgers?
Well, there's nothing wrong with them but the other food on the menu, the ribs, steaks, sausages and so on are the point of difference with Red's. Try those first.
Having said that my son thought the vast Pit Burger was a star with all that streaky bacon and meat piled upon meat cosseted within a brioche bun and wearing an onion ring like a hat (the most expensive burger in the place at a whopping £15.95).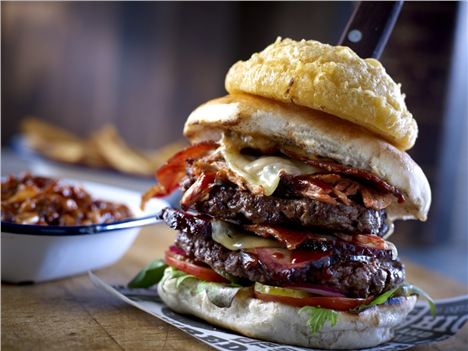 Pit Burger
The burger Mancunians have already been flocking to is the donut burger at £12.95. Hundreds were sold over the first weekend of opening.
I don't understand this.
The donut burger is just too much with its 2600 calories laden with sweetness battling hard to find its place in all the savoury. Apparently the dish was dreamt up by Luther Vandross. While looking that up I read that he died in 2005 from various conditions brought on by his lifestyle and diet. You've been warned. Only have this burger if you are the type who likes to have their dessert with their main.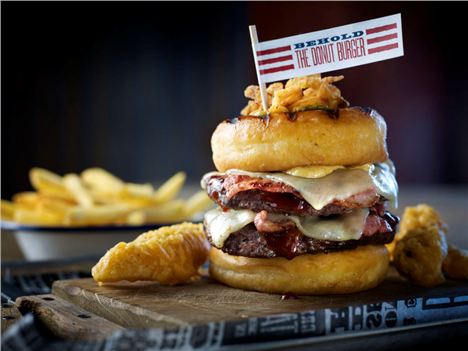 Donut burger
The decor of the place is busy as busy can be. I've never seen so many fixtures and fittings. Co-owner James Douglas says it references basketball cages in the States. It works well. Better again is the neon. This is cheeky, witty and the sort of thing you want to take home and put in the bathroom to surprise guests. The tattooed nun looks like she might have a story or two.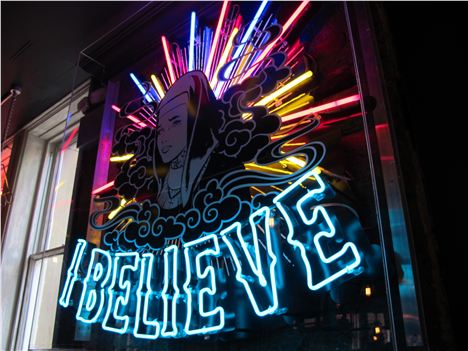 Tattooed nuns - I believe her
There are several moods in different rooms, the main space with the cages, bar, stage and the big kitchen, then a secondary space with panelling and a less cluttered feel. One hidden and sinister booth has a steel table with a plughole in the middle which is perfect for those evenings when a human sacrifice is required. Full moons and the like.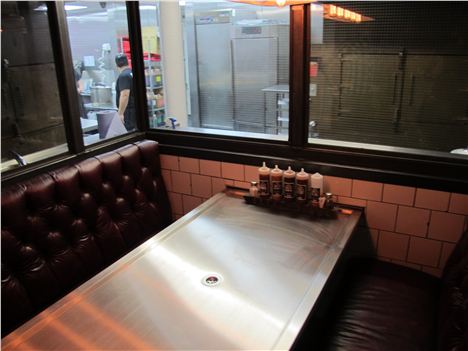 The blood will naturally flow to the middle
The manager is Sean Finnegan, a well-known face on the Manchester scene, and an affable, astute and wry leader, who seems to be getting the best from his staff. For my taste the American tendency to over-ask if we're all right needs toning down a bit but then this is early doors and all the staff are keen.
Drinks are spot on, get yourself a beer from Brooklyn, the Pennant on draft is excellent, or even a US of A, IP of A Shipyard. The Pinotage South African is a good combo for most of the meats if wine is your thing and the pickleback piskey is great for eccentrics (click here).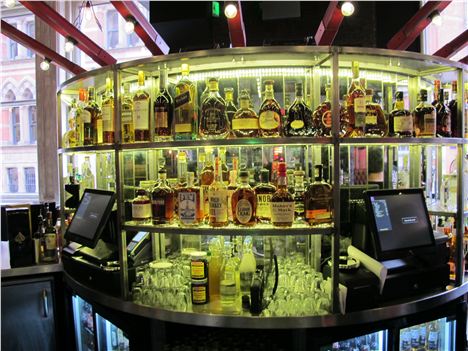 The bar
The other co-owner with James Douglas is Scott Munro and is South African. He's a redhead which explains the name of the burgeoning chain. He's also another affable sort, big smile, big baseball cap and about seventeen feet tall. His enthusiasm for his restaurant could light up a small city and all its Christmas decorations.
Red's is a fine new addition to Manchester providing a distinctive and excellent take on southern USA food.
I'll be beef long back.
You should try it.
Still, I'm sort of pleased that even Red's can't perform total magic. Grits and hush puppies still taste like hell. Jeez, American friends, give the grits up.
You can follow Jonathan Schofield on Twitter @JonathSchofield or connect via Google+
ALL SCORED CONFIDENTIAL REVIEWS ARE IMPARTIAL AND PAID FOR BY THE MAGAZINE.
Red's True Barbecue, 22 Lloyd Street, Albert Square, City centre, M2 5WA. 0161 820 9140
Take out available
Rating: 15.5/20 (remember venues are rated against the best examples of their type - see yellow box below)
Food: 7.5/10
Service: 4/5
Ambience: 4/5
PLEASE NOTE: Venues are rated against the best examples of their kind: fine dining against the best fine dining, cafes against the best cafes. Following on from this the scores represent: 1-5 saw your leg off and eat it, 6-9 get a DVD, 10-11 if you must, 12-13 if you're passing,14-15 worth a trip,16-17 very good, 17-18 exceptional, 19 pure quality, 20 perfect. More than 20, we get carried away.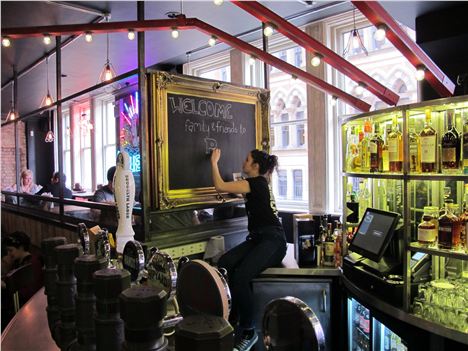 Red's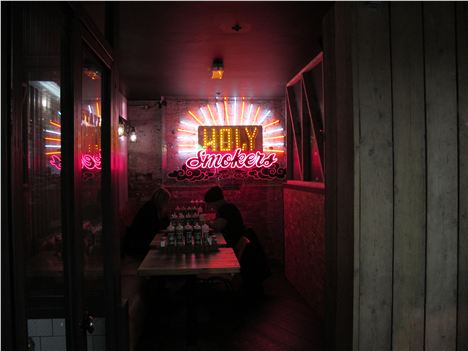 Red's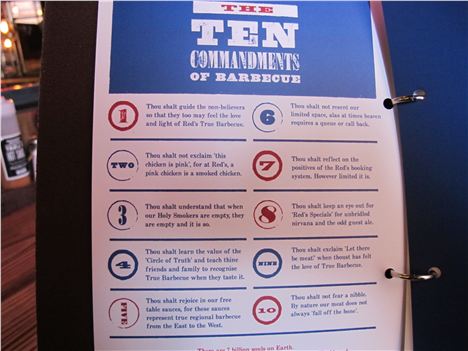 Red's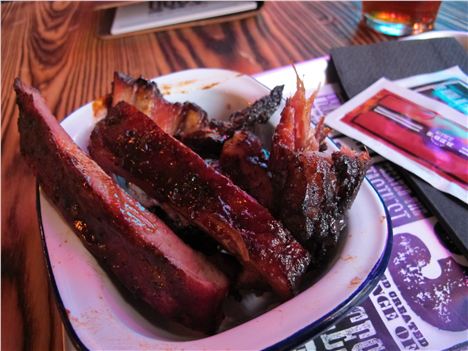 Red's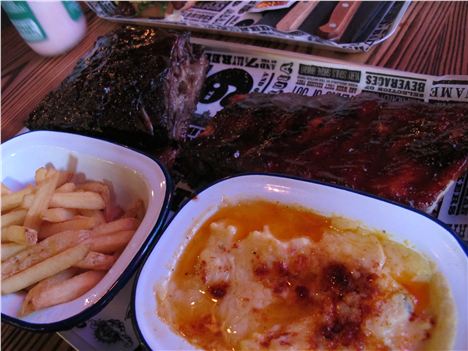 Beef Long and in the right corner - help, it's grits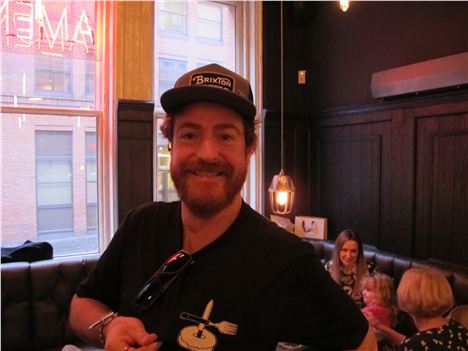 Scott Munroe (Red)
Crackling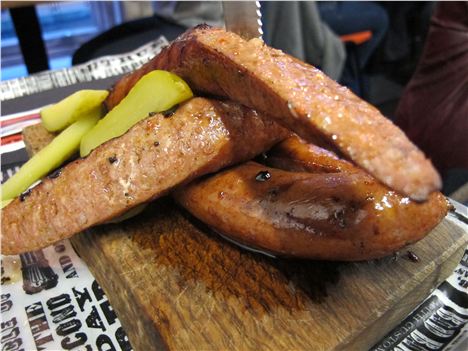 Texan spicy sausages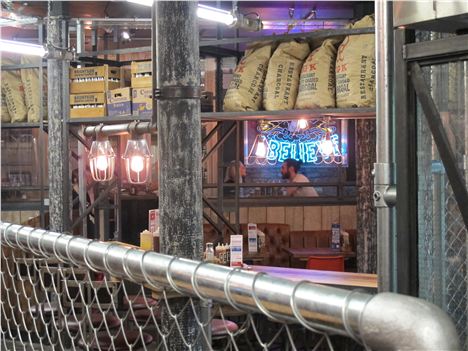 Basketball cages of fun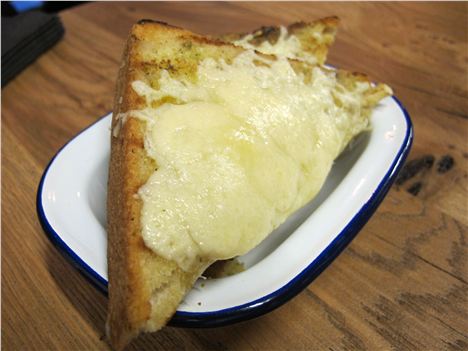 Hickory cheese on toast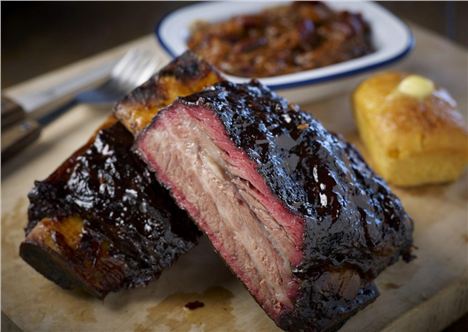 Some of those Red's ribs