Where is it
Paige Denim, Selfridges, Exchange Square, Manchester and online at Selfridges.com
Paige Denim was born in 2004 with their first jean addressing the 21st century problem of low rise jeans leaving ladies' bum cleavage on show when seated. We've all seen it and cringed.
History
A former Miss California, Paige Adams, founder of Paige Denim decided to start her own jeans line for women after working as a fit model in the denim industry. It had come to her attention that the 'denim mafia' in Los Angeles were all men.
She said: "LA is the denim epicentre. These men had a very specific mindset on how they thought women wanted to wear jeans. I decided I could create a denim line from a women's perspective."
That perspective would take into account the fact that, as a staple piece of our wardrobes, denim jeans have actually become so much more.
"Denim is no longer something that's weekend wear but something you'd wear at night on a date" said Page. "I wanted to focus on putting the sex appeal into denim and then of course making sure they're comfortable. Functional, practical, comfortable and fashionable were all the things I was thinking about."
Paige Denim was born in 2004 with their first jean addressing the 21st century problem of low rise jeans leaving ladies' bum cleavage on show when seated. We've all seen it and cringed.
Paige said: "The Laurel Canyon jean was our first jean – a low rise bootcut that was manufactured and tailored to be a little bit more friendly to butt cleavage. Say no to crack.
"There was a lot of that going on back then. The low rise got very low so I thought we have to change that so we can sit down without showing. I wanted to make sure the tilt on the body was higher in the back and lower in the front and still had a nice sexy curvy shape to it. We became famous for that jean."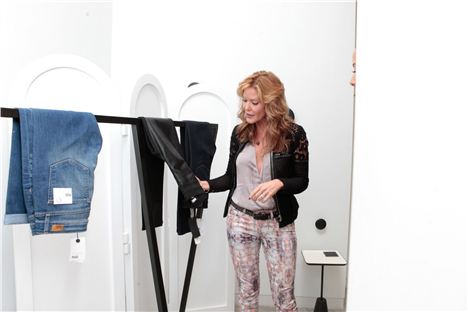 Paige Adams
What do they sell?
The Laurel Canyon jean was just the start. Over the years the Paige collection has expanded to cater for different shapes and fashion trends, but all the while keeping comfort as key.
As Paige said: "We always have a variety of core basics in blue indigo. Then when it comes to taking it up a notch and designing according to trends, we take the best fitting styles that are the most trend driven – so the skinny – and then give it to the girl that really wants to play with that favourite fit of hers. We put it in different coatings, zipper details and prints giving her a wide variety of options. She's typically a bit more daring."
Prices range from £160 for denim shorts to £340 for the Jimmy Jimmy boyfriend jeans. Selfridges also stock the exclusive blow-your-mind expensive luxe diamond skinny jeans priced £11,000. Blame those extra noughts on the two carats of diamonds embellished on the jeans. 
Who shops there?
As not every woman likes to squeeze herself into skinnys, Paige keeps a good stock of different fits and rises. Ultimately though, trends sell and so she always designs with the 25 to 40-year-old demographic in mind because "even the woman that's 50 wants to act like she's 25."
Among these wannabe 25-year-olds are Anne Hathaway, Reese Witherspoon, Gwen Stefani, Pink, Heidi Klum, Cindy Crawford and Rosie Huntington-Whitely, of late.
Paige said: "It's hugely flattering. One thing that makes me feel really good is when a celebrity knows that she has paparazzi following her and she wants to feel good and look good so she chooses Paige. That is a really beautiful seal of approval.
"Equally though, I also get tickled from seeing someone I don't know , in the middle of Italy walking along in Paige Denim."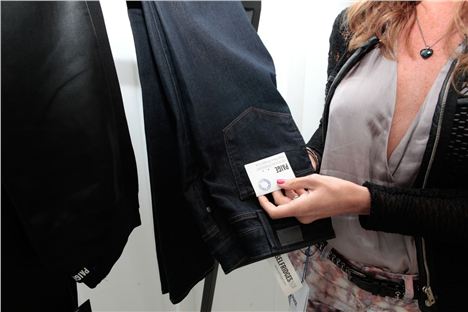 Why go there?
The only reason you would ever go back to a particular denim brand is if it fits well. With so much competition for Paige Denim within Selfridges denim department alone, it's the jeans that fit the best that will stand out from the rest.
Paige Denim are fairly long in fit when compared to other brands and really nip in at the waist while allowing for room in the hips so minimal gape at the back. They're also extremely comfortable, flattering curves for those who have them and creating them for those who don't. Just look at the models in the Paige Denim advertising campaigns and you'll see a very healthy body image. Having suffered from anorexia in her early modelling days, for Paige this is no coincidence.
She said: "I'm really mindful of having a healthy brand image and at the same time I'm very aware of what looks speak to the customer. I like denim models to have a bum.
"It's really important to me that they have a little bit of shape there. At times I've asked an agency to send me a model of a certain size and they send me these tiny, skinny girls. The jeans just hang off them. I want a model to be able to fill the jean out."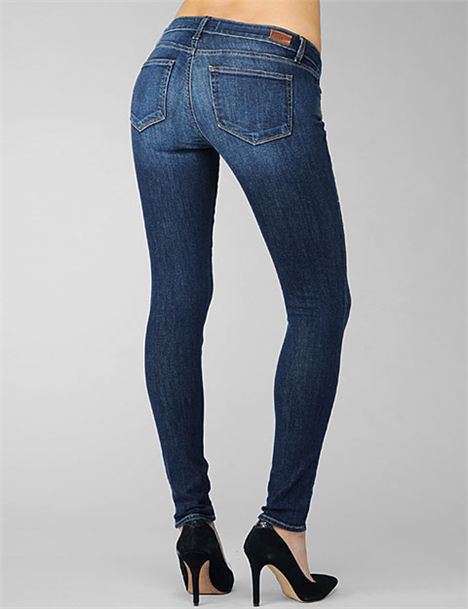 "I want a model to be able to fill the jean out."
Future
Paige Denim is now in the process of developing a full lifestyle brand. As of next year there'll be so much more than denim; from leather to silks, dresses to shirts, Paige is keen to follow in the footsteps of some of her designer idols.
She said: "My favourite inspirational brands are Haider Ackermann, Saint Laurent and Alexander McQueen. Isabel Marant too - she understands what women want to wear and makes the runway attitude translate to daily streetwear."
Follow Lynda on Twitter @lyndamoyo