BLUEDOT, a brand-new festival of discovery, will touch down at Jodrell Bank Discovery Centre this July for a three-day extravaganza of live music, science and arts.
Bluedot is going to be special. We want to blow people's minds
The event will take place at Jodrell Bank observatory from 22-24 July, under the shadow of its giant and otherworldly radio telescope, and promises a stellar programme encompassing everything from live electronica and psychedelic rock to space orchestras, robot workshops and science programmes.
Headlining the music bill in a UK festival exclusive is pioneering veteran electronic artist, Jean-Michel Jarre, who'll be joined by psych-electronica band, Caribou, and influential British dance duo, Underworld.
Other confirmed acts include electro-rock darlings Everything Everything, art-rock archivists Public Service Broadcasting, psychedelic titans Mercury Rev, folk experimentalist Steve Mason, post math-rock instrumentalists 65daysofstatic, genre-transcending British Sea Power and Californian space-rock adventurers, Moon Duo.
As well as live acts, attendees can expect a full science and culture programme, with an incredible array of talent on hand to field cutting-edge debates on the fabric of the cosmos. TV's most photogenic scientist, Professor Brian Cox, will join forces with Robin Ince to record an episode Radio 4's popular science series, The Infinite Monkey Cage.
There will also be a vast spectrum of hands-on activities including a luminarium, a planitarium, art installations, robot workships, pulsar hunting and graphene making classes.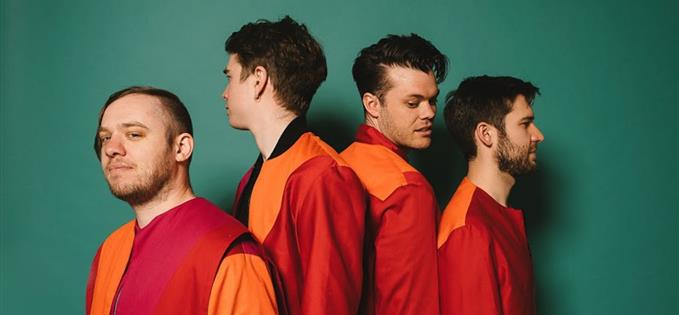 Everything Everything
Ben Robinson, festival director, said: "Bluedot is a brand new festival with a mandate to deliver a festival like nothing else on earth, with a stellar programme of music, science, film, art and technology.
"Securing an amazing line-up like this in our first year is a massive coup – but Bluedot isn't just about the music."
Professor Tim O'Brien, Associate Director of Jodrell Bank, said: "Bluedot is going to be special. We want to blow people's minds with some amazing music and some incredible ideas – from the Big Bang to black holes, AI to climate change, and loads more.
"A nod to Carl Sagan's pale blue dot, the festival will celebrate our planet in the vast cosmos, showcasing humanity's creative achievements in arts, science, technology and the exploration of space."
Bluedot is supported by the UK Space Agency and the EuroScience Open Forum (ESOF).
Full weekend camping and day tickets go on sale on Wednesday 16 March at 9am. Weekend tickets start at £119 and day tickets start from £35. The full schedule will be announced in the coming weeks. More information can be found at: discoverthebluedot.com
Powered by