THOUGHT the wave of new Manchester restaurant and bar openings would slack off in 2016? Think again.
We know you Confidential readers like to stay one step ahead of your chums when it comes to the city's must-try new food and booze venues, so below we've listed every confirmed (and some rumoured) new bar and restaurant opening in Manchester in 2016.
Of course, this list is not absolute, and we expect many more to be announced over the course of this year, but right now this is the most comprehensive list you'll find anywhere.
(Some dates are subject to change and some are 'TBC' - we'll update as we go).
SHORYU RAMEN
Food: Noodles
Where: Piccadilly Gardens
Opening: June'ish
This one has been on the cards since Confidential's Sleuth revealed its interest back in September. Now it appears the hugely popular Japanese noodle chain Shoryu Ramen – which has four sites in London - has finally nailed down a Manchester site amongst the medley of chains and fast food joints in Piccadilly Gardens. Huh. Well, at least now it'll have some reputable company in this next lot…
---
BUNDOBUST
Food: Indian street food, what else?
Where: Piccadilly Gardens
Opening: Spring
…yes another surprising newcomer to Manchester's most unruly public realm is Bundobust, a much recommended union of craft beer and curry (it'll never work). The partnership between The Sparrow Bier Café in Bradford and Drighlington's multi award-winning Indian restaurant Prashad (runner-up in Gordon Ramsay's 2010 show Ramsey's Best Restaurant) has proved a roaring success in Leeds since a number of sold-out pop-up events led to a permanent space on Mill Hill in 2014.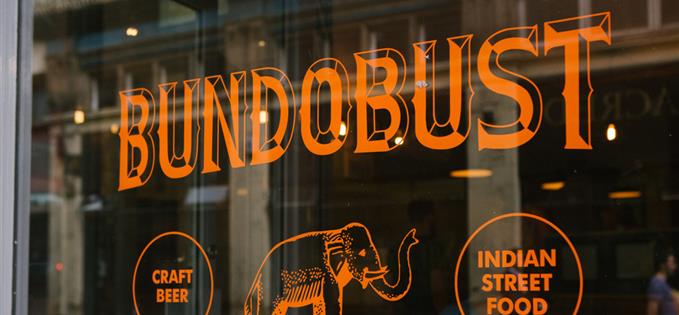 EL GATO NEGRO
Food: Spanish, tapas
Where: King Street
Opening: Monday 22 February
It's been yonks (fifteen months to be precise) since we broke the news that West Yorkshire's award-winning tapas restaurant, El Gato Negro, was jumping ship to Manchester. Now, following a bout of wrangling over an inferior site on Chapel Walks, Bib Gourmand-winning chef patron Simon Shaw is finally back at the pans on King Street with an irresistible menu, a striking fit-out and newfound verve. This could be 2016's Best Newcomer.
---
THE LOADING BAY
Food: Rotisserie
Where: Tariff Street, Northern Quarter
Opening: Late summer
This new NQ 'neighbourhood eatery' comes from the chaps behind multiple Manchester operations, including Black Dog, Cane & Grain and TNQ. The boys tell us the new 120-capacity venue, based within an old Victorian loading bay on Tariff Street, will be "more food-led, really cool, really neighbourhoody" with a theatrical open kitchen serving "high-end rotisserie chicken, hog roasts and beef ribs".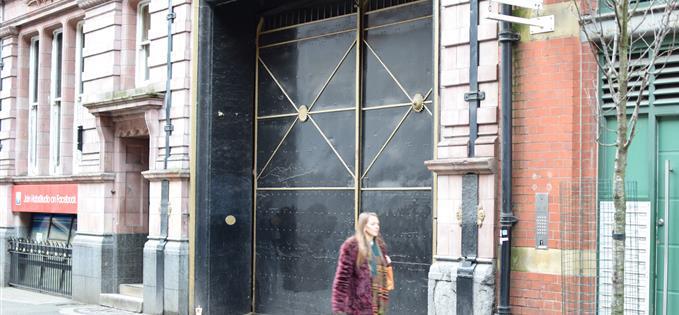 SQUID INK
Food: Unknown, Japanesey, maybe
Where: Nuovo, Ancoats
Opening: March/April
Another new opening (there's five on this list alone) for the resurgent Ancoats, this time on the noisy side of the district on Great Ancoats Street. Squid Ink is the first solo venture from brother-in-law team Anthony and Mark, who remain tight-lipped about the project. What we do know, from looking at the unit, is that Squid Ink will be small, perhaps 20 covers, with a compact menu and 'some seafood'. Squid, we imagine.
---
HISPI
Food: 'Bistro shit'
Where: Wilbraham Road, Chorlton
Opening: TBC
Now the one everyone's talking about. Following the rampant success of Sticky Walnut in Chester (named the AA Guide's 2014 Restaurant of the Year) and Burnt Truffle in Heswall, chef patron Gary Usher plans to open his third bistro, Hispi, on Chorlton's Wilbraham Road later this year. There's just the small matter of raising £150k. We have faith. And what of the food? "Same shit," says Usher, "What I do at Sticky and Burnt is what I know so it will be the same sort of stuff... bistro food… no fannying about." Good lad.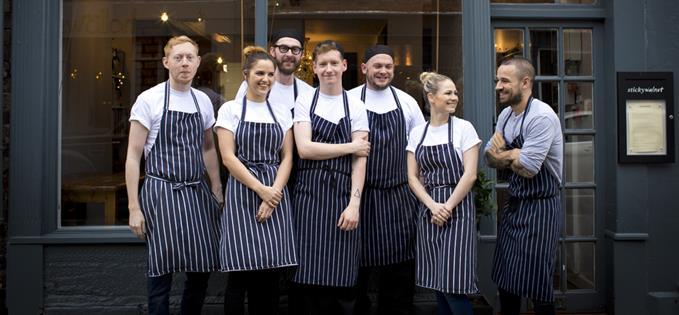 REAL JUNK FOOD PROJECT
Food: Whatever they can get their hands on
Where: The Wonder Inn, Shudehill
Opening: March
Award-winning Aumbry and Great British Menu chef Mary Ellen-McTague was recently announced as the new Head Chef of The Real Junk Food Project – Manchester's first 'waste food pay-as-you-feel restaurant'. The Leeds-born social enterprise – which began in 2014 and now has 100+ projects across the UK - turns unwanted but perfectly edible food otherwise destined for landfill into delicious, hearty fare served on a 'pay-as-you-feel' basis. Can't afford anything? Wash a few dishes and off you go. A great initiative.
---
INDIAN TIFFIN ROOM
Food: Indian street tuck
Where: First Street
Opening: This week
The brainchild of two south Indian lads and University graduates, Srini Sundaram and Suresh Raje Urs, Cheadle's backstreet gem, Indian Tiffin Room, launched in 2013 and has since garnered rave reviews and a cult-like following. Now, with a second site located in First Street primed and ready to go, ITR are ready to take on the big boys in the big city.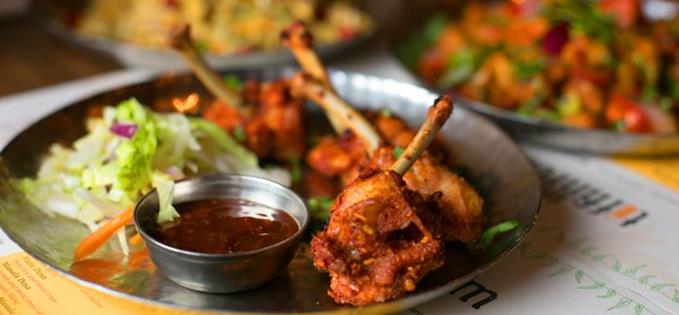 DISHOOM
Food: Indian
Where: Manchester Hall (possibly)
Opening: TBC
Recently topping Yelp's Top 100 places to eat in the UK, this award-winning self-styled Bombay canteen has had (most) critics swooning since it first opened on London's Covent Garden in 2010. Now four restaurants strong, Dishoom founders Shamil and Kavi Thakrar are said to be eyeing up the recently renovated Manchester Hall on Bridge Street for their first Northern outpost.
---
SEVEN BRO7HERS BAR
Booze: Craft Beer
Where: Cutting Room Square, Ancoats
Opening: Spring
Salford brewers Seven Bro7hers are gearing up to begin work on their own dedicated beer bar for Cutting Room Square in Ancoats. "The venue is split level with a capacity of around 200," says one of the seven brothers, Keith McAvoy, "The feel and vibe will be familiar to those who've attended our Brew Back Friday events at the brewery, stripped back with live music and film screenings, whilst in the summer we'll spill out onto the square with a beer terrace." The brothers will stock all six of their beers, plus a few guesties.
---
KETTLEBELL
Food: 'Elfy
Where: Nuovo, Ancoats
Opening: March
This new gym-themed diner from fitness nut Carley Jones promises 'clean fast food' from protein pizzas to protein burgers (aren't they all?) and even protein beer, while handy nearby rope 'n' iron means you can burn off your meals before you even eat them, thus becoming entirely calorie neutral… a human stick of celery.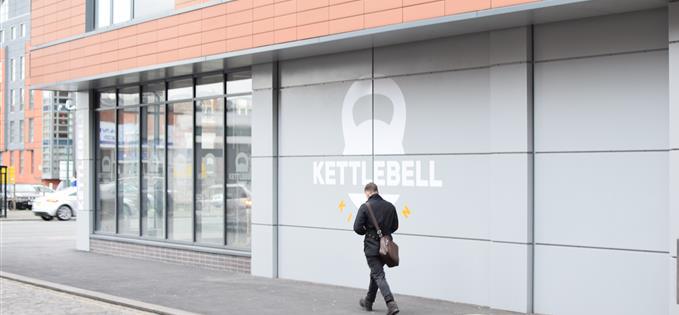 MACKIE MAYOR
Food: Market
Where: Swan Street, Northern Quarter
Opening: TBC
Not confirmed but heavily rumoured is the emergence of an Altrincham Market-style food hall for Northern Quarter's Mackie Mayor building. The man behind the soaring satellite market's resurgence (recently scooping the Observer Food Monthly Best UK Market 2015), former Marketing Manchester chairman Nick Johnson, has been strongly linked with the renovated former Smithfield meat market – opened in 1858. Let's hope this one comes good.
---
SCIENCE & INDUSTRY
Booze: Complex
Where: Cane & Grain, Thomas Street
Opening: Soon
Busy buggers those Black Dog boys. Not content with getting stuck into The Loading Bay, they're also planning a rejig of the first floor bar of Cane & Grain on Thomas Street. "We're renaming it Science & Industry," says co-owner Lyndon Higginson, "it's a nod to the very make-up of Manchester with a strong emphasis on crazily scientific drinks made in our lab over two or three days."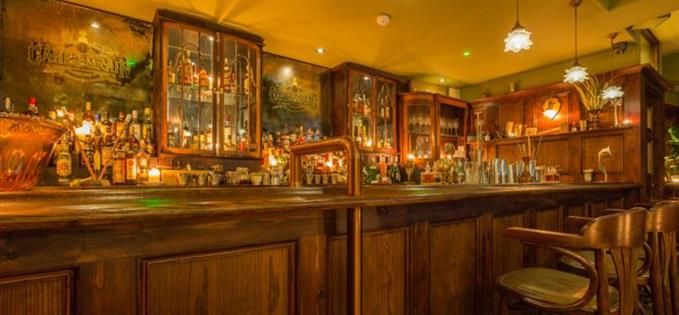 CHILANGO
Food: Burritos
Where: Oxford Street
Opening: April
London burrito-pushers Chilango have confirmed their arrival in Manchester, snapping up a site at 50 Oxford Street. Founded by former Skype high-flyers Eric Partaker and Dan Houghton, in 2014 the pair raised more than two million quid to fund their expansion via their self-styled 'Burrito Bonds'. So how's it taste? Not the foggiest. But with queues still weaving out the door at Changos over the road, they better arrive firing.
---
SOLITA STEAKHOUSE
Food: Steak
Where: Barton Arcade, Deansgate
Opening: 1 July
Spread over three floors in the beautified Grade II-listed Barton Arcade, Solita Steakhouse is a new concept by Franco Sotgiu and Simon Pogson, co-owners of Manchester dirty food trailblazers Solita. Having toured some of The Big Apple's finest steakhouses, including Keens and Gallaghers, the chaps plan to launch their NY-inspired restaurant – featuring a 'two-storey glass fronted meat ageing room' - sometime this summer.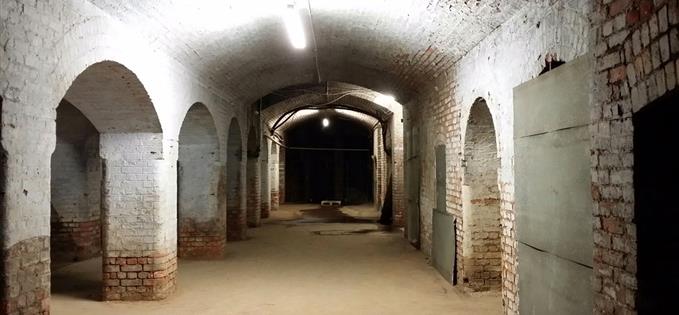 MONTPELLIER'S
Food: Rumoured pizzeria
Where: Northern Quarter
Opening: Late 2016
More from those Solita boys now as they take hold of Northern Quarter's unloved Montpellier's bar in the ginnel round the back on Back Turner Street. Being of Italian stock, Franco has long bemoaned the lack of decent pizza in Manchester and plans, we hear, to take a crack at their own 'propa' Italian pizzeria sometime later this year.
---
PICCOLINO
Food: Italian, food hall
Where: Albert Square
Opening: April
Individual Restaurants, the group behind Piccolino, RBG and the new Gino D'Acampo restaurant in the Corn Exchange, has revealed plans for a refurbed 200-cover Caffe Grande by Piccolino on Albert Square featuring a 30 cover terrace overlooking the Town Hall and a European-style food hall with deli, shellfish, gelato and pastry counters.
individualrestaurants.com/piccolino
---
BE AT ONE
Booze: Cocktails
Where: Barton Arcade
Opening: March
Work has started to convert Barton Arcade's once notorious Circle Club into a new bar by London-based speedy cocktail chain Be At One. With its thumping music, chirpy crowd and cheap happy hour boozing, the group prides itself on its lack of 'mixologist' wankery.
GRAND PACIFIC
Food: Pan-Asian
Where: King Street (top end)
Opening: TBC
When the stuttering Room restaurant finally croaked and the HRH Group vacated one of the city's most beautiful dining spaces, Living Ventures supremo Tim Bacon, a huge fan of the Grade II listed former Victorian gentlemen's club, couldn't pick up the phone quick enough. Though LV's rapid UK expansion meant plans to transform the former Reform Club into the flagship 'mini Australasia' brand hit the buffers, we're told the project will get underway later this year.
australasia.uk.com/grandpacific
---
B.EAT STREET
Food: Street
Where: Great Northern
Opening: By September (if planning approved)
Planning has gone in for the new B.Eat Street project at Great Northern; a cluster of three bars, seven micro-diners and a 'Caribbean shanty town' occupying five of the empty units in the edifice's untapped alleyway running parallel with Deansgate. We're told to expect jerk chicken, craft beer and the usual rumpus we've come to expect from the gang behind Friday Food Fights and the Junkyard Golf Club.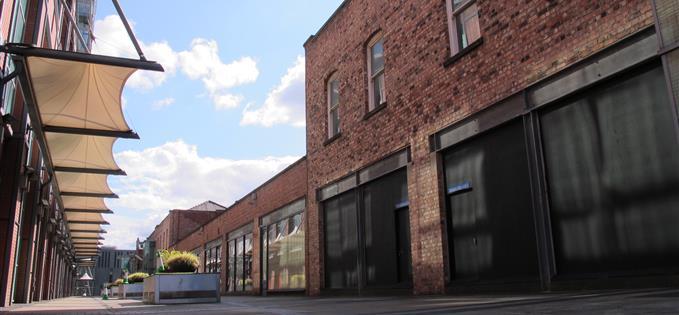 MARY & ARCHIE
Food: Brunch, cake and bar food
Where: Barlow Moor Road, Chorlton
Opening: Now
Relaxed West Didsbury bar-cum-café is beginning its quest for world domination one step at a time with the opening of its second venture down the road in Chorlton. Expect interesting beers, beards and a celebration of seventies suburbia with custard yellow walls and hanging macramé plant holders.
---
PILCROW PUB
Booze: Beer
Where: NOMA
Opening: Autumn
'A pub built by the people for the people', the Pilcrow Pub project, headed up by local designer Joe Hartley, will see 50 designer/makers and 600 volunteers collaborate to build by hand, from the bar stools to the dartboard, a new portable pub based within the Co-op's new £800m NOMA scheme.
---
DOCKYARD
Food: Pie
Where: First Street
Opening: April
Having cornered the ale market in the city's two main business districts, MediaCity and Spinningfields, Dockyard owner Steve Pilling now has his eyes on the fast-developing third in ASK's £500m First Street scheme. Pilling told us: "The new venue will be the same winning Dockyard formula with its own microbrewery and a nod to the site's past as a gas works."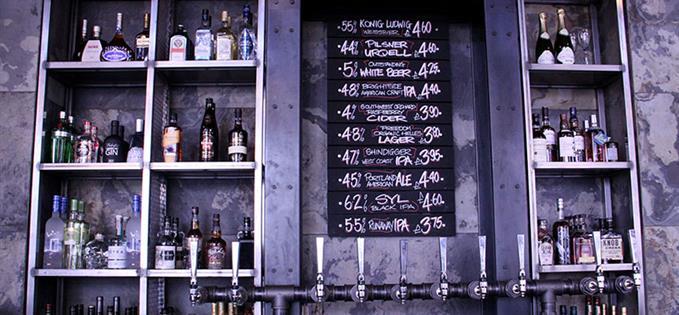 ALABAMA'S ALL AMERICAN EATERY
Food: Americana
Where: Newton Street, Northern Quarter
Opening: March
This new American breakfast and brunch diner comes from one of the chaps behind Northern Quarter's El Capo and Whiskey Jar bars and will open in the old pizza shop on Newton Street, beneath one of Manchester's best-named institutions – Master Chu's Lion Dancing Club. Expect milkshakes, pancakes and heart-aches.
---
LIQUOR STORE
Booze: Flowing
Where: First Street
Opening: March-April
Another newcomer to First Street's fledgling food and drink scene. Manchester Happy Hour merchants the Liquor Store are set to launch a second and much larger site round the back of HOME this spring, offering craft beer, new cocktails and 'New York deli' type food… that means sandwiches.
---
TEACUP
Food: Cake
Where: Town Hall, St Peter's Square
Opening: Summer
Having completed a charming takeover of the Manchester Museum café, Thomas Street tea and cake evangelists Teacup (co-owned by DJ Mr Scruff) are now planning a move on the Manchester Town Hall extension with Teacup number three this summer.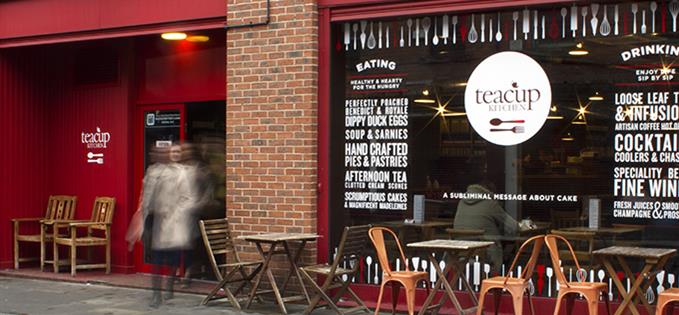 GOOSE FAT & WILD GARLIC
Food: British, we imagine
Where: Cutting Room Square, Ancoats
Opening: Summer
From the team behind the nearby Cutting Room Café and Bar, Goose Fat was originally announced in March last year (alongside the now soaring Rudy's Pizza) as part of the HCA's £1.2m investment in food and drink start-ups in the area. A delayed handover mean things have gone a little quiet, though owner Sophie Jarvis assures us Goose Fat will open in the summer. "We're bringing a little taste of the countryside to the city," says Jarvis, "by way of beautiful, fresh produce cooked with love."
---
FAVELA
Food: Latino
Where: Deansgate, beneath Hawksmoor
Opening: TBC
The future of the hefty unit in the basement of Oddfellows House on Deansgate has been uncertain for years. There were plans for a 'roast and oyster' bar in 2012-13, but a tangle of red tape put paid to that. More recently, plans for Favela, a South American restaurant and dance hall, have come our way.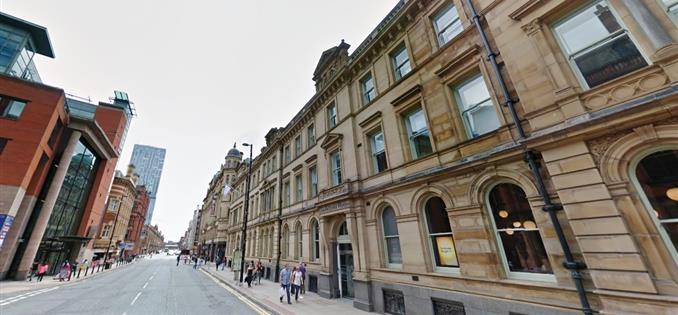 TAPEO
Food: Spanish
Where: Deansgate
Opening: Soon
Continuing the Spanish occupation of Deansgate (or Calle de la Puerta de Deán) and its environs into 2016 is Tapeo, a new independent tapas restaurant from Nacho and Natalia Esquerdo, founders of Salford Quays-based Spanish food wholesaler and importer Lola España.
---
CIELO BLANCO
Food: Mexican
Where: Manchester Hall
Opening: TBC
Last year Leeds-based Mexican outfit Cielo Blanco had planning approved to convert the former garage adjoining Percy Scott Worthington's monumental Grade II-listed Masonic Hall into its debut Manchester branch. Things have since gone a little quiet, though Vision development's impressive conversion of the Bridge Street structure, renamed Manchester Hall, rolls on, with plans to 'house three individual top line restaurants, a bar and a rooftop terrace with panoramic views of the Manchester skyline'.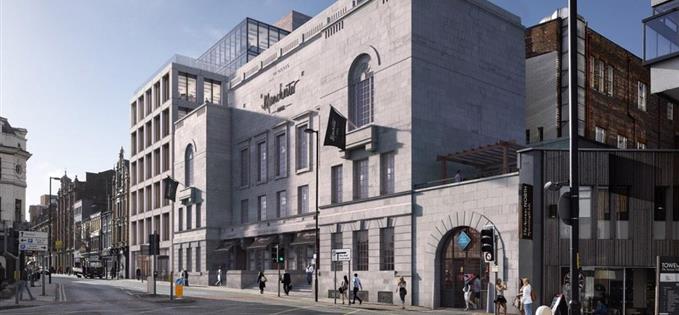 STOCK EXCHANGE
Food: Unknown
Where: Norfolk Street
Opening: TBC
The rumour mill went into overdrive in October last year when radical Michelin-star chef Michael O'Hare was spotted leaving the former Stock restaurant in Norfolk Street with unlikely property guru and former United star Gary Neville. Neville's hospitality arm GG Hospitality - founded in 2013 alongside former United teammate Ryan Giggs - acquired the structure in February 2015 with plans for a boutique hotel. Since then O'Hare has been announced as the Creative Director of GG Hospitality, with expectations surrounding the Stock project high.
---
ALCHEMIST
Booze: Whizz-poppers
Where: MediaCityUK
Opening: TBC
Following the success of Alchemist Spinningingfields and Alchemist New York Street, plans are afoot to establish the city's third Alchemist cocktail bar in the proposed and quirky new Bund at Dock 9 building, located on the stretch between North Bay and Huron Bay.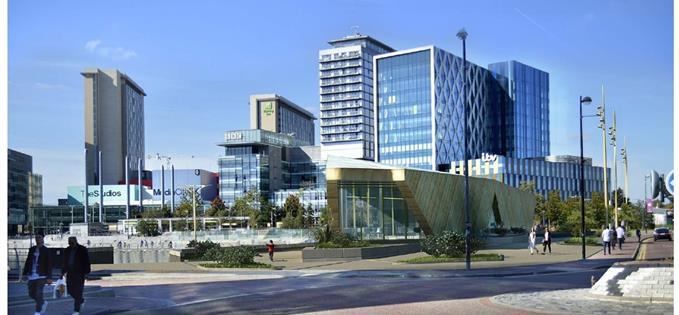 ARCANE BAR
Booze: Yes
Where: South King Street, behind La Vina
Opening: TBC
We know next to diddly squat about this one, except it is set to open on South King Street and will, in all likelihood, serve craft beer and cocktails. But then, with a name like that, it was bound to be a mystery.
---
SECOND CITY BAR
Booze: Beer
Where: Ancoats
Opening: June
Yet another newcomer to Ancoats, this time an American-themed sports bar screening the usual football, rugby, cricket and tiddlywinks alongside American sports like NFL, NHL, NBA and NWA. The owner has told Confidential he wants to assure residents this won't be your typical 'chavvy sports bar' and will launch in time for this summer's Euro 2016 which begins on June 10.
---
TUP TUP
Booze: Cocktails
Where: Peter Street
Opening: TBC
The workers are finally in at the cursed former Bar 38 and Purity glass box unit opposite Revs De Cuba on Peter Street. In 2013 the lease was taken on by Newcastle-based Tokyo Industries, which runs over 30 bars, nightclubs and music venues across the UK, including Manchester's South and Factory nightclubs. Initial plans suggest a nightclub, named Tup Tup, in the basement, with a brew hall-type affair upstairs.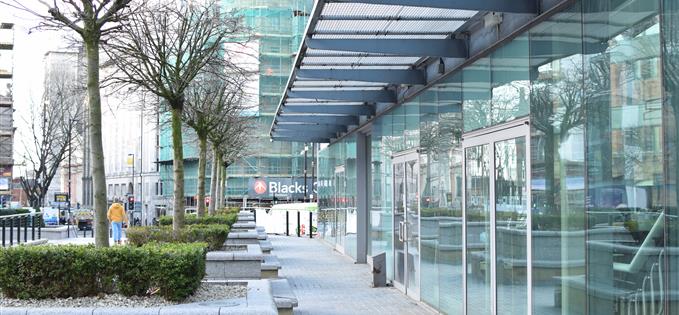 Have we missed any? If so drop us a tweet @mcrconfidential or stick it in the comments below.
Keep on top of all the Manchester food and booze news on the Wakelet below or here