"YOU know what's funny? I actually hate kettlebell workouts," laughs Carley Jones, the young, muscle-ripped call centre owner and entrepreneur behind Ancoats' upcoming clean-eating diner, Kettlebell Kitchen.
The whole concept of Kettlebell Kitchen is to eat clean but also cheat clean
Despite her aversion to the punishing Russian cast-iron weights, naming her first clean fast-food establishment Kettlebell made perfect sense to Jones, who expects to attract a clientele built like Soviet tanks.
Jones (main image) is pretty Herculean herself, a self-professed fitness fanatic and Crossfit convert – a workout often deemed the toughest exercise program in the world. Like many hardcore fitness enthusiasts she considers 'clean-eating' a lifestyle and her venture with Kettlebell Kitchen a logical investment.
"It's been a dream of mine. I'm fitness mad and I've had this idea for three years after struggling to get fast, clean, healthy food," says Jones. "I wanted to be able to pick up healthy food locally without giving in to a 3000 calorie pizza."
The 'clean fast-food' joint is coming together in the rapidly developing Ancoats area, buoyed in recent months by the opening of Rudy's Pizza, The Cutting Room and Ancoats Coffee, not to mention the proposed Seven Bros beer bar, Squid Ink, Goose Fat and Second City sports bar.
Kettlebell Kitchen is so far making ample use of an empty 2000 sq ft unit in the Nuovo building on Great Ancoats Street and will provide for up to 50 covers. True to the theme, the space will be decked out like a Crossfit gym, with battle ropes, kettlebells and perhaps a soundtrack of clashing metal and aggressive grunts... just a suggestion.
Healthy living is at the heart of the new business, and Jones has been creating a menu with the help of executive chef Laura Sammie, which she says will be high in protein, low in carbs and 100% chemical free.
"The whole concept of Kettlebell Kitchen is to eat clean but also cheat clean," explains Jones. You won't be able to get normal fast food at Kettlebell Kitchen but you may find something that's better, such as protein pizzas with our clean tomato sauce and protein burger buns with 100% British beef. We'll still do sweet potato fries but they will be baked. We'll do chicken strips but they have a nutty baked coating on them. A clean twist on the naughty things."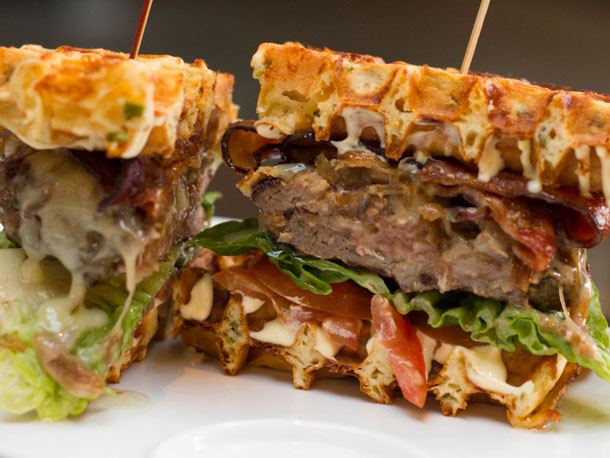 Cheating clean? Kettlebell Kitchen's beef waffle burger
Kettlebell feels well-timed. Today our Americana influence is moving away from dirty downtown New York towards upscale L.A, where they've patented healthy fast-foods such as sushi burritos and vegetable hot dogs (where the 'hotdog' in question is in fact a carrot).
"We're also aiming at the diet plan market," says Jones. "We're selling options of three or five meals a day. You pick your protein: steak, chicken, turkey or a vegetarian option. Then your base: cauliflower rice, brown rice, sweet potato mash etc, and then add vegetables. This means you can tailor your fresh meals and pick them up twice a week."
Jones is also, somewhat surprisingly, applying for a booze licence. But doesn't alcohol go completely against her hard-wired clean-eating philosophy?
"There's a reason behind the madness. When I'm on a diet I still want to go out and have a balance, but I struggle to find something that's not massively calorific and full of crap. So you end up drinking a boring vodka, soda and lime. We plan to stock low carb wine, protein beer and skinny cocktails. So you can have a clean drink too," she explains.
You have to admire Jones's vision, but Kettlebell Kitchen is not an entirely original idea, with Manchester witnessing a steady growth in healthy fast food joints in the last year or two, from Spinningfield's Wahu to Bosu Body Bar in Chorlton and Didsbury.
"Yes, there's a few places that have beat us to the concept and I've visited them - but on some occasions I've been stuck waiting half an hour. I'm aiming to get everyone served within seven minutes," says Jones.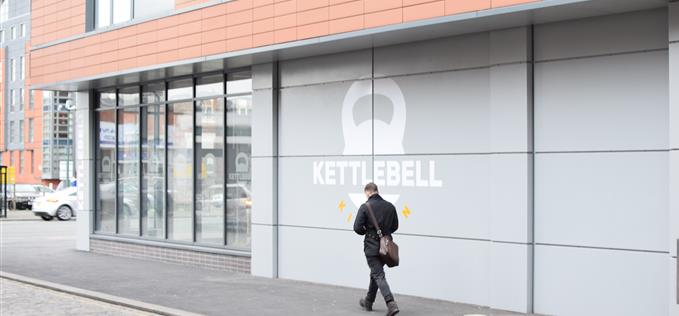 Kettlebell Kitchen
So with far more choice in the healthy food stakes, is Manchester really changing its eating habits for the better?
"I think people are getting really savvy about what goes into their food. There's one McDonalds closing down every day somewhere in the world at the moment. I think people are getting really fed up with synthetic, plastic food. Our bodies weren't made for it. That's why we have high rates of diabetes and other issues."
It's difficult to say how long our current love affair with healthy eating will last, as we all know, diets have a way of falling by the wayside. Kettlebell Kitchen will ultimately rely on the dedication of the gym obsessed protein packers and religiously health conscious for regular trade.
"Nearby there's two Crossfit gyms and a really busy Pure Gym just 200 metres down the road," says Jones. "I've thrown everything into this and it is a gamble. But my aim is for Kettlebell Kitchen to be a chain of Nandos proportions."
Kettlebell Kitchen looks set to open in March 2016. Find it at 5 Nuovo, Great Ancoats Street and on Facebook.