CONFIDENTIAL PROMOTION
MR COOPER'S has big plans for its bar. It's a beautiful space which doesn't so much scream good taste as whisper it sexily. Everything from the mirrored bar with its clubby leather panelling to the pleasing weight of a cut-glass tumbler in your hand is all about quality.
It's all a bit Sophie's Choice – like choosing your favourite child
This is a grown-up bar where you can indulge in the timeless pleasures of conversation and well-made drinks.
New bar manager Joey Butcher is about to make it the destination for anyone serious about the sensory appeal of an expertly mixed cocktail or the clink of ice in a glass of crisp, cold gin and tonic.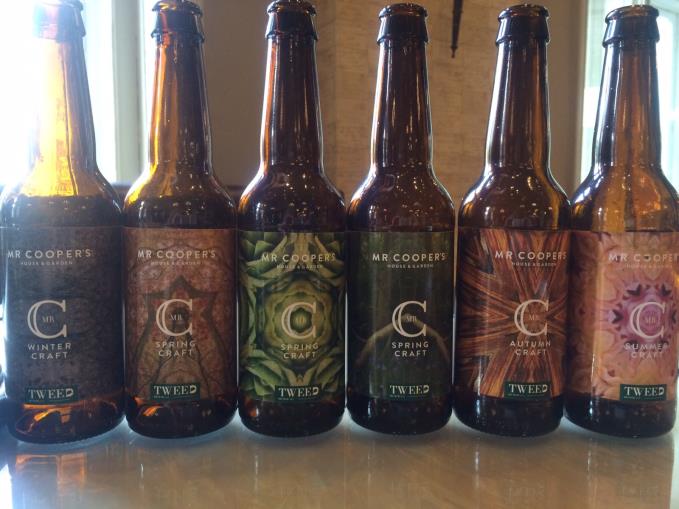 Mr Coopers Exclusive Ale
We had a chat about the forthcoming developments at Mr Cooper's bar, over a couple of cocktails, of course.
What attracted you to working at Mr Cooper's?
I used to be the bar manager at Épernay and I didn't want to make my commute any longer.
No, to be honest, I grew up in Manchester and the Midland Hotel has always been a landmark in the middle of the city. Now that a couple of the eyesores have been removed, it's a beautiful part of town. And with the reputation of Simon Rogan, everything at Mr Cooper's is about top quality but it's also somewhere you can relax.
I want to make more of what we've got here and bring the same attitude to the drinks as we have to the food under Simon Rogan.
What's your all-time favourite cocktail?
It's got to be an Aviation or maybe a Martini.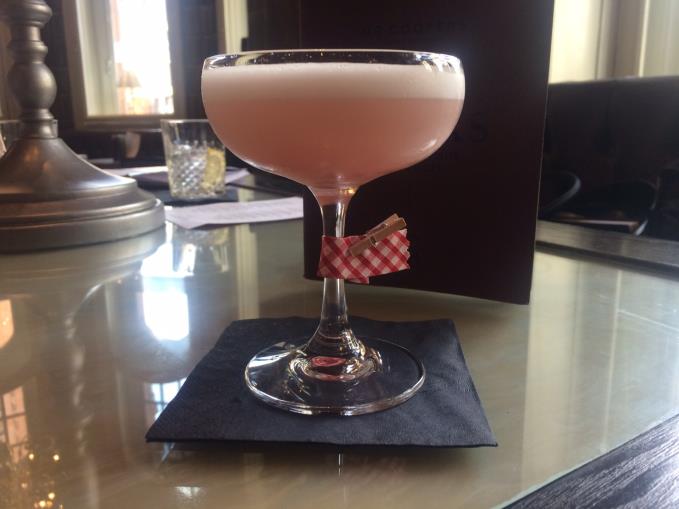 Rosy Cheeks
That marks you out as a bit of a gin fiend. If you had to choose one, which would it be?
Don't ask me that. It's all a bit Sophie's Choice – like choosing your favourite child. I'm quite a traditionalist so it would probably be Tanqueray or Sipsmith.
Gin is an important part of our drinks offering. It's our flagship spirit. We've got lots of different gins on our menu but they're all there for a reason because they all have a different flavour profile.
We're also going to be getting some Thomas Dakin Manchester Gin which contains notes of horseradish.
What plans do you have for the cocktail menu?
We want to push the boundaries but our bartenders will also be able to make classic cocktails.
The new menu is going to be all about seasonality. We're determined to hold ourselves to same high standards as the kitchens.
This Rosy Cheeks cocktail is inspired by the feeling you get on a long autumn walk – hence the name. It's a take on a White Lady that uses overproof gin, some of our home-made lime juice, egg white for body and spiced cranberry for the rosy look.
The Verdict: Looking at the pink colour and the twist of gingham, this looks more high heels than muddy boots. It's divine - almost like a dessert. The spices have mellowed any tartness in the cranberries so it tastes really smooth.
The Apple Shrub uses Braeburn apples that sit with sugar so they're juiced osmotically. We add apple cider vinegar for tang and then we leave it to mature. This batch won't be reaching full maturity until next week but you can see what you think. The cocktail also contains an Italian walnut and hazelnut liqueur called Nocello, Calvados and Calvados liqueur and Oloroso sherry.
The Verdict: This one tastes a little bit dangerous. It's definitely a drink for grown-ups but it's delicious. I'd definitely order one.
We understand you've treated yourself to a new toy. What will this bit of kit bring to the drinks menu?
We've just got a Rotavap. We've literally just unpacked it, the cardboard's still over there. It's going to allow us to infuse spirits with other flavours whilst still keeping the purity of the original spirit. The vacuum in the flask lowers the distillation point so you're able to get a fresher more delicate note.
Look out for a Christmas cocktail which we're hoping will incorporate Vodka infused with Douglas Fir and we're also looking at creating a classical Gimlet using a vodka distilled with seasonal herbs.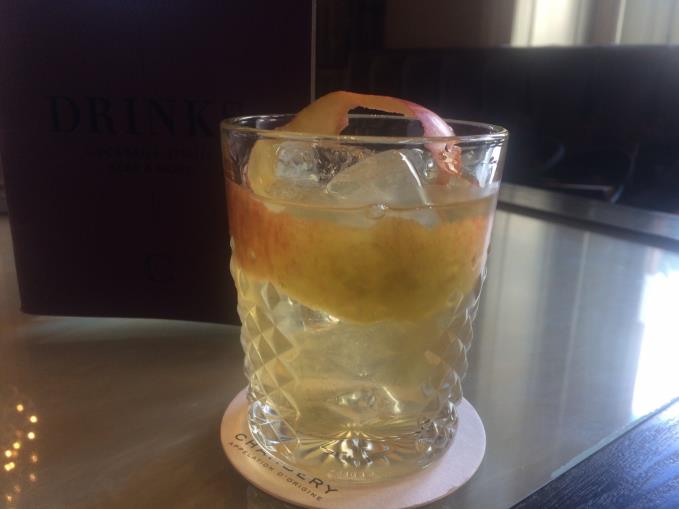 The Apple Shrub
Do you have any food matching tips from the new drinks menu?
Our new draught cocktail, on the hand pump that looks like it's a real ale, is called Apple of my IPA and it works a treat with a pork pie.
It's made from Islay Scotch whisky, dry vermouth, apple and IPA foam. It's perhaps more of a gentleman's taste (said in response to me screwing my face up at the mention of whisky).
What's this about a new Mr Cooper's beer?
Our new Autumn Winter beer should be ready in mid-October. It's made specially for us by Tweed Brewing Company in Hyde.
It's going to be a darker ale but I'm not giving away any more. If you want to know what it tastes like, you'll have to come back in October and find out.
A return visit sounds like good advice to me.
To find out more about Mr Cooper's Bar, click here