MALE FASHION has always been the steady anchor to the ever-changing ship of female style trends.
"We have been brainwashed into thinking this is some sort of feminine act. One of the most masculine things you can do is put on a skirt."

Typically, menswear has stuck to a rigid and safe template of suits, trousers, shirt and coat, only varying with the minor details on design. 
Yet this male uniform no longer applies to all male fashion collections. 
The latest Spring/Summer 2014 catwalk trends showed a clear female influence injected into men's fashion. It's a scary prospect for men with simple tastes.
M-irt?
Across Manchester men have been steadily embracing more feminine styles.
It seemed to start with the man bun (or 'mun' as it has been christened by fashionistas and bloggers) which had replaced the no fuss no frills short back and sides. Once a style statement of footballers and models, last year there wasn't a Northern Quarter corner to be turned without intersecting paths with a mid-twenties mun rocker, working the look with some face fuzz.
These men wore their muns high and  proud and, suprisingly, women seemed to love it. Some did.
Like so many cuts and colours before it, the mun soon became copied and old news as a result.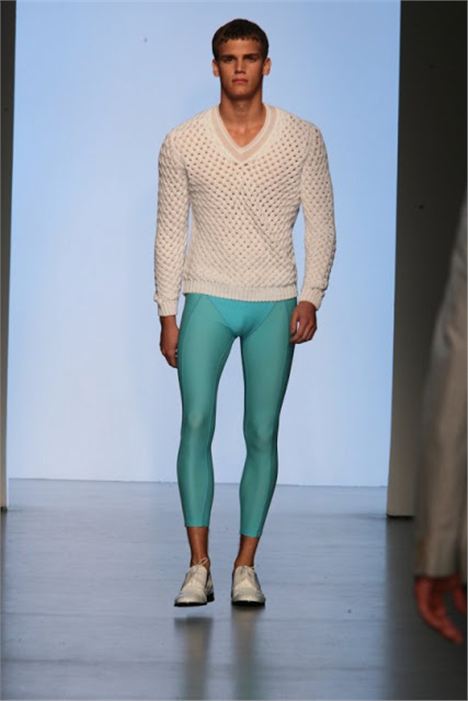 Meggins?
Of course, where fashion leads, celebrities are always hot on the heels to follow.
Kanye West was one of the first to get in touch with his feminine side; starting with a collection of enviable designer bags that would drive even Sarah Jessica Parker crazy with jealously, before brewing up a fresh batch of controversy (nothing new there then) by wearing a Givenchy skirt to a recent performance.
Kanye defended his choice by stating: "We have been brainwashed into thinking this is some sort of feminine act. One of the most masculine things you can do is put on a skirt. I believe this will soon be the norm." 
Quite a statement. He's still got along way to convince the majority to abandon their jeans and feel the breeze between their legs.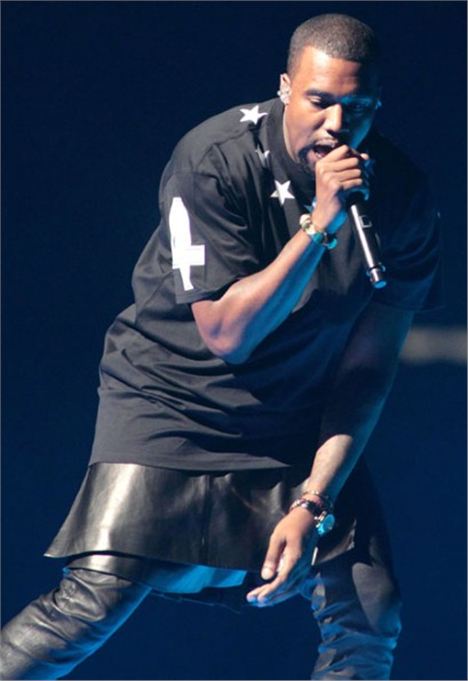 Kanye West wears leather skirt
While most men would protest, it does not mean to say all males are avert to embracing the new wave of (wo)menswear.
In many ways men are just as much a victim to hard-fast gender constraints as women. Whether men should wear skirts seems to hark back to the school yard rules of boys must wear blue and girls pink. If men are encouraged to embrace a 'female sensitivity'within, why not dare express it on the outside? 
Sure, it's a loose concept. 
Overall the jury is still out as to just how many men will really invite female trends into their wardrobes. At present, it stands to be a slow moving process.
But you can spot statement-making couples strolling around the experimental streets of Manchester, with girl clasping her trusty, high street favourite whilst her boyfriend upstages with Louis Vuitton's latest designer effort.
The real concern lies, not with the feminisation of men, but by indulging in a competitive fash-off with your partner. It's bad enough having a sister pinch your favourite skirt, but your boyfriend...
Follow Leanne Coppock on Twitter