MANCHESTER-based celebrity and personal stylist Martine Alexander can now relax.  
After a few short weeks of relentlessly sourcing, fitting and customising, her soap star clients were preened, buffed and polished on Wednesday night's National Television Awards.
Martine's choices have been well received by the shrewdly critical fashion councils of bloggers and journalists who were policing the red carpet for nip slips and crotch flashes with an eagle eye.
"They have to have the feeling of knowing that this is the right dress for them. I will not stop until they feel that"
Speaking before the night, Martine gushed: "I know that tomorrow will be one of the greatest moments. Actress Caroline Tyldesley looks incredible in her dress as it's so out of the box and daring. I've got goosebumps just thinking about it."
Out of the box and daring, undoubtedly.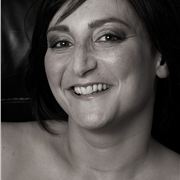 Martine Alexander The Coronation Street actress' gown (pictured above), made by an independent Halifax designer, was a gothic inspired show stopper. While most invitees went for either the demure or overtly sexy look, the dress was one of the more theatrical and memorable dresses to emerge on the night. Although Kelly Brook's extreme high slit, see-through dress was a contender.
The motive for any good stylist is to make sure her client turns heads and for Martine when deciding on the right dress, it's all about challenging her client to think out of their comfort zone.
"I like to challenge myself and challenge the girls really. I love to look for brands that people haven't heard of, take the brand level up a notch and challenge what people expect the girls to wear."
Martine also dressed Emmerdale and I'm A Celebrity's Lucy Pargeter and Coronation Street's Paula Lane and Georgia May Foote, using independent designers and surprisingly high street brand, Miss Selfridge. Taking them all from the Manchester cobbles and the Australian Outback to red carpet ready.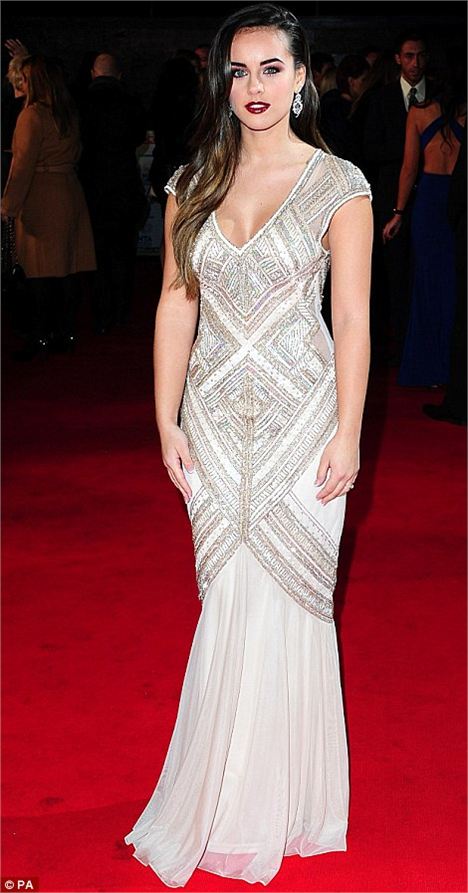 Georgia May Foote wearing customised Miss Selfridge
She said: "I am proud of every single outfit I style because it comes from my heart. I get really emotional when I think about it.  Whether it's a private client, for the red carpet or a photoshoot, when I see their face light up it's priceless. The wow moment usually takes place before it hits the magazine or event - it's when they first try the dress on."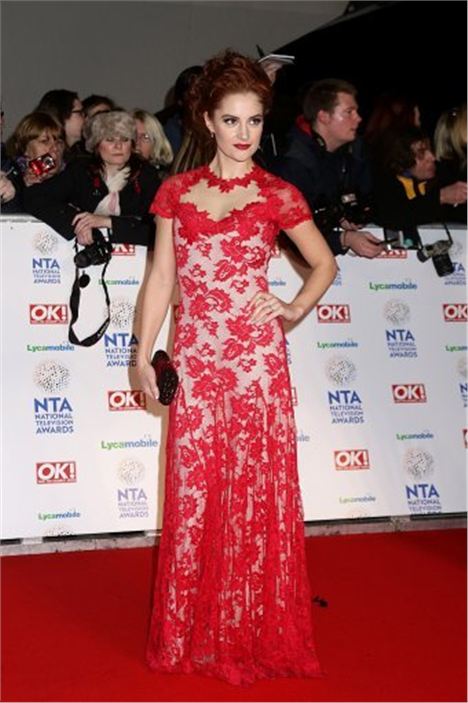 Paula Lane, from the Corrie cobbles to the red carpet.
Choosing the right outfit is a responsibility that Martine is overwhelmingly passionate about. It's in many ways an underrated skill that Martine puts down to her intuitive people skills.
"I use a lot of psychology with my clients," she explained.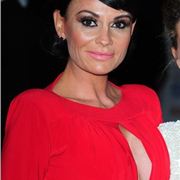 Lucy Pargeter"It's not that I'm qualified - it's just that sometimes we can't verbalise what we think. Our body language gives us away. So I try to tune into how they think – we all have that horrible little voice in our heads telling us our bums are too big. Sometimes with my clients they won't feel comfortable and will just nod along. I'd never want anyone to feel like that.
They have to have the feeling of knowing that this is the right dress this  for them. I will not stop until they feel that."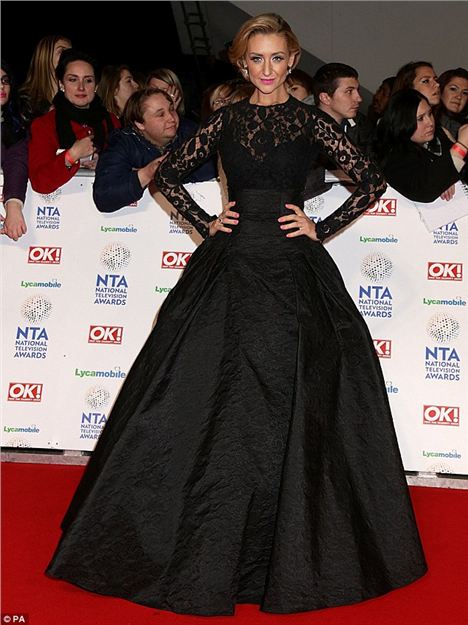 Caroline Tyldesley's wow moment
Wow moments aren't just reserved for those attending award ceremonies and magazine shoots, Martine's service extends to those in a personal fashion bind. No matter if it's looking for a work outfit or figuring out your personal style. 
"Everyone has a personal reason for wanting a stylist, they may not have time to shop, they feel stuck in a rut, they have to be at an event and they don't know where to start.
"Usually it's the common issue of they've got so many things in their wardrobe but nothing to wear."
Martine understands the importance of looking good for her clients self esteem, careers and public image. For those in a particularly gruesome battle with their stuffed wardrobes she even provides a 'wardrobe detox' to sort out your impulse buys and your prized items.
Claiming to always offer her honest and heartfelt opinion Martine feels like the friend you need on every shopping trip. She had my style sussed out within minutes - over the phone - she's that good.
"When I get asked about what I do, I say: Hi, I'm Martine and I take the pressure out of looking amazing."
Find out more about Martine Alexander's personal styling service on her website: martinealexander.co.uk
Or email her at: info@martinealexander.co.uk 
You can find her on Twitter at: @YourStylist
Follow @LOreal_b on Twitter.