Once again Christmas is nigh, ushering in a season of festive warmth, drunken shindigs and that equally insidious rush to stock up on gifts.
Venetian masks peer out from behind incongruous Dutch clogs...
Instead of panicking and heading to the nearest Primark for Uncle Bob's usual pair of socks, or Thorntons for Nanny Pat's box of toffees, why not break the mould this Christmas and buy something a little different?
Manchester's independents offer endless inspiration for thoughtful, quirky presents and the shopping experience is likely to be much less harrowing than a mad dash around Arndale on Christmas Eve.
So here's our pick of Manchester's Top 10 quirky Christmas gift shops...
DEADSTOCK GENERAL STORE
Walking into Deadstock isn't unlike entering a Victoriana time warp. All decked out in mellow wood, the atmosphere is old fashioned and nostalgic, aided by the fact that even the price labels are hand-whittled. Primarily a denim repair shop, the items for sale comprise a small but quality collection of eclectic wares: think Swedish horsehair brushes, nautical dog leads and German homespun combs. Adding to the international mix are French recycled notebooks, Italian toiletries and English screwdriver sets - one for Dad.
Best buy: A 1955 Duncan Tournament Yo-Yo
46 Edge Street, Northern Quarter, M4 1HN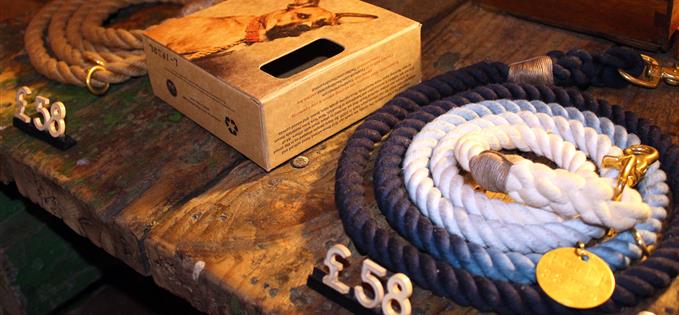 Lead-ing presents at Deadstock
FIG + SPARROW
Doubling as an independent lifestyle store and coffee shop, you'll never want to leave this bustling little joint. Having worked with the likes of Whitworth Gallery, TAPE photographer-owners Jan and Emily Dixon realised a lifelong dream in founding Fig + Sparrow; a showcase for local art and a 'space to meet, think, work, shop, drink and relax'. With an enticing range of home-baked treats and loose leaf teas to tuck into as you browse, we'd say it's mission accomplished. Local goods include homeware, soaps and sparkly Yuletide decorations.
Best buy: Emma Lonsdale's distinctive printed kitchenware
20 Oldham Street, M1 1JA; figandsparrow.co.uk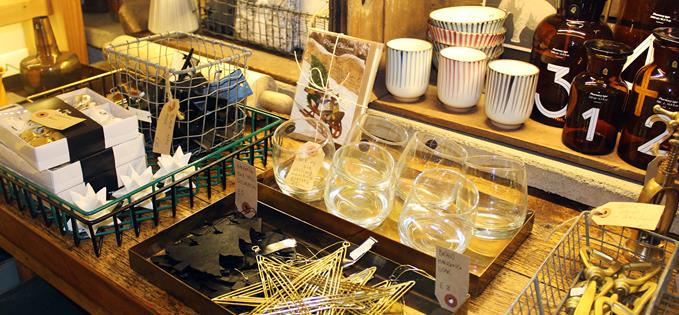 Noel delights
FRED ALDOUS
Fred Aldous are so gift-savvy, they've curated their own series of guides spanning everything from stocking fillers to splurging. Over 25,000 products mean something for bibliophiles, haberdashers and craftspeople alike; whether premium art supplies, Danish homeware or coffee table tomes. Customers can also have their photo taken in a retro photo booth, with optional framing. Founded in 1886, the characterful store currently boasts wooden marionettes dotted throughout and fluffy multicoloured unicorns in the window. Need we say more?
Best buy: Capitalise on the current trend for adult colouring books, easy gifts with a wide appeal
37 Lever Street, M1 1LW; fredaldous.co.uk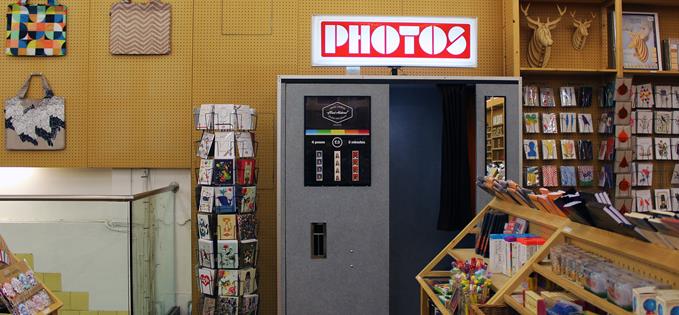 Fred Aldous' photo booth
HARVEY NICHOLS FOODMARKET
Not an independent, granted, but with luxurious hampers to gin-making kits, Harvey Nichols' Foodmarket is a veritable feast for the culinary curious. Fancy some brain jam? Or some Whoop Ass hot sauce perhaps? Whatever your palette, you'll find it packaged and branded to perfection. A warning though: one shelf scan will leave you craving twenty things. Everyone needs some gold dust drinking chocolate right? And some Persian fairy floss... Even the chrome kitchenware looks good enough to eat in this place.
Best buy: Impossible to choose...
Second floor, Harvey Nichols, 21 New Cathedral Street, M1 1AD; harveynichols.com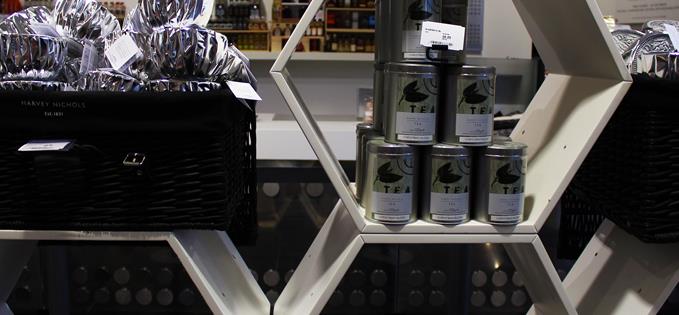 Harvey Nichols' goodies
INSITU
If Aladdin's Den were real, it would probably look something like Insitu. The architectural salvage and antiques shop specialises in interiors and runs the gamut, from Art Deco figurines to jewel-like panes of stained glass. Venetian masks peer out from behind incongruous Dutch clogs and grandiose mirrors reflect delicate glass chandeliers. Elsewhere find silverware, hardware, traditional cast iron baths and all manner of fireplaces. Founded in 1984, the treasure trove fits out everything from cafes (including Fig + Sparrow, incidentally) to TV sets (most recently Peaky Blinders). The tardis-like space also hosts tenants like Funky Koval Design and Reloved Upholstery.
Best buy: Intricate hand-weaved Persian rugs
252 Chester Road, M15 4EX; insitumanchester.com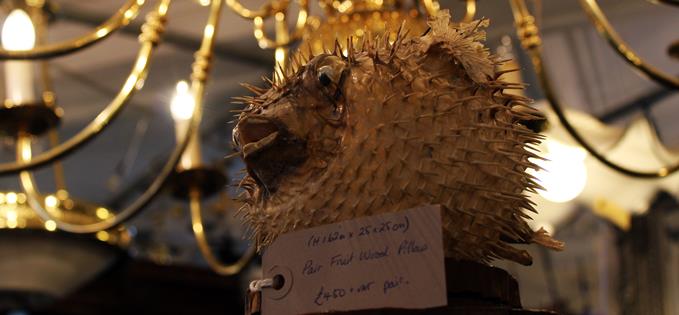 We did say it runs the gamut...
LISSOM + MUSTER
At the opposite end of the spectrum to Insitu is Lissom + Muster, whose minimalist but top-notch range is designed to reflect 'modern classic clothing'. Alongside garments, the higgledy piggledy Tib Street store now offers other items in the same 'experience without frills' vein: Ajoto pens, handmade scissors from Sheffield, books on renowned artists such as Lowry and Hepworth and precision-made cufflinks to name a few. Bernard Leech ceramics line whitewashed shelves, mirroring a preference for manufacturers who consistently refine their techniques, and stock is around 95% British.
Best buy: Johnsons of Elgin cashmere reversible scarf, a great winter staple
14 Tib Lane, M2 4JA; lissomandmuster.com
Choice accessories
MANCHESTER CRAFT AND DESIGN CENTRE
Home to 35 artisans, MCDC is just five minutes from high street commercialism but offers an altogether different shopping experience. Not only does it allow customers to see firsthand the process behind each piece, they can walk away with something truly unique; a novelty indeed amongst today's influx of mass market Chinese fodder. Even the building exudes character, complete with fixtures from its Victorian fish market days. Studio pieces include jewellery, bags, ceramics, interior accessories, furniture and paintings.
Best buy: Lee Page Hanson's cute vintage tiles
17 Oak Street, M4 5JD; craftanddesign.com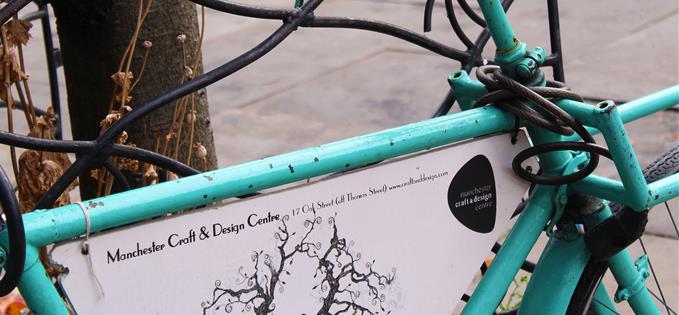 Oak Street Cafe's unconventional sign
PENCIL ME IN
Specialising in luxe stationary, Pencil Me In is a beautiful independent alternative for lovers of Paperchase. The Salford-based outlet also focuses on local merchandise, with a fun range of Manchester bee mugs and Dave Draw's Manchester Doodle Map. Detailed giclee prints make for gorgeous yet inexpensive artworks, including whimsical pen and ink birds and textured Hare and Bear pieces; ignore the dubious 'hipster homewares' tag. Everything is British-designed, right down to the all-important pencils.
Best buy: Sparrow and Wolf foiled notebooks
189 Chapel Street, M3 5EQ; pencilmeinshop.bigcartel.com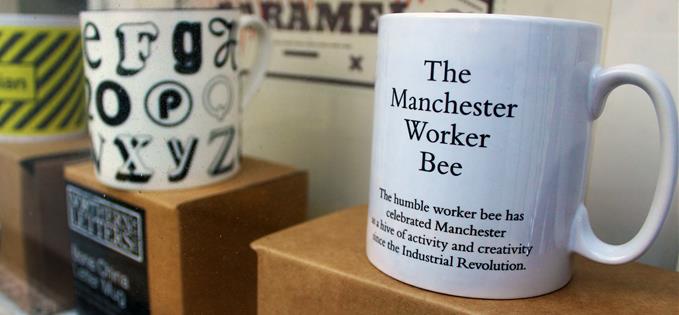 Patriotic crockery
RICHARD GOODALL
Considering the founder of this gallery-shop describes his tastes as 'quirky', it's unsurprisingly offbeat. As with the fine art branch nearby, stock is centred on artists; including limited edition cups and saucers, cushions and silkscreen prints. A typically non-mainstream roster includes Donovan Clark, who uses US dollar bills as his canvas, and Bannister's hyper-realistic posters. The gallery also specialises in designer vinyl toys, including collectible circus punks and nesting dolls.
Best buy: Nicoletta Ceccoli's ethereal art cushions
59 Thomas Street, M4 1NA; richardgoodallgallery.com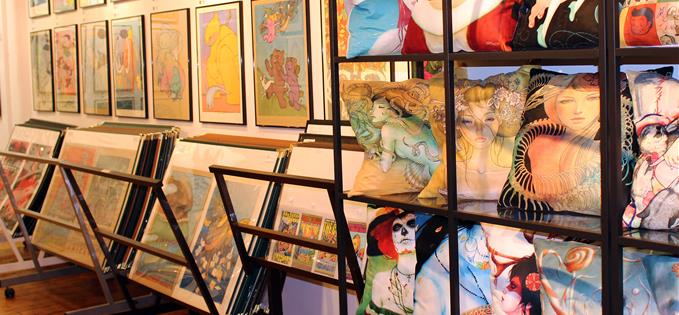 A weird and wonderful NQ haven
THE WHITWORTH SHOP
When thinking of words to describe The Whitworth Shop, 'holistic' and 'tasteful' spring to mind. Split over two bright airy rooms on either side of the reception area, it's an exercise in good taste. Foraged 'trooks' (hooks made from tree branches) and seedlings adorn ever-changing collections, reflecting past and current exhibitions. From one-off printed papers to lithographs and waffle throws, there's also something for every budget. Homeware and books are extensive, whilst children are catered to with a rainbow riot of toys and stationary.
Best buy: Alain de Botton School of Life toolkit
Oxford Road, M15 6ER; whitworth.manchester.ac.uk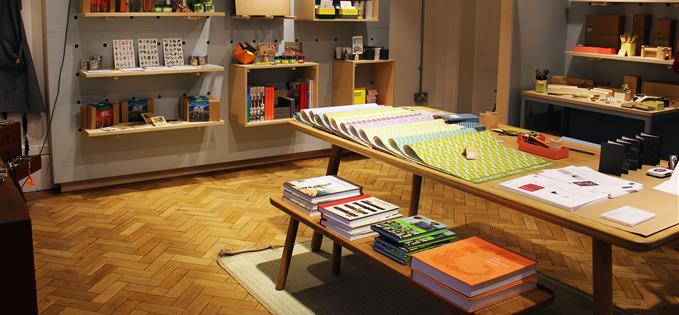 Sleek and stylish