ARRIVING at Cat Cafe five minutes before its 9am opening time, I'm surprised to find there's already a queue. But, with bookings already full until mid-September, 2500 cat nanny applications and social media lapping up every fluffy Instagram picture, I suppose I shouldn't be.
They operate almost as 'pet rentals', where you can enjoy the therapeutic company of animals without the responsibility
Since opening last week, the cafe's eleven resident moggies certainly haven't wanted for attention. Gaggles of girls try and get selfies with them, families fawn over them and customers vie for their attention with various toys. The cats, as is their wont, mainly lounge around looking disdainfully cute; occasionally humouring the humans with a brief play or stroke before they tire of being mollycoddled and stalk off.
Entities such as the Cats Protection disagree with cat cafes. As animals that can be solitary by nature, is it fair to surround them with people day in day out? Yet there are admittedly innumerable places for the animals to be alone here: a wooden sky run, raised beds hidden in corners, somewhere to do their business in private. They have a cat-only room, too, into which they can escape any time and which contains all the creature comforts of the main cafe.
"It even has a human bed," the affable Irish manager Emma Higgins tells me. "At home, you can have the comfiest cat bed possible, but they'll still jump on yours."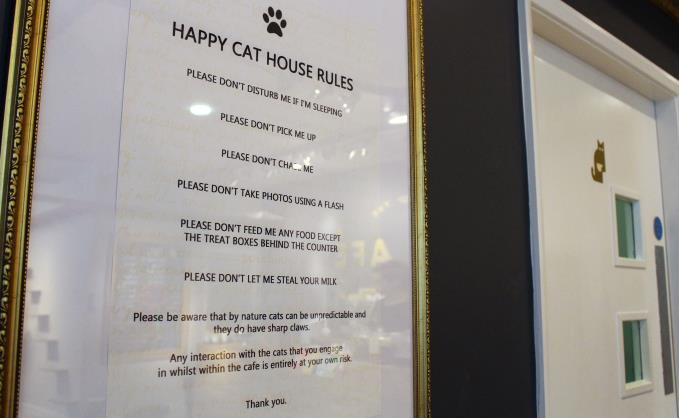 Welfare measures include a list of house rules. Children under ten are only allowed during special events
Cafe facilities include scratching posts, personalised mini bunk beds, fresh water fountains and even a tropical fish tank - as well as sixteen staff giving 24-hour care. Cats Protection may argue against felines being 'exploited as a gimmick to sell coffee' but it's undeniable that welfare standards here, at least on the surface, are impeccable.
What the cats think about it, however, is anyone's guess. During my visit, one cat called Gemma is clearly upset and lashes out at any attempt of affection. Apparently she's been like this for a couple of days and Emma tells me that, if the behaviour continues, she may be taken to live with Cat Cafe founders Sarah and Ellie Close.
Despite being under 30, these entrepreneurial sisters already own a Chorley-based fancy dress business and plan to expand Cat Cafe nationwide; with a crowdfunding campaign to support the next batch in Leeds and Liverpool already underway.
Nevertheless, Emma tells me they find the criticism tough. "I've known them for a month now and have no doubt the cats' welfare is their number one priority. So it can be hard when people who've never visited make negative judgements."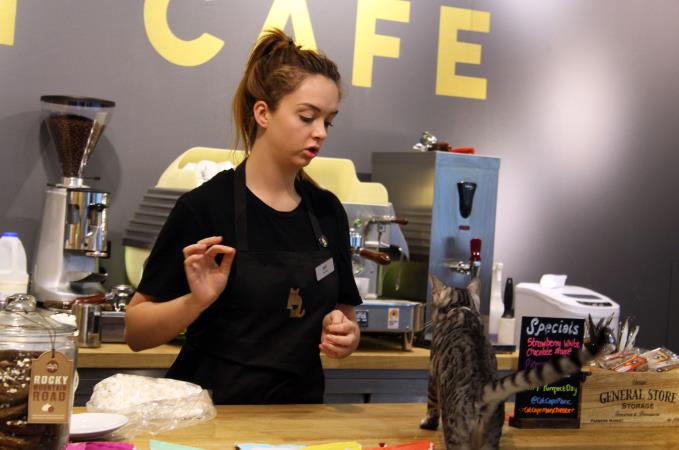 An unexpected customer...
Addressing concerns about the cats not being able to roam outside, she says: "They're house cats, many don't; it's not in their nature to. We have a massive space here and we keep capacity at 20-30 people (ten pre-booked, ten walk-ins) so the cats don't feel stressed or claustrophobic."
As for not using rescued cats? "Four out of the eleven are rescued - from a lady whose arthritis meant she couldn't look after them. The rest are from breeders but only because pedigrees are known to have a better temperament. It would be unfair to have rescued cats here whose past we don't know and would likely find it difficult to adjust. Our aim instead is to support local rescue centres financially - including through our merchandise - and host an adoption board, as well as hopefully prevent people who can't look after cats buying them in the first place."
Indeed professionals, many of whom can't have pets, are a key demographic. Cat cafes originated in built-up Asian cities like Taipei and Tokyo, where living in apartments and working long hours makes pet ownership difficult. They operate almost as 'pet rentals', where you can enjoy the therapeutic company of animals without the responsibility.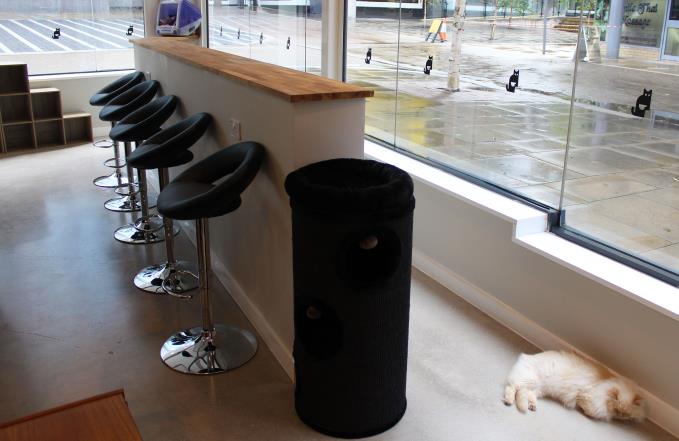 Though now worldwide, cat cafes are still relatively novel in the UK
The opposition have drawn comparisons to zoos and circuses, additionally pointing out the risk of copycat venues (excuse the pun) that don't have the same standards of welfare. A cat cafe in Leicester was recently closed and the rise of other animal cafes in Japan - including nocturnal creatures like owls and hedgehogs - is undeniably unethical.
The Cat Cafe's responsibility? You decide, but it's clear - whether misplaced or not - the intentions are good, for cats and humans alike. As told in the mission statement, mental health is a key focus, with plans to rent out the cafe free of charge to people with depression, anxiety and related illnesses. Having noticed strangers often striking up conversations, the cafe is also running a series of special events - hopefully regular - designed to bring people together in a society that's increasingly online.
And that, at least, can only be a good thing.
The Cat Cafe, 103 High Street, M4 1HQ (cost is £12 per hour, including unlimited hot and cold drinks)